Shopping Cart
Your Cart is Empty
There was an error with PayPal
Click here to try again
Thank you for your business!
You should be receiving an order confirmation from Paypal shortly.
Exit Shopping Cart
Features, Reviews and a Blog by John Sciacca
Let's get it out there: A lot of things about the 3D movie-watching experience just plain suck. Like suck-diddily-uck.

First there is the price premium for the ticket. Then there are the glasses (does anyone else feel like their eyes are going blurry like every 15 minutes? Anyone?!) Then there's the headache and eye fatigue from two hours of trying to focus and refocus your eyes all over the screen. Then there's the rush to market with lam...
Read Full Post »
Very late post today and none yesterday, but for a good reason. Yesterday was action-Jackson packed from morning till night. Then I caught a 10:30 PM flight from LAX to Charlotte, NC, arriving at 6:00 AM local. Flew in to Columbia, SC where I met up with Dana. So, a long, pretty exhausting day. But yesterday.....ahhh! Lots to talk about. Let's jump in, shall we?
One thing I will say about Sony -- besides the fact that they put us up in the shizzit of a hotel! -- was that th...
Read Full Post »
Roughly three months ago I wrote how you could get the new Toy Story Blu-ray discs for free. (I thought I was being oh-so clever by calling it Blupon, like "coupon" but now I think I just get people finding the story when they Google and misspell "Blu porn" but I'll take the hits where I can get them....)
So, part of that Blu-ray disc deal ...
Read Full Post »
You would think that it just wouldn't be possible for something called "Monster Vision" to not be among the coolest inventions ever. I mean, the possibilities that the name conjures up are just so geek-boy awesome that how could it possibly be a letdown?
Monster Vision could allow you to immediately determine once-and-for-all which of your friends was well and truly undead, liberating you from those difficult should I/shouldn't I shotgun decisions we...
Read Full Post »
Have I mentioned lately how much I love my home theater? Yes? Good. Because of all of the things that I've purchased, that is one that never fails to please me whenever we use it and it asks for virtually nothing from me in return (unlike my pool which lurks in the shadows waiting to break at THE most inopportune moment...).
So, we're a big...
Read Full Post »
Getting ready this morning, I went to swipe on my deodorant and was SHOCKED to see something that I'd never noticed before. Forget about stupid 3D TV; my deodorant is 3D, baby! I've been livin' the 3D life for weeks and didn't even know it, playa!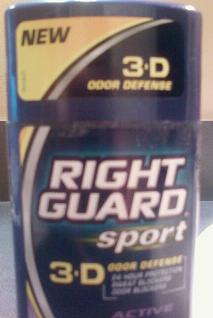 How could I have never noticed this? Why haven't I ditched ALL of my Po...
Read Full Post »
My parents are about as middle-of-the-road-America as you can get when it comes to technology. Actually, the middle-of-the-road is probably more high-tech than my parents. Growing up, I might as well have lived in an Amish village for all of the technology that they supplied. We never owned a record player or a stereo. The only commentary I ever received about music as a child was a stern, "Turn it down!" and the equally popular "Don't raise it above 4!"  In fact, my parents JUST ...
Read Full Post »
The techno juggernaut which is 3D might have just met its first road block, which it probably will roll right over and then film with exagerrated depth and forced perspective. Samsung released news on its site today  with instructions *clearly* written by a native English speaker entitled "Viewing TV using the 3D function. (official Samsung link here)
Let's just say that not all the news out of 3D land is...
Read Full Post »
Well, I'm back on a plane heading home from my quick – not even 24 hour – stay in Fort Lauderdale. Once again inexplicably upgraded to one of the comfortable, big seats at the front of the plane, enjoying a pre-flight coffee that would be a tired, brown brew anywhere else but is somehow magically delicious when enjoyed in seat 2D. (Actually, with my railing against 3D, I couldn't be in a more apropos seat! 2D, get it?! Actually I will level one criticism about the firs...
Read Full Post »
When I first heard about this year's Masters golf tournament being broadcast in 3D I was skeptical. OK, I was ugly. I *suggested* that Augusta was jumping the shark. This is the most hallowed events in all of golf, and it does not need a gimmick to make it any more anything. (Actually, it already has a rather large "gimmick" in the form of Tiger fresh back from sex-hab and making an unbelievable run at his 5th Green jacket!)
Then the tournament started, ...
Read Full Post »
Whatever the reason – marketing hysteria, living on technology's bleeding edge, you need a new TV so why-the-hell-not? or the overwhelming desire to sell everything and move to Pandora – you've decided that life can't go on without owning a 3D TV. Now what?  What do you need? What do you do? Here are 10 things you need to know about making the switch to 3D.
1)    Do I need a new TV?
To view 3D progra...
Read Full Post »
To my knowledge I am the only A/V reviewer who used to bea golf professional, so I think that makes me uniquely qualified to comment on Tiger Woods and the upcoming Masters. So, here goes….
First, my prediction is that Tiger will suck at the Masters. Suck diddily-uck. In fact,  I say he won't even make the cut, a first in his professional career. He is used to golfing in a tightly controlled bubble where he is treated like a Demigod and given a wide berth o...
Read Full Post »
Can we all get together in a drum circle and bang out a few beats to slow down the marketing juggernaut which is 3D TV? Seriously, it's not even really out yet (though Panasonic had a small roll-out this week at select Best Buy Magnolia stores) and yet it is ALL anyone in the industry can talk about. Google CES 2010 and see if your browser doesn't choke on 3D results. Rather than straddling the fence on 3D, I'm still pretty much in the 2D camp, looking over the fence, sneering and hocking the...
Read Full Post »
/