Shopping Cart
Your Cart is Empty
There was an error with PayPal
Click here to try again
Thank you for your business!
You should be receiving an order confirmation from Paypal shortly.
Exit Shopping Cart
Features, Reviews and a Blog by John Sciacca
| | |
| --- | --- |
| Posted on February 7, 2012 at 12:00 AM | |
There are really only two sporting events that I enjoy watching religiously. The first is the Masters golf tournament. As a former golf professional, there are no grounds more sacred than the hallowed turf at Augusta National. (I'm reminded of a comment a former pro I worked with said. "Augusta is so beautiful, I wouldn't even think of spitting my tobacco out on the ground there. I carry up cup with me.")
The second is the Super Bowl, the modern day Circus Maximus of spectacle. With $3.5MM for a 30-second commercial spot, the highest-of-high-defs camera coverage (well, until 4K comes along that is) and wonderful in-the-action audio, the Super Bowl is a TV event unlike any other. And even though it is often the only football game I watch all year*, I DO watch this one.
*(This year I did watch the nightmare which was the 49-ers playoff game. As a Bay Area native, with two fumbles inside the 20 by THE SAME GUY!, this game was like a slow, thorough application of poison ivy to the genitals.)

Super Bowl Sunday is one of the few days of the year that I like to camp out with a variety of junk foods and alcoholic beverages, and sit and just enjoy. (This year's snacks included the pre-requisite Ruffles with French onion dip, some salsa queso dip, some sopressata and sharp cheddar, and a deluxe pizza. Ah, heart! If you survive this onslaught, surely you'll be stronger for it!)
Also a new-ish tradition that I began last year is to trot forth a parade of delicious microbrews for the tasting. You can read my selection and tasting notes from last year's game here.
This year I headed to Piggly Wiggly pre-game (yes, that's really the name of a grocery store chain here in the south) where they have a phenomenal selection of microbrews, many available as singles. I browsed the selections and chose these seven worth finalists: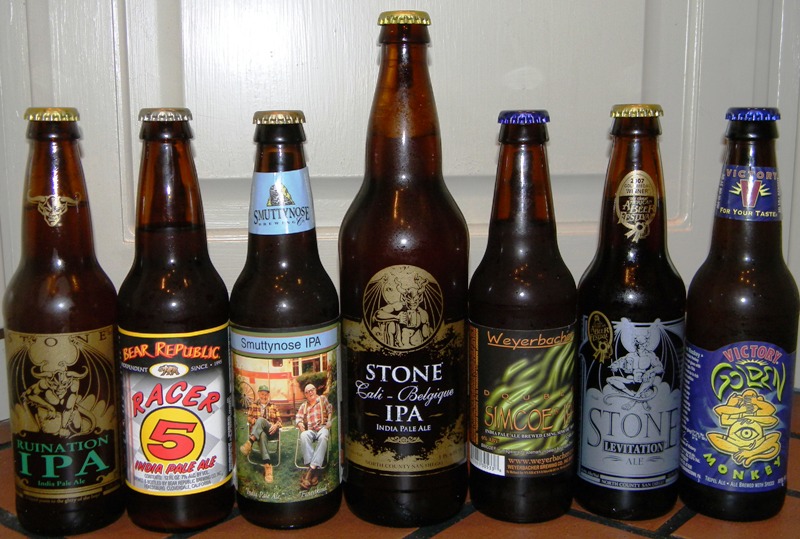 Note: Since my brother, Adam, introduced me to Stone Brewery in San Diego a while back, I have been a HUGE fan of its beers. If you haven't read my blog about visiting what is quite possibly THE MOST AWESOME BREWERY EVER, then please to do so now. The grounds at that place are just amazing, and if you ever find yourself near San Diego, I highly recommend a visit!

I took photos of all in the glass following a pour, trying to use identical location and lighting. But, let's be honest; I'm no photographer. I've also included the brewer's comments/description at the beginning. Let's start the tasting, shall we?
Stone Brewery: Cali-Belgique IPA
Hop Variety: Columbus, Chinook & Centennial
ABV 6.9%, 77 IBUs
22 ounce bottle, $5.99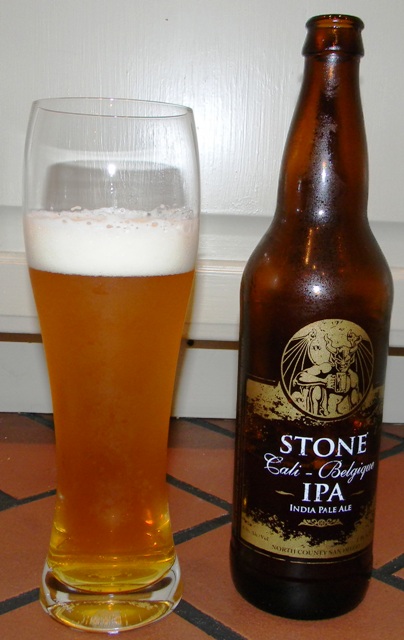 Description: When reading the name "Stone Cali-Belgique IPA", "Cali" hints that it is a California style IPA, and this brew has an undeniable Belgian influence, indicated by the word "Belgique" (which is how Belgium's French-speaking population says the word "Belgian"; the Dutch speaking Belgians say "Belgie.") We carefully selected a Belgian yeast strain that illuminates a fascinating new aspect of the beer that is otherwise quite simply Stone IPA. The result is both completely new and different, while still being recognizable as a Stone Brew – and Stone IPA in particular. Think of it as an otherwise identical twin to Stone IPA that was raised in a Belgian culture. Literally.
The beer had a rich, golden, yellow-amber color with a slight cloud and produced a nice, white, creamy head. There were nice initial hoppy notes, with strong traces of pine, but not smashing youy in the face with it. There were also some subtle traces of citrus and hints of banana peel. This beer is smooth; like amazingly smooth. It just goes down easy and says, "Go on. You know you want another." It also has a nice lingering finish. Very drinkable beer that has loads of subtle flavor without having the coppery bitterness or hop overload of some IPAs. This beer is outstanding and would be welcome in my glass on any occasion. It also has a sneaky amount of alcohol content; after drinking this 22 ounce bottle, I'm feeling right. Quite possibly my favorite Stone creation to date. (Note, I write this before drinking the other two Stone brews I have on tap, err, on bottle.) Also note: Tasting the "remnants" from the bottle directly tasted metallic and left a super unpleasant taste in my mouth. Definitely pour this into a glass for optimum enjoyment.  A+ and excellent start!
Weyerbacher: Double Simcoe IPA
Hop Variety: Simcoe
ABV 9.0%
12 ounce bottle, $3.49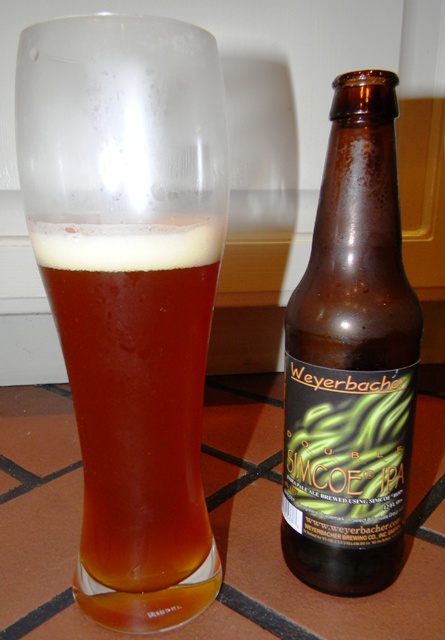 Description: Weyerbacher Double Simcoe IPA is our incredible reward for Hopheads seeking the intense hop flavor in a Double IPA, without the harshness. It is brewed utilizing only the Simcoe hop variety. This hybrid hop, developed and trademarked by Select Botanicals Group, LLC in the year 2000, was created for its high alpha acid content, maximum aromatic oils, and low cohumulone (harshness) levels so that brewers can really put a lot of 'em in a beer and not create an overly harsh taste.
This beer produces a dark orange/amber color in the glass with a fair-sized head, maybe 1 finger worth. Has a slightly sweet nose, but with no real distinct component that jumped out at me. Has a kind of coppery-bitter finish that was in real contrast to the Stone. However the bitterness doesn't linger and isn't totally unpleasant. The bitterness abated as the beer warmed up a bit in the glass, and continued to improve in flavor as I neared the end. A beer that I would say definitely benefits from NOT being served ice cold. Giving it a B.
Smuttynose: Finestkind IPA
Hop Variety: Simcoe, Santiams & Amarillo
ABV 6.9%, 65 IBUs
12 ounce bottle, $1.59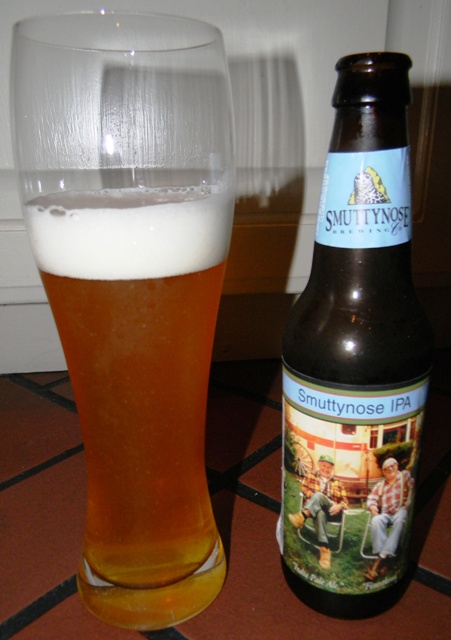 Description: Portsmouth is a colonial era seaport town, so it goes to follow that sooner or later we'd brew an India Pale Ale as a tribute to those big, hoppy 19th century ales that made the long sea voyage from England's temperate shores, 'round the Cape of Good Hope, to the sultry climes of the faraway East Indies. But there's another reason we brewed this beer, one that's closer to our home and hearts. Hopheads. Ten years ago we brewed our first batch of Shoals Pale Ale, our American interpretation of the traditional British ESB (Extra Special Bitter) style. At the time, it was widely considered to be darned hoppy. However, a funny thing happened over the last decade - our Shoals Pale Ale didn't change; beer lovers did, and we started to hear more and more: "Why don't you guys make a really hoppy beer?" You could say, then, that Smuttynose IPA is a physical salute to the glory of the American hop grower. The citrusy hop flavor coming from a mixture of Simcoe and Santiams is pleasantly balanced by a smooth bitterness from the Amarillo hops. The beer itself is light bodied and crisp with a golden color that will throw a slight haze, as we bottle it unfiltered. At 65 IBU's, this is definitely not a training-wheels IPA, but is meant for hop lovers looking to satisfy their craving in a way that's not easy to find. We think they'll be quite pleased.
To be honest, I bought this just because of the name. Smuttynose? Seriously. Who wouldn't like that? So, yeah, score one for marketing. A medium-dark golden color, with a bit of cloud. Produces a nice head that lingered in the glass throughout the drinking and left a foamy residue trail in the glass. Lots of effervescence almost like a champagne with the bubbles rising up sides and middle of glass. Light orange/coriander hints on the nose. Slight taste of grapefruit and accompanying grapefruit bitterness. This isn't a bad beer at all, but 3 beers in, it is my least favorite. Bitter, but not in that hoppy, pine-coney bitter way that I prefer of my IPAs. You get a middle-pack rating of C, and go to prove that you can't judge a beer by the label. Or the name.

Stone Brewery: Leviathan IPA
Hop Variety: Columbus, Crystal & Amarillo
ABV 4.4%, 45 IBUs
12 ounce bottle, $1.99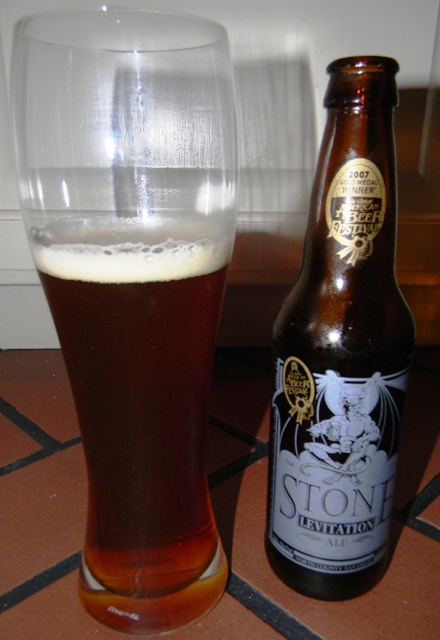 Description: It's been said that "Gravity Sucks." Simple enough. Well, we at Stone have identified gravitational forces in the beer world. And we have come to the conclusion that they, well, see above. So we avoid these less-than-desirable gravitational forces. We avoid dumbed-down flavor profiles and the vigorous pursuit of the lowest common denominator. We avoid big dollar marketing mentalities. We avoid additives, cheap adjuncts, stabilizers and chemical preservatives. So in the defiance of gravity we bring you Stone Levitation Ale. This deep amber ale has rich malt flavors, a big hoppy character, citrus overtones (courtesy of the hops and our special brewer's yeast) and modest alcohol.
Dark brown, mahogany color in the glass with a thin trace of red (when held up to the light). Produced a very thin, almost inexistent head, and the foam disappeared seconds after pouring. Wonderful smell of pine in the glass. It's like my nose stepped into a winter wonderland and is going for a frolic. Initial sweet pine notes, that then fade to nice, delicate balance and pleasing bitterness with slight coffee notes and a little caramel. Very smooth, easy finish. Very drinkable beer, but without the big stand-out flavor of the Cali-Belgique. I'm giving this an A-.
Victory Brewing Co: Golden Monkey Victory Tripel
Hop Variety: European Whole Flowers
ABV 9.5%,
12 ounce bottle, $2.29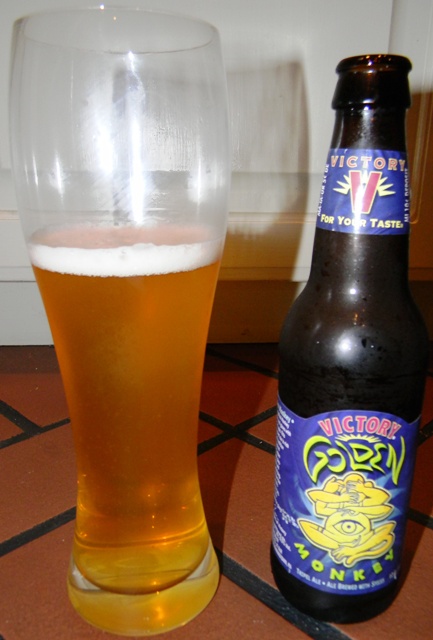 Description: "A magical, mystical Monkey whose golden soul glows with the wisdom of ages. This warming, flavored ale is rich in spirited tradition of Belgian-inspired brewing. Our Golden Monkey is both playfully delightful and profoundly satisfying. Exotic spices from the East round out this global journey to joy. Get on board. This Monkey's bound for glory!" Strong and sensual, this golden, Belgian-style ale glows. The richness of German malts and Belgian yeast are tempered by a sparkling approach and overall light body. Abundant herbal, fruity notes make Golden Monkey one to savor.
Light/medium-golden color that was mostly clear. Produced very little head. Very strong notes of banana, honey, bubblegum, and spice in the glass. Clearly a different animal than the IPA train I'd been cruising along aboard. Has a juicy sweet flavor with tastes of coriander spice and banana. Typical sweetness of high alcohol beer. Good carbonation that lasted the duration of time in the glass. I have a hard time scoring this since it is SO different than anything else I've had tonight. For that I'm giving it a B/B+.
Stone Brewery: Ruination IPA
Hop Variety: Columbus & Centennial
ABV 7.7%, 100+ IBUs
12 ounce bottle, $3.35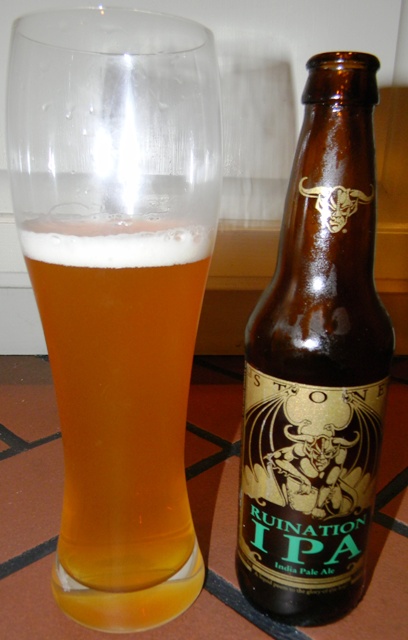 Description: So called because of the "ruinous" effect on your palate! This massive hop monster has a wonderfully delicious and intensely bitter flavor on a refreshing malt base. One taste and you can easily see why we call this brew "a liquid poem to the glory of the hop!" Those who seek, crave and rejoice in beers with big, bold, bitter character will find true nirvana in Stone Ruination IPA!
Medium gold body, with a thin, quickly dissipating head. Cloudy appearance. A combination of pine-banana aromatics. For something described as 100+ IBU and ruinously bitter, I was expecting a crippling hop punch to the face with some mouth-puckering bitter finish. There is definite hoppiness and bitterness, but, it wasn't overwhelmingly overpowering. The flavor does stick around for a while; coating your mouth, and lingering for minutes afterwards. After not drinking it for a bit and then taking another sip, the bitterness was a bit more like a slap instead of a punch, but still nothing overly brutal. I think I preferred this to the Levitation, but my initial feelings on the Cali-Belgique held out, and that is indeed my favorite Stone brew. However this, like all Stone Brews I've tried so far, was great and ranks an A.
Bear Republic: Racer 5 IPA
Hop Variety: Chinook, Cascade, Columbus and Centennial
ABV: 7.0%, IBU: 75+
12 ounce bottle, $2.19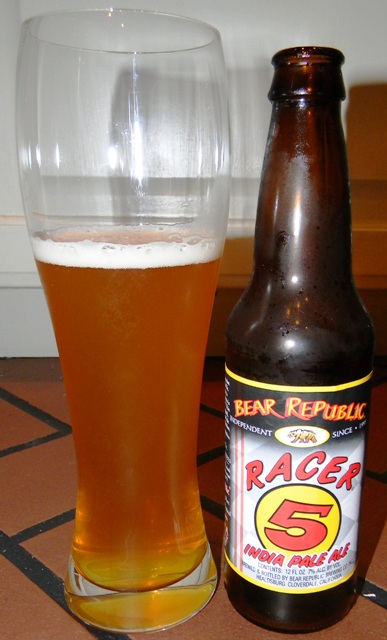 Description: "Racer 5 is an aggressive styled India Pale Ale. Handmade from a brewery whose motto is 'Bigger is Better.' This golden, well hopped, bottle-conditioned ale demands your attention." This hoppy American IPA is a full bodied beer brewed American pale and crystal malts, and heavily hopped with Chinook, Cascade, Columbus and Centennial. There's a trophy in every glass.
Much like the Smuttynose, I seriously bought this beer because of the label; it reminded me of Speed Racer, who was #5 – the Mach 5 to be exact -- and had a logo on his car that looked exactly like this label. (I am nothing if not loyal to what I loved as a kid.) Had a medium golden amber color with a little cloud and a thin head that quickly vanished in the glass. Notes of light pine. Had a fairly mild, restrained flavor. Not to say it is boring or unlikable, just subtle and not really standout. (Or maybe it's just that this is the last beer of the night and my palate is trashed by Ruination.) If you are put-off by strong IPAs, this might be the right beer for you, as it seems an easy entrance to the club. Giving it a B+.
Categories: February 2012, Reviews, Beer/Liquor/Wine
/