Shopping Cart
Your Cart is Empty
There was an error with PayPal
Click here to try again
Thank you for your business!
You should be receiving an order confirmation from Paypal shortly.
Exit Shopping Cart
Features, Reviews and a Blog by John Sciacca
| | |
| --- | --- |
| Posted on July 23, 2013 at 9:00 AM | |
Demonstrate a Kaleidescape system to 100 people and I bet you'll have 100 people that would love to own one. With its world-class user interface, near instantaneous access to a vast library of DVDs, Blu-rays and CDs, automatic bookmarking of the most iconic scenes in thousands of films, and the world's only way to download and own movies in exact Blu-ray quality, Kaleidescape systems are one of the easiest products to get people excited about. I use Kaleiedescape as part of almost every demonstration that I give in our showroom, and I can assure you that it is one of the few products that people universally covet and desire.
This is also attested by the 14,721 Kaleidescape systems installed in 78 countries around the globe, loaded with an average of 506 movies. Owners also continue using their systems, adding an average of 51 movies per year.
So everyone loves and wants a Kaleidescape. Right up to the point where people say the inevitable, "That's awesome! How much does it cost?"
The "how much" question has always been Kaleidescape's Achilles heel. Because no matter how badly someone may want it, the price of admission – often starting around $15,000 – has just been well-beyond the reach of many interested people.
Today, Kaleidescape removes that hurdle by introducing the new sub $4,000, Cinema One. (You might recall that there was previously a Cinema One – which in turn was previously a Mini System – introduced back in 2010. Here is my commentary on that system, "Kaleidescape slashes the price, retains the awesome."
(Also, the new Cinema One is actually just called "Cinema One," avoiding any of the mind twisting "the new, new iPad" conundrums.)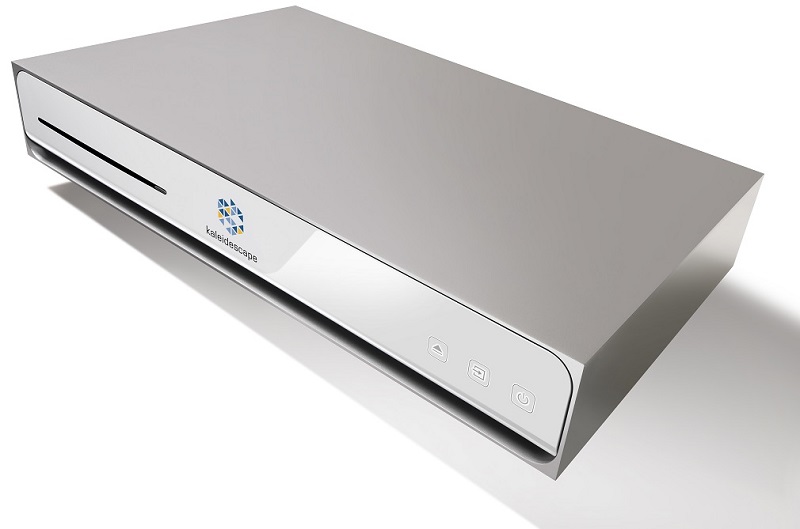 So, what makes the Cinema One so awesome?
First, don't try and act like you don't think it looks sexy-as-hell. That gleaming white design just screams cool and modern and Scandanivian or something. If I knew how to use Photoshop and I took off the Kaleidescape logo and replaced it with an Apple one, you'd be all, "Damn straight! This must have been Jobs' swan song! You did it again, you glorious bastard!" You know you want to throw some discs in it and start watching movies.
Second, at $3,995 it is by far the most affordable Kaleidescape system offering ever. At that price, Kaleidescape ownership is available for about the price of a daily venti latte and muffin, with infinitely fewer calories or snooty baristas.
Third, fear not, the Cinema One is still a Kaleidescape through-and-through; the only thing that Kaleidescape cut was the price. Cinema One will offer the same playback and browsing experience of the pricier M-class players, which are now part of the Premiere Line along with the existing 1U and 3U servers. Same outstanding video quality, same library management, same gorgeous high-res cover art interface, same access to the download store, same support of all major automation and control platforms, same experience via the awesome Kaleidescape iPad control app, same CinemaScape video-processing for 2.35 screens, same terrific parental controls and kid's remote. Same-same.
If you want to see the Kid's Remote in action, please to enjoy my daughter Lauryn explaining how it works:
Finally, it addresses both of the original Cinema One's major shortcomings by playing/importing Blu-ray discs and having far more storage; an internal 4 Terabyte disk drive that can store approximately 100 Blu-ray quality, 600 DVD quality or 6,000 CD quality titles.

The Cinema One includes the outputs needed by 99.9% of the people that will be interested in buying it; HDMI for home theater installations and analog audio for connecting to a distributed audio system. Cinema One is also the first Kaleidescape to support WiFi via the included 802.11n USB dongle. Also kudos for the included rear panel mini-jack IR input to keep from marring the front panel's clean appearance.
Once owners get a taste of the Cinema One's sweetness and lifestyle improving awesome, they can chase the digital dragon by adding a second Cinema One to their system. This lets users not only enjoy all of their content in another room, it also doubles the available storage, seamlessly merging all content together into a single, harmonious library. (Dual systems must be hardwired to the (preferably Gigabit) network. No WiFi for dual-zone streaming.)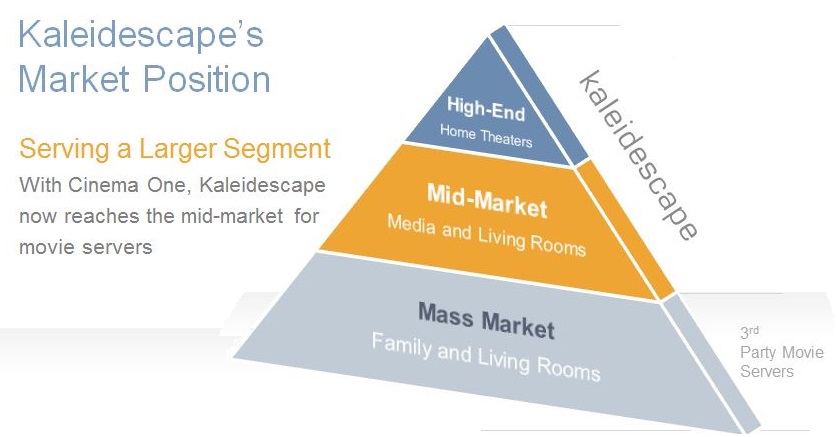 This allows Kaleidescape – and their dealers! – to go after a segment of the market that they've previously never been able to serve, aka "regular ole movie loving non-rich people." Now the guy building a $15,000 media room can seriously considering stepping up to Kaleidescape to enjoy the same amazing experience as people with multi-million dollar rooms. (Not shown on that graphic is the very tippy-top of the pyramid, likely labeled "Sheiks, Maharajahs, Captains of Wall Street and Titans of Industry, Gulfstream and mega-luxury yacht owners" which Kaleidescape holds ownership over unlike any other brand.)
Click here to continue reading about the new Cinema One at Residential Systems...

Categories: July 2013, Electronics, Movies
/