Shopping Cart
Your Cart is Empty
There was an error with PayPal
Click here to try again
Thank you for your business!
You should be receiving an order confirmation from Paypal shortly.
Exit Shopping Cart
Features, Reviews and a Blog by John Sciacca
| | |
| --- | --- |
| Posted on June 27, 2010 at 8:08 PM | |
Roughly three months ago I wrote how you could get the new Toy Story Blu-ray discs for free. (I thought I was being oh-so clever by calling it Blupon, like "coupon" but now I think I just get people finding the story when they Google and misspell "Blu porn" but I'll take the hits where I can get them....)
So, part of that Blu-ray disc deal was free passes to see Toy Story 3, and that's exactly what Dana and I did today. We had planned on this being Lauryn's commercial cinema debut, but she absolutely refused to wear the 3D glasses. I took her to the theater on a trial run earlier to see if she would do it, but when she backed away, holding her hands out in the international warding off gesture and saying "No, no, no, no..." I was pretty sure that she wasn't going to be game for it. So, we left her with a friend and Dana and I enjoyed a date night, errr, date afternoon.
Before the movie we hit a quick snack at Gordon B, where I stepped and slipped in the SAME pile of dog poop both going in AND coming out of the restaurant. Uncool.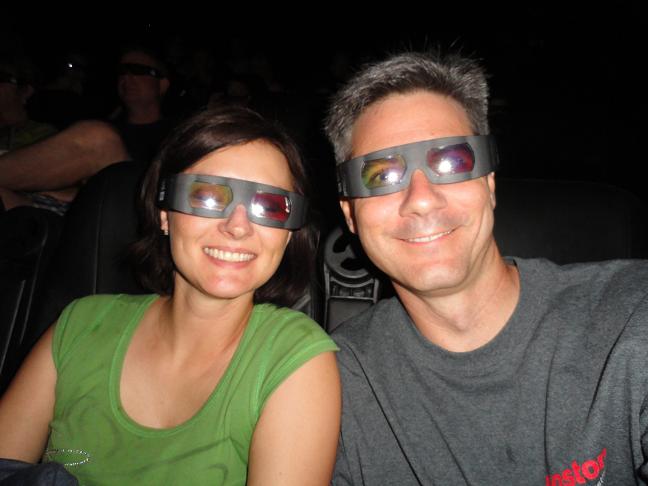 I'll not drop any spoilers here for anyone who hasn't seen TS3 yet. I will say that neither Dana nor I felt like the 3D added anything to the movie experience. Quite the opposite, I felt more distracted by the glasses (I get this weird "things are starting to look blurry" vibe every few minutes) than drawn in by the extra depth. Avatar is still definitely the 3D benchmark, though TS3 wasn't going for any over-the-top, things flying out of the screen effects. I certainly won't feel like I'm missing out on anything when watching it on Blu-ray at home. (Yes, I'll be buying it.) The opening short, Day and Night, was probably my least favorite so far, which is disappointing because those are usually a highlight for me. The amuse bouche to get you ready for a wonderful main course. I thought TS3 was great, though much, MUCH darker and, more "adult" in its theme than the others. This is definitely the Empire of the TS franchise with lots of peril and separation and even a scene that kind of paralleled Han Solo on Cloud City.  Lots of smart humor and great voice acting, and a terrific opening sequence that plays a wonderful homage to Indiana Jones. There are parts that certainly tug at your heartstrings, but the movie has a strong ending that certainly leaves the door open to a TS4. What can I say? I'm a huge Pixar fan and in my opinion they've done it again. And having watched a lot of "kid's" movies lately, I can say without question that no one understands that genre like Pixar.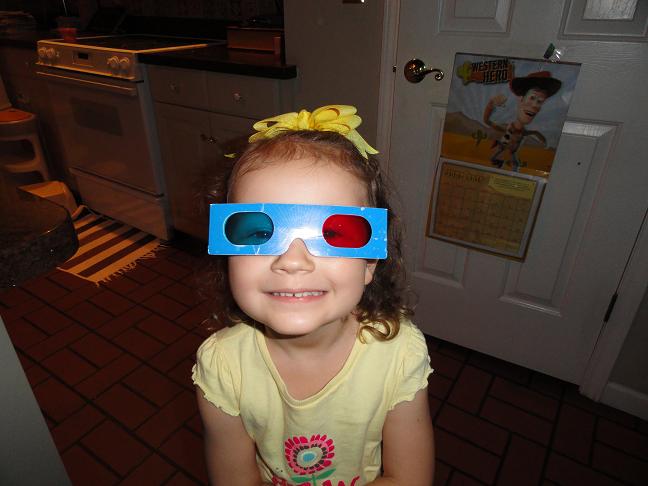 When we got home, I showed Lauryn the picture of us wearing the 3D glasses and she wanted me to take one of her in her glasses. (Note the 3D Woody calender behind her!)
Categories: June 2010, Movies, 3D TV
/