Shopping Cart
Your Cart is Empty
There was an error with PayPal
Click here to try again
Thank you for your business!
You should be receiving an order confirmation from Paypal shortly.
Exit Shopping Cart
Features, Reviews and a Blog by John Sciacca
| | |
| --- | --- |
| Posted on July 15, 2010 at 5:33 PM | |
A torch has been passed; an era has ended; the dim, out of convergenceness of an old, hateful, spiteful enemy has finally been vanquished. Our first – and last! – CRT projector customer finally upgraded! Huzzah!
Years ago, my first big theater job was a customer named Gary. He originally wanted a Sony projector but after lots of research we settled on a Runco; the venerable 8-inch CRT'd DTV-933. (Also, to be honest, Sony was really kind of a dick to us. I tried to meet with them EVERY day at CEDIA with the introduction of, "Hi! I want to be a new dealer and sell your top-of-the-line CRT projector. How can I make that happen?" and for 4 straight days they blew me off. Sorry, Sony!) This bad girl looked just slightly smaller and less imposing than the Imperial Star Destroyer flying over your head and was line tripled all the way up to 768P! (Hey! Stop laughing! Time warp back to 2000 and how many high-defs was *your* TV putting out? Yeah, that's what I thought!) It also cranked out about 300 whole hey-don't-let-that-glow-from-your-watch-wash-out-the-screen lumens.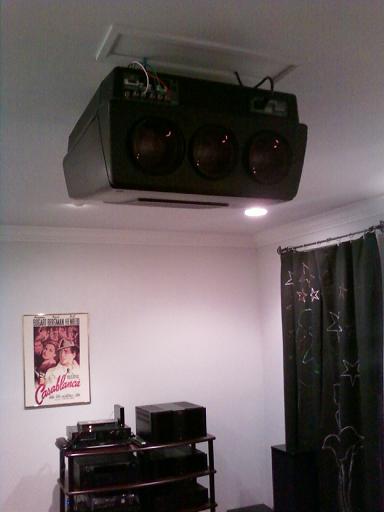 This projector was the reason that I flew to Runco for my first training class. Where I learned that everything I *thought* I knew about serious drinking was a lie. This was back in the glory days of Runco when they would take you to dinner and then bring you a drink while you were being led to your table where there was already a drink waiting! (One epic legend from Runco-lore… They hotel where they put the trainees has a big Koi pond filled with these giant fish. One trainee got SO wasted that he was up on the second story looking down on the pond and proceeded to heave-ho into the pond, KILLING all the fish! His company got hit with the bill! And THAT is why we stop at 11 Miller Genuines.)
Anyhow, so Gary bought this projector, and for 10 years I have been its custodian. About every 18 months or so, Gary would call me up to come over and give it a touch-up. Now, "touching up" a CRT projector essentially means being alone in a dark room for several hours with nothing but a tape measure and Red, Green and Blue gridlines to keep you company. First you do Green. Then Red on Green. Then Blue on Red. Then all three together to make white. It's the kind of thing that can make a man's mind wander to dark, scary places. Making you think things like, if I ate my own leg, would my weight change at first or remain the same until digestion set in. Scary stuff, man. Scary.
So to say that I didn't enjoy these little conjugal visits would be an understatement. But, I knew that this great, black she-devil couldn't live forever. Time, use or Gary's need to upgrade would same day be her undoing. And that day finally came! The old-bitch's convergence board went out, making the picture totally unwatchable after about 10 minutes.  (Well, I guess it was still watchable, it just resembled something like 4D without the glasses.) Gary called me up and said he was ready to upgrade.  (The subtext of the call was really "I guess there's no point in trying to get it repaired, right? I mean, it's been 10 years, right? It lived a good life. So I should probably get a new one, you think, right?") The timing was fortuitous for him because Runco was having a trade-in deal where they gave him $1500 off a new model and asked us (the dealer) to match it with another $1500 off so he got $3000 off the brand new Q750 LED projector. This gave Gary 3000 reasons to pull the trigger.
Resisting the urge to beat the CRT off the ceiling like the giant Satanic piñata that it was – and, let's be honest; the way that thing was threaded-rodded to the ceiling joists, I think I would have only ended up scratching the case and throwing out my shoulder again – we took her down with all the reverence of a silent honor guard and reboxed her with the same respect that you would give to a fallen worthy adversary. Retro'd an HDMI cable up the back wall, threw the new Runco up and then I got to calibrating; a 20 minute or so process that involved some focusing, image squaring, contrast and brightness adjustments and explaining the color gamut options to Gary. (This isn't a tech blog, so I'll spare you all the details of Rec 709 versus Native and CIE color charts. Really, you should all thank me.) When I sit down to watch some video Gary was, "That's it?"
"Yep. That's it. Pretty sweet, huh?"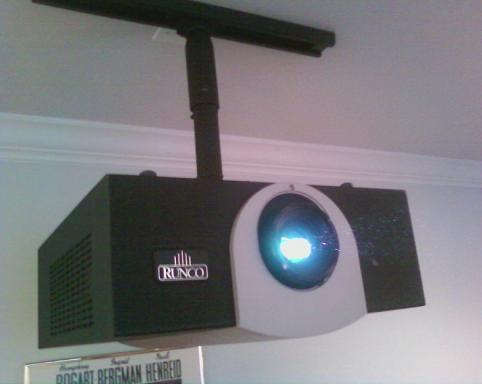 He watched for about 10 minutes, going through some of his discs. Besides the picture -- which, compared to the old CRT, was as bright as a million suns exploding --what was most noticeable was the sound, or rather the lack thereof. The old CRT's fans sitting directly above your head had all the subtlety of a Blackhawk Down helicopter racing in to let Delta off for some fast roping. Now, the room was eerily quiet, the only sounds being the movement of the Blu-ray's pick-up mechanism as he changed tracks.
Finally I said, "Well...?" throwing out that open-ended question that can hang in the air like a giant cancer-bomb filled with nitpicks, hems and haws and if-onlys. Not here. Gary came back with, "You're right. It looks perfect. How much do I owe you?" Now that's a happy ending.

Categories: July 2010, Electronics, CTA
/