Shopping Cart
Your Cart is Empty
There was an error with PayPal
Click here to try again
Thank you for your business!
You should be receiving an order confirmation from Paypal shortly.
Exit Shopping Cart
Features, Reviews and a Blog by John Sciacca
| | |
| --- | --- |
| Posted on July 21, 2010 at 4:06 PM | |
If there is a silver lining from my US Air debacle from last week (besides the fact that I am probably the only one that got $100 from the deal; take that all you sheep! Hannibal was right about the silence of you lambs! Can you still hear them, Clarice?!) it was that I got A LOT of opportunities to read through the Sky Mall. Oh, Sky Mall! I had forgotten how awesome you are! How filled your pages are with items that would somehow randomly enrich my life. How I can use the in-flight phone for FREE to call and order things from you! How if I order now – RIGHT NOW! While I'm on this flight! Once we land, this offer is off the table, people! – I can save an additional 20%.
So after I finished 3 of the 4 Sodokus, I got down to some serious Sky Malling, and it was just SO crammed with greatness, I felt I would share it with you, those who might not travel as often and are missing out on having your lives enriched with all manner of Sky Mall-ey goodness.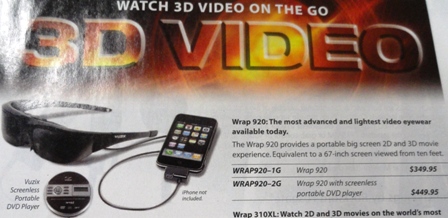 If you thought for one second that Sky Mall was going to miss an opportunity to capitalize on 3D, well then, brother, you don't know Sky Mall! The Wrap 920 is "the most advanced and lightest video eyewear available today," meaning that all of the video eyewear you HAVE been wearing is just total utter and worthless crap! Somehow, this 3D-ifies video from your iPhone (not included; and, seriously, if you really even thought for a second that it WAS included, you better just go back to reading the vomit bag in coach). I can only imagine what the Wrap 920 could do with an iPad. Seriously, I think I just got a brief glimpse of heaven...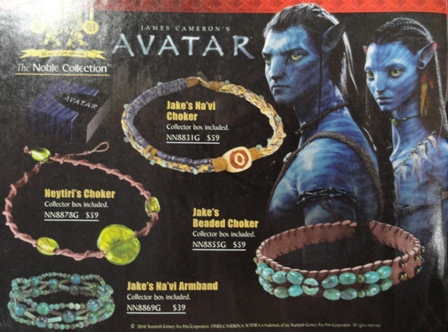 In case any of your friends, co-workers or just random people that you meet on the street aren't sure what a total and complete tool you are, wearing Avatar jewelry will give them all the answer they ever needed. In fact, there is NOTHING you could say that would tell them as much about your sad life as wearing a Neytiri's Choker. Nothing says, "No, I don't have a girlfriend and yes I still live with my parents" like wearing Avatar replica jewelry. The only way to possibly alienate yourself even further from the human race is to actually try and learn to speak Na'vi. (I know...there's a definite ironic sadness that I even know that is the language...)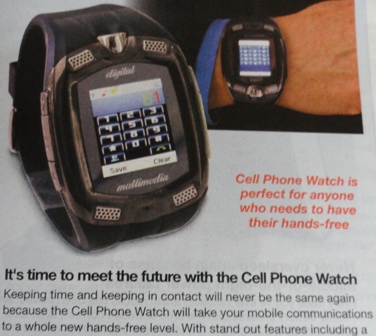 This actually would be kinda cool….if I time-warped back to the '80s when I was in 6th grade! This pretty much looks exactly like my Casio calculator watch from then. Except that was silver. And more awesome. Very little about this thing said "meet the future." This really says, "No, I don't have an iPhone or an Evo because I don't want to pay for the service." Also that it's "perfect for anyone who needs to have their hands-free"? Really? Because with this I *kinda* picture you holding your hand to your mouth all Johnny Sokko "Giant Robot" style. (Please! Tell me someone gets that reference! PLEASE!!!) I'll just wait until El Jobso makes the iWatch….then I'll bitch about wanting one but how I'm in a committed relationship with Lady Phone.

Attention all women: Tiger Woods is back on the dating market. This little doo-hickey could one day net you $750,000,000 in alimony.Plus, it was seen on CNN so you KNOW you can trust it....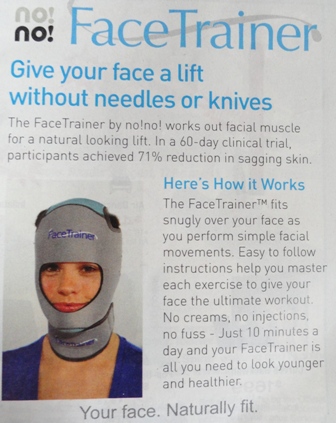 At first I thought that somehow a facial reconstruction ad got slipped into my Sky Mall. Clearly this woman has been savagely beaten, and is now in massive recovery... But no, this is the FaceTrainer. You actually put this on voluntarily. And apparently you don't RECEIVE any money for wearing it, or have to lose a dare or a bar bet either. However, notice the subliminal messaging to the left of "FaceTrainer." Even the ad is saying "no! no!" for God sakes! And does anyone really need to give their face "the ultimate workout"? However the FaceTrainer does appear to work, because it has somehow transformed that woman's grimace of shame and lost hopes and dreams into something resembling the faint rictus of a smile. Loss of sagging? 71% Loss of pride and self-worth? 100%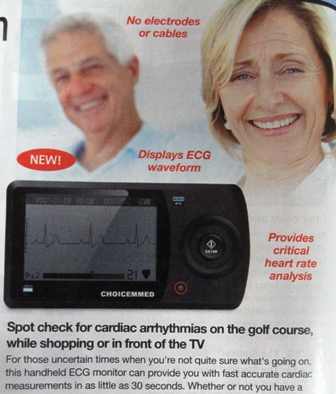 First off….How did they get Hilary Clinton to do this ad and – Damn!!! – Hilary, when did you go all stroke-face? Losing to Barack *really* took it out of you!  I love the opening text of this. "For those uncertain times when you're not quite sure what's going on." Huh? What? Heart attack? Me? Really? You think? Well, let me just put down this butter stick and check! There's nothing I love doing more than a quick cardiac arrhythmia spot check. On the course, while watching TV, while fighting in a Cage Death Match, while texting while driving, while throwing back my fourth double latte...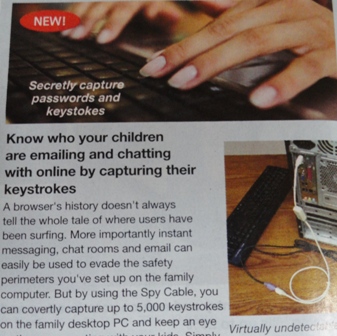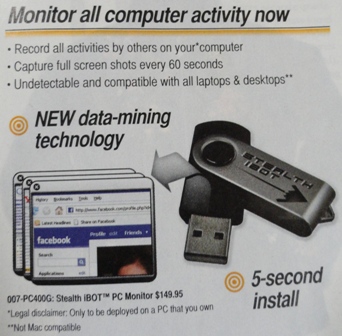 These next two are actually just scary. Scary because you have no idea if someone is using one of them on you! "Secretly capture passwords and keystrokes" or "Capture full screen shots every 60 seconds." While this would be a great tool for spying on keeping tabs on your kids, the real danger is that something like this is surreptitiously installed in a public place. Like at a shared computer at the library, or in an Internet Café. With a hidden USB drive in the BACK of the computer, someone could nab your entire password and account info without you ever knowing it. Then send all the money off to Mrs. Ghayth Faiza without you even knowing it. The legal disclaimer says to "only use on a computer you own" but you know how law-abiding people who break the law are! Here's a case where Mac incompatibility is actually a GOOD thing...this nonsense only works on PC. Somehow, that *really* doesn't make me feel any better than I already do about being a PC user.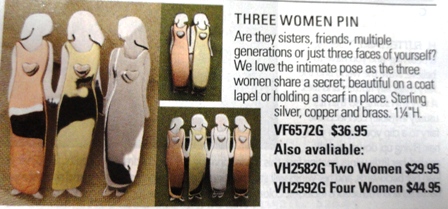 "Are they sisters, friends, multiple generations or just three free-wheeling lezzies out for a night of Cosmos and shopping?" When you're not sure what kind of mood your lesbian partner is in, this pin can come to the rescue. Just one glance at her jewelry can let you know if she is looking for a committed relationship, perhaps interested in a little ménage-a action or totally down with the 4-way freakness. Male pin that just hangs off to the side and watches, not available.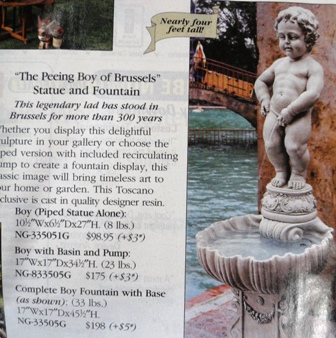 Nothing says "Welcome to my home" like a little boy peeing on your front porch. And since hiring an actual little boy to perform this role will get you into some severe trouble – or land you with an executive role at your local NAMBLA – this is perhaps the only suitable substitute. And at "nearly four feet tall!" you'll be sure to impress your like-minded peeing aficionados.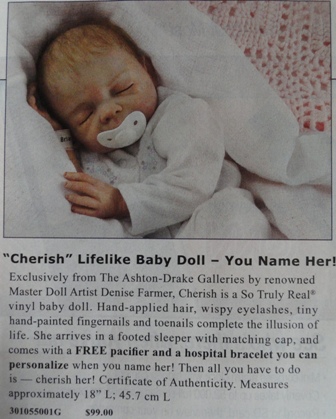 This is maybe the scariest thing in the catalog. This is a fake doll baby. With "hand-applied hair, wispy eyelashes, tiny hand-painted fingernails and toenails." It also includes a hospital bracelet which can be personalized with her name! The only thing scarier than this doll is the creepy people that buy it and then hold it and rock it and sing lullabies to it...and then go off and make outfits out of human skin! "Shhh, little darlin'. Mama needs to go out for a bit and get her a new skin coat. Then I'll be right back to my precious."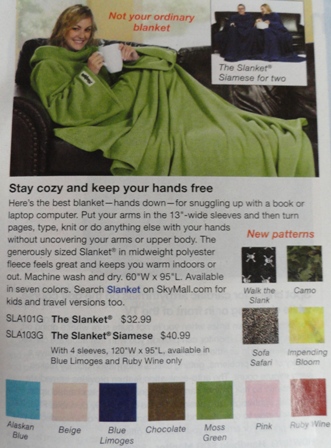 You totally know that the only reason that you've been putting off that Slanket purchase is that it only comes in that hospital looking pale blue-green. Fortunately, the world shoppers of Sky Mall have combed all the sweat shops in China to find a group of laborers whose self-esteem was SO low that they'd be willing to churn out Slankets in awesome new colors like "Impending Bloom, " "Sofa Safari," and "Walk the Slank." And, seriously, what Slanket collection is complete without a hunting Camo Slanket? None. That's which. And have you ever felt lonely and distant when you Slanket-up? Like that layer of nylon/polyester/oil-based material is separating you from the warmth and oily touch of your fellow shut-ins? Fear no more! With a Slanket Siamese you can share the Slanket shame together. And you know what they say...what happens under the Slanket, stays under the Slanket...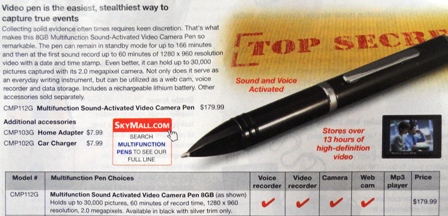 While I doubt any actual spy would use this, this thing is actually kind of cool. And it's the "stealthiest way to capture true events." If by "true events" you mean upskirt videos aboard public transit or under the table of a restaurant then I'd tend to agree. It looks like it might be a little *thick* to be comfortable to use as an actual pen, which could prove to be a problem in real spying situations. "Mr. Bond. I notice that you are always carrying around your pen. Your trusty, thick-shafted, black pen. There, in the breast pocket of your well-tailored, Savile Row suit. However you never write with your black pen, Mr. Bond, and this…concerns me.  Just now, my man asked you to sign something and you reached for my pen. My most special gold pen. Why is this, Mr. Bond? WHY!!!!" The most damning thing about this is how can a stupid pen hold over "13 hours of high-definition video" when my cable box can barely hold like 20? Time Warner, can I replace my box with this pen? Hello? Time Warner?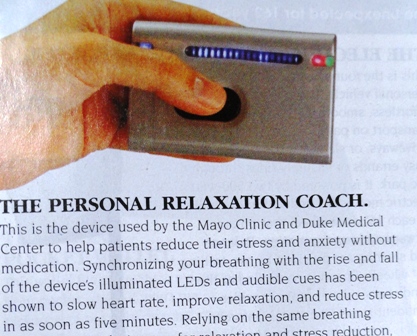 Perhaps the ONLY thing that *might* be less relaxing than this "Personal Relaxation Coach" would be to have Gunney from Full Metal Jacket following you around and constantly screaming, "You will speak only when spoken to, and the first and the last word out of your filthy sewers will be 'Sir.' Do you maggots understand that?! Now relax like you've got a pair!" Only THAT could possibly be LESS relaxing than having to watch a screen to tell me how to breathe. Seriously, if I'm so stressed out that I need to whip this device out to synchronize my "breathing with the rise and fall of the device's illuminated LEDs and audible cues" then I probably just need to skip straight to the "Yep, I'm having a heart attack" tester.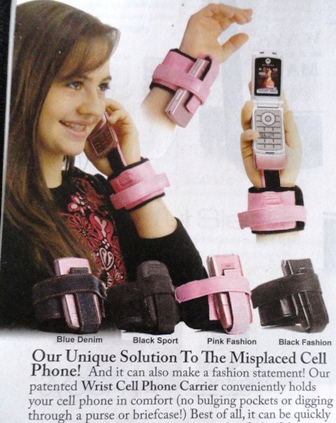 If you can't think of the *perfect* way to tell your teenager that you hate them and wish they were never born, look no further! Buying them this will ensure that they resent you and know that you could never, ever possibly understand them for years to come!  Because, what EVERY teenager wants is to literally strap a phone to their arm like wearing a sign that says, "Please call XXX-XXXX in case I get lost."  The only acceptable time to wear this is if your wrist is, in fact, broken in several places and your wrist needs to be *completely* immobilized and using this device is literally the only thing that is keeping the bone from bursting free from your skin. At that point, if you choose to put your cell phone into it --- Oh! You know that this would be the PERFECT accessory for Lady Phone! I wonder if they have a matching Mangenta.... -- then that's allowed.

Categories: July 2010, Bizarre
/