Shopping Cart
Your Cart is Empty
There was an error with PayPal
Click here to try again
Thank you for your business!
You should be receiving an order confirmation from Paypal shortly.
Exit Shopping Cart
Features, Reviews and a Blog by John Sciacca
| | |
| --- | --- |
| Posted on April 13, 2011 at 1:04 AM | |
There are some things that you just *know* are stupid. Curling up for a quick little nap under a running steam roller? Obvious stupid. Thrusting your hand into that bag of discarded sharps in the hospital and groping around trying to find that piece of paper you threw away by mistake? Asking for it stupid. Offering sweet, hand-fruits to that Ebola-riddled Rhesus monkey you found in the jungles of Africa? Have what's coming to you stoopid. Storming up to the big group of dudes that are covered in jagged prison tattoos of iron crosses and swastikas and saying, "Someone's about to get their ass kicked tonight!"? Well, someone IS gonna get their ass kicked, stupid.
Now using a computer and surfing the Internet shouldn't be stupid. But it CAN be. Clicking on any banner that is flashing and says you're the millionth visitor and that you've won a free iPad and they just need your e-mail address to claim your prize? Stupid. Downloading an attachment from someone you don't know? Stupid. Actually *opening* that attachment? When it is a .exe file? Yeah. You are so dumb. You really, really dumb. For real. Run and tell dat, home boy!

But sometimes, on the Internet bad things happen to good people for no apparent reason. I'm fairly certain that Dana picked up a little somethin-somethin from all of her coupon blogs and download coupon activators and electro swaggering. My dad was hunting for a power supply for a Bluetooth earpiece and clikced on a link that took him to a European website and his PC took a dump.
"Poor fools," I thought. "Poor unfortunate souls. They can't be held to blame for being ignorant of the way the big, scary Internet world operates. They need to be protected. They should have a Great Berlin FireWall of China standing between them and the Interwebs, ever on guard, ever vigilant, ever protecting of all those mean-mean techno predators out there trying to prey on the less tech fortunate amongst us."
The overall, underlying emotion here was that this could never happen to me. No way. I'm much too tech savvy to be hoodwinked by any of these click-and-run shenanigans. I don't go Bit Torrenting illegal movies. I don't allow Active-X scripts. I'm not trolling for porn and looking for random naked pics of celebs. I'm not clicking around on Facebook and trying to pirate music. In a nutshell, I'm not on the Internet doing anything…stupid.
So, the other night I'm writing and working and cruising around doing research for a story, and I click on a link for something and all of a sudden this Adobe window starts popping up. I close it. It pops back up. I close it, it reappears. Close, open, close, open. Go into Ctrl-Alt-Del Task Manager and end task, but no luck. I restart and then this little red X icon appears down in my running application tray. It is flashing. I hover over it and it says that Windows has detected a potential problem on my computer. This looks like what Windows Defender says when I've encountered some kind of problem. So I click the blinking red X because that's what 2000 years of polite and civilized society has taught us to do with blinking red X's and immediately a window pops up. It needs to scan my computer. It has found critical errors with my hard drive. These are critical errors that cannot be resolved with a normal scan. These are the kinds of errors that are going to require some premium paid care. This doesn't feel right. This doesn't feel good. In fact, this feels bad, way, WAY bad.
I do what owning a Windows computer has taught me to do. I restart. A restart generally cures what ails you. A restart is like a long sleep after a three martini hangover. Things just look better in the morning after a restart. So, the computer comes back up looking normal and then…pow! Everything disappears from my desktop. My background image. All of my icons. All of my files. The only thing visible is the blinking red X. And it does NOT look happy. A large box keeps popping up saying Windows Restore. It looks like this: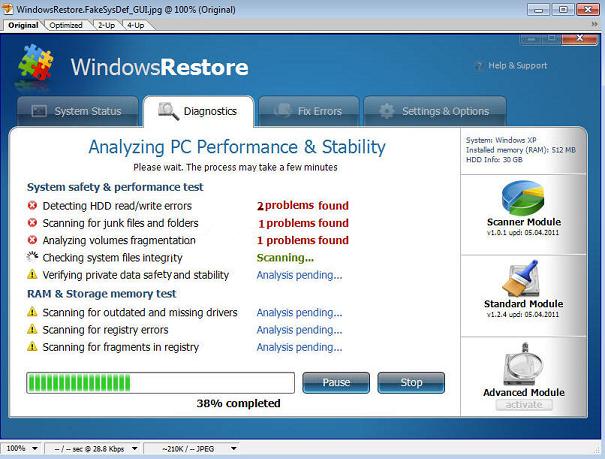 It keeps running this scan on my computer and finding all of these problems that apparently only an advanced scanning module can rectify. I click on the My Documents folder and…it's empty. I click on the Recycle Bin…empty. I click on my photos, my music, my Microsoft Money archive files, my C drive….ALL empty. In the blink of an eye, everything I had been working on for years was just completely gone. Just wiped out.
My first thought after the adrenaline dump sheen of clammy sweat broke out was to try restoring my computer to an earlier date using System Restore. I'd just roll it back to a week ago. A happy time when all of my stuff was there and working. A time before blank screens andn angry red blinking Xs. So I opened the Control Panel and navigated to System Restore and noticed that "Set automatic restore points" was off and there were no existing restore points. Damn, damn, DAMN-HELL-CRAP-DAMN!!!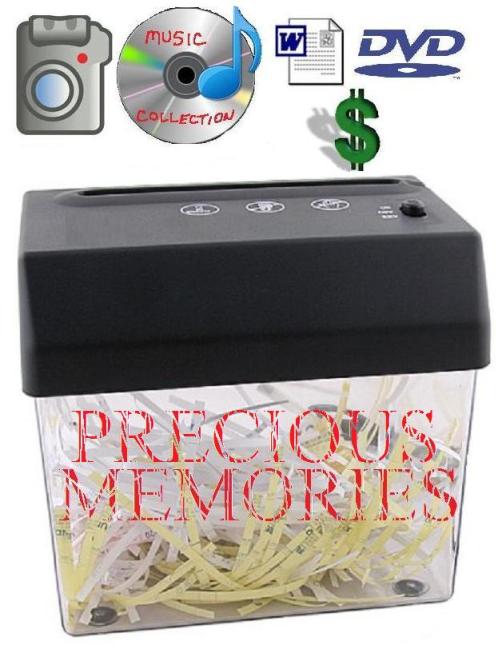 As a writer, it isn't much exaggeration to say that my laptop is a big huge part of my life. Stories written and unpublished. Stories still being worked on. Hours and hours and days of work. (And I can tell you; for me, when I have to go back and try and recreate something, it is almost NEVER as good as it is the first time. That initial burst of creative flow is lost; pissed down the drain and unrecoverabel for that story...) Pictures downloaded and then wiped off the camera's memory card. Memories and work. Year's worth. The first thing that flashes through your mind after the initial "Oh crap, oh crap, ohcrap-ohcrap-OHCRAP!!!" wears off is "What and when is the last time I backed up." And no matter how often you think you do, in that moment, you definitely have NOT done it often enough.
While the Windows Restore virus removed any traces of Internet Explorer, it fortunately left Firefox alone. I was able to restart my computer in safe mode with networking (pressing the F8 key repeatedly during startup, or just pressing it once at the exact right moment) and access the Internet using Firefox. It seemed only ironically just and fitting that I would use the Internet – the very thing that had crippled me – to restore me. So I Googled "Fake Windows Restore virus" and found a TON of people had encountered the same bit of misfortune. Unfortunately a lot of the solutions were to download other company's anti-spy and anti-malware which seemed like they could do just as much harm. Others offered all of these steps for deleting programs and files and editing the Registry which sounded like it would work but I had no idea to go about. Windows suggested running the Malicious Software Removal Tool, which I scanned for about two hours and made no progress. They they suggest their on-line Live OneCare Safety Scanner, except it wouldn't work within Firefox.
At this point, I had been at it for about 3 hours solo and I was getting a little desperate. A tear-down-and-rebuild, full drive wipe and restore was not going to be a viable "love all, lose all" solution. So I found a phone number for Windows 24/7 I've-done-and-got-virused tech support – 866-727-2338. After waiting on hold for nearly 50 minutes, I finally got on the phone with Vijay who immediately reassured me that my files where all still there, only hidden, and that we were going to be able to get this fixed together in no time. He helped me find Internet Explorer – Start bar, search "iexplore.exe" – and once that was running I navigated to a page where he was able to take control of my computer and systematically locate and wipe out the virus. He then rebooted my computer, restored all of my hidden files, and after everything was back up and running 5-by-5, he told me to surf more carefully – "Stay away from the social networking sites!" – and to have a good night.
I know that India call center tech support gets a bad rap – and maybe, or even probably, deservedly much of the time – but in this case, my man Vijay rocked-it, and I am totally grateful for his patient, step-by-step help to get my computer back to good. If this motivates you to take a moment to back something up, well, then you can thank Vijay too.

Categories: April 2011, Computers
/