Shopping Cart
Your Cart is Empty
There was an error with PayPal
Click here to try again
Thank you for your business!
You should be receiving an order confirmation from Paypal shortly.
Exit Shopping Cart
Features, Reviews and a Blog by John Sciacca
| | |
| --- | --- |
| Posted on April 17, 2011 at 12:24 PM | |
The Internet is home to all manner of bizarre fetish subset groups. You like to see midgets swinging from a trapeze while smoking French cigarettes? Great. You just need to decide if you're in the mood for your midgets to be with or without full body tattoos and piercings. Or perhaps you prefer to watch obese elderly ladies washing motorcycles while wearing camouflage or just stare at a webcam pointed to warehouses filled with cardboard boxes filled with old medical records. Whatever your kink, the Internet has got you covered. In spades. Scary, scary spades.
One subset that I've mostly ignored here is the "unboxing" fetish. It appears that many people out there really get off on watching people get new electronics – generally cell phones and new i-devices; oh the Interwebs were just a flurry with people unboxing their new iPad2s. And just because you've watched someone unboxing a 16 GB WiFi model doesn't mean that you should miss even one exciting second of a 64 GB 3G ATT unbox! In white! – and then watch every detailed, micro step of the unpacking process. They will video and then narrate while they actually go through the process of opening the packaging. Now, they don't review the gear. Oh no! These people are just about discussing and dissecting the opening and unboxing procedure. How is it packed? Did they use tape or that paper and glue stuff? What kinds of materials come in the box? Did they accidentally slip in an extra pack of the silica desiccant crystals for absorption? Did they use rubber bands or twist-ties for the cables? Oh, the excitement of it all! (I'm guessing that the people making these videos just have God-awful boring lives, and that they are looking for anything to break up the monotony of another day in mom's basement and probably have nothing actually worthwhile to say. And, as you know, I'm never at a shortage of things to say...)
So, I thought I'd treat you to a bit of AV unboxing porn here today. I got a couple of new Meridian components shipped to me, one arrived Friday morning and the other Saturday afternoon. (Yes, you know how I love my Saturday delivery! It's that extra, super-special way that manufacturer's show me they care enough to send the very best.)
Now, I've never really dealt with Meridian before. My closest real brush was when they purchased/absorbed Sooloos a little while back and I reviewed the Meridian-Sooloos Control 15 for Sound and Vision. (You can read that review here.) And even then I mostly dealt with the hyphen Sooloos side of the Meridian team. Now this doesn't mean that I didn't know Meridian. Oh, no. Meridian, I see you; I see you very well. I think I have attended almost every Meridian demo at every tradeshow I've been to. Usually they are showcasing some $20,000 processor connected to a $20,000 DVD player driving a suite of $50,000-plus speakers and, if you're lucky, maybe even a quarter-million dollar projector. (Plus, I like their PR rep, Sue Toscano, and she always makes sure I get a good seat and a nice glass of something. My joys in life are simple. Give me a stratospherically priced audio system to enjoy along with some top-shelf swill and I'll be fully content and happy to sit there basking in the warm glow of it all.)  
But, when it comes to reviewing gear priced in the 30-year mortgage range, I am not generally reviewer option number one. And, I'll be honest; if I was Meridian and I was sending out 800-series awesomeness, I wouldn't send it to me either; I'd sent it to Brent Butterworth. But where that changes is when the product to be reviewed is a media server of some sort. Audio, video, audio AND video? Yeah, coming to me. Because for media servers I AM the go to guy. (Who else you gonna send it to? Darryl Wilkinson? Damn! You were thinking about it, weren't you?! DARRR-RYLLLL!) So, this is how I stumbled onto getting some brand new Meridian speakers – along with the new –Sooloos Media Core server – on my doorstep.
So, while I know Meridian speakers and I've heard them, I don't really have any long-term listening experience with them. It's not like I run in circles where $100,000 audio systems are the norm. I more frequent parallelograms where there is decent red wine, the occasional stand out scotch, and a DLP TV purchased at Best Buy. I know that Meridian gear is very cool looking and have some models that come in authentic Ferrari pain colors. Here's a beauty shot of a tabletop radio they made in co-op with the Prancing Stallion, the F80.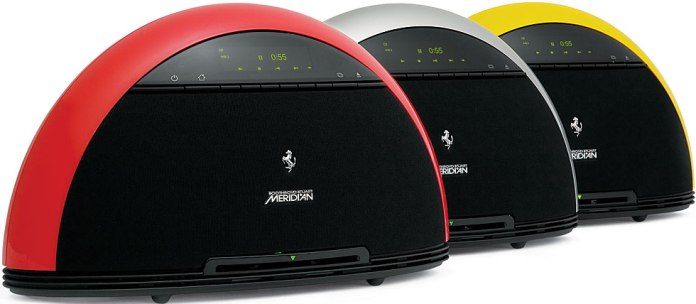 And if you were ever to consider spending $3000 for a tabletop radio, I can recommend none finer than the F80. Once you get over the gut check of, "Oh…my…holy…CRAP! Three thousand! For a tabletop radio?! I think my left arm is tingling!" you'll marvel in how much sound that little box can produce. (And if I hear anyone say, "Bose Wave Radio" you lose a testicle. And that goes for the women too!) Available in colors with the exotic Ferrari paints of Bianco Avus, Giallo Modena, Rosso corsa, Nero, Argento Nurburgring Met. (Those are white, yellow, Ferrari red, black and metallic silver for all of you uncultured, un-Ferrari'd Americans.)
So, without further delay, let's commence with the unboxing, shall we? Here are the two boxes, full pre-unboxed. Beware the Leatherman!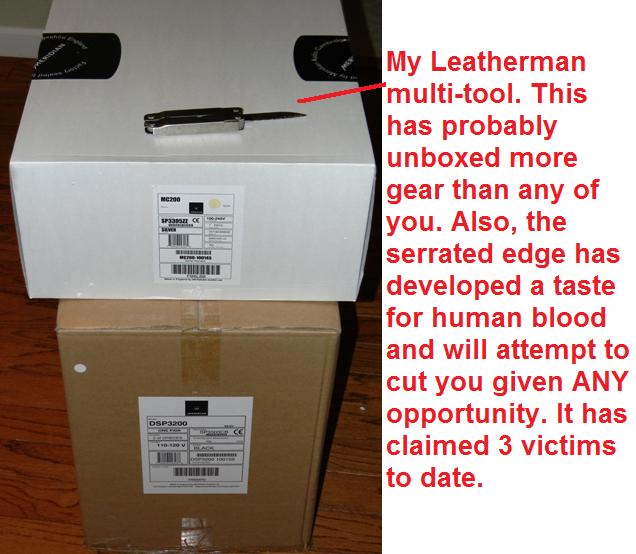 Exciting, no? You're now wondering how I could have possibly been doing this blog for over a year and yet been depriving you of these kinds of reviewing insights. You can hardly wait to see what's inside, right?! Fortunately, the wait is brief. Here's the Media Core 200 unbox: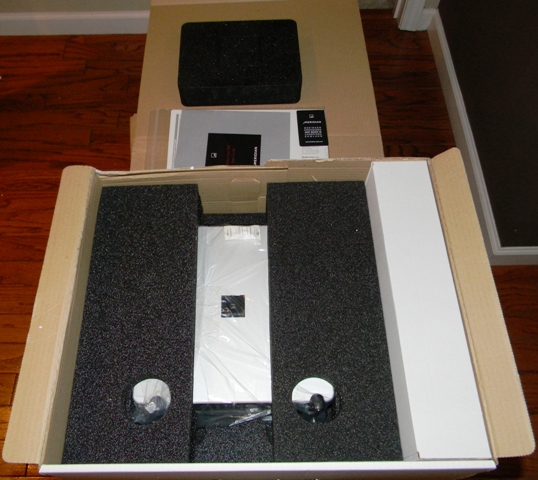 OK. I admit. That one's pretty boring. I couldn't even think of a decent caption to dress it up. Nice, uh, foamy packing material and whatsuch. Not even any cool British extra-u spelling like "colour" or "armour" or "al-you-men-ee-yum" I can riff off. Moving on to the DSP3200 speakers: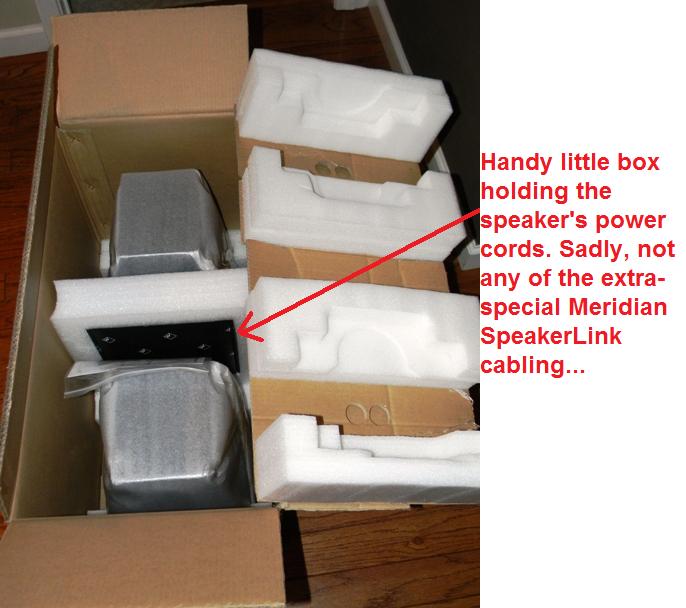 So, yeah. They didn't include any SpeakerLink cabling. After some back-and-forth, I was given permission to use regular old NON-Meridian Cat5 over the weekend while the Fed-Ex gets ready to overnight me some authentic cabling on Monday. Apparently non-Meridian Cat5 is lacking a certain Meridian-ness to fully reveal the entire Meridian-ized digital audio signal. Based on how the speakers sound with regular old, something I found at the bottom of a box under my pool table Cat5, I can only imagine how good they will sound when fed from the golden-angel-haired strands of actual SpeakerLink! Here is the gear out of the box and wrappings. (Note: The high gloss finish on these speakers is quite slippery and when being handled and unwrapped from the heavily-taped packaging in a long sleeved cotton shirt, GREAT CARE should be taken to avoid them from slipping out of your grasp, you shouting, "OH NO!" and barely regrabbing it before you have a most unfortunate incident resulting in what I can only imagine would be an extremely awkward and uncomfortable phone call to your Meridian PR rep...)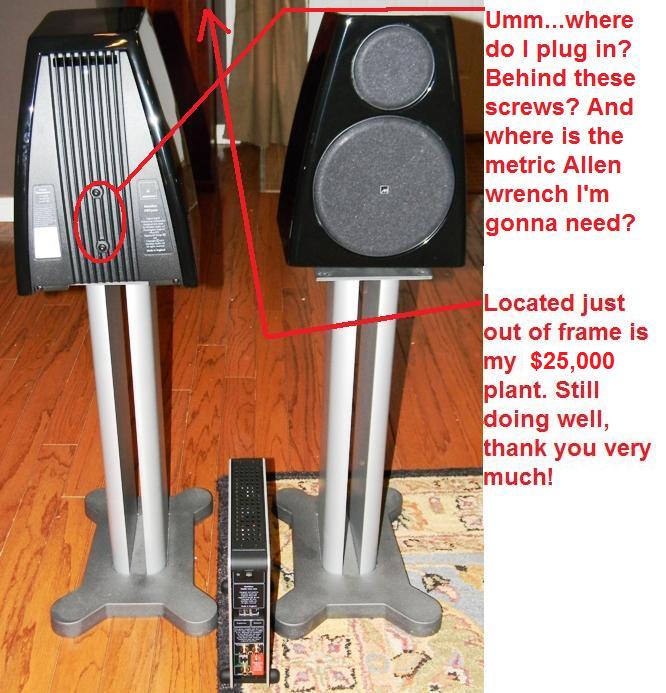 Meridian doesn't have any speaker stands for these yet, so I borrowed some stands from work. These are some left over from They Who Shall Not Be Named and they seem to fit the bill nicely. If you are like me -- you are, right? Being one-of-a-kind is really just kind of lonely and socially off-putting -- you might notice that the back of the speaker is completely devoid of any connection options. I looked at the back and it is some kind of weird, allen screw or maybe some weird European thing. I started looking through the pack-in goodies for a tool and when I didn't find one, I decided to flip the speaker over...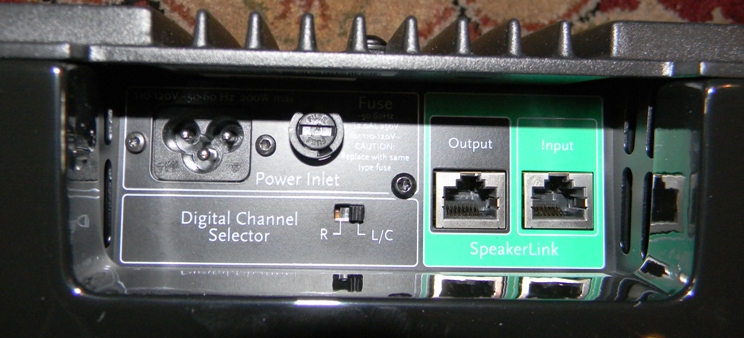 Ahh, yes! Here we are! Looks like I can put those banana plugs away. Lest you think that you'll just connect these Meridian beauties to your Aiwa shelf system, they ONLY accept Meridian SpeakerLink connections (or, in the rarest of pinches, regular Cat5 but then, and ONLY THEN, to get a reviewer located in a remote outpost of the reviewing world like Myrtle Beach through a weekend pinch). A selector tells the system whether this is a left/center or right speaker. Because they have their own amplification and DSP black magic built-in, they require power. Fortunately the American kind, not the weird European kind. Here's the finished bit: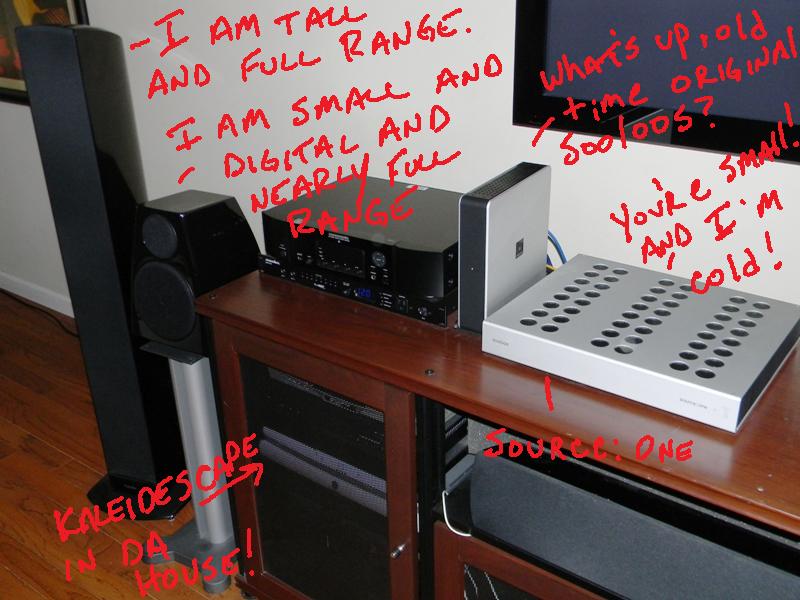 And, voila! I'm installed and listening to music! Here you can see the DSP3200's next to my Def Tech Mythos ST towers and the Media Core 200 next to the original Soolos Source: ONE component. (That review is available here.) The Core 200 is small and superior in every way to the Source: ONE making it feel angry and ill-tempered as old things are often want to do. Full review of both products forth coming... Initial review: Meridian you can have these back when you book a seat on the brought-back-into-service-just-for-this-contingency Concorde and fly into Myrtle Beach International to come retrieve them for yourself!

Categories: April 2011, Electronics, Reviews
/