Shopping Cart
Your Cart is Empty
There was an error with PayPal
Click here to try again
Thank you for your business!
You should be receiving an order confirmation from Paypal shortly.
Exit Shopping Cart
Features, Reviews and a Blog by John Sciacca
| | |
| --- | --- |
| Posted on April 27, 2011 at 12:16 PM | |
Undoubtedly, you'll all recall with perfect clarity that Universal Remote Control – aka URC, aka the Universal Remote Control company that *makes* universal remote controls – did a "Know your industry journalist!" thingy on me back in January. (It might not have had an exclamation point, but I feel it adds a certain kind of stature and dignity to the gravitas of the whole affair.)
They wanted to kick their industry news letter off in a huge way for the New Year, and when they finally worked their way to the S section of their PR Rolodex – and were undoubtedly turned down by Rob Sabin, he of the "gave Sciacca his start" fame and who is right now sitting mightily on the Home Theater Magazine throne – they approached Sciacca. You can see that post/interview here...
But, apparently the world doesn't know me enough. The world hungers for more Sciacca-related minutiae. And I, of course, am happy to oblige. You have questions, I have answers. I am, without a doubt, the world's foremost authority on me, despite how many times Dana may say she's heard a given story. (Which, in fact, is probably quite a few.)
So intimidating is my awesomeness, that a PR agency had to approach me on behalf of themselves! I got an e-mail from Lauren – the same Lauren from this CEDIA post; the one where we watch SurgeX turn other company's surge protectors – ALLEGED surge protectors! – into so much roiling crack-pipe smoke – at Caster Communications asking if I would grant an audience with another Caster employee.  
To quote:
As you know we hired a new account coordinator, Cassidy Swanson. As one of her first projects, we are helping her to get to know our core press and start to develop those relationships.
Tomorrow, she will be sending you a few light questions (i.e. your favorite color, what secret you know about Caster, your first job, etc...) that she will be using to do a feature blog post on you for our Caster Blog.
I'm hoping you can help us out and answer her when you have a second. Please let me know if I'm asking too much.
Thanks in advance,
Lauren
So, here is a picture of Caster Cassidy, which just cements that head Caster, Kim, only scours the streets of Rhode Island looking for the least attractive women she can find. Looking for old, griseled, industry hardened, matronly burn-outs that fill an office with the aroma of stale coffee, desperation and old cigarettes. Putting together a team SO unattrac...oh who am I kidding! The whole world knows the Caster girls are the best! (Umm, you're good and something-something too, Nick!) Plus, does she *seriously* not look like Erin from The Office? I know, I know...I said that about PR Buddha before. But this is even a more matchy-match.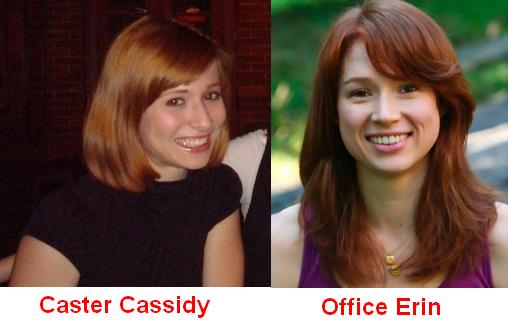 Of course, being the world's foremost authority on all things Sciacca – well, my actual knowledge of Sciacca might primarily consist of 20 year old memories from a single, two-day visit – I heartily agreed. And then set about deciding exactly which was my favorite color. After an exhaustive visit to several local paint stores, I thought I'd narrowed it down suitably to share with the world.
So, as promised, the Caster Cassidy (Oh, PS, that's what I'm calling her now. The titles "New Ashley," and "Not new Ashley" having been previously exhausted on other new Caster-er, Megan) e-mail arrived...
Hi John,
As one of my first projects at Caster, I've been given the task of reviving our "Candid Chat with Journalists" segment for Caster's blog, and I was hoping you might like to participate if you have the time. If you wouldn't mind answering the following questions, that would be great.
I really appreciate you taking the time to read this and (hopefully) get back to me with some answers, when convenient for you. I look forward to reading your responses, and I continue to thoroughly enjoy your blog! The MusicMask entry was HILARIOUS. I'm consistently amazed at the things people actually pay money for...
Thanks,
Cassidy Swanson
Obviously, post dropping one of my recent stories immediately made her my favorite person of the day, so I was totally predisposed to helping. Sadly though, none of the questions she asked were about my favorite color (which I think is British Racing Green or Corsa Rosso, aka Ferrari Red, especially if it is actuall ON a Ferrari) or my first job (which, if interpreted loosely would be the indentured servitude to my dad, or if you are going to take a more literal term of the word "job" where you have to receive pay in exchange for services rendered, then it would be working at my aunt's Italian restaurant in Coos Bay, Oregon; I washed dishes all summer to earn enough money to buy a Sony Betamax!) But, once I rallied from having to chuck my prepared list of answers, I moved on to answering Caster Cassidy's NEW list of questions.  
All I asked was that Cassidy make sure that I came across sounding funny AND brilliant and to make me sound even more like this guy.
She responded, "As confident as I am in my writing abilities, I don't think I could accurately capture the badassery of this guy...but I made sure to point out more than once that you're a really good writer and absolutely hilarious, so I hope that will do."
I assured her that it would.  Her post is up today, and I'm sure she'd love you to read it. Here's the link to my candid chat and the intro…
As one of my first official tasks at Caster that is entirely my own, I have been bestowed the solemn duty of reviving the "Candid Chat with Journalists" blog series. It is with great honor and privilege that I accept this challenge. Blogging is serious business, don't ya know.
The first journalist we'll be featuring is the deeply-knowledgeable and always-hilarious John Sciacca: a California native, devoted dad and husband, installation expert at Custom Theater & Audio, and writer of the aptly-titled John Sciacca Writes. John's website runs the gamut of just about everything you can think of: from product reviews to random rants, from music to the hysterical things his four-year-old daughter, Lauryn, says (here's my personal favorite). There's something for everyone. I personally learn a lot about CE from John's perspective as a great writer, who also happens to be an installer—and often find myself clapping my hand over my mouth to keep from laughing like a lunatic at my desk at entries like this one. John was nice enough to take time out of his day to answer my questions and help out a rookie. Enjoy—I know I did!
You heard her! Go on...Enjoy already!
Categories: April 2011
/