Shopping Cart
Your Cart is Empty
There was an error with PayPal
Click here to try again
Thank you for your business!
You should be receiving an order confirmation from Paypal shortly.
Exit Shopping Cart
Features, Reviews and a Blog by John Sciacca
| | |
| --- | --- |
| Posted on July 9, 2011 at 1:10 PM | |
Lest you all think that I do is just sit around Custom Theater all day thinking up the latest blog topic – in between answering the phones and dealing with the latest bit of insanity to come through the door – I thought I would walk you through the first two hours of my morning here this Saturday.  Sadly, little of it is exciting as actually BEING "Like a Boss," Lonely Island style...
"Talk to corporate (like a boss)
Approve memos (like a boss)
Lead a workshop (like a boss)
Direct workflow (like a boss)
My own bathroom (like a boss)
Micromanage (like a boss)
Promote Synergy (like a boss)
Hit on Debra (like a boss)
Get rejected (like a boss)
Swallow sadness (like a boss)
Send some faxes (like a boss)
Cry deeply (like a boss)
Demand a refund (like a boss)
Eat a bagel (like a boss)
Harassment lawsuit (like a boss)
No promotion (like a boss)
Fifth of vodka (like a boss)"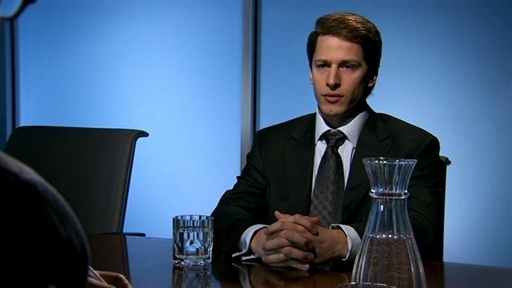 10:00 Open the store (like a boss), and on my way to turning off the alarm (much like a normal employee) I glance at our thermostat and am encouraged/relieved to see that it is dead-solid-perfect at 72. Then as I'm just hitting the last digit of the alarm code, one of my most aggravating things happens...the phone starts ringing! Gar! This is such a small thing but it TOTALLY irks me. I know we open at 10 and I know that means that is when you can start calling, but my day would be OH so much nicer if you'd wait until like 10:08 or something. Just give me those first few minutes to settle in, fire up the computer, swallow some sadness, etc.
It's an old customer. He starts off with some serious pater familias talk; How is the family? How is the baby? Have we given thoughts to having more kids? When do we think we will? It's expensive and we really need to weigh the decision... (Seriously, this is WAY stepping over the line. I'm trying my bestest to be kind and patient – it is barely seconds into my work day after all – and not all, "Look, man, this is absolutely none of your business. Friends, Clients, or Nothing, got it?) He finally gets around to the reason for his call – probably the long pause and sigh on my end – and says that he's calling to see if I can remember if some speaker wiring that he has if the black wire is the "hot or cold wire." I tell him that black is always negative ("cold" ) and that the white would be positive. I also tell him that that wiring would be perfect to use for the new front height channels that his – clickety-clackety – Denon AVR-4308 receiver can use to support either DPL IIz or Audyssey DSX Height. He hangs up happy and fulfilled.
Finish with that, get my accounting software all booted up and fill out the employee 401k contributions for June. I made the decision a couple of years ago to offer this to our employees as a benefit. You know, back when we were all making money. We match up to 3% of their pay that is invested in some retirement thingy. Unfortunately this requires me to go through each employee's weekly pay and extract their contributions along with our match and then type it all up and generate a check. I would say it's the least I can do, but I'm sure somehow I could be doing less.
Go into our payables and select and print out the latest batch of checks for our manufacturer invoices. This comes to a total of 13 checks totaling $15,667.67. Sign all the checks, mate them up with their invoices, stuff them into envelopes, stamp them and then carry them out to the mailbox. Raise flag on mailbox so I can know when the mail has been delivered for the day (a sad little highpoint in my daily worklife...).
Answer my second phone call and tell someone that we can't install a radio in his Chevy truck and that, no, I'm afraid I don't have another car stereo installation company I can refer him to.
Draft a letter to Mr. Brain in response to his certified letter threatening to sue us. This took hardly any time at all as it really could have been summed up in exactly two words; the second being YOU and the first starting with an F. A big, fat capital F. It did include the phrase "at the advice of our legal counsel" which was meant to say all Tony Montana style, "You wanna F with me? Okay. You wanna play rough? Okay. Say hello to my little friend!"
First customer of the day comes in. Asks me if we install home theater systems. Which, I mean, man is that a dense feeling question. Our sign looks like a movie theater ticket. It says "Featuring Home Theatre and Sound Systems INSTALLED"! Our store is called "Custom Theater and Audio." You walk in and see all kinds of TVs and surround systems. "Uh, no, sir, we rework engines and axles on long-haul trucks and run a small bio-diesel fuel distribution center out back. No theaters here, no sir."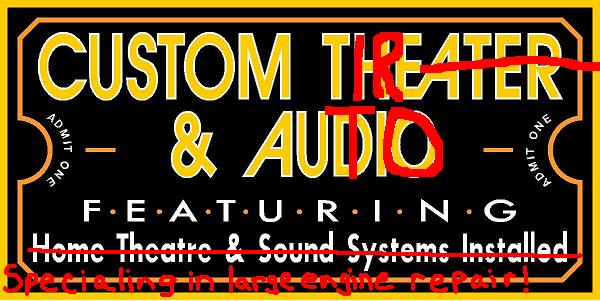 He says his home is wired for not one, not two, but THREE surround system; two 5.1 and one 7.1. So he walks around and is looking at stuff and then his mega petite wife/girlfriend comes in. Think Tila Tequila...only skinnier. So he sees the Runco Q projector in our theater and he says, "You do anything besides Runco? I've had a Runco and I don't want another one."
I assure him that we also do Sony, Sharp and JVC, but that we prefer Runco for our higher-end models. I tell him that Runco isn't the same company they used to be. That we had our share of service and reliability issues in the past, but since they've been bought out by Planar a couple of years ago, their quality control has gone way up and that we've installed multiple Q projectors and every customer has been blown away.
"Well, I had an old Runco CRT and I had a lot of trouble with it. I'm not getting another one."
I tell him that I'm not here to cram Runco down his throat; you want a JVC or a Sony or a Sharp, hey, brother, I'm gonna love installing it for you. But that it is an entirely different company now from the CRT manufacturer from years past. The performance was always there, but now the reliability is too. But, I understand my man…I had three bad VWs (model years ranging 83 – 88 ) and I doubt I'll every buy another one. The last straw was pretty much CATCHING ON FIRE! while Dana was driving it and self-immolating on the side of the road. That's the kind of thing that can scare you away from a manufacturer.
So he and Tila take a seat in our Q theater and ask if they can see it. So I turn it on with some nature Blu-ray (our DSS is broken and this is the first Blu-ray I can scrounge) and they both literally say, "Wow!" Then my man gathers his wits and says, "This is the best looking projector image I have EVER seen. This is amazing."
"Yeah. But you don't want a Runco."
"Well, this doesn't look anything like what I had..."
Then I start telling him about the new LED light engine and the advantages and blah-blah. They want to see something else. So I pull up our Kaleidescape library ready to go to one of my tried and true demo scenes (I'm stuck on opening attack from Master and Commander; hey, it works!) and they see Norbit that lame-ass Eddie Murphy movie and they both go, "Eww! Norbit! Let's watch Norbit!" So, in my 15 years of being an audio salesman, I give my first Norbit demo. On a 6-figure theater system. But hey, variety is the spice of life. If watching Norbit is gonna get you to bite on buying a Runco Q, then let's watch us some Norbit! (My only concern...there is an existing 130-inch screen in the house and that *might* be pushing the power of the Q...)
We talk control options for a bit, Tila swoons over the carpeting in our theater and our fiber optic lighting, I take their information and set up a site visit next week.
Third phone call; guy calls to ask if he can come by and pick up a subwoofer that he ordered. "I thought you wanted us to deliver it? I have you scheduled for us to bring it Monday morning."
"I just kind of want it right now, ya know?"
I know. Come on down, I'm here till 6. Remember that it is the size of a small refrigerator and weighs 185 pounds so if you show up in a two-door auto, I'm not even opening the front door for you!
Prepare the sales tax report for the last month. This involves hand typing the parts, labor, tax, shipping, and deposits from every chit that we did over the past 30 days; a total of 60 for June. I'm *sure* there is a more advanced way of doing this other than by using Microsoft Excel, but this system works for me and it is an easy way for me to instantly check year-to-date, year-over-year, month-against-month performance to see how we're looking. Cut the check, stuff it, stamp it and carry it out to the mailbox.
Print the payroll stubs from the direct deposit of this week's payroll. Stuff them all into little security window envelopes and place them by the timeclock for my guys come Monday.
Type in the credit card deposit for my man's Lutron Sivoia shade order. (This guy; yeah, he totally came through and bought them! Sweet!) Try and figure out how to enter the revised Shading Quote from Lutron into their Shade Configurator Tool and can't call my rep and leave her a message asking how to do it.
All of that in the first two hours of this work day. Now, just don't ask me what I'm gonna do for the other six...
Categories: July 2011, CTA, Movies
/