Shopping Cart
Your Cart is Empty
There was an error with PayPal
Click here to try again
Thank you for your business!
You should be receiving an order confirmation from Paypal shortly.
Exit Shopping Cart
Features, Reviews and a Blog by John Sciacca
| | |
| --- | --- |
| Posted on August 3, 2011 at 6:16 PM | |
There is a special relationship that exists between hero and nemesis; between archetype and foil; between Holmes and Moriarty. Or, rather in this case, between Sciacca and Wilkinson.
If you've read any of my blog over the past 500 entries, chances are you've at some point stumbled across mentions of Herr Wilkinson, or perhaps just use of his Christian name, Darryl, or even the informal-est of all, "DW." In fact, searching just "Wilkinson" on my blog will reveal 46 posts. But you might ask, "Who is this arch-demon and is he really a man that walks amongst us and why has he so captivated and haunted the mind of Sciacca?"
As I've said before, Wilkinson is the 2nd best AV editor out there, though surely others would vie for that title and Darryl himself would question the veracity of any poll where he did not come out on top by a large margin. My first lengthy encounter with The Darryl was in a cab in New Hampshire. My fate was sealed from the first instant when the limo driver picking us up was holding a sign that read, "SICACA." So close, and yet, so ripe for Wilkinson to plant seeds that would yield taunts and torments for years to come.
And when it comes to taunting and tormenting, there are few that can do it to the caliber of one Darryl Wilkinson.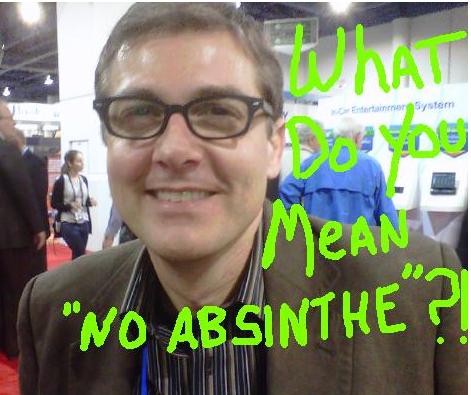 You could say that he is a master artisan of shame. Carefully practicing, honing and perfecting his craft. And watching him at work is equal parts terrifying and beautiful. Associating with Darryl is a bit like juggling cobras. With people throwing pooh-tipped jarts at you. While you're naked. And standing in lava. But, you know, in a fun way. Darryl is the type of committed for that he will go and start his own blog called "Wilkinson writes more better than John." (Sadly, he ran out of steam around post 5, but still, you have to give him points for trying.)

Before we begin, if you haven't read his comment – he's always DW – on my 500th blog post from yesterday, please do. It is a shaming on a near religious level. It was so epic-ly beautiful that I want to wrap myself up in it like a special private shame blank it and walk around, while I'm the only one that would know whether I was wearing anything underneath or not. (OK. I wouldn't be.) I want to make that comment into a Hallmark and then mail it to myself and open it on a special occasions. It should be a T-shirt that you snuggle up in on cold and depressing days.

Beyond that, I have had several other great electronic encounters with @Darryl lately. And snce so few of us are truly fortunate enough to stumble across our Yang – that's the evil black one, right? – I thought I would give you a glimpse into what you're missing… I give you the horror and the glory which is…THE WILKINSON!
This e-mail copied to me from a PR agent that was arranging CEDIA dinner invites:
Hi XXX,
You had me up until the paragraph that begins, "John Sciacca is going to join us…" Dinners with John always involve too much drinking (on his part), too much girlish screaming (on his part), and way too much groping under the table (on his part). Just to show you how aware he is of things, I've never attended a press dinner with "drawn on" pants. I normally attend with pants that are tastefully (and quite artistically) SPRAY PAINTED ON pants. And I always have a full-body waxing done since food is being served.
The least Sciacca could do would be to promise not to live blog from the dinner table. It's always so annoying when he says, "Wait. Stop. Say that again, that was good! And do you spell butt cheeks as one word or two?"
Of course, it would help things greatly if Sciacca could sit at the children's table with some crayons and a kiddy menu to color on. He tends to get into less trouble that way.
But, even if you don't promise to keep Sciacca in check, I guess I'll still go to dinner on Friday.
Thanks for the invite!
Darryl
Just to show you that I don't take Darryl sitting down – wait...I don't "take Darryl" in any manner or fashion. That is just the kind of slip of phrase that he would jump all over! Great care must be taken when stalking the Wilkinson at all times! – here was my reply:
XXX
I thought I would just say that judging from past CEDIA dinner commitments with Darryl there is at least a 33% chance that he will "get sick" from too much "dinner" the night before and will have to stay in his "hotel room" all day and miss the show and the subsequent dinner. The following day he'll act all "Wait! What? Dinner? Weird, right? Did anyone else get sick?"
I would recommend having a suitable backup for Darryl's invite just to cover yourself; say someone that you randomly run into at a bus station or truck stop urinal. You know, the guy that keeps looking over at you and then back at his junk and then back to you and then smiling.
Further, with XXX's new IP based products, I am considering a live video blog from dinner. And everyone knows that you hyphenate butt-cheeks.
js
It takes a VERY special and dedicated person to have SO much loyalty to the craft of fiendish-ery that they will go out and create a fake G-mail account just so they can send a letter to an editor complaining about me. Rest assured, Darryl is that brand of tormentor. Here, in his e-mail to Resi Systems, Jeremy G, – a Mr. -- gets swept up in the wake of Wilkson-Sciacca collateral damage.
Dear Miss Glowacki,
I have been a reader of your magazine for many years. I normally enjoy very much the timely and informative articles that you choose to publcate in your magazine.
Unfortunately, I must issue forth a complaint about a certain contributor you have on your staff named John Sicacca.
Although Mr. Sicacca claims to have experience in the customer install business, I doubt this sincerely. I recently purchased a customer installation business in Nevada, and I can tell you from my 6 months of experience in the business that Mr. Sicacca couldn't tell his butt splice from an RCA jack in the ground.
In my previous job as an orderly at a medium security institution for the criminally insane, I would have written a report on Mr. Sicacca stating that he was out of touch with reality and probably couldn't tell a red wire from a black one from a hole in the ground. It's typical of this personality type to drink too much Crowne Royal Black or (Strawberry Ripple from a bottle in a paper bag purchased at the local convenience/gas store). I know you may be hard up for contributors, but this is no excuse for hiring the likes of Sicacca.
I would like to emphasize that i in no way have any connection with Mr. Sicacca or am in any way some sort of competitor. He does business mainly in Myrtle Beach, SC, which, according to WikiLeaks is a hotbed of cross-dressers and boiled-peanut eaters. He also writes for a so-called "consumer" magazine that doesn't even publish an issue every month.
This is just a quick message letting you know what kind of individual your are employing to write columns and represent your company at trade shows. Were I you (which I obviously am not, otherwise I would not need to be writing this email), I would fire Mr. Sicacca immediately. In fact, I would retroactively take back any fees you may have paid to him over the last five or more years.
I don't actually write for any other magazine or on-line publication. I have read several short stories by Mark Twain, if that counts. (The novels are too long for my attention span.) It's a shame that someone can't pants Sicacca at the beginning of a major press conference at CEDIA (are there any major press conferences at CEDIA?). I'm sure it would get lots of coverage.
I am jus a loyal reader who is just interested in maintaining journalistic integrity.
Keep up the great work. I especially like the cartoons you publish. They make me laugh so much sometimes I fart.
A. Loyal Reader
I have actual praise letters from customers that weren't as well thought out or mean as much to me as that!
And finally, an e-mail to a well-known speaker manufacturer's VP. The cyclone of Wilkinson damage reaches far, wide and hilarious at every twist and turn.
Mr. Sicacca, a person of ill-repute and a journalist of easy-refute, is evidently heartbroken that he can't break into the elite club that is the XXX Pull Quoters. (The only more elite group is the Bose Pull Quoters.) I hereby throw down the gauntlet (it's very heavy, so I haven't thrown it down very far) to all my editorial brethren to come up with the best XXX pull quote. You have been chosen as the de facto judge because you are the most de facto of us all.  Be careful, though, because the results of your judging will affect all future reviews by those of us who fail to achieve highest ranks from your esteemed judgmental judgment. Below Is my first entry. As with most New Orleans hookers, you may enter as often as you like… (I'm glad Adrienne isn't cc'd on this...) Oh, sh--, I did cc'd her on this…
"This new sub is no mere gut-thumper. It's an outright terrorist attack on your intestinal tract. Ate a bit too much Kraft Sharp Cheddar Cheese yesterday and feeling a little clogged up? Well, put on an adult diaper, my friend, and strap yourself down on top of the XXX Mythodone 22. Fire up your Ke$ha playlist and get ready for some music that will move you. In fact, you might want to wear a second adult diaper over the first one just in case the first one overflows. Yes, this gets our highest rating ever for a sub: 2 adult diapers. The FDA should approve its use as a medical device to treat gallstones and kidney stones."
Based on this, I am declaring Darryl Wilkinson "Guest Blogger Emeritus for Life" here at John Sciacca Writes. Any time, any topic, any whim that Darryl fancies to cover, these digital doors are always open. It is an offer I hope that he'll accept. Surely there is no other outlet for those twisted musings and ravings, many of which would probably be considered too inflammatory or manifesto-like.

I can only hope that one day we might actually get that Absinthe guest post… I've no doubt it would be amazing. And probably a little hurty. You know, cause it's Darryl.
Categories: August 2011, Bizarre, Guest Blog
/