Shopping Cart
Your Cart is Empty
There was an error with PayPal
Click here to try again
Thank you for your business!
You should be receiving an order confirmation from Paypal shortly.
Exit Shopping Cart
Features, Reviews and a Blog by John Sciacca
| | |
| --- | --- |
| Posted on September 12, 2011 at 10:50 AM | |
There are many cool things about being in the press corps. And, I'll be honest, it's a real ego stroke to walk through the showfloor and have people come up to you. (It is even cooler when they aren't asking your for directions or money.) At events like the CEDIA Expo, being a member of the press from a major pub is a bit like being a minor celebrity. Granted, it is like one of those TV reality show stars who is about 14:50 into their 15 minutes of fame, but a celebrity nonetheless. And, one of the cool perks at the show is the manufacturer dinners.
These are often planned out weeks in advance – though, I seriously already made a dinner res with Caster Comm for CEDIA 2012 already. It's Wednesday night. I'm not sure who it's with or where we're going, but I've got them locked down. Other companies: that still leaves Sciacca free for Thursday, Friday and Saturday! – and usually include a few members of the manufacturing team, the PR/marketing group and select other member of the press. These dinners are generally very informal, with little shop-talk and a nice chance to unwind at the end of the day and enjoy some good food, good drink and good company and get to know people that you typically only communicate with via phone or e-mail. So here is my dinner run-down from CEDIA '11.
Tuesday night: This was an arrival day, and Jeremy G had the Resi Systems Daily staff over to his house – he lives in Indy – to have pizza, beer and a watch a movie. This was a great chance for me to meet the team – my Crown Royal Black drinking buddy from last year, Mary B, having moved on to other pastures – and there were two new adds, the ultra-snarky and sounds like that girl April from Parks & Recreation, Lindsey, and the quiet, beer-making and strong-with-beard, Derrick.
Wednesday night: Pre-dinner, I stopped in at the CEDIA Chairman's Reception thing. It was at this restaurant/bar/cool-guy place called Sensu. I walk in and it is dark. Like dark-dark. After my eyes adjust, I look around and don't see anyone I know. And, since I don't know what the CEDIA Chairman looks like, I didn't see him to recept me. But a hosted bar is a hosted bar, so I was not one to look a free drink horse in the mouth. After perusing the available vodkas, I ordered a Ciroc martini with bleu-cheese stuffed olives. Very cold and very smooth. Enjoyed a couple of Asian-fusioney hors-d'oeuvres and then decided to go to the bathroom before my walk to next event. So I go in the bathroom and it is DARK-DARK. Like walking into a near pitch black room. I finally spot the urinal and head over and notice that as I am standing there, you know, going, I am LOOKING OUT INTO THE DINING ROOM!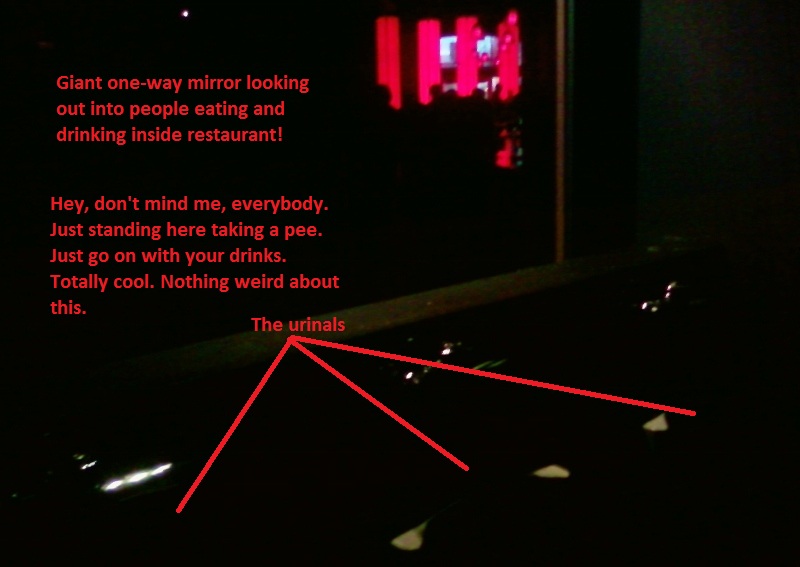 Sitting over the urinal is a large one-way mirror. This is one of the most disconcerting, pee-challenging experiences I've faced in my adult life. Super bizarre. The sink area was so dark I had to feel around to blind-grope the soap. After that, I met up with Caster Comm and drove to a restaurant called Mesh with SurgeX. I had previously met with the SurgeX team when they came to my home to install my system, so this was mostly familiar territory. Since it was dinner with Kim Lancaster, the wine is always sure to be good, and it was. I started with a glass of The Prisoner, a wine that I enjoyed at a previous dinner with Craig Eggers from Dolby Labs. I went with the Asian inspired salmon special as I knew it was going to be mostly red meat for dinner the following nights. We had a really great mixed-cheese plate app and I split something chocolate for dessert with Lauren from Caster. This dinner conversation ranged from the effects of Hurricane Irene (Caster is located in Rhode Island) to state of the industry to SurgeX's products to extensive discussions of the incredible money making opportunities of a buy-here/pay-here car dealership (apparently you get to sell, repo, sell, repo, sell the same car over and over like up to 10 times, plus charge the owners a "reclaiming fee" to get any of their stuff back they were foolish enough to leave in their car).
Thursday night: Russound hosts an annual CEDIA dinner that I've been attending for about as far back as I can remember. Somewhere along the way, it became a tradition to give out one of those little scale-model cars, so I was looking forward to snagging one for Lauryn to play with. (She even reminded me before I left. "Daddy, are you going to bring me back one of those little cars again like you do?") Unfortunately, they didn't hand them out at the dinner, and by the time I got to their booth they were all gone. Sad face. Dinner was at Morton's, which is a terrific steakhouse. My incredible sense of direction had me arriving about 10 minutes late, so I met everyone in the bar. I sidled up next to Darryl Wilkinson and we immediately sought out the absinthe selection on hand. They had a few choices, and Darryl ordered some drink with absinthe floating on top. For anyone curious, absinthe is greenish-yellow in color and tastes very strongly of black licorice, though pairs – and tames/mellows – nicely with certain liquors. I went with a Glenfiddich 18 year. They had a pre-selected menu, so it greatly simplified the decision making process. I had the salad, the filet and the cheesecake. The Morton's staff was overly generous with the green bean dish, bringing our table of 6 people 7 full, heaping dishes of beans. I sat next to Russound's CEO, and he shared one of the more profound quotes with me of the show. In their meeting with Apple to implement Airplay into a new Russound streaming component, the Apple people held up a key component/widget and said, "This part costs $15 (at manufacturer) right now. What would you do if it was $1? How would that change what you made? How would that change what you do?" It's a simple idea, but just shows the amazing, forward, think-ahead of Apple tech-think. Don't get hung up on what IS right now; think about what COULD be and then change things and work towards getting it there.
Friday night: Morton's was SUCH a great steakhouse, that I decided one night was simply not enough. So I returned for a second night for dinner with URC. Darryl clearly felt the same way as he was here too. Or maybe we both just feel that it is safest if we are constantly around each other; that way we'll always know what the one is saying about the other. This was a good group of guys – and Darryl -- with the female contingent wholly rounded out by Lisa Montgomery. Every time I see Lisa, she *totally* reminds me of the actress Katherine Keiner. Not like, "Oh, yeah. I kind of see it," but like, Lisa is a dead ringer for Katherine Keiner. And I mean that in a totally good way.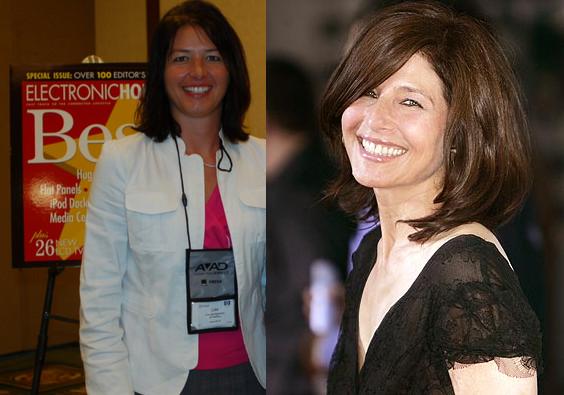 Right?! Or maybe tech-journalism is just Katherine's day job and she likes writing under the Montgomery pseudonym.

I decided to venture outside my usual drink comfort zone and joined Darryl in having a Sazerac which features amongst other things a glass coated in absinthe. It was good (ie: totally drinkable) but I doubt that I'll every develop the full love of absinthe that Darryl has. URC's marketing guy, Jon Sienkowicz, handled wine ordering chores with aplomb, selecting a Cakebread chardonnay to start and then Stag's Leap Cab for dinner. Both were the awesome.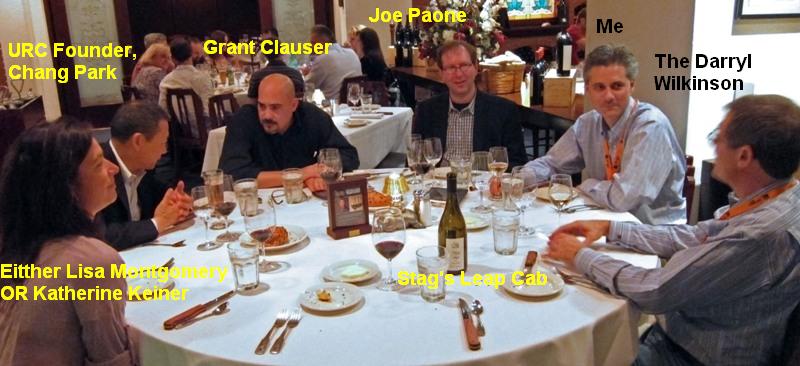 (Photo by Jon Sienkowicz)
I had a salad to start, the New York Strip (which I think is my favorite cut), grilled asparagus and a molten chocolate cake thing for dessert. It was all terrific. Somehow the conversation turned to things gummy, and I have promised to send Lisa some Haribo or Trolli gummy cola bottles to try. Three at a time. That's how you do.
Saturday night: A combination of too many glasses of delicious wine, a scotch nightcap with Darryl and a very distressing e-mail received immediately prior to bed combined for a totally sleepless night and a 4 AM stress vomit, meaning that I was not feeling my freshest for Satur-day or Satur-night. I was able to grab a quick hour nap before meeting Paul Dicomo and his "big white van" for our ride out to Amalfi, an Italian restaurant. (We were given implicit instructions to meet Paul at 6:25 at the Downtown Marriott or risk being left behind. (Apparently another group of press-ies had "accidentally" gone to the wrong hotel prior and called for a pick-up and we were told that this bit of shenanigans was a fool Paul ONCE kind of thing.) So, Darryl and I are in the Hyatt and he goes up to ask the lady at the desk for directions. "Can you tell me how to get to the Hyatt?" "Excuse me?" "Can you give me directions to the Hyatt?" "Sir?" "The Hyatt. I need to get to the Hyatt." "Sir, this IS the Hyatt." Yeah. CEDIA takes its toll on you.) I believe this was THE spot for the Def Tech dinner as Paul was greeted by rousing shouts of, "PAUL!" Cheers, Norm-style, as we entered. Paul knows his way around a wine list and has wisely followed in the tradition of former Def Tech dinner gourmand, Sandy Gross, and always orders wonderful wines to accompany his meals. Unfortunately, I was not feeling the wine spirit, so I stuck with iced tea. (Also, a looming 4:30 AM wake-up call was telling me that additional wineage might not be the best way to go.) Paul ordered a variety of appetizers for the table, included a wonderful red pepper dish that was served hot and stuffed with something. Chicken maybe. Don't know, but it was good. I literally had not ingested anything all day but two bottles of water and a Coke -- thanks for that Coke, Control4 booth! -- so this was a very welcome meal. I ordered a dish called Tortellini Michelangelo that had a wonderful cheesy tomato-cream sauce and bacon bits and onions and mushroom and other niceties. Scott Wilkinson – no relation to Darryl, though Darryl will tell you he's his father – was a former tuba player and was describing an event called Tuba Christmas that I guess takes place all over the country, presumably in December. It's basically a bunch of people (OK, probably all guys) that get together and play Christmas music on nothing but tubas. I said that it sounded like the perfect recipe to try and create the fabled "brown note," and the motto should be, "Blow until you go!"
Categories: September 2011, CES/CEDIA, Beer/Liquor/Wine
/