Shopping Cart
Your Cart is Empty
There was an error with PayPal
Click here to try again
Thank you for your business!
You should be receiving an order confirmation from Paypal shortly.
Exit Shopping Cart
Features, Reviews and a Blog by John Sciacca
| | |
| --- | --- |
| Posted on September 17, 2011 at 5:05 PM | |
I tried to convince/fool myself that I wasn't mentally keeping track of the date and subconsciously counting down the days until the complete Star Wars saga was re-released – yesterday – this time in the full high definition 1080p/24 goodness of Blu-ray. I successfully managed to avoid all of the pre-release hype and fan-boy whining over more changes to the originals and new changes to the re-re-releases. (Here's a link to all of the changes throughout the history of the films; pretty interesting reading actually, and an indication that George probably will keep tweaking the films until the day he joins Obi, Anakin and Yoda in that great Jedi Council in the sky.) I kept clear of the Amazon pre-sales and all that, doing my best to keep those nagging, Star Wars purchasing demons at bay.
I tried to do this because, well, back when I bought the Star Wars SE Trilogy on LaserDisc for $149 back in the late '90s, I told myself that that would be the last time I bought the Star Wars movies. That would make time number three and that felt like I was being a good-little Jedi and had done enough to help out the Rebel Alliance. Of course, that turned out to be a lie, because a few years later when the DVDs came out, I once again lied to myself saying, "This will be the last time you ever buy Star Wars!"
That, also, of course turned out to be a lie yesterday. Much like the morbidly obese, self-hating couch dweller that says, "I'm going to buy that gallon of ice cream, but I'm just going to have one…little…bite," I knew deep down that if George was serving, I was buying.
What I needed, of course, was a little nudge; a small bit of enablement guiding me in that Master-Padawan way towards my purchasing destiny. That happened to come in the form of Dana texting me right before I left to come home asking if I would stop by Wal-Mart and pick up some cheese. I would be going to Wal-Mart. Where they were selling the new Blu-rays. These ARE the discs I'm looking for...
So, I headed into the store to buy my "cheese" (well, I actually did buy cheese; we were having pizza for dinner) and I was drawn to the movie section like a ship caught in an Imperial tractor beam. When I arrived I saw this: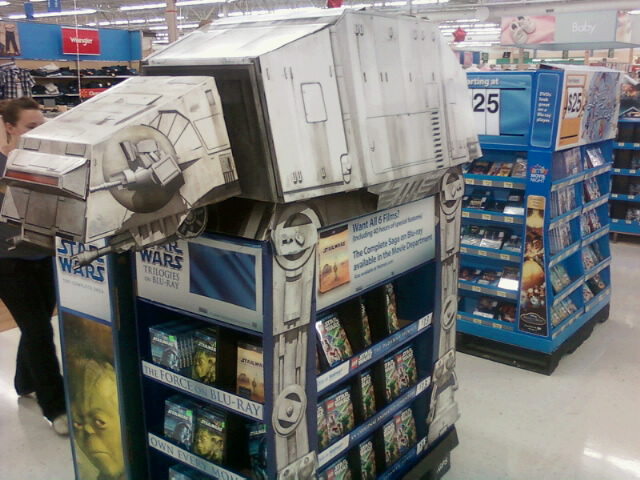 Seriously. How am I going to resist a giant point-of-sale display that looks like an AT-AT? I want to put this thing in my living room and fill it with memorabilia! That's only like one of the coolest winter-warfare vehicles EVER and here it was housing box after box of new, freshly minted, ready for purchase Star Wars Blu-rays.
So I'm looking at the discs for a bit, trying to decide if I'm actually gonna fork over another $79.96 into George's retirement fund (spoiler: I totally did), wondering if I could be happy just buying the prequel trilogy (the Yoda cover) or the original trilogy (Vader cover) separately instead of the whole shebang (I couldn't) and then, as I'm standing there looking at the stacks of discs, something profound hits me.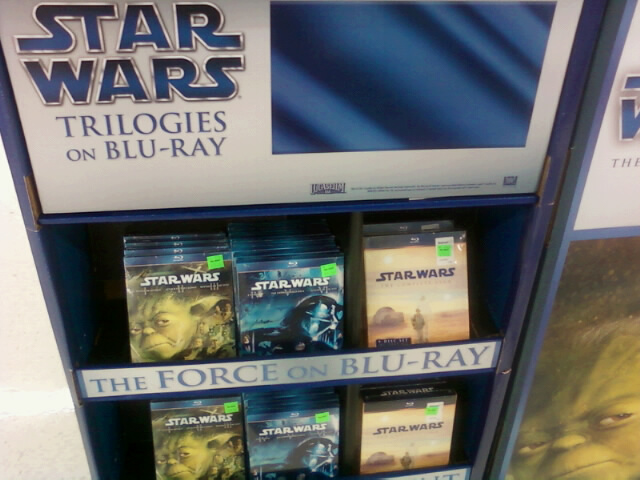 There was no Pan and Scan version! There are no discs emblazoned with "WIDESCREEN" or "FULL SCREEN" there are just…discs. And they're all the same. For the first time in the history of Star Wars video releases, there is NO option for buying Pan and Scan.
Then something else hits me: Blu-ray has effectively killed the Pan and Scan market.
I know that's a simple sounding thing, but it is actually a pretty major moment for the home theater market. (Granted, I am realizing this "moment" literally years after it has happened, but I'm guessing that many of you never paused to actually consider, recognize and celebrate the final demise of P&S films.)
You see, we Americans don't like to feel short-changed. Ever. When we buy something, we want to get ALL of it. Mega-size that meal? Damn right! A vehicle that seats 8? What, don't have one that seats 10? That's why you'll see people literally OVER-filling 128-ounce sodas, trying to cram in that last droplet of sugary fluid to get every...single...penny's worth. And when we buy a square shaped TV, we want to watch ALL of it. That doesn't many a single pixel or scan line of screen real estate filled with black bars. And with films, that has meant reformatting them in a horrible abortion known as – you guessed it – Pan and Scan.
I'm not going to delve into the history of film and why film is rectangular and why TV was square, but, well, film is rectangle in shape (usually 1.85 or 2.35 times wider than tall) and TV prior to HDTV was square-ish (1.3 times wider than tall). And there are only two ways to make a rectangle fit onto a square. You either make the rectangle SMALLER so that the sides fit, or you lop off the sides of the rectangle so that it too because a square; a horrible, edited, missing up to a third of its rectangle-ness essence, bastardized rectangle.
And when a film was released on DVD or VHS -- say every other version of Star Wars to date, specifically -- there were generally two viewing/purchasing options; preserve the film in all its theatrical glory leaving black bars at the top and bottom ("letterbox") OR arbitrarily chop of the sides off the movie so that Americans can feel like they are actually getting their full, 4x3 USDA-Grade A TV money's worth. (Can you tell that I'm not a fan of Pan & Scan?)
That was one of the giant selling points of LaserDisc. LD owners were generally film *lovers* and they chose LD as their medium because it most often preserved the original theatrical aspect ratio. Here is an example of what Star Wars looked like theatricall and (between the red lines) what it would look like when Pan and Scanned: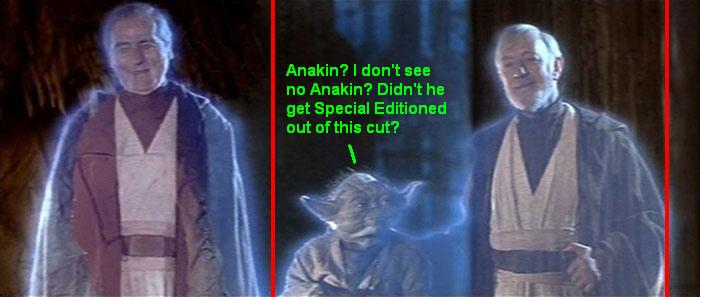 So, instead of seeing more of the movie -- "I hate black bars! I want to see all of the movie!" *beats self in forehead where aneurysm threatens to burst* -- you actually saw way, WAY less of the movie.
And up until yesterday, EVERY version of Star Wars (and just about every other commercially successful release) that had been released was either Pan & Scan ONLY, or offered P&S as an option. Doubtless, even people that would have liked to view the movie in its fully wide state accidentally purchased -- or were gifted -- the P&S version. But, with the Blu-ray release, we ONLY have George's original vis... Um, I mean we now only have George's highly edited and modified and re-modified NEW original vision of Star Wars preserved in its full cinematic frame glory.
And that's because Blu-ray is really meant to be a high def format, connected to a high def TV that has a widescreen (16x9, or 1.78 times wider than tall) aspect. And now that the majority of Americans have finally converted to widescreen sets, giving them their screens full of picture means widescreen and no more Pan and Scan. And if they happen to unknowingly get a more cinematic and better presentation in the process, then it's kind of like the A/V world hiding some vegetables into their kid's meals. Of course, we won't talk about how more than 50% of Blu-ray movies -- Star Wars included -- are 2.35:1 aspect, wider-than-wide, and still feature some minor letterboxing. I'm guessing it's too soon to start getting all of America to switch over to a full anamorphic projection len set-up... Yeah, too soon.

Categories: September 2011, Movies, TV
/