Shopping Cart
Your Cart is Empty
There was an error with PayPal
Click here to try again
Thank you for your business!
You should be receiving an order confirmation from Paypal shortly.
Exit Shopping Cart
Features, Reviews and a Blog by John Sciacca
| | |
| --- | --- |
| Posted on October 24, 2011 at 6:00 PM | |
Well, I'm back. After 7 nights with family aboard the Disney Magic cruise ship, I have once again returned to the land of the eternal grinding millstone. And first, I'd like to say with all due respect to you readers, that it was great to be away and that it sucks to be back! No matter how much you love your job, a good vacation is enough to let you know that you would really rather be off doing something else...
But back I am and write about the trip I must! So let's set sail, shall we?
I had always been hesitant to go on a cruise in the past. For me, a vacation was more about the destination, than the travel. If I wanted to go and visit a place, I wanted to GET there and BE there, not spend days and nights on a boat slowly meandering around the ocean to only pull in for a day jaunt about a foreign city. Plus I am horribly -- like horribly -- phobic about throwing up. I go out of my way to avoid any situation that might cause even the mildest of mouth vomits. So the thought of putting myself in a situation where I might be A) paying for it and B) throwing up made zero sense. Also, to be perfectly honest, my visions of cruisers were of these morbidly obese people just waddling around, waiting to trough up for the next food service where they could order 2 and 3 entrees at a time, sucking dripping grease and fat from their shiny, Caligula-like fingers or setting their alarms to wake up for further gullet stuffing at midnight buffets. Since I typically skip breakfast and have a snack-pack bag of chips and piece of fruit for lunch, this seemed like a horrible nightmare vision of a vacation to me. (In truth, the super-fattie contingent was well represented on the boat.)

But when my parents said they wanted to take – ie "pay" – for us to go on a family cruise with them, I'll dare say that went a LOOOOONG way towards changing my mind. And since my only previous cruising experience was aboard the aircraft carrier, USS Harry Truman – and I must say, the Disney Magic seemed to have almost zero first strike capability, I didn't notice any stand-off weapons or close-in defense systems, and thier airplane launch and capture facilities were virtually nil – this was *quite* a different experience.
Dare I say, Disney completely changed my opinion about cruising. This was one of the most relaxing, enjoyable vacations that I can remember taking. It was great, and many -- MANY -- thanks to mom and dad!
For those of you that have been on the fence about cruising, or who like to cruise and wonder what the Disney boat is like, or who just like to live vicariously through the vacations of others. or who just LOVE Disney (Hi, Olivia!), this post is for you...
We boarded the ship in Port Canaveral, Florida. Before we got to it, I asked Lauryn what would be bigger, our SUV or the ship. Very pragmatic, Lauryn said, "Dad, our car can only hold 5 people and the boat can hold like 100. Plus we don't have any beds or bathrooms in our car. Mom, you can go to the bathroom on the boat, right?" Then Lauryn fulfilled every father's dream by getting up and swinging around on a pole.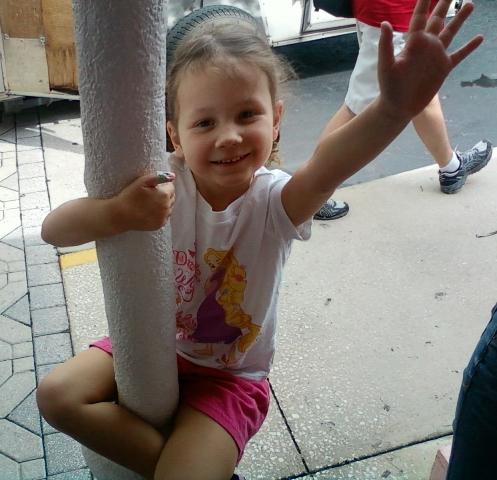 Here is a pic of us boarding the ship. Yes, I am rockin' a Russound CEDIA press dinner tie-dye t-shirt and B&O ball cap!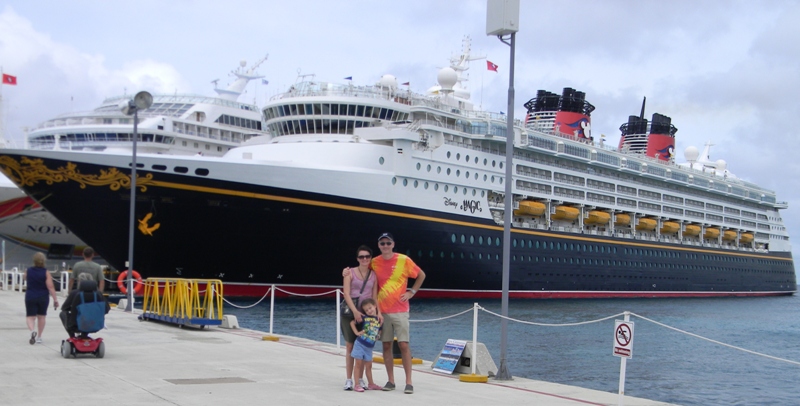 Now I'm going to break down different aspects of the cruise that I found noteworthy. Again, I have no other cruise to compare this to, so if you want to weigh in and tell me why you love the Ocean Princess better or why the Dream of the Seas is the only cruise line worth sailing or whatever, I welcome your comments.
State room:
I give the room an A.
From what I've heard, rooms aboard cruise ships are often tiny, hateful things. I had "officer's quarters" aboard the aircraft carrier and that meant a twin bunkbed, a row of lockers and a stark, metal desk. Compared to that, our 268-square foot room was something you'd expect to find on Diddy's boat and felt much more like just a regular hotel room than cramped quarters aboard a ship. The room was large enough to go and hang out in where you didn't have to sit on the bed or feel like you were on top of each other.

While it said it was a queen-sized bed, it sure felt a lot bigger than our queen-sized bed (or maybe I just got ripped off by Tempur-Pedic years ago...) There is also a separate sitting area where you could have snacks, Lauryn could color, etc. There was an in-room cooler (kind of like a fridge that just never really gets that cold) and plenty of storage, including enough for all of the gear that we brought for the three of us for our 9 days away from home. I couldn't find a way to make the thermostat get any colder and some nights Dana was too hot. Also, there were like a total of two electrical plugs in the room, and they were spaced so closely together we could either charge an i-Device or our cell phones. Fortunately, since we didn't need either of them, it didn't really matter.
Also nice was the bathroom is split into two areas; with the shower and a sink in one room and the toilet and a sink in another. This was great for getting ready before dinner. The shower was also of decent size – I could fully stand up, and at 6-foot 3, that's pretty good – and it NEVER ran out of hot water. Considering the number of people on the ship and that it makes all of its own water, that is pretty frickin' amazing. (On the aircraft carrier they asked you to get wet, turn off the water, soap up, turn on the water, rinse, turn off the water, wash your hair, turn on the water, rinse and then turn off the water and GET OUT!)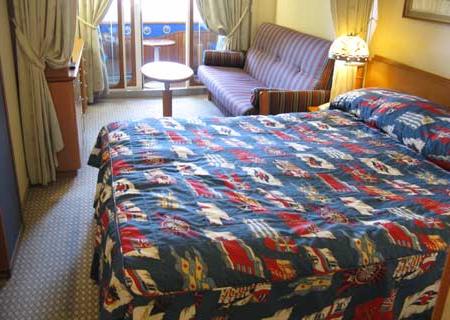 Balcony/Verandah:
I give this a C, for "Confining" and "Can't see."
I'm sure that my dad paid a pretty upgrade penny for us to have a room with a balcony and ocean view, but the rail was solid, metal construction and came to above eye-height when seated meaning that when you are sitting down trying to enjoy your ocean view, you are staring at a solid wall in front of you. I'm sure this is done for safety so no kids could accidentally slip between the rails and fall into the water, but it made the deck not a very friendly place to visit. We would leave the doors open some times and enjoy the breeze and that was nice, but it wasn't really a, "Hey, let's have a drink out on the verandah!" kind of place.
Dining:
 Food quality ranged from just meh, C-level to "Hey, that's really good!" A-level. There is a "special" (ie: pay even more) restaurant aboard called "Palo" that is supposed to be really terrific but it is for adult's only, and since we all wanted to eat as a family, we decided to pass on Palo.
If you want to be part of the big, scheduled sit-down dinner, there are two seatings;  5:45 and 8:15. At home we normally eat dinner around 8, so that sounded like the better choice. But, after thinking about it, we – OK, I decided; somehow I always end up being the one that makes the big, "Listen up, everyone; THIS is what we are going to do" decisions – decided to go to the early dinner so we could see the show after dinner. Of course, if you want to have room service or eat at the buffet or any of the "fast food" type restaurants up on Deck 9, you can eat whenever you like. It looks like all groups sit together, meaning that you don't have to share with any strangers. If you like your group, this is great. If you are stuck in a loveless, conversationalist relationship, well, then go get some pizza up on Deck 9...
Disney has something called "rotational dining" where you go to one of three different dining rooms on each night of your cruise. The restaurants are Lumiere's, Animators' Palate, and Parrot Cay. You have the same team of servers each night so they get to know your preferences and individual quirks. Like my mom likes a lemon in her water, so every night there was a bowl of lemons on our table, and Lauryn had a covered glass of iced tea and fresh box of crayons waiting for her. Definitely a nice touch.
Our main server, Non, was VERY difficult to understand and I asked him if the menus were actually the same in each restaurant every night and on one occasion I thought I understood him say, "No" and on another I thought I heard, "Yes" so I can't really give you an answer. Almost every night there were items on the menu that were very appealing; only once did I struggle to find something that sounded really good.
The standard menu has appetizer, soup/salad, entrée and then dessert. Of course, you are free to order as many of each as you and your giant American stomach can handle. On a couple of nights we got multiple appetizers if something sounded especially good, and on the final night I doubled up on entrees with a tenderloin and lamb dish. Dana ordered a lot of fish items so I was able to sample quite a few things from the menu.
Here's a pic of a weird meringue dessert that my dad ordered that I dubbed "Two Boobs":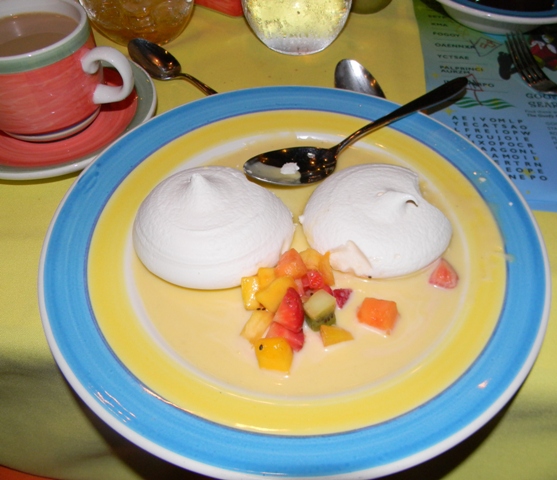 We felt the food was best in Lumiere's, though it might have just been the nicer, French décor. The breakfast menu didn't change, but that was fine with me since they had Eggs Benedict. (Having eaten Eggs B at many places, I felt there's was a B level; a little stingy on the hollandaise, and it could have had more flavor.) Here's a picture of us before dinner on "formal night." (Lauryn was in a decided un-Disney mood and refused to be in the picture.)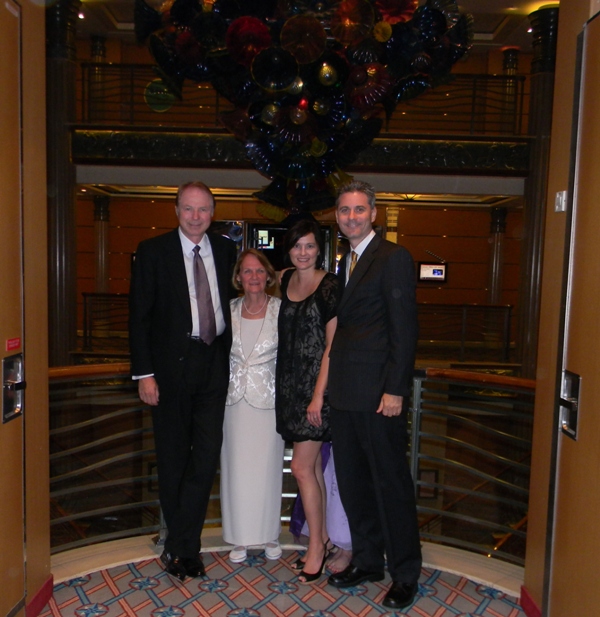 One thing that was regularly and routinely not that great was the coffee. I don't know if it was the bean, the grind or the process, but the coffee often tasted old or burnt or something. Maybe I'm just spoiled by my Saeco super automatic.
We ordered room service almost every night and that was great. We'd have a late night cheese and cracker tray, or some other snack. Usually this came within about 30 minutes, but a couple of times it took over an hour. Still, really nice to be able to open a menu and have food brought to you. Though there was NO going off the menu. I asked if they could make me anything – ie: chips and salsa – that wasn't on the menu and my answer was, "We have a ham and turkey sandwich; you can order ham only or turkey only. That is all." (And, seriously, no nachos, Disney? A brother was *dying* for some chips with salsa and guac! Come on, Mickey! That would be even more Magic!)
Lauryn got into the habit of going up to Deck 9 each night with my dad to get what she called "second dinner." My dad would take her up and get her 2 slices of cheese pizza and let her help herself to the self-serve ice cream machine. I think that Lauryn would have had an amazing trip if she just hung out by that ice cream machine with my dad. I'm not sure that she knew such a thing existed and it is now seriously one of her favorite things ever. (The machine was stocked with a blueberry flavor that I might have enjoyed too.)
One of my favorite desserts was the chocolate covered Mickey ice cream bar. It was on the kid's menu only, but I ordered it after Lauryn got it the first night. Soooo good!

Cleanliness:
Total A+.
You always hear people talking about how they want to go on the newest ships because they are cleaner and whatever, but anyone that has ever been to a Disney park knows how totally agro Disney is about keeping things clean. I remember reading that they did a study as to how far someone would walk before they dropped some trash on the ground and then they arranged the park so that nowhere in the park does anyone walk more than that amount before they find a trash can. I don't know if that's true or not, but that's the feeling I got on the ship.
There are a ton of staff everywhere and they are constantly tidying and cleaning. I think there was someone in the public bathrooms every time I went in just wiping down and cleaning up.
People are in front of every dining area handing out sani-wipes for your hands.
People are up on the decks sweeping and wiping down.
The boat was immaculate.
Well, that's it for part 1. I'll try and put up part 2 tomorrow where I'll talk about our port stops, and all of the entertainment available on board! See ya real soon!

Categories: October 2011, Family, Reviews
/