Shopping Cart
Your Cart is Empty
There was an error with PayPal
Click here to try again
Thank you for your business!
You should be receiving an order confirmation from Paypal shortly.
Exit Shopping Cart
Features, Reviews and a Blog by John Sciacca
| | |
| --- | --- |
| Posted on January 16, 2012 at 12:15 AM | |
CES is definitely about time management; there is more than you could see here in a month – what would feel like five lifetimes – let alone four scant eight hour days. With that in mind, I decided to spend my first official CES 2012 show day at the Venetian, which houses many – if not all – of the audio exhibitors as the show. Since waiting for the elevators at the Venetian can rob you of hours of precious time, it is best to go to the top floor – 36 – and then use the stairs to work your way down.
I kicked off my morning with a press breakfast at McIntosh's suite in the Venetian Towers. McIntosh was showing a new "home theater stack" at a much lower price point, almost 50% of previous priced systems. In the line was a new 7 x 200-watt amplifier for $6000 that features more home theater friendly LED lighting while still retaining the classic Mc VU meter look. Also in the line is a new Blu-ray disc player that is HDMI 1.4 as well as a new HDMI 1.4 processor.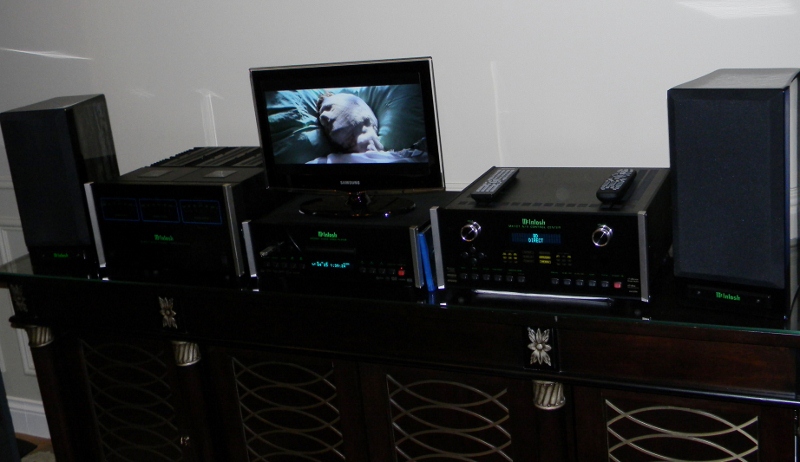 McIntosh will be launching a cable line-up later this year that will finally answer customer's questions of, "What cables should we use with our Mc gear?" There will be no HDMI cabling – avoiding any of those pesky price/performance controversies – but will include balanced, digital, RCA unbalanced, speaker and control cables. The new XR50 bookshelf at $4000/pair features a new design and is a true 3-way with bass extending to 45 Hz and a super tweeter extending to 40k Hz.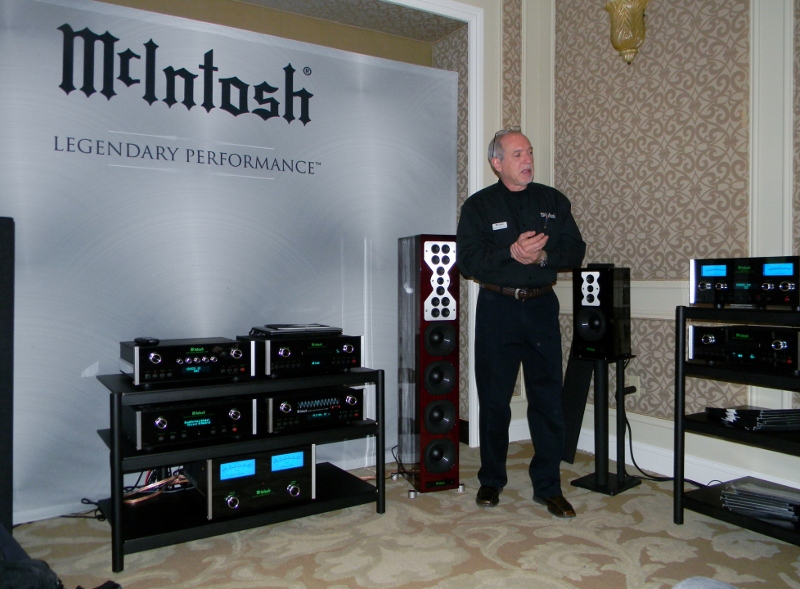 My next stop was into the Harman Luxury Audio Group suite which held the prestigious Mark Levinson, Lexicon and Revel. I was impressed with Revel's totally new Performa 3 line-up which features "all-all new" parts according to the Harman rep taking me around. This means new drivers, new cabinets, new cross-overs, new finishes, new everything. The line-up starts at $1000/each for the C205 center channel, to $1200/pair for the M105 bookshelves and goes up to the $4500 pair F208 towers. The performance – and fit and finish of the aesthetic – certainly belie the price points.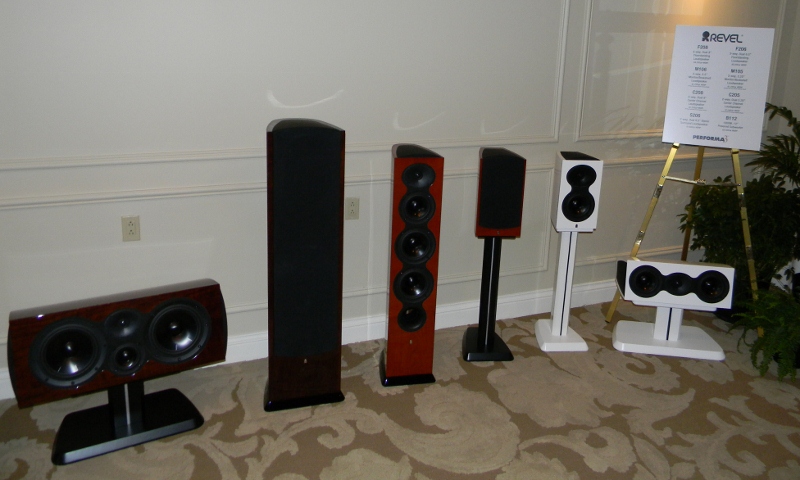 Also, on hand were mock-ups of the components celebrating the 40th Anniversary of Levinson. Amongst the components was a dual-mono pre-amp and 500-watt mono amp selling for a cool $25,000…each. So plan your 11-channel surround system budget accordingly.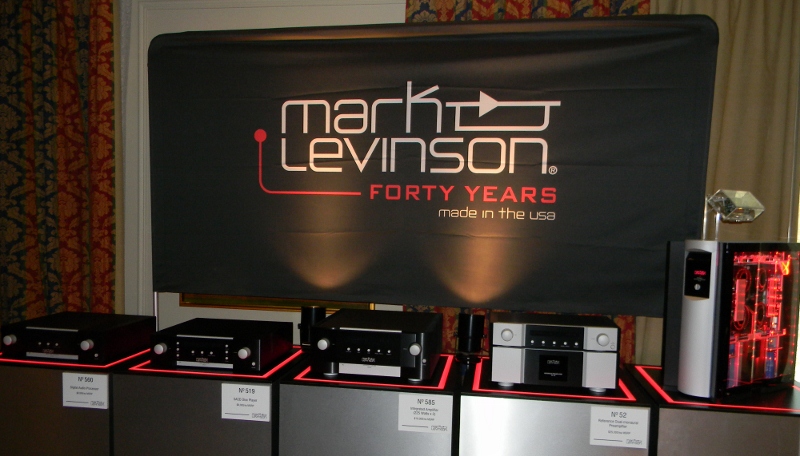 The Venetian gives you an opportunity to listen to some of the highest-end high-end hi-fi on the planet. Within a few feet of each other are multiple near-million dollar set-ups, totally tweaked to perfection and ripe for audiophile enjoyment. I took the opportunity strolling down the hallways to dare-to-dream and play "What if…" I stopped in and heard YG Acoustics, maker of what have been called some of the best speakers in the world, Dan D'Agostino's new amplifiers that were driving a pair of Wilson speakers, and TAD, Andrew Jones' brain-child and a speaker that I find myself returning to enjoy year after year.  Shockingly, I noticed that almost every demo was being conducted by a music played from a Mac and many presenters were using iPads; clear indication that the Pad has taken over all levels of this industry. Here's a snap of the YG's.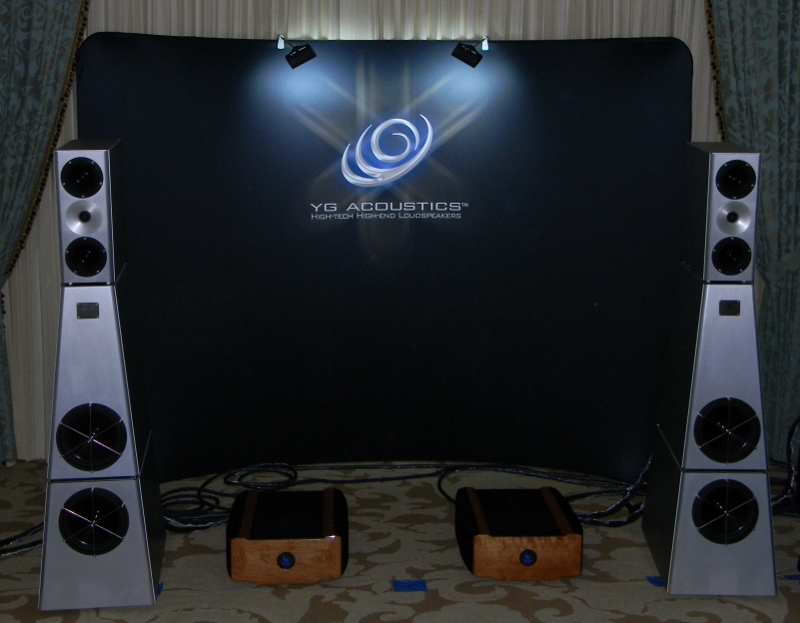 My next stop was the "Unforgettable Home Theater Experience" being presented jointly by Digital Projection, Kaleidescape, CinemaTech, Stewart Filmscreen, Totem Acoustics, ADA and D-Box Seating. This combined for one of the most impressive Star Wars viewing experiences I have ever had. (Topped only by actually seeing The Phantom Menace at The Stag Theater at Lucas Ranch.) Watching the Hoth battle on Blu-ray on a 14-foot wide screen, with killer audio and D-Box motion seating, you truly felt like you were part of the action, and they succeeded in showing people how to give an amazing – and unforgettable – demo of high-end gear. When I stepped out of the demo, they filmed me describing my impressions of the theater. I must say, I was brilliant, natural, spontaneously full of energy and wonderful adjective-like descriptors. It was really compelling video. Then Kaleidescape's Product Manager sent me a text like an hour later saying the videographer had pushed the wrong button, performing the classic filming everything leading up to and after the interview but none of the actual interview itself. I came back and gave it another go, but, honestly, I think the first one was better. You can see the video here for yourself.
I then headed up to the Bang & Olufsen suite. Since B&O gave me an Aston Martin for a weekend, they pretty much have my guaranteed attendance at any press event they choose to invite me to. (They also gave out an 8 Gig USB drive, so, score!) They started by announcing that 2011 was a year where the company returned to profitability and when they launched the BeoSound 8, the best-selling audio system in the company's history. Not only was B&O launching new products, but an entirely new brand here at CES. The new brand, B&O Play is meant to have a "playful, outgoing, vigorous" spirit while still embodying all of the classic B&O style, performance and design tenets. The first product in the Play line is the BeoLit 12, a portable speaker with AirPlay for quality audio on the go. The speaker lasts up to 8 hours, can charge your USB device and has a mini-jack input for non-iOS use. The speaker sounded quite good, with full rich bass, and had definite B&O classic design elements.
B&O also unveiled its new BeoVision 12, a 65-inch ultra-slim Plasma 3D panel that features an integrated center channel with Sine wave design, 5 drivers and ICE power. Also cool is that the set auto-calibrates itself every 100 hours to insure that viewers get a continued perfect picture over the life of the panel.
From B&O I headed over to the Paradigm booth where they displayed the new BD1 Bluetooth dongle-accessory for the Shift speakers. By plugging this in, users can easily transmit high-quality audio from their mobile device directly to the self-powered speakers. Paradigm also displayed the new Shift Soundbar and wireless subwoofer that will be available soon for $799. As you might imagine from the picture, it wasn't set up and working at the show so no comment on sound performance, but, since it's Paradigm you can assume it will sound awesome.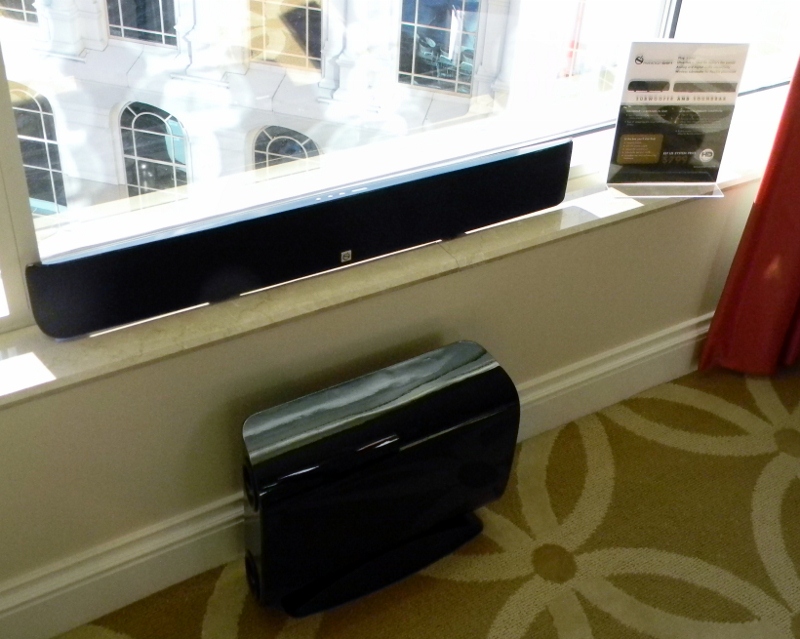 We also had an opportunity to listen to two of the new M1 mono-block digital amps driving Paradigms Signature S8 towers to super loud, and yet distortion free sound levels. There was also a "Secret Room" of which I am not allowed to speak. However, I am safe to say that hanging in the "Secret Room" (I think the quotes give it the appropriate level of gravitas) with fellow journalist, Dennis Burger, Caster Communication's Nick Brown and Paradigm's Mark Aling and the always awesome, Erin Phillips -- who may or may not be willing to Polar Bear Club on a $50 bet -- was some of the most fun I had at the show.
I have long been a fan of the wonderful smooth, airy and detailed sounds of Martin Logan's electrostats, and since they were right next door, it was a convenient excuse to pop in. They are working on a Martin Logan spin on the soundbar, which will be part of the Motion Series and will include 3 folded motion tweeters for full, detailed sound. The fully-powered speaker will also be compatible with any of the company's wireless subwoofers, will decode DTS and Dolby Digital and will offer some processing for pseudo-surround from the single bar. Also, the light will be defeatable and will be blue on the shipping models.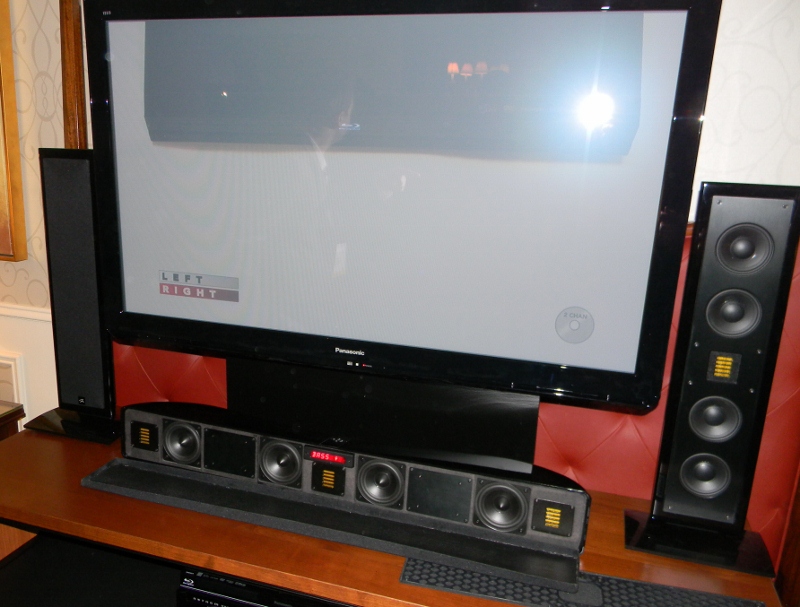 My final stop of the day was at the GoldenEar Technology booth. Sandy Gross never disappoints with his high-value/high-performance designs, and he continued the trend of introducing exciting new product by launching both an in-ceiling model and high-performance soundbar. The Invisa HTR-7000 combines the same 7-inch driver used in the acclaimed Aon 3 bookshelf with a High Velocity Folded Ribbon (HVFR) tweeter. They were demonstrating the SuperCinema 3D Array, a brand new sound bar that features six 4.5-inch mid/bass drivers and three HVFR tweeters. The speaker is passive, but utilizes a new 3D Array technology to "effectively cancel out crosstalk distortion between the left and right channel." The result is a speaker that plays really loud and that provides a surprisingly wide soundstage that extends well beyond the width of the actual bar. Paired with a subwoofer – or two as was the case in the demo – the audio will satisfy nearly any flat panel lover. And the HVFR tweeter produces some sweet-sweet sounding audio that will make you wonder if you ever needed a pesky separate L/C/R system in the first place. Had to use a stock photo for this one...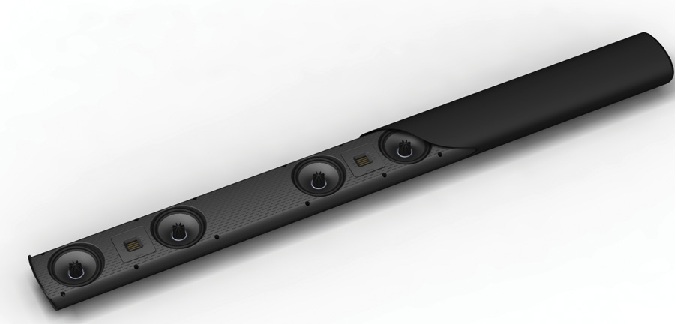 Categories: January 2012, CES/CEDIA, Electronics
/