Shopping Cart
Your Cart is Empty
There was an error with PayPal
Click here to try again
Thank you for your business!
You should be receiving an order confirmation from Paypal shortly.
Exit Shopping Cart
Features, Reviews and a Blog by John Sciacca
| | |
| --- | --- |
| Posted on January 29, 2012 at 8:40 PM | |
Two completely disparate things – The Lonely Island and my wedding anniversary – combined to make for one serendipitously awesome moment yesterday evening. Allow me to elaborate…
So yesterday – January 28 – was Dana and my 17 year wedding anniversary. (I know; you're probably thinking that I'm lying and that there's no way that I found someone that could put up with me for 17 months, let alone 17 years. But it's true. And if you're thinking something with "kept locked up in the basement" in it then I say Ha! We don't have basements in Myrtle Beach! So, feel free to send your condolences to Dana in the comments section. Also, I'm pretty sure that a year with me is like a reverse dog year or something; so for Dana I'm sure this feels more like the 119 year anniversary, which I'm pretty sure is the Unobtanium anniversary on both the modern and traditional charts.) And to prove that it's been a mostly voluntary union, here's a link back to my most favorite-est day, the day we got engaged, written by the long-suffering Dana herself.
Now for The Lonely Island part. If you've watched Saturday Night Live in the past few years, then you know who these guys are; Andy Samberg, Jorma Taccone, and Akiva Schaffer. Together they are The Lonely Island, and they create the Digital Shorts which are like 83% of the reason why SNL is worth watching any more. I've talked about how much I love these guys and their videos multiple times; from my Getting it Done Like a Boss post, to my I'm on a Boat post, to my Playlist Recently Added post. I've talked about Shy Ronnie and Mother Lover and, well, almost every song that these guys do is hysterical. ("Space disk: is totally cancelled! Space swords: is totally cancelled! Space luge: is also cancelled! And all other events are pending...")
So, one of the songs on their first album, Incredibad, is called "Santana DVX." As you might guess from the title, this song is about a top-flight champagne created by Carlos Santana. The lyrics are so hilarious that I figured that this was just some mythical creation from the boys. Here's a sample of some of the more-safe-for-work lyrics:
"What is that, Cristal? (No!)
Dom P? (Hell no!)
(This is that Carlos Santana champagne!)
Oh sh--, Santana DVX? That's my joint!
(Mine too, but a lot of these busters don't know about it)
WELL LET'S TELL THESE MOTHERF-ERS!
As a kid, I used to lay awake and think
When was Santana gonna make a drink?
But now I'm all grown and my dream came true
Santana champagne, from here to you!
From the heart of Napa Valley and the guitar king
Comes a sparkling wine, to make a blind man sing!
Yo it's the cham-pan-yah, from the man with the bandana
I can't stand a flute with anything but Santana!
What's the first name in cham - it's Carlos
And to that man I propose a toast.
In the 60's, he had lots of freebie sex
But now he's getting' down with the DVX!
I feel alive for the first time
Each sip hits my lips like a landmine!
Without Carlos in my life I was livin' a lie
He makes his guitar weep, but his champagne cries.
He's a Southwest, tie wearin' bolo champ
Comin' straight out the box with a bolo champ'!
Yo he a beast with the sugar and yeast, mix it in pots
Like the way his release mixed jazz blues and pops.
And the salsa fusion, he's lady's shoe producin'
Plus he teamed with Rob Thomas for a music revolution!
On the 7th day, it was said God rest
But on the 8th day he made the DVX!"
So you can kinda see how I thought that *maybe* Santana champagne was just some sweet, bubbly figment of the Lonely imagination instead of a real product rolling-up out of the Napa valley. But, you know, an awesome concept for an actual champagne that would be SO awesome, drinking it might cause otherworld phenomena such as, "A monkey drank a bottle and learned to speak. A square drank a bottle and became a freak. A lion drank a bottle and forgot how to growl."
OK, so back to last night.
So are family makes a pretty big deal out of our anniversary; getting gifts for each other and Lauryn and having a special dinner and whatnot. (I got Dana a sweet new Coach handbag and several pieces from Polo. Lauryn's big gift was a Phineas and Perry the P stuffed toy and some Perry T-shirts.)
My mom happened to be with us this year for our celebration and she hand delivered a gift from her and my dad. It was a year's membership to the Mumm's Champagne club, where we will receive two bottles of champagne every… I'm a little hazy on the exactly details here. It is either every month or every other month or every some amount of months. But there is *definitely* more champagne coming. So I opened up the first delivery, and guess what I saw inside the box…
It was Santana, yo!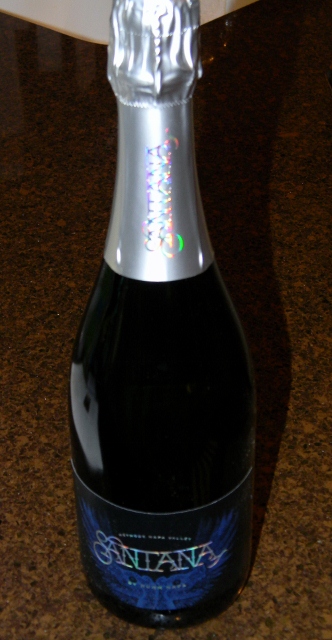 I couldn't believe it! I immediately started saying, "Oh, my gosh! Oh, my gosh! I can't believe it! I've totally heard of this! I didn't think it was actually a real thing! That's so awesome! Santana champagne!"
Then I ran over to the iPad, looked up the song and started playing it -- forgetting how NSF-family the lyrics were -- for my mom and Dana. (And Lauryn -- who happened to be in the other room -- and who might have heard and then might have uttered a totally inappropriate lyric and then started laughing hysterically, causing both simultaneous IMMEDIATE scorn from Dana and the end of the Santana song playback.) Here's the back label of the bottle for your reading pleasure: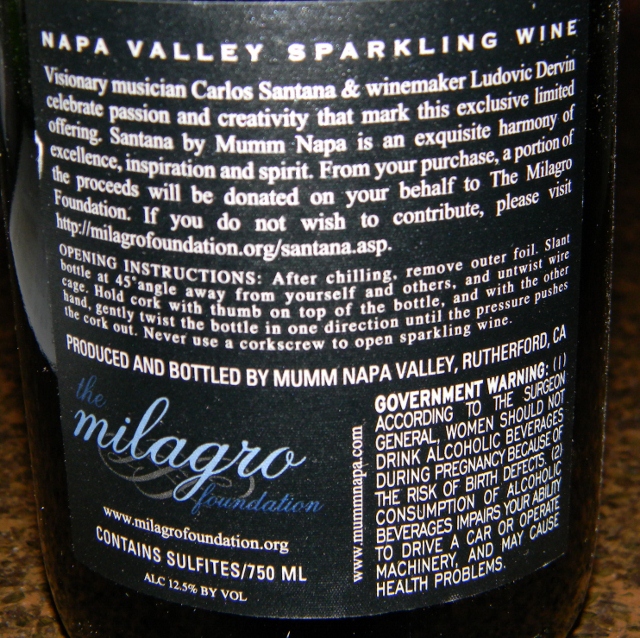 I'll be sure and update you on tasting notes when we get around to poppin' this joint open!
Categories: January 2012, Family, Beer/Liquor/Wine
/