Shopping Cart
Your Cart is Empty
There was an error with PayPal
Click here to try again
Thank you for your business!
You should be receiving an order confirmation from Paypal shortly.
Exit Shopping Cart
Features, Reviews and a Blog by John Sciacca
| | |
| --- | --- |
| Posted on February 14, 2012 at 2:55 PM | |
Look. I could make up some song-and-dance about how I wanted to do something different, or say that the last beer review went over so well, or whatever, but let's be honest: I enjoyed drinking that last batch of beer and was in the mood to drink some more craft beers. That's really all there is to it…
So I headed down to Lowe's Foods and took advantage of their mix-and-match 6-pack deal; for $9.99 you can grab an assortment of brews for your drinking pleasure. (And if you're discreet, you can slip in some singles that *might* not be meant for mixing-and-matching…Yo. Be cool dude. Be cool.) For this go 'round, I decided to stick entirely in IPA land because there were enough to try that I hadn't had before and I like a hoppy good time. Here's the mix-and-six that I went with: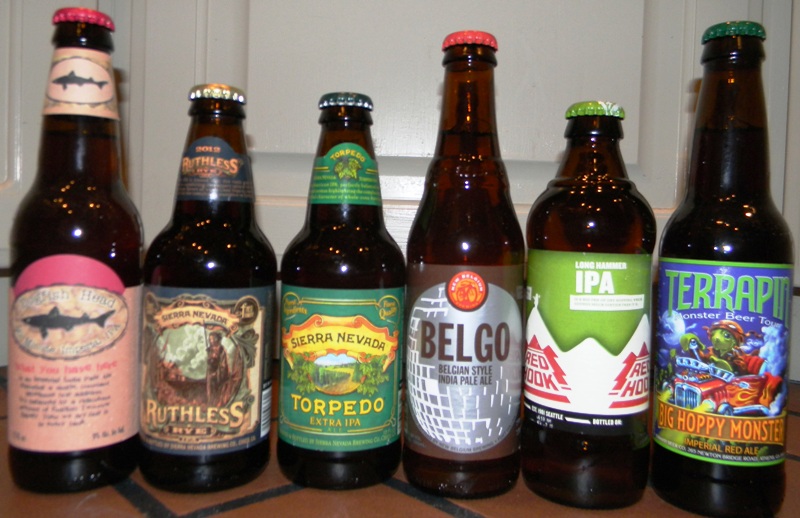 As per my last taste-off, I took photos of all beers in the glass following a pour, trying to use identical location and lighting and blah-blah. But, I'm no photographer, so you get what you get re: framing and shadows and focus. I've also included the brewer's comments/description at the beginning. Let's start the tasting, shall we?
New Belgium: Belgo Belgian Style India Pale Ale
Hop Variety: Simcoe, Centennial, Cascade, Amarillo
ABV 7.0%, 60 IBUs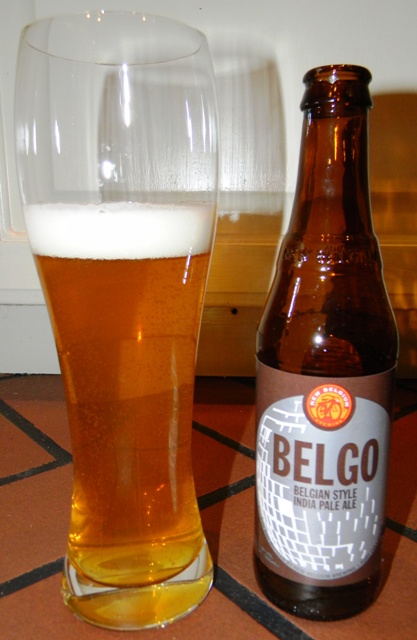 Description: When we set out to brew, we use imagination and salvation to guide us- not necessarily style guidelines. It's the Belgian way. So, Ameri-Belgo and IPA both being styles, the branding begged for New Belgium whimsy to liven things up. Hmmm Belgo sounds like a Belgian disco. Hops like to party. Next thing you know, we bust out a disco-ball and brewers started groovin. Hops started hoppin. Add in an authentic Trappist yeast strain and the place brewed into a frenzy of citrus hoppy folly.
After the homerun which was the Stone Cali-Belgique – winner of my Super Beer Bowl taste-off – I was eager to give another "Belgian style" IPA a go. WAY less expensive that than the Stone, this could be a hidden gem in the Lowe's Food beer aisle, and I was hoping this was to be that beer. Medium-light yellow-gold color, with a finger's thickness of head. The head remained creamy in the glass, coating the edges and hung in there till the final sip almost like the milk froth in a latte. Initial pine notes, with strong undertones of banana and gummy fruit. Much sweeter on the nose than other IPAs, and reminded me more of the Golden Monkey Victory Tripel from last week. First taste is completely NOTHING like the smell. Neither piney nor sweet nor fruity, but a little smokey with lingering bitterness, almost slightly acidic. (Wondering if the handful of M&M's I popped several minutes before opening this beer is tainting my control group...) Further sips adjusted my palate a bit, allowing some of the piney notes and sweetness to come through, but there just isn't a lot of flavor going on here. It's like there's some top notes and bitterness and a big flavor-hole in the middle. It's like a recipe that is missing some key spice or ingredient; it tastes…good…but *something* is missing. Not a bad beer, but to paraphrase the dialog from O' Brother, if someone asked me if I cared for another, "No thank you. Another Belgo would only arouse my appetite without bedding it down." Won't be buying this one again.
Sierra Nevada: Torpedo Extra IPA
Hop Variety: Magnum, Crystal and Citra
ABV 7.2%, 65 IBUs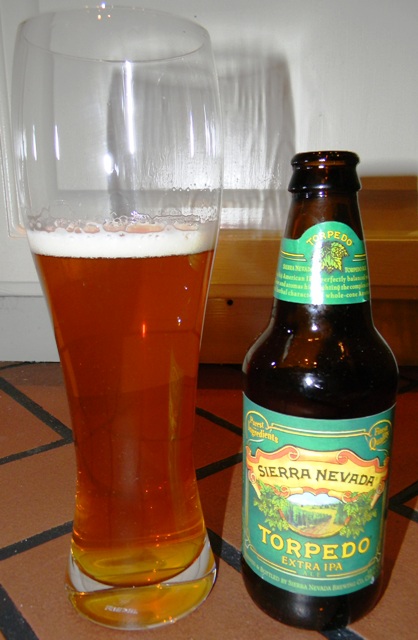 Description: Sierra Nevada Torpedo is a big American IPA; bold, assertive, and full of flavor highlighting the complex citrus, pine, and herbal character of whole-cone American hops. Around here, we take hops pretty seriously, which is why we weren't satisfied with the standard method of dry hopping for our first year-round IPA. We spent years tinkering, tasting, and tweaking ways to get the biggest and best hop flavors and aromas into our beer. Our persistence has paid off. Our obsession with harnessing huge hop flavor led to the development of what we call the hop torpedo, a revolutionary method of dry-hopping designed, built, and debuted here at the brewery. Our torpedo is a sleek, stainless-steel piece of hardware that delivers more pure hop aroma than any method of dry-hopping we've ever seen. Like all our beers, Torpedo Extra IPA uses only the best whole-cone hops possible making this delicious ale worth the wait.  
As I'm a big fan of Sierra's Pale Ale, I was looking forward to trying this. Rich, golden-brown color in the glass that produced only a thin head that disappeared moments after pouring; basically resulting in just a white film of bubbles on the top. No real prominent note on the nose which is a *real* surprise. I was expecting this to slap me in the face with a pine branch. Expecting, nay, hoping! I was still hopeful while taking the first sip but…there's no mouthful of citrus or pine or herbs. In fact, just trace hints of pine and way more of a burnt and bitter taste. Kind of describing my mood towards the beer right now. I'm actually thinking that maybe it went bad in the bottle… I'm *definitely* NOT experiencing "more pure hop aroma" than other beers. And I am experiencing more burnt coppery bitterness than I was expecting. I reached out to beer-meister-General, Dennis Burger and asked what a skunky beer tasted like.
His response? "Pretty much like a Heineken."
There's no "born on" date on the bottle, but I'm thinking – hoping -- this beer has turned. Going to withhold judgment until I can get another tomorrow. Question…will Lowe's Foods stand behind the beer and give me another…? We shall see…
This beer was such a letdown, I'm retiring beer drinking for the night and switching to a Manhattan; bourbon, sweet vermouth, bitters and a thick chunk of orange peel.
Sierra Nevada: Torpedo Extra IPA, take 2.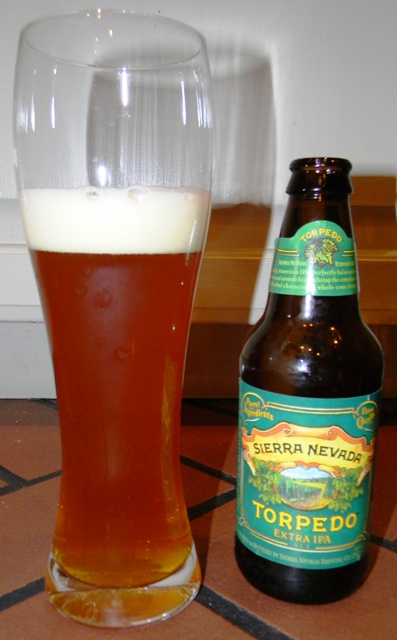 Lowe's Foods was very cool and gave me a new beer with no hassle, so I grabbed a single from the pack at the furthest back of the 6-packs hoping that when the shelves are stocked, they bring old stock forward and put new stock at the rear. Now the real question…was the first beer indeed bad, or is this just a lousy IPA? Definitely had a more pine-licious aroma when popping the cap which I'm taking as a good sign. Also, produced a far more generous head that was much thicker and creamier. Getting more odors of pine and whiffs of grass, but definitely not the pine bomb I was expecting. This beer is the younger, zippier version of what I had yesterday, much more carbonation on the tongue, and none of the burning bitterness. I feel vindicated in my assessment of the previous beer, but am still not totally sunk by this torpedo. The flavor hints at the promise of what this beer *could* be, but it just doesn't deliver the goods.
Dogfish Head: 90 Minute Imperial IPA
Hop Variety: Unlisted
ABV 9.0%, 90 IBUs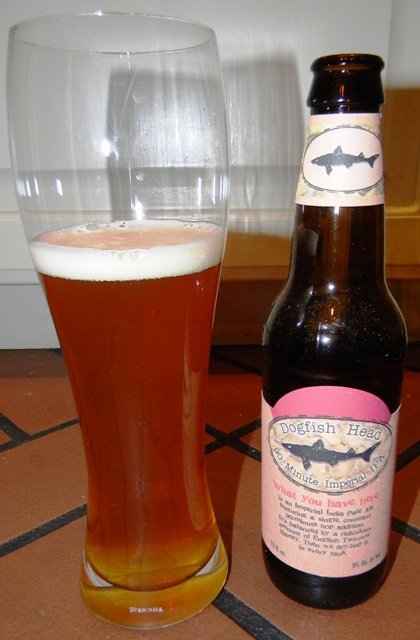 Description: Esquire Magazine calls our 90 Minute IPA "perhaps the best IPA in America." An imperial IPA best savored from a snifter, 90 Minute has a great malt backbone that stands up to the extreme hopping rate. 90 Minute IPA was the first beer we continuously hopped, allowing for a pungent -- but not crushing -- hop flavor. Since introducing the world to the continuous-hopping method with our 90 Minute IPA, we've since released the continuously hopped 60 Minute IPA, 120 Minute IPA and even a 75 Minute IPA (a cask-conditioned blend of 60 and 90 Minute IPAs). In addition to the continuous hopping, 90 Minute IPA is also dry hopped with our 'Me So Hoppy' device during conditioning.
I wasn't sure exactly what 90 minutes referred to; surely not the length of time it should take me to drink one, and 90 minutes for a full 6-pack seemed a tad ambitious as well. So, I turned once again to Dr. Beer, Dennis Burger. Here's our text exchange.
Me: What is the time thing? They only had the 90 but I've also heard of the 120 and 60. What does that refer to?
DB: How long it's boiled. They are hopped continuously during boiling.
Me: Oh. Does that increase the alcohol or flavor or something?
DB: longer boil = stronger, more intense, more complex brew.
Me: Cool. So my 360 minute home brew should kick serious ass since everyone knows more is ALWAYS  better.
DB: That would be like getting raped by a pine tree.
Me: I'm sensing that you say 'raped by a pine tree' like that's a BAD thing...
(It should be noted that Dennis is not a fan of big, hoppy IPAs...)
So, armed with that knowledge, I was ready to pour and taste. Produces a deep rich amber color in the glass, with a half-finger of milky foam. Rich, strong aromas of malt and caramel and stalks of wheat. This smells like the fresh ingredients you smell at a brewery in those little glasses where they show you the different ingredients that go into their beer. There's hints of pine, but it's like the forest burnt and you're just getting smoky wisps of the remains. The flavor is intense and good, but not really typical IPA. Malt and barley flavors prevail, with lots of carbonation and the right balance of bitterness, and hints of smoke on the finish. I like the beer more and more as I work my way to the bottom of the glass. The malt flavors seem to get more intense as it warms up – a flavor profile I like – and this is a beer that I'd return to, but just not when I'm in the mood for my mental profile of an IPA (which equals pine flavor.) Though I continued trying to suckle every last drop from the glass and was oh so sad when the final droplet was gone. Delicious beer.
Red Hook: Long Hammer IPA
Hop Variety: Unlisted
ABV 6.5%, 44 IBUs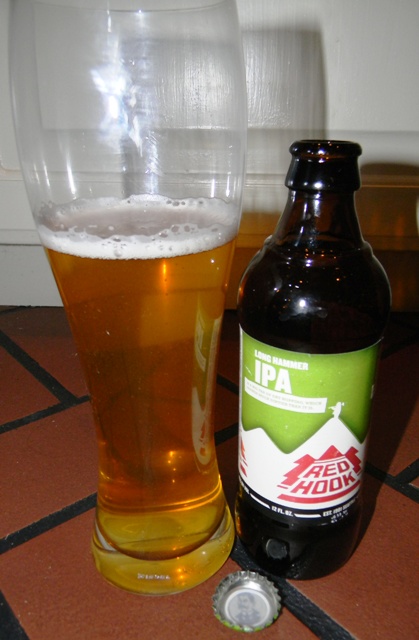 Description: The generous addition of hops both during and at the end of the fermentation process (dry-hopping) gives our India Pale Ale its characteristic bitterness and piney citrus aroma and flavor.  The medium body, crisp finish, and moderate alcohol and IBU levels makes this one of America's most drinkable and best-selling IPAs.
When I heard the name "Long Hammer," I was immediately expecting to be bashed in the mouth with a pine-flavored hammer filled with overpowering hoppy flavor goodness. Something like this: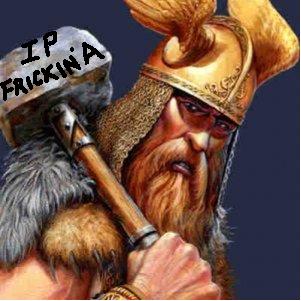 So when I poured it, and saw the light gold, clear color in the glass, it seemed far more pilsner than rich, golden-amber IPA. Small bit of foam that quickly dissipated, leaving just a ring of bubbles around the glass.  Initial notes of wheat and something that smells a bit like skunk BO. (You know, what I imagine a skunk working all day in the field in the hot sun's BO to smell like.) Fortunately that quickly went away and only the wheat remained. The flavor matches the look; this beer is just light on flavor and taste. A hint of fresh grass, maybe a touch of lemon. Seems more like a refreshing summer ale than an IPA and much more a short, baby hammer, like say what you'd use to chip off fine bits of marble at the end of a sculpture. This should be the logo:
Terrapin Beer Company: Big Hoppy Monster
Hop Variety: Warrior, Centennial, Cascade, Ahtanum, Simco
ABV 8.75%, 73 IBUs
Description: This mammoth imperial red ale leads with a tantalizing hop aroma that is quickly complemented by an enormous malt backbone & finished with a multitude of hoppy goodness. The high content alcohol of these beers make them perfect for cellaring…hide them away and pull one out for a special event 2-3 years later. WATCH OUT! THIS MONSTER BITES!
Terrapin is from Athens, GA home of R.E.M. AND Weaver D's Delicious Fine Foods (read about my lunch there and the awesome patois of the owner, Mr. Weaver D) so I was already hopeful. Also, their logo is a turtle, which, as any fan of Stephen King will tell you is a being of vast cosmic power and scope capable of vomiting up entire galaxies. So, I figure a turtle could make a pretty sweet IPA.
Poured a dark, mahogany color with underlying notes of red. Thin, brown head that resolved into a scrim of film on top. Odors of pine, caramel, smokey malt and sweetness that usually accompanies the high alcohol content. Big, bold flavor, leaning towards being more of a stout than an IPA. Bitter with hints of coffee and nice malty finish. Mellows on the palate after a few sips, improving and expanding the flavors, but toasted, caramel malt are the big notes here. Bitter notes landing mid-tongue, not as an aftertaste back in the throat. This is a big, bold brew that was wasn't exactly the "big hoppy monster" I was expecting, but was quite enjoyable nonetheless.
Sierra Nevada: Ruthless Rye IPA
Hop Variety: Bravo, Chinook, Citra, Experimental
ABV 6.6%, 55 IBUs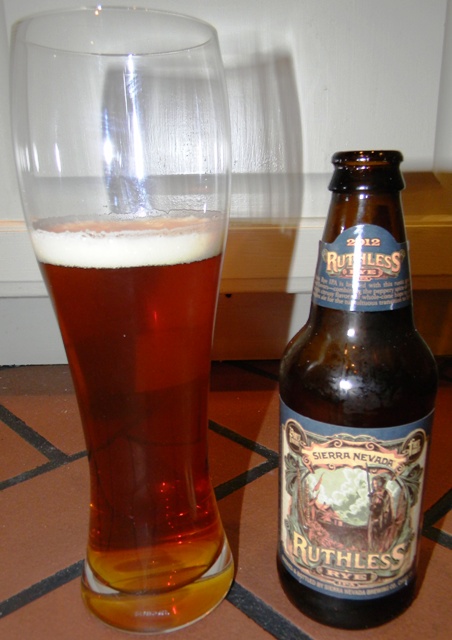 Description:  Rye has been a staple grain for millennia—sought after for its stubborn resilience in the field and revered for its unique flavor. Ruthless Rye IPA is brewed with rustic grains for refined flavors—combining the peppery spice of rye and the bright citrusy flavors of whole-cone hops to create a complex ale for the tumultuous transition to spring.
I selected this beer primarily for three reasons: 1) I'd never had it. 2) I generally like Sierra Nevada ales. 3) The label reminded me of an ancient, Lord-of-the-Rings, Tolkein-styled Rune drawing. So, yeah. Pours a rich dark-orange/golden brown color with a solid, thick finger of foam. Very clear; I could literally read through it. (Though seriously and literally beer goggles.) Has a nice pine aroma, though not overwhelming, and a bit of spice. Light on carbonation with taste of wheat and rye, with the slightest hint of pine. Slightly bitter on aftertaste. As the beer mellowed – and lowered – in the glass, produced stronger notes of wheat and rye bread. I preferred this to the Torpedo, and could see myself picking up a 6-pack of this as it is often like $8.99 and would be worth it for that, yet, like the Torpedo, the beer would have been WAY better if it tasted more like it smelled.
Know any beers you think I should try? Tell me in the comments below. Or, better yet, feel free to actually send me any beers which I will guarantee to sample and write about. (You can reach me in the "Contact Me" thing in the banner above.)

Categories: February 2012, Reviews, Beer/Liquor/Wine
/