Shopping Cart
Your Cart is Empty
There was an error with PayPal
Click here to try again
Thank you for your business!
You should be receiving an order confirmation from Paypal shortly.
Exit Shopping Cart
Features, Reviews and a Blog by John Sciacca
| | |
| --- | --- |
| Posted on February 28, 2012 at 12:10 AM | |
...because you may end up having to write a guest blog for John Sciacca."
Verily, these words are true! So, I have a guest blog for you today, this one from one of my oldest and only remaining high school friends. (Come back to us, Pierre… Return from the Dark Side!)
So, I've known Craig since about 1985 give or take and have remained in touch with him lo these many – MANY – years. Craig is the kind of friend that will accompany you on late-night Becky Frodsham stalks and introduce you movies like "Field of Dreams" and music like Edie Brickell.
Craig is especially qualified to write a guest blog on beer for me because A) I know that he's had a ton of beer B) I know that a lot of that beer was of high quality and C) I actually had my FIRST EVER beer with Craig. Craig and I went to high school in the East Bay (outside of San Francisco) in a small town called Lafayette at a school named Acalanes. After HS, Craig went down to UC Santa Barbara where they are known to drink a beer or twenty. So when I went to visit him, Craig introduced me to beer in the form of a keg of Meister Brau. (I believe there might have also been little chocolate Teddy Grahams involved as well. And possibly an orange fight.) (Craig also introduced me to Gordon Biersch and *might* have lifted a Marzen stein from said bar for me. Might. I promise or imply nothing.)
So, anyhow when Craig texted me that he was stuck in a bar, alone in Salt Lake City with nothing to do, I immediately suggested that he start drinking as much as possible and then blog on the local beers. I mean, like you wouldn't have suggested the same… So, here you go. Craig's Salt Lake City Beer blog! (My comments in parenthesis with italics.)

Let me put a little context to this.  I was in Salt Lake City for the 2012 Ocean Sciences conference (yeah, Oceanography in Salt Lake City...go figure) for six days.  As soon as the last presentation of the week was finished, I did what every red blooded American would do...headed straight to a bar! Upon a recommendation from a new friend that John calls "Glasses," (that would be SCN Magazine's Kirsten Nelson) I headed over to Squatters Pub and Brewery. (Website has a bunch of good looking brews on it, including a tasty-tempting looking double-hopped IPA.)

Now I don't know about you but I feel a little self-conscious when I stride up and plop myself on a bar stool all by myself, so I try and be the social guy.  Ok, the bartender was not very conversational so no help there.  I talk to the woman on my right who ends up a being a former employee of Squatters.  She is devouring a plate of chicken wings because she proclaims that she has moved to San Diego a year ago and she cannot find any wings as good as these.  Apparently she is also trying out for "Cupcake Wars" so look out for the brunette with the nose piercing in future shows. I can't stop staring at the nose piercing so I turn to the guy on my left. (But don't forget about the chicken wings, they will come back into play.)  The guy on my left has shaved his head bald like Mr. Clean.  He is quite shiny.  He is anxiously awaiting to have his two exquisite growlers filled and I try to chat him about his growlers and he gives me some information but nothing to sustain a conversation.
So, I turn to my iPhone.  Feeling slightly alone and bored at a bar?  Nothing that Twitter, text messages and My Town 2 can't fix!  I tweet John to let him know that the conference is done and I'll send him the email I owe him soon about an article that Glasses and I think he would like to work on.  (Something about microphone recording at super deep ocean depths and some scientific discovery that Craig made. That's really all I know at this point, and that might not even be right. I'll do my best to work in some Russian subs and maybe a lost nuclear weapon, maybe an Abyss 2 vibe. We'll see.) I mention that I'll do it after I'm done at this amazing brewpub, and that was the critical mistake.  John tweets back and says, "Feel free to prepare a brew taste guest blog for me!" (This *might* be how the conversation went down…)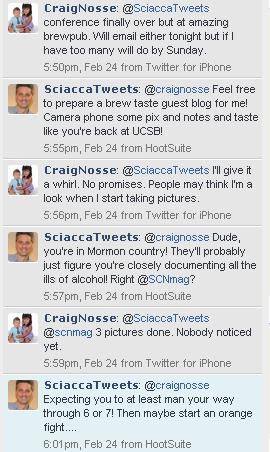 Being bored, and 1.5 beers in, I think this is a great idea.  But it actually isn't because I have not planned my afternoon at the bar in the right vein to do a brew tasting.  First problem, I'm 1.5 beers in...on the same type of beer!  If I had known I was going to do a tasting, I wouldn't have had a repeat!  Especially given the beer list: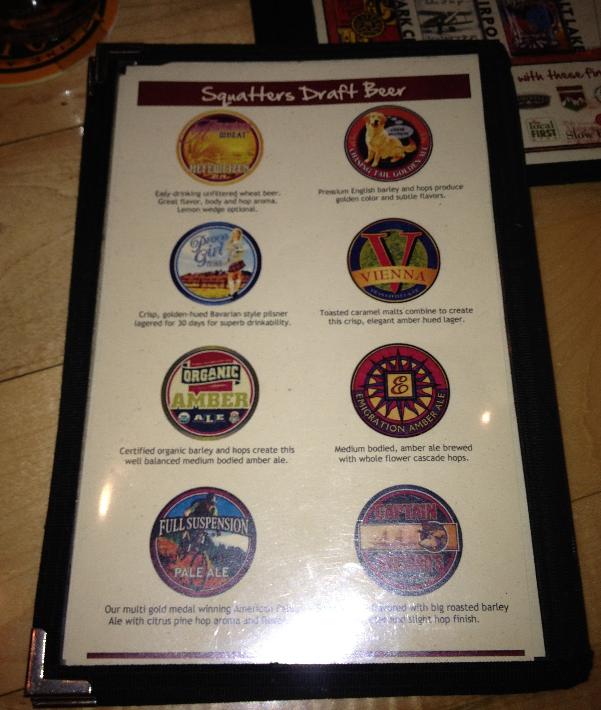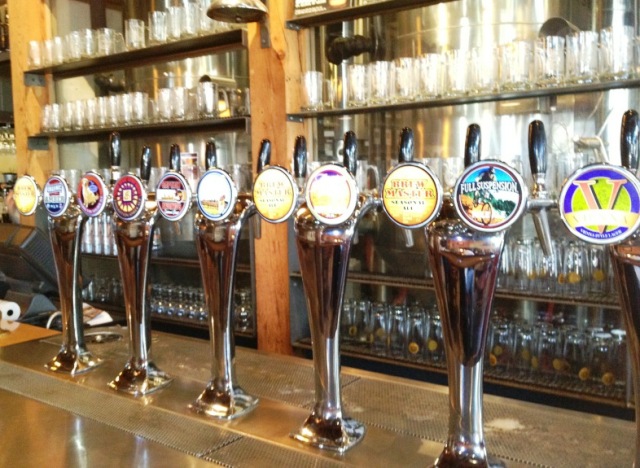 I forge onward nonetheless. (What a trooper! You know you've got a real friend when he is willing to drink tons of beers on your behalf!)  As you can see there are 8 beers on the list, and this does not even include the Seasonal Beer which I hear is a Raspberry Wheat; sounds delightful!
Oh well, I'm not prepared to do a beer tasting (I would posit that Craig's 4 years at UCSB TOTALLY prepared him for an impromptu beer tasting…) but time to make lemonade out of lemons so I move forward.  My first two beers were the Emigration Amber Ale. (Squatters description: "A house favorite at Squatters since 1989 this medium bodied, copper colored ale gets its flavors and aromas from pale and caramel malted barley and Cascade and Chinook whole flower hops.")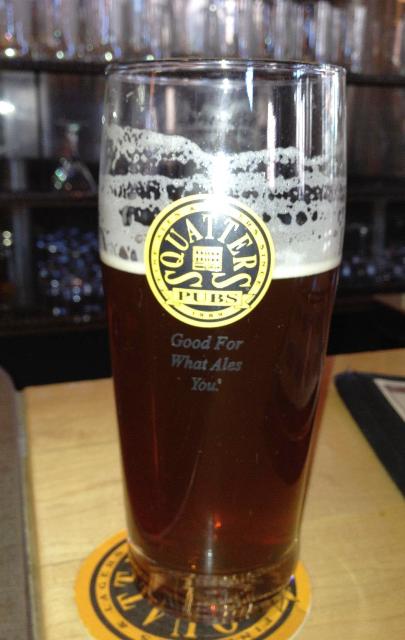 I have no idea what Emigration has to do with this beer but I find that this is totally besides the point because this beer is straight from the gods as it must be their nectar.  (Wonder what the gods cry and then drink in the morning? Check out this other guest blog…)
If I had to describe it in one word, the word would be: velvet.  Yes, velvet.  It was George Costanza who said that it was his desire to be draped in velvet.  Now I know what he means.  The texture of this beer is so silky and comfortable.  And I'm usually more into the taste of a beer than its texture.  I take my hat off to you George Costanza!  The taste is so smooth for an amber and it hints of cherry fruit.  My picture of it does not do it justice as it looks darker in my snapshot than it actually is.  Note also, that it is only half a beer in the picture as this was not well planned.
Speaking of not well planned, you are supposed to do beer tastings from light to dark and here I am at one of the darker beers on the menu.  Problem is, alcohol content of the Emigration is high and I'm feeling it.  Although non-traditional, I feel it best to go towards lighter beers or else this tasting will end before it gets going.  I pick out the Chasing Tail Golden Ale: (Squatters description: "A real tail wagger! This inviting golden ale is brewed with premium English barley, English Golding and Fuggle hops producing the delicate bitterness and aroma.")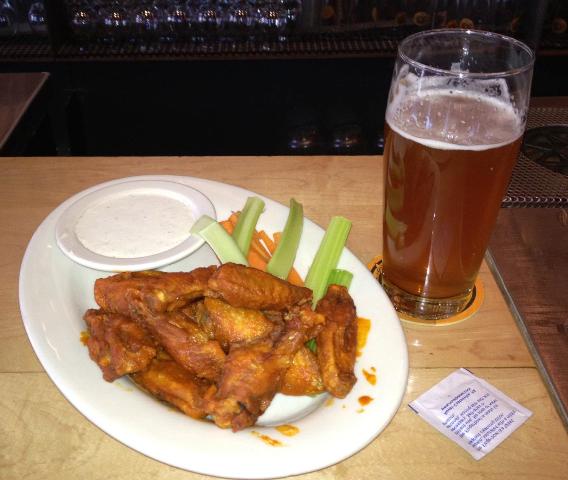 This beer totally throws the "you have to go from light to dark" theory out the window.  I feel no transition pain, this beer it is wonderful.  (Fearing that he would forget the magical wonders of this beer, Craig texted me this to make sure he wouldn't forget: "If I forget this for the blog, transition from emigration amber to golden ale was seamless because quality so good.") I feel like the happy dog that it is associated with.  A crisp, refreshing and perfectly balanced golden ale.  I don't know why in the description that it notes English barley.  The English are just dark and bitter people with bad teeth. If they wanted a beer to resemble that they should've made this beer taste like crap and put an ugly English Bulldog on the label.  I say, keep this beer as is and throw out the "English" part in the description!
Note the chicken wings in the picture.  As the two Emigration Amber Ales were starting to make me fade, and John was starting to question my manhood and alma mater, I thought I'd better put some food in my stomach whilst I continued this tasting.  I recall Cupcake Wars Nose Piercing Woman and her proclamation about the chicken wings.  So I ordered them.  By the way, she has now left the bar and so has Mr. Clean so I'm all by myself at the bar at this point.  While these are not the best wings I've ever had (that title probably goes to Spicy's in Knoxville, TN) they are pretty good.  And, I like that you get carrots and celery.  They even simplify the Bleu Cheese vs. Ranch dipping sauce choice by making a combination sauce!  Anyway, back to the beer tasting.  These wings are a perfect complement to the refreshing Chasing Tale Golden Ale.  Only issue is that the beer to wing ratio is out of whack and I text my friend Kellie, "My mouth is on fire from the wings.  Nose running out of control."
I also have another issue.  I need to pee.  I run down the stairs to the bathroom.  This is the second brewpub I've been to in Salt Lake City where the bathroom is down some steep stairs.  What is up with that?  Do they want accidents?  That doesn't seem in line with the thought process of the planners of this establishment though because they have put some thought into their bathroom: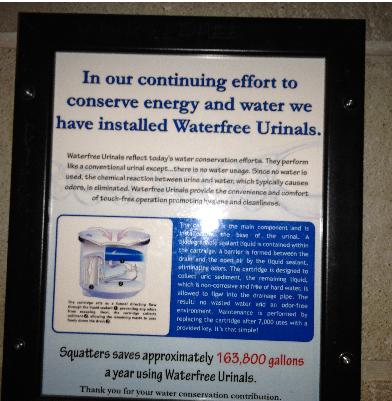 Just so you know, that schematic diagram of the urinal is pure crap because the urinal still stinks.  Back to my bar stool!  The bar has gotten a little more crowded while I was DOWNstairs but my spot is still there.  I consult my beer menu and decide on the Hefeweizen.  While I'm waiting for my beer, I get a text from my friend that Susan that totally confuses me.  She asks if I'm wearing pants.  Oh crap, did I leave them in the bathroom???!!!  Wait, she's in Hawaii, how would she know?  And there's the rub (so to speak).  Since we work together in Hawaii, I'm always wearing shorts so she asks me if I'm wearing pants and is bummed she has to miss out on the occasion.
Unfortunately, I can't remember what name they gave the Hefeweizen and I can't read it off my picture of the beer menu.  As you will learn in a second, this becomes meaningless.  It is quite the cloudy Hefeweizen: (It's the American Wheat Hefeweizen. Squatters description: "This unfiltered wheat beer is brewed with German yeast and tettnanger hops and has delicate citrus flavors. Try it with a lemon wedge!")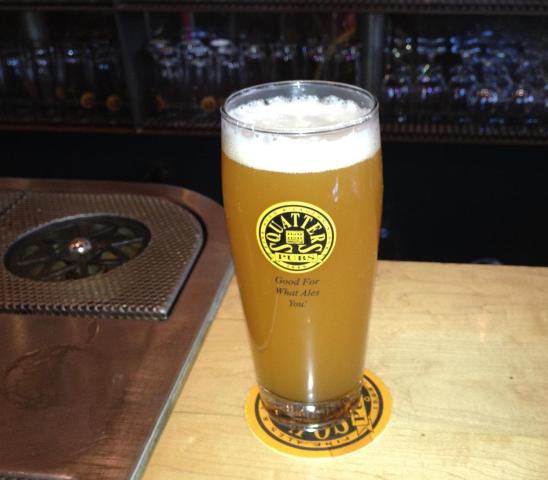 And, it is BITTER.  Remember my good run of going dark to light?  Here is a huge deviation from that success.  This beer is killing me.  It says in the beer menu that I could've ordered this beer with a lemon.  I didn't but I wish I had so that I could suck the lemon because it would be less bitter than this beer.  Fortunately, about halfway through the beer I start to rally.  I've either killed my taste buds or given this is the 4th beer I've had, it doesn't really matter what the beer tastes like.
I've decided that it is time to order the 5th beer and I already had one in mind that I saw on the menu.  Wait, where the hell is my beer menu?  My mind flashes back to what happened about 10 seconds prior to me looking for the menu.  I felt somebody on my left, doing the reach around on me.  I really don't like the reach around move.  Heck, I don't even kiss on the first date!  Now I realize what happened.  The person who did the reach around on me grabbed my beer menu!  Here's the bastard: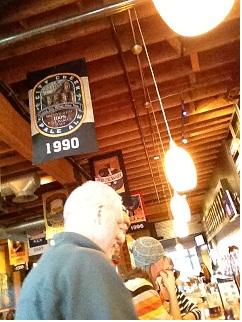 I am enraged.  Tweets and text messages go flying out of my phone.  All basically stating that this "Old Guy" has stolen my beer menu!  I am so bitter towards Old Guy...more bitter than the Hefeweizen!  He doesn't even offer to give it back.  He moves it 5 feet down the bar and puts it by gray ski hat person...I'm not sure if that is a girl or a guy.  To make things worse, I have an old and familiar problem; I have to pee again!  But things are even more complicated; while I was drinking the Hefeweizen I ordered a pizza to take back to my hotel and eat later because it is only 5 PM for Pete's sake and I'm betting that I'll get hungry again before my 5:47 AM flight back to Honolulu.  The pizza has arrived and Old Guy is eyeing it.  I am not a happy camper.  This guy has already stolen my beer menu, so we all know what is next,
I consult everyone via tweets and texts.  John suggests that I take the pizza with me to the bathroom because "Desperate times…"  Sorry John, I'm not that desperate, that sounds disgusting! The urinals in there don't even use water!!!  Susan suggests that no normal person would take my pizza.  I relay to her that this town is not normal as I almost get run over in crosswalks everyday by, as Glasses calls them, "cowboy drivers." 
I decide to withdraw from this skirmish, better to lose the battle and win the war.  So I pay my check, look for a nice Chasing Tale Golden Ale T-shirt up front (they have none), and walk back to my hotel with my pizza very firmly in hand.  After using my very nice hotel room bathroom that has a flushing water toilet, I reflect on what I've just done.  I'm pretty drunk, it is only 5:30 PM, I have to wake up at 3:20 AM to get to the airport and I haven't even packed yet.  I eat half the pizza (Mediterranean, quite good, the cream cheese makes it...yeah, cream cheese on a pizza) and think to myself that I better get a lot of nice swag for doing this guest blog for John.
Craig, I offer you the greatest swag of all; immortality in these pages and my sincere thanks! (Note: Length of "immortality" not guaranteed, expressed, written or implied.) But thanks for a great read!
Got a good story to tell? Hit me on the Contact page and let me know; maybe you'll be the next Sciacca Guest Blogger!
Categories: February 2012, Guest Blog, Beer/Liquor/Wine
/