Shopping Cart
Your Cart is Empty
There was an error with PayPal
Click here to try again
Thank you for your business!
You should be receiving an order confirmation from Paypal shortly.
Exit Shopping Cart
Features, Reviews and a Blog by John Sciacca
| | |
| --- | --- |
| Posted on February 29, 2012 at 5:30 PM | |
There is a frequent phenomena in business where by we focus all or much of our attentions on attracting NEW business through offers and promotions and discounts and deals. Things like, "Sign up today and get a free this!" But, what if you signed up yesterday? Or last month? Or a year or two ago? What do these "rewards" for new Johnny-come-lately-customers say to our existing, loyal and faithful client base? Without them, we wouldn't be where we are today.
I was watching TV last night and a Time Warner ad came on that at first I kind of just blew off. But as I thought about ita little more – and, let's be honest, the more I drank – it really kind of felt like a slap in the face. By the second time the ad popped up, I was deep into my second Manhattan and was less willing to let it go. So, of course, I rewound it, watched it again, and paused on the fine print. (That's just the kind of slow torture that I love to inflict on myself and Dana. It's a beautiful ballet of torment and self-loathing.) 
The ad was pitching people to switch to Time Warner's "Triple Play" bundle of services including cable, Internet and phone. ("Who would they switch from?" asked Dana. "Satellite. Or another cable company," says I.) And the offer was really pretty sweet. For $89.99 a month you got all three services. Plus 12 months of free HD DVR service (a $12.95/month deal). Plus 3 months of Free HBO, Showtime, Cinemax and The Movie Channel. PLUS a $150 gift card. All told, that's a pretty sweet package. Here's a screen cap of the offer: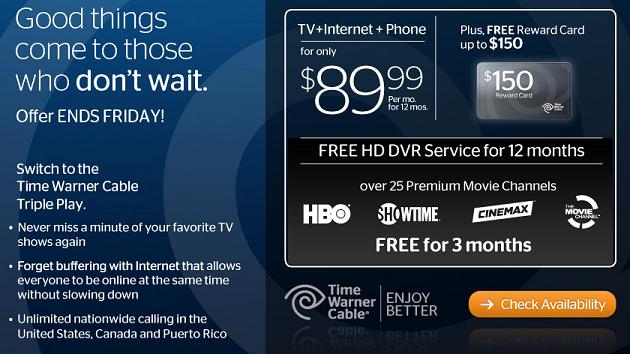 Since I happen to have Time Warner Cable – and have had it since I moved here back in 1998 – I figured that this was as good a time as any to see how they feel about taking care of existing, long-term customers. I have their cable and DVR service; subscribe to the HD-tier; and have their high speed Internet service. I don't yet have their digital phone service, but, hey, daddy isn't married to his phone provider; I can swing! So, I decide to reach out to Time Warner and see what offers are on the table.
So I go to the website and fill out the pre-chat question form with "I'd like to know if I -- as someone that has subscribed and supported Time Warner for about 10+ years -- can be eligible for the free 12 months DVR and $150 gift card." Then I click to chat with a live agent.
Spoiler: His name is Kyle.
Kyle> Thank you for contacting Time Warner Cable. At the end of our chat you will be given the option of taking a brief survey. My name is Kyle. Please give me a moment while I access your account.
John_> Sure, Kyle.
Kyle> I understand you would like to get better deal to lower your bill, am I correct?
John_> Well, I was watching TV last night -- you know, on my Time Warner HD cable box -- and saw the offer for 3 free months of premium movie channels, a full 12 months of free DVR service, a bundled $89 TV/Net/Phone package AND $150 cash back. So, I'd like to see about getting that sweet swag deal.
Kyle> Okay.
Kyle> We value our customer's there are best specials running right now and promotional deals to help you get the most out of our services, to keep your bill low.
Kyle> Please contact our sales support team to get the most suitable and beneficial offer for your services which will lower your bill.
Kyle> Please contact our sales representatives at 1-877-566-4892 to help you with your request. They can answer any questions you might have about our products, explain the pricing and let you know about any special offers specific your area, including any savings available to you by bundling our products.
Kyle> Sales department is available from 8 a.m.-11 p.m. Monday through Friday and 10 a.m -7 p.m. Saturday and Sunday.
John_> You can't transfer me to a person I guess...
Kyle> Yes.
John_> "Yes" as in you CAN transfer me, or "Yes" as I "Yes, I canNOT transfer you..."
Kyle> I would love to assist you with this but as I belong to technical chat support I have limited information for pricing and offers. My apologies. There is no sales chat available for the offers.
John_> OK. I'll call that number. Thanks.
Kyle> You're most welcome.
Kyle> Is there anything else I can assist you today?
John_> No. That's OK. Thanks.
Kyle> You're most welcome. It has been a pleasure assisting you! Have a great time!
The "Have a great time!" closing bit seemed a little odd and ominous. Like, "You've got to call the Time Warner mothership now, sucka! Have a *great* time!" Also, all that bit in the middle just seemed like pre-packaged, canned, "Your call is VERY IMPORTANT to us!" mumbo jumbo. When dealing with a person, I like to feel like I'm not just getting the select-click-send reply. But maybe that's just me.
So, I call the number and after entering my phone number I get Jessica. Who immediately asks me for my phone number again – I manage to not go into my rant about, "I just gave you my phone number. If I'm going to just have to turn around and give it to you again, why did the computer ask me for it in the first place? It hasn't changed in the 20 seconds since I punched it in!" – and after describing when I'm interested in she says, "For sure! I'd be happy to help you with that!"
Jessica says that the $150 gift card is basically $50 for each service you switch over to Time Warner. Since I already HAVE cable and Internet, I can't switch those services over, so I'm not eligible. But, I can get $50 for transferring my phone.
"But I'm a long time subscriber. I already HAVE my TV and Internet with you. Can't I get the same promotion that you are offereing to new people."
"Unfortunately it is only for people that switch their services over to Time Warner."

"OK. Let's say I cancel all of my services right now. Then I hang up. And then I call back and reactivate them. Can I get the promotion and the money then?"
"Umm, I can't advise you to do that."
"I'm not asking for your advice; I'm asking if that would work."
"Well, you'd have to be disconnected and then pay for reactivation and…"
And, let's be honest. It's a new season of Survivor and I'm not gonna risk missing an episode just to possible get a gift card. So I ask if I can just get the 12 months of free DVR service. (I'm not even sure what it is costing me right now, but, hey. I'm in this deep.) Jessica says she'll have to transfer me. I start to ask how much the phone service would cost, but then realize that I'm speaking to dead air.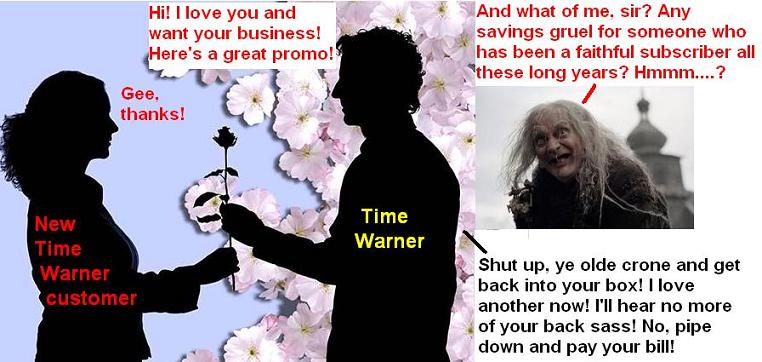 My man James comes on the line and he has an accent that I can only describe as "not from any of these 48 contiguous United States. Or the two non-contiguous ones." It is definitely foreign yet with a hint of gravel and notes of gargled pipe cleaner. James asks for my phone number. I give it along with another handful of my soul.




James, clearly an attendee of the Jack Donaghy school of intimidation and negotiation, immediately starts off with, "I can't give you the DVR service for free, but I can give it to you for a discounted rate of $5 for 12 months."




"I'LL TAKE IT!" I blurt, jumping at the first offer, and caving before we'd even really gotten started and before I even know what I was agreeing to. Silently thinking, "I made every mistake you can in a negotiation. I spoke first, I smiled, I negotiated with myself. If I had done that during in a mock negotiation in business school, Professor Woodmer would have spanked me in front of the whole class! Bare bottom!" Your right, Jack Donaghy, you brilliant, beautiful bastard! *Never* take the first offer! Damn!




Turns out that I was paying $12.95 a month for the past infinity months so this will be a $7.95 a month savings, or about $96 for the year. James says this will drop my monthly bill to $65, so not too shabby for a phone call. (Plus, you know, I got a blog out of it.)





But I smell blood in the water. And that blood smells like money. So I press on. "The other girl transferred me before I could ask; how much would my bill be if I add the phone service."




(click-clack-click, sounds of James playing his keyboard like a Beethoven sonata) "That would take your bill to $106.38 a month."




"The phone is $41 a month?!"




"No. It's only $31.95 a month."




"Well, do the math. I'm at $65 right now. You said adding the phone to my account would take my bill to $106; that's $41. That's not a good deal. At all."





 "Uh, no. No it isn't." (several silent, tense moments filled with the furious sounds of click-clack-click, perhaps banging out the discordant strains of Mahler) "Let me try something else… OK.... Here... I could do the phone and bring the whole bill to $97 month."




"So the phone would add $32; $65 plus $32 is $97."




"Uh, yes."




"Well, I'm only paying $22.95 for phone right now."




"Let me see what else I can do…"




I wait for a second before realizing that the line has gone dead. Disconnected. Which is OK, really. We rarely use our home phone and I'm not so sure I want to be married to it.




The moral of the story is, you shouldn't offer promotions, specials and sweetheart deals designed to attract new business without having something equally special in place that rewards your existing clients and makes them feel more like valued partners and less like chopped liver. Also, the squeaky wheel gets the grease. Call your service provider and see what they're willing to offer you to keep you as a happy camper.


Categories: February 2012, TV, Rants

0

/