Shopping Cart
Your Cart is Empty
There was an error with PayPal
Click here to try again
Thank you for your business!
You should be receiving an order confirmation from Paypal shortly.
Exit Shopping Cart
Features, Reviews and a Blog by John Sciacca
| | |
| --- | --- |
| Posted on March 7, 2012 at 5:30 PM | |
OK. So, as I mentioned a couple of weeks ago in my iPad3 19 Wishes, Wants and Predictions blog, we are in March and a new iPad announcement/launch was imminent.
Well, if you stepped anywhere near a networked computer today after 1:00 eastern, you know that a new iPad was indeed launched. And not just ANY new iPad, mind you, but The New iPad. So, for those of you who don't follow me on Twitter at @SciaccaTweets – or who were too busy with the flood of iPad and SWSX Twitter traffic this afternoon – here is a recap of the event, some of my live Tweets and a scorecard of how I did on my iPad predictions…
(Note: Thanks to Gizmodo for the live coverage of the event. It was the next best thing to being there. Next best if you count that I wasn't able to read their coverage while at home. In my underwear. While drinking a scotch.)
First: The Name
So, the world universally assumed that this was either going to be called the iPad3 or iPadHD. But it is just being referred to as (drumroll….): The New iPad. Yes. That's the name. Awful. Just, just…awful. A name that can only be chastised properly in a series of tweets.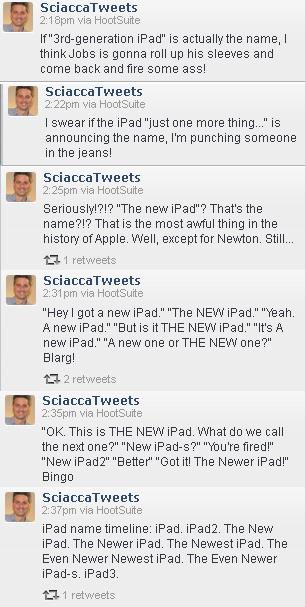 Second: Meet the New Boss
…kinda same as the old boss. New CEO, Tim Cook, filled in for the late Steve Jobs MC-ing the event. And right from the start I thought his posture and hand expressions mimicked the old master. Whether it was intentional, subliminal or whatever, I thought he certainly looked the Jobsian part.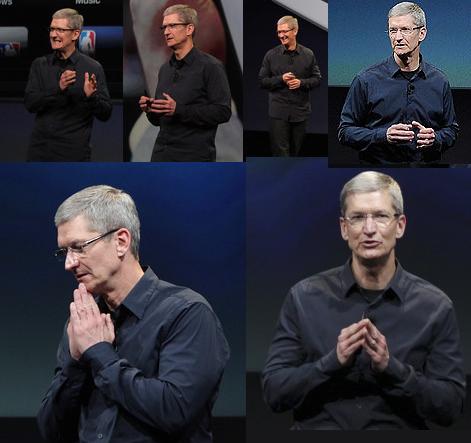 However he blew it with no classic Jobs "and one more thing…" moment.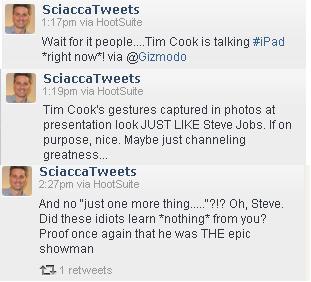 OK. So I had 19 items on my predictions "wishlist." How'd I fare?
#1 USB Jack
I wanted this to quickly swap music, photo, doc files with other users, to quickly plug in and off-load something, to view images at basically an press event where the USB has become the kit delivery means of choice. I thought there was a 20% (or relatively low) chance we'd see it.
Apple decided there was a 100% chance we wouldn't. There is no "us" in USB with Apple.

1 for 1
#2 SD Memory Card Slot
This would be the ultimate convenient and cost effective way to add tons of additional memory to your iPad. Being able to easily pop in a card adding another 32 or 64 Gigs of memory, doubling your Pad's capacity would be brilliant! I figured maybe a 30% chance of this.
Again, Apple said no, Sciacca. No.
1 for 2
#3 HD Camera
The current camera on the iPad2 sucks. It takes incredibly grainy and blurry photos and is really all but unusable for taking a picture of anything that you want to save and share. It also had a difficult time in low light, making anything that isn't *perfectly* lit appear super grainy and blocky and basically like you shot it with a 640 x 480 gen 1 camera phone. The camera really seems kind of a last minute tack-on to the iPad2, and with all the praise being heaped on the iPhone4S 8 MP camera and the amazing HDR photos that it shoots, I fully expected to see a WAY updated version of the cam on the new iPad, likely with the improved lens, faster picture taking, image stabilization and 1080p video as the iPhone4S.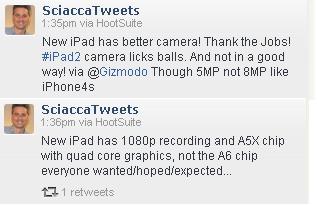 Apple agrees! In detail the new iPad will feature a 5-megapixel "iSight" rear camera that will shoot up to 1080p video. (Front "FaceTime" camera remains the .3-megapixel junker.) "Backside illumination allows you to take great photos in low-light conditions and a new video image stabilization feature removes the bumps and shakes typically seen when filming with a hand-held device," Apple said in a statement.
2 for 3
#4 Flash
I'm figured that the along with the improved camera and lens a new camera would also have a flash. Say a relatively powerful LED light that would greatly enhance the quality of low-light pictures and video would. As a bonus, it would also make for a super handy "flashlight" app for those times when you need a little extra light to look for something.
Apple says, meh, no, yes, kind-of. There is a "backside illuminated sensor" which is to enhance low-light pictures, but doesn't appear to have an ACTUAL LED "flash."
2 for 4
#5 Bigger Display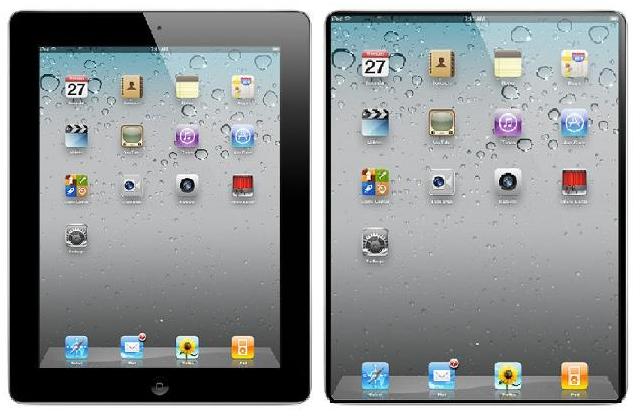 Seriously. Look at that pic and tell me you wouldn't want a bigger, all-screen, bezel-less iPad. You can't. As much as I wanted this, I figured we wouldn't get this on this launch, but that we WILL see it in a future New-Newer iPad launch.
Apple figured we wouldn't get this now either. But I'm sure they were impressed with my amazing MS Paint photo-editing talents.

3 for 5
#6 Retina Display
While I'm fine with the iPad2's resolution, this was another of those "the iPhone has it, so you just KNOW the iPad is going to add it!" features. It was highly expected for the iPad2, so was all but a foregone conclusion here.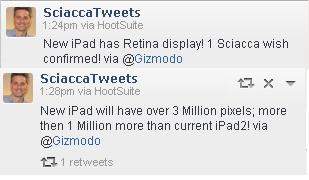 Apple concurs! The new screen has 2048 x 1536 resolution; a total of 3.1 million pixels and a million pixels MORE than the current iPad2. Also, it increases color saturation by over 40%.
4 for 6
#7 Faster Processor/More Memory
I figured that a new camera and higher resolution display were also going to demand a faster chip. The rumor is that we'd see the Quad Core A6 chip in the new iPad.
Apple delivered the A5X, which includes a quad-core graphics module. Apple says that the A5x GPU is twice as powerful as the A5 found in the iPad 2 and four times more powerful than NVIDIA's Tegra 3 chipset (found in the Android Transformer Infinity tablet).
5 for 7
#8 HDMI Output
You can already connect your iPad via HDMI….using an add-on iPad 30-pin-to-HDMI widget. Apple loves selling add-on widgets, so I figured this would be a no-go.
And…I'm right! No free HDMI for you!
6 for 8
#9 Longer Life Battery
The iPad2 is no battery slouch, but portable devices are only portable as long as they've got power and I figured a new gen Pad would have a new gen, longer lasting battery. (I had my battery die on my on the floor at CES. Not cool.)
The new iPad is rated to last 10 hours, same as the iPad2. In some ways – because it is running more powerfully – this probably IS a longer lasting battery, but in other, more practical ways, it isn't. Bummer.

6 for 9
#10 Thinner/Lighter Case
The iPad2 saw a 33% size reduction in the case. However I wrote, "I think that Apple is pretty settled on the form factor. Plus with the addition of a new camera, higher resolution display, new chipset, etc. I just don't see this happening. In fact, if they need to add a larger batter to accommodate these new things, you might see the case getting slightly thicker."

Apple figured slightly bigger was slightly better. Old iPad2 was .34-inches deep and 1.33 pounds; New iPad is .37-inches deep and 1.44 pounds.
7 for 10
#11 Gorilla Glass2
Corning's Gorilla Glass 2 is a stronger, more scratch resistant glass for touchscreens, and would really be awesome on a new iPad that is constantly being groped and fondled and passed around. However, this was just launched at CES and I figured was too new/soon for this product cycle.
And I was…correct.
8 for 11
#12 New Colors
That we would see a new color for iPad other than black or white seemed ridiculous to me. Especially since you can personalize your Pad with all manner of covers and cases and whatever. Also, from a video standpoint, having any color other than black just messes with the image quality/perceived contrast. Seriously. Its like Henry Ford said: You can have any color that you want; as long as it's black. Or white. But, really, just buy the black one.
Apple concurs. White is good. Black is better. Anything else is superfluous. And buy the black one.

9 for 12
#13 Better Sound
To paraphrase The World's Most Interesting Man, "I don't often listen to the audio on my iPad2, but when I do, I wish it wouldn't suck." The iPad's internal speaker is pretty weak. However I didn't expect it to improve. Since most listening is supported via the (totally glutted) headphone market, there isn't much need to improve the speaker, nor much physical real-estate to do so.
And, no real surprise, Apple didn't improve the sound.
10 for 13
#14 4G LTE
4G is the new 3G when it comes to network roaming, and faster is always better. With many cellular providers touting their 4G networks, this seemed like the kind of thing a forward looking iPad would offer. Plus it is the natural paid step-up evolution to the 3G model. I gave this a 75% chance of likelihood.
And Apple delivers! Still selling separate AT&T and Verizon models, instead of a single, 4G agnostic approach.
11 for 14
#15 Smaller Screen
If you want a smaller screen iPad, buy an iTouch/iPhone. There. Done. I think the iPad is the perfect size and form factor, and don't need or want it to be any smaller. Really, a lower cost is the ONLY reason why I can see this being something that Apple would be interested in, but with them selling iPads by the *millions* I don't see this being a real concern. I figured there was a 5% chance we'd see a smaller Pad.
And we didn't. Good on ya, Apple. Stay true to your course.
12 for 15
#15 Eliminate Home Button
Steve Jobs notoriously hated buttons. And apparently even that single Home button on the iPad/Phone haunted his soul. With multi-swipe gestures, you can now get back to the home page without pressing the button. Also, if they increased the screen size out to the borders, this would be a natural reason to eliminate the home button. I figured only a 25% chance we'd see them ditch the button.

But the button lives! Long live the Home Button! (Or, until they make the screen bigger. Then, see you in Hell, Home Button!)
13 for 16
#17 Siri
By far the most hyped feature of the iPhone4S and there doesn't seem to be any technologic limitation explaining why a current gen iPad2 couldn't run Siri. (In fact, when it was available as a free app prior to Apple purchasing the technology, it DID run on the iPad.) I figured that the new iPad was a shoe-in, straight-up, 95% Vegas LOCK to include Siri…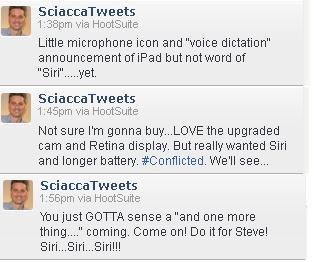 And it doesn't! Oh, the humanity! Why, Apple?! Why?!?! It has something called "Voice Dictation" which looks like you can speak a message (or tweet or e-mail?) to it and it will turn it to text. But that…is…lame! Probably the biggest let-down of the whole launch!
13 for 17
#18 Multi-user Interface
When there is one iPad in a multi-iPad using house, it would be great for everyone to have their own user ID, much like you switch users on a PC. I have my e-mail and Twitter and what-have-you, and Dana has hers. Of course, this would keep people from buying multiple iPads, so I can kinda see why Apple wouldn't want to give this feature away. Perhaps gambling with my heart, I ambitiously gave this a 40% chance of happening.
And when it comes to giving your heart away, no one likes to crush it faster than Apple. No multi-user. In this case, tis not better to have loved and lost...
13 for 18
#19 Faceprint Reader
There are some generic code password lock things for your iPad, but why not have something way cooler and more personal. Say, a faceprint reader! Along with the better camera, you could simply look at the screen and unlock it with your face. If this were built into the iOS DNA, you could use your face to be your password for all kinds of things. Cool, right? I figured we wouldn't get this though, giving it a 15% chance.
And, yay! I win! We didn't get this. Or does that mean I lose…?
14 for 19
Also announced were some new apps, some cool sounding photo editing tools, a feature to "photo beaming" pictures from your iPad to other devices (that sounds kinda Bluetoothey to me). All in all, kind of a lackluster launch. The lack of Siri and the same battery life were kind of the killers for me. All New iPads will maintain the current pricing, and iPad2's see an immediate $100 price reduction.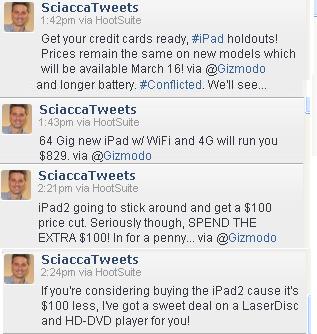 So…you gonna give in to the cult of iPad-sonality? What do you think of the new name? Are you already missing Siri? Was this a successful day for Apple? Let me know…
Oh, yeah. And this happened too :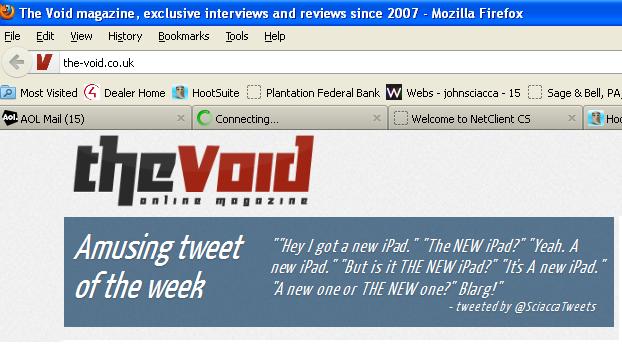 Categories: March 2012, Electronics
/