Shopping Cart
Your Cart is Empty
There was an error with PayPal
Click here to try again
Thank you for your business!
You should be receiving an order confirmation from Paypal shortly.
Exit Shopping Cart
Features, Reviews and a Blog by John Sciacca
| | |
| --- | --- |
| Posted on March 16, 2012 at 1:45 PM | |
(May we just take a moment and revel in my clever-clever Star Wars beer title. Yes? You've appropriately soaked in my funny? Good. On we go...)
While waiting for my nascent Beer Club members to A) drink their beer and B) actually write me some semblance of a review on their experience I found myself quickly out of beer to drink. What to do, what to do…?
A trip to Lowe's Foods showed that there were still several un-tasted brews to be had. So I did what any beer-loving, non-beer-having person would do; I grabbed a Brewer's 6-pack and started assembling a new batch of beers to taste! You've just got to love the mix-pack for $9.99, concept, especially when some of the beers that *happen* to find their way into said mix-pack would sell four for $12.99 regularly. (Thus answering my friend Dan's question, "How did he get the Dogfish Head 90 Minute for so cheap?")
So, here are the 6 little beauties up for tasting this go round. Stick around to the very end of this as I taste a seventh, bonus beer, hand-selected for my drinking pleasure by none-other than Brewmeister General, Dennis Burger. Also, I added a new Beer/Liquor/Wine blog category where you can find all the other reviews and John Sciacca related drink happenings.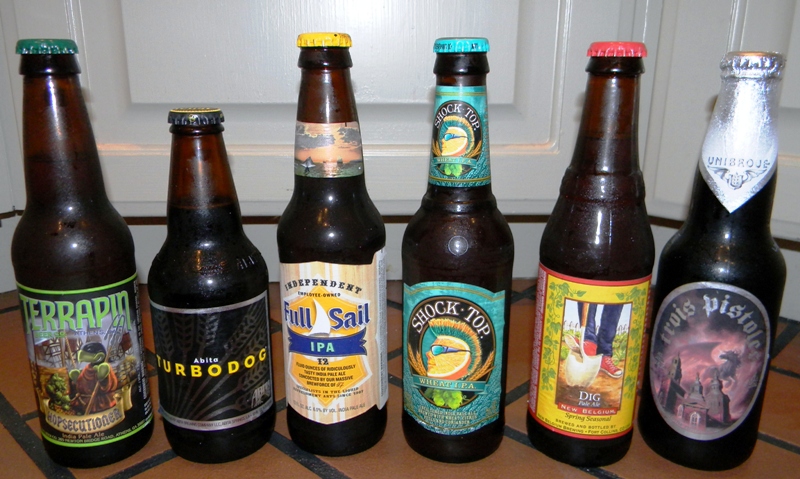 Abita Brewery – Turbodog
Hop Variety: Willamette
ABV: 5.6%, IBU 28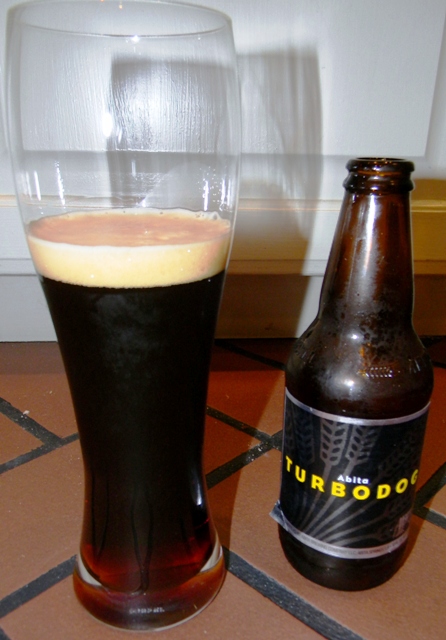 Description: Turbodog is a dark brown ale brewed with Willamette hops and a combination of pale, crystal and chocolate malts. This combination gives Turbodog its rich body and color and a sweet chocolate toffee-like flavor. Turbodog began as a specialty ale but has gained a huge loyal following and has become one of our flagship brews. This ale pairs well with most meats and is great served with hamburgers or sausages. It is a good match with smoked fish and can even stand up to wild game dishes. Turbodog is also great for marinating and braising meats and cooking such things as cabbage and greens. Colby, Gloucester, Cheddar and Blue cheeses go nicely with Turbodog. It's perfect with spicy Louisiana jambalaya or Spanish paella. Some even like it paired with chocolate!
If you're going to be a dog, you might as well have a turbo. I liked the plain, non-showy label and figured I'd give it a go even though my previous Abita brew experience – Jockamo IPA – didn't blow me away. Pours a deep, dark, rich mahogany-brown with just the slightest hints of red. Two fingers of creamy head that coat the edge of the glass and create a slow foam cascade down the sides. Strong nose of coffee, chocolate and malt. Initial notes of *slight* bitterness, followed by caramels, malt and smokey chocolate flavors. At the end it leaves you with a lingering coffee finish. I'm not really a stout lover – too filling usually – so the laid back nature of this dark brew appeals to me. I didn't *love* it but I didn't fight my way to the bottom of the glass either. I would call this a gateway beer to people who aren't ready for Guinness or full-blown black-oil porters, but want something a little heavier.
Full Sail Brewing – IPA
Hop Variety: Unlisted
ABV: 6.0%, IBU 60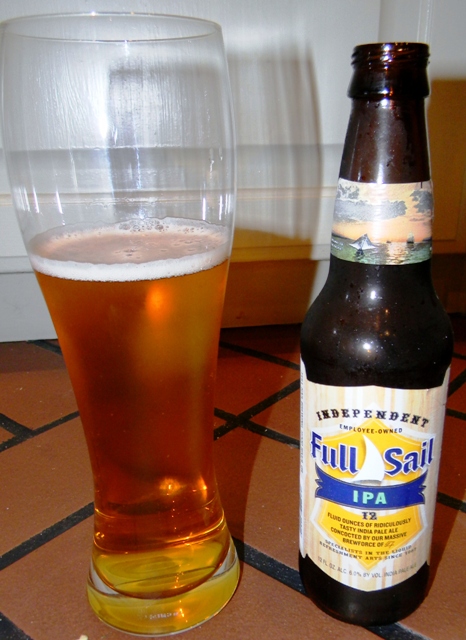 Description: The British colonists who once visited India invented India Pale Ale. But we seriously doubt they ever enjoyed one after a day of fullblown kiteboarding. What a shame. Generously hopped to 60 IBU's in the classic style, our IPA is a real thirst quencher. It has a full, malty body and there's even a hint of fresh citrus to it. Perfect after your favorite water sport. Even if that happens to be the grueling drag-the-poolside-lounge-chair-into-the-sun event.
Pours a light golden color with half-finger of head that quickly dissolved to just a topping of bubbles. Very little lacing or body. Distant piney hints in the aroma with undertones of malt. Initial pop of carbonation on mid-tongue, with a bit of classic IPA metallic bitterness and following with residual lingering bitterness and wheat notes. Smooth and easy drinking beer, that is fairly middle of the road, not offering a lot in complexity but that also shouldn't be too overpowering to IPA noobs.   
Unibroue – Trois Pistoles Abbey Style Strong Dark Ale
Hop Variety: Unlisted
ABV: 9.0%, IBU 15.5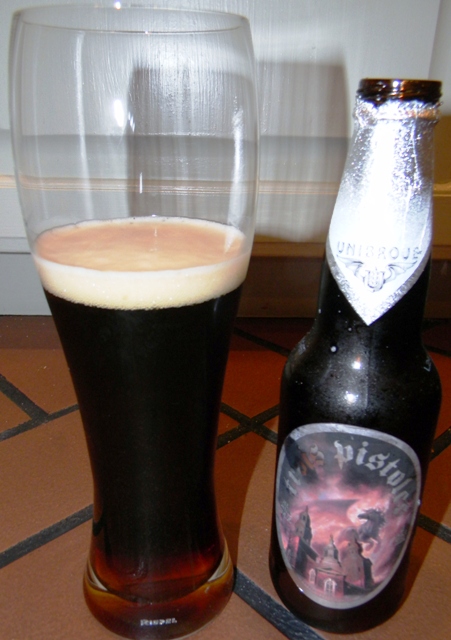 Description: Trois Pistoles (Three Coins) is named after a small village of Quebec. Founded over 300 years ago, Trois Pistoles gave birth to several legends, including one about the Black Horse. It involved a local bishop who conjured up a good devil (appearing in the form of bridled black steed) to haul large brick stones to construct a new church. When someone accidentally removed the bridle, the black horse suddenly vanished just as the last remaining stone was to be set. This stone is still missing, as can be seen when visiting the local church. Trois Pistoles is a remarkably mellow dark ale. To complement its aroma of ripe fruit, it has a pleasant aftertaste that lingers on like old port wine.
Unibroue was new to Lowe's and I liked label; it looked cool and angry and maybe something out of a Stephen King Dark Tower book. (I'll admit though, I was tricked into thinking that "Pistoles" was referring to pistols; like some kind of awesome, High Plains Drifter of beers. Had I know it meant "coins" I probably wouldn't have...no. I'd have still bought it.) This is an abbey style strong dark ale from Quebec from a brewer that follows the Trappist monk brewing style. This beer pours a deep dark brown syrup color and produces a thick brown foam. It actually looks a good bit like a root beer. The foam clung to the sides of the glass and hung around till the very end, for a frothy finishing swallow. The nose has a bit of malt and spice, with kind of figgy/jammy notes. Usually beers this dark have strong, smokey notes of chocolate and coffee, but I'm not getting any of them either on the nose or the palate. Mid level of carbonation with a rich mouth feel. Not like a beer you need to chew on, but one that lets you know that it's there. Finishes silky smooth with a lengthy, lingering finish of fruit and spice.
Shock Top – Wheat I.P.A.
Hop Variety: Cascade
ABV: 5.8%, IBU Unlisted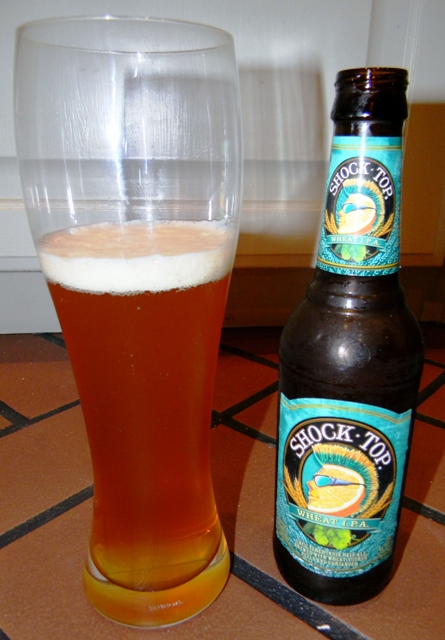 Description: Shock Top Wheat IPA is no traditional beer. It's a unique hybrid that combines the fresh flavor and smoothness of wheat beer with the crisp hop bitterness of an IPA. The result is a beer that is truly like no other. To serve, pour down the side of the glass until a half inch is left in the bottle. Swirl the remaining brew and pour to produce a rich, thick collar of foam that releases the citrusy Cascade hop aroma.
I know that Shock Top is an Anheuser-Busch macro-brew, but I happen to like their Belgian White with a thick slice of orange. It's not a world-class White, but it's tasty and usually around $7 for a sixer and I feel it helps me fight off scurvy with the citrus chaser. When I saw the Wheat IPA, I figured I'd give it a go. (Also, the cheaper beer helped assuage my conscience after packing in all those luxury "shouldn't-really-go-in-the-mix-pack" beers.) It pours a cloudy, golden, yellow-orange with a couple of fingers of foam that fall as quickly as it rose. After a few moments in the glass, the foam was completely gone, leaving just a faint, ring of micro-bubbles around the edge of the glass. Notes of wheat and coriander spice and orange. Carbonation lands mid-tongue and then there's a brief bloom of bitterness that quickly dissolves into a thin, wheat flavor. There are different nods of orange and spice, but this is a macro attempt at a mass-market IPA for people that don't really want to drink IPAs; boring and unexceptional.
Terrapin Brewing - Hopsecutioner IPA
Hop Variety: Warrior, Chinook, Centennial, Simcoe, Amarillo, Cascade (dry hop)
ABV: 7.3%, IBU 78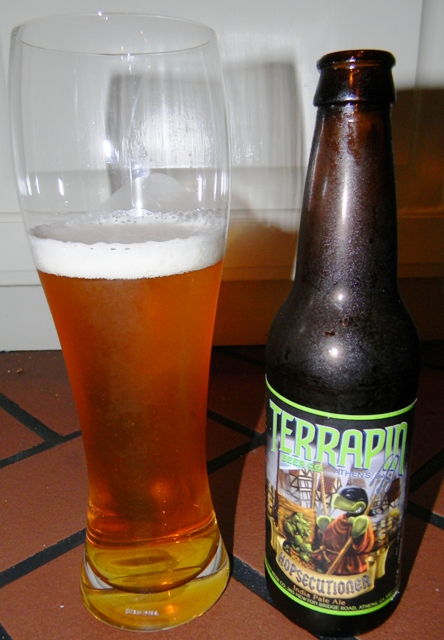 Description: This Killer IPA earns its name by using six different types of hops while still remaining an aggressive well balanced beer.
A brew so ruthlessly hoppy that the label shows a turtle in full executioner's garb guillotine-ing a bunch of hops? Yeah. Count me in! Plus, Terrapin doesn't get all flowery and verbose on it's description. "Six different hops, aggressive, do you want to read or drink?!" Pours a clear, medium-gold color with a finger's worth of head that settles down to a nice foam topping, and thick rings of lacing on the glass. Lots of micro-bubbles rising give evidence of good carbonation. Wonderful pine and hop smells with underlying notes of malt and maybe just a bit of citrus are all leading me willing – and running – towards the hopping block! Nice immediate tingle of bitterness on the tongue, with surrounding carbonation, followed by a good, lingering bitter, hoppy finish. There are notes of grapefruit as well, with a nice balance of malt, and all around a quality IPA. This is the definite stand-out beer of the batch!
or is it...?

New Belgium Brewing Co – Dig Pale Ale
Hop Variety: Target, Nelson Sauvin, Cascade, Nugget, Sorachi Ace
ABV: 5.6%, IBU 36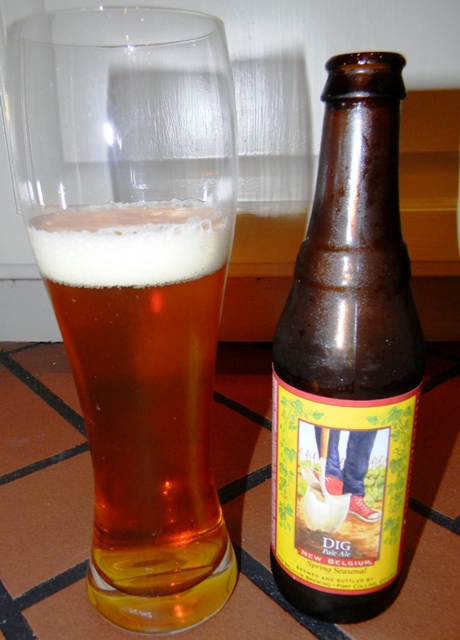 Description: Unearth your bottle-opener because this Pale Ale is something you can Dig. Sorachi Ace hops provides a fresh Spring zing with incredible lemon aroma. Nelson Sauvin is next in line with bursts of passion fruit, mango and peach. American favorites, Cascade and Centennial round out this crisp, clean Pale Ale. Dig in!
I'm a fan of New Belgium's Fat Tire – a spot-on suggestion from my good friend, Craig – so I was excited to try another sampling from this brewery. This beer pours a beautiful, rich golden amber with thick two fingers of head. The head reduced to frothy film that coated the top and sides of the glass. Nice hoppy notes with clear scents of citrus poking about. Has a light, clean flavor with hints of lemon and grapefruit. There's a quick pop of bitternesss that vanishes leaving behind a citrus after taste that does stick around a while. There are some nice malt notes that open up and develop nicely as the beer warms up a bit in the glass. I'd say another winner for New Belgium.

Bonus!
Beer aficionado and A/V journalist extraordinaire, Dennis Burger, has been wanting me to try two specific beers; Piraat and Hennepin. While I've yet to run across Piraat in my neck of the woods – and the one bar that Dennis and I visited in New York together happened to be out of it at the time also – when I discovered a bottle of Hennepin on the shelf, I purchased a single for myself. Here's my thoughts…
Ommegang Brewery - Hennepin bottle-conditioned farmhouse Saison ale.
Hop Variety: Unlisted
ABV: 7.7%, IBU Unlisted
$8.49, 750 ml bottle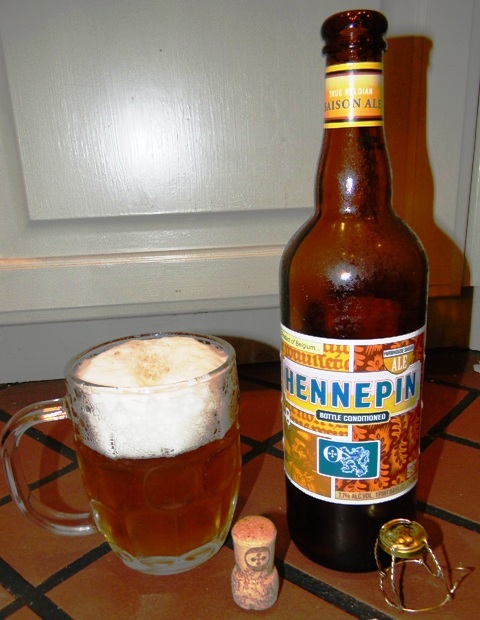 Description: As you pour this rich golden ale into your glass, consider your surroundings. Are you in a restaurant? Outside on the deck? Is it hot and humid? Cold and brisk? Take a drink. Feel the way Hennepin is bright and lively in your mouth with a warming mix of spicy gingersnap and citrusy hops. Refreshing. Relaxing. It's true: no matter where you are, Hennepin is the perfect ale for all seasons.
I had no idea what a "Saison" style beer was. So, not wanting to look like an ignorant oaf in front of Dennis – though, in truth, that ship has likely already sailed some time ago… -- I turned to Wikipedia for the info. Here's what the Wiki had to say: "Saison (French, 'season') is the name originally given to low-alcohol pale ales brewed seasonally in farmhouses in Wallonia, the French-speaking region of Belgium, for farm workers during harvest season[citation needed]. Modern-day saisons are also brewed in other countries, particularly the USA, and are generally bottle conditioned, with an average range of 5 to 8% abv, though saisons at the more traditional 3.5% strength can still be found. Although saison has been described as an endangered style, there has been a rise in interest in this style in recent years, with Saison Dupont being named 'the Best Beer in the World' by the magazine Men's Journal in July 2005. Historically, saisons did not share identifiable characteristics to pin them down as a style, but rather were a group of refreshing summer ales. Each farm brewer would make his own distinctive version."
Dennis said that I needed to select a glass that would let me really appreciate the smell of the beer; as part of the experience was "like making love to a pasture with your face." So I started by sending Dennis a picture of five possible glasses for optimal enjoyment of this ale, and he picked my largest stein; a mug I received as a gift from Cheers in Boston. The cork pops like a champagne but with less force and propellant. The bottle instructs to "pour slowly so as to not disturb the yeast sediment, but with enough vigor to create a luxurious head and release the rich bouquet." Who am I to disobey an $8.50 beer that has traveled so far to provide me with liquid enjoyment? Pours with a giant thick, rich creamy head that was more like the top a creamy, frothy cappuccino than a beer. Like custard meringue in its thickness and texture; you could seriously spoon this out. Settled to produce a quintessential looking, thick head that could have been shot for ANY beer commercial. Slightly cloudy, yellow-orange color. Notes of sweet grass and fields of golden hay, with subtle, sweet notes of ripe banana and clove spice reminiscent of the Golden Monkey Tripel. Thick, luxurious mouth feel that was like you coated your mouth with creamy velour. Mild carbonation. Easy, easy drinking beer. Initial pleasing sweetness and spice on the back of the tongue that quickly dissipates to just touch of bitterness and dissolves to lingering wheat flavors.  Feels thicker and creamier as you reach the end of the bottle/glass (reflecting the temp instructions to "serve cool 50 degree F (not cold)".) The flavors aren't complex or intense, but smooth and easy and quite enjoyable. Viva la Saison!

Categories: March 2012, Beer/Liquor/Wine, Reviews
/