Shopping Cart
Your Cart is Empty
There was an error with PayPal
Click here to try again
Thank you for your business!
You should be receiving an order confirmation from Paypal shortly.
Exit Shopping Cart
Features, Reviews and a Blog by John Sciacca
| | |
| --- | --- |
| Posted on March 18, 2012 at 12:25 AM | |
As you'll possibly recall, I had the flash of brilliance a couple of weeks ago of forming a Beer Club. (You can read all about it here, as well as the Rules of Beer Club.) As I suspected, it was quite easy to get people to agree to join Beer Club. The title pretty much sells itself.
What surprised me was how difficult it was to actually get the people to then DRINK said beer. But even more difficult was getting people to WRITE ABOUT said beers they DID drink. (Getting non-writers to write is, I believe, just slightly less difficult than trying to will your body into growing an extra organ.)
Anyhow, after 3 weeks of waiting, cajoling, harassing and bugging (including several e-mails and texts which started out, "You suck!") I finally have enough responses to share. Thus, I give you the first official notes of the meeting of Beer Club!
The Piggly Wiggly in Market Commons has a ha-YUGE selection of beers, and was my source for the beers for this tasting journey. I wanted to stick with a type -- IPA in this case -- for a more uniform "flight" of tasting. Here's a picture of the beers on tap this week:
I also asked the member to give a brief bio. Of the five I asked, I got two responses, which about sums up the participation in Beer Club. So, please to meet Corey and Jon:
Corey: As my honorable replacement of one member of Beer Club this week, I was glad to be a part of the fun and took the time to pay ever more attention to the beers I would drink. To start the tasting off, I started with what I expected to like least and worked my way up to what I expected to be my favorite. I will preface my reviews by saying that IPA's are my favorites, so my criticism is slightly biased, but only because they are dear to my heart...let the tasting begin!
Jon: My name is Jon, some people call me shorty, but then I break their face. Anyway, back to the beers. I stopped drinking beer for a few years, because beer became boring, dull tasting and had lost its appeal. But a few years ago I starting really getting into micro breweries; sure they cost more, but doesn't everything that is better? I found that I really preferred IPA's, and have tried A LOT. Well, the el presidente of our new beer club, started us founding members out with some IPA's. I drank them in the order that I would least prefer them to the best, in my mind. So, when referencing this list, 1 was not toilet worthy and 6 was dyno-mite!!
Also reviewing is Chris. Since he didn't supply a bio, I'll say that Chris is one of the most insanely athletic people that I know and seems pretty fearless at trying things that most people would look at and say, "Are you crazy? I could totally break myself!" Chris also summed up his reviews in pictures.

Stone Oaked Arrogant Bastard Ale
Hop Variety: CLASSIFIED
ABV 7.2%, IBU Classified
$17.49 6-pack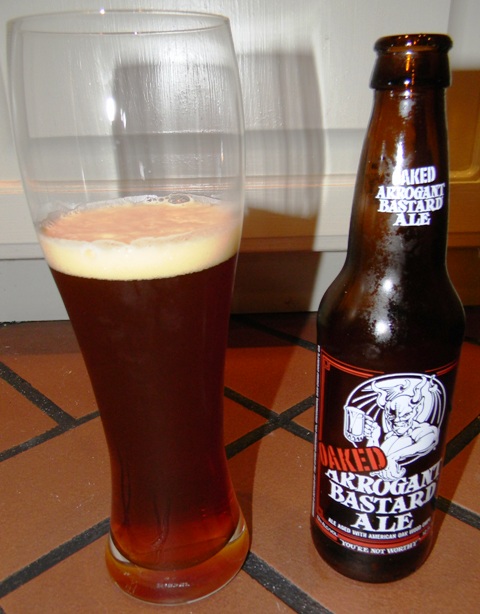 Description: This is an aggressive beer. You probably won't like it. It is quite doubtful that you have the taste or sophistication to be able to appreciate an ale of this quality and depth. We would suggest that you stick to safer and more familiar territory --- maybe something with a multi-million dollar ad campaign aimed at convincing you it's made in a little brewery, or one that implies that their tasteless fizzy yellow beer will give you more sex appeal. Perhaps you think multi-million dollar ad campaigns make a beer taste better. Perhaps you're mouthing your words as you read this.
Too many strive towards complacency as a goal. We grow up thinking that the ability to become complacent is the equivalence of success in life. True Arrogant Bastards know that this could not be further from the truth. The real beauty, richness and depth in life can only be found if the journey through life itself is looked upon as a constant chance to learn, live and find life's passion. Passion threatens the complacent, and fills them with fear. Fear of the new, the deep and the different. We, on the other hand, seek it out. Endlessly, joyously...and aggressively. To this end we bring you the "OAKED Arrogant Bastard Ale." Another reward for those seeking new sources of passion, and another point of dissension for those who are not.
First off, perhaps one of the best names for a beer…EVER! Second, I'm an unabashed fan of Stone (you can read about my visit to Stone's AWESOME brewery in San Diego here) and I love woody, oak flavors, so I dove right into this one first. Pours a dark, orange-brown mahogany color in the glass with one finger of fairly thick foam that left thick rings of lacing in the glass. Produced a solid string of tiny bubbles rising at edge of glass. Notes of barley, malt and woody hints. I say "hints" with disappointment. I wanted to be hit in the mouth with an oaky baseball bat. Nice zing of flavor all around your mouth as the beer enters, with zippy carbonation. Follow up flavors had smoky, toasty, caramel malt notes, with lengthy and lingering bitter, hoppy finish.  I don't really get a strong sense of oak, and wish I had an unoaked Arrogant B to try side by side. Even still, this is a great beer, and another winner from Stone. Maybe "smoky" means Oak. Maybe…?
Chris: The arrogant bastard started out great, kind of like last week's episode of Survivor (Bum-puzzled) but finished off like wtf! Bitter beer face!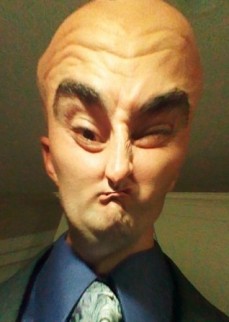 Jon: (Beer 5) Stone Aged Oak Ale, you were so close to winning, soooo close, but when you advertise OAK, I expect to taste OAK. I did, but briefly, so briefly, I might have imagined it. After comparing it to other beers I have tasted that advertised OAK or Scotch Barrels, they fell short. Great Beer, but give me the OAK.
Victory HopDevil
Hops: American whole flowers
ABV 6.7% IBU Unlisted
$10.99 6-pack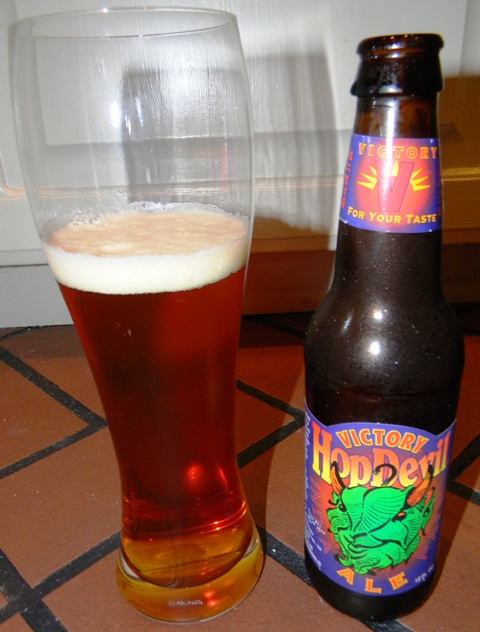 Description: The mythical HopDevil resides in the lore of farmers. Our HopDevil is the real deal. Bold, spicy and menacingly delicious. He's the product of distinctive American hops and meticulous craftsmanship. Arising from the heady wilds of our Hopback and gently teamed with time, this Devil makes a great companion.
Pours a clear, orange-amber mahogany color. Produced a finger of foam that quickly dissolved to just a film on top.  Sweet pine notes that at first waft delivered a kind of a disconcerting hint of sour BO (which, incase I need to clarify, is not said as a compliment). Fortunately the B-Odor quickly adiosed from the glass. Flavor was surprisingly and disappointingly flat, and not from lack of carbonation. Just some bitter hop notes at the finish on the back of the tongue, but no real standout initial or top flavors. The devil was not in the details of this beer for me, which is surprisingly since this beer has been rated "exceptional" and "world class." Rate me disappointed.
Chris: Reporting on the devilish tasting Victory Hop Devil IPA. Much smoother and cleaner finish than the arrogant S.O.B. yet you still get a nice ride on the hoppy train. Still haven't drank anything yet that makes me want to poor one out for my homieees. Shout out to Boyz 'n the Hood.
Jon: (Beer 4) I'm gone use "devil" to describe a product I'm selling, then it better breath fire and leave pitch fork marks. It had a nice bite, but the flavor was gone quickly and had a weak finish. They need to rekindle the fire so it sears all the way through.
Grand Teton Brewery Sweetgrass American Pale Ale
Hops: Columbus, Galena, Amarillo, Simcoe & Cascade, Dry hopped with Cascade
ABV 6.0%, IBU 60
$11.49 6-pack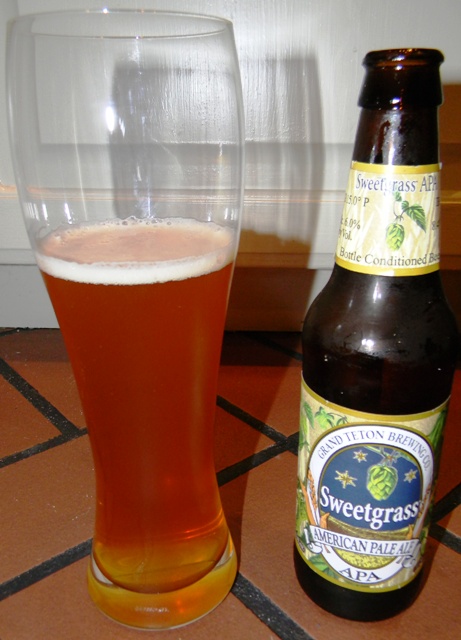 Description: Sweetgrass APA is a Pale Ale of distinction! 2009 Great American Beer Festival Gold Medal winner in the American Pale Ale category, this crisp and fragrant beer is hopped and dry-hopped with plenty of Amarillos and Cascades. Try it with any bold, flavorful food to complement its citrusy, resinous spiciness.
This is a golden brown ale with just a bit of head that quickly disappeared into a thin film of bubbles. Left traces of lacing on the glass. Mostly clear with a little cloud. Sweet notes with hints of honey and grapefruit citrus. Light, crisp taste with hop notes that are present but not intense. Goes down easy with nice bitter finish. A respectable beer that I wouldn't mind more of, but it's price-per-performance ratio is not in its favor.
Corey: 1st thought - Refreshing! Clean; smooth; light, but tasty hops. Very refreshing and had a great flavor. Reminds me of a good quality, golden ale mixed with a light IPA. If one is currently grasping the reality that honey buns and bud light isn't as good as it gets, and is warily contemplating a venture into the wonderful, hop-filled universe that is the IPA, this Sweetgrass APA is the perfect in between. Overall, I give it the thumbs up.
Jon: (Beer 1) Sweetwater APA, my first thought, "Did I join a Boys Beer Club or a Bieber IPA Club?" Weak, very little hops, only good side, my wife liked it. Interesting that when you scan the label, says it's made by Samuel Adams, figures.
Coronado Brewing Company, Islander IPA
Hops: Unlisted
ABV 7.0%, IBU Unlisted
$13.49 6-pack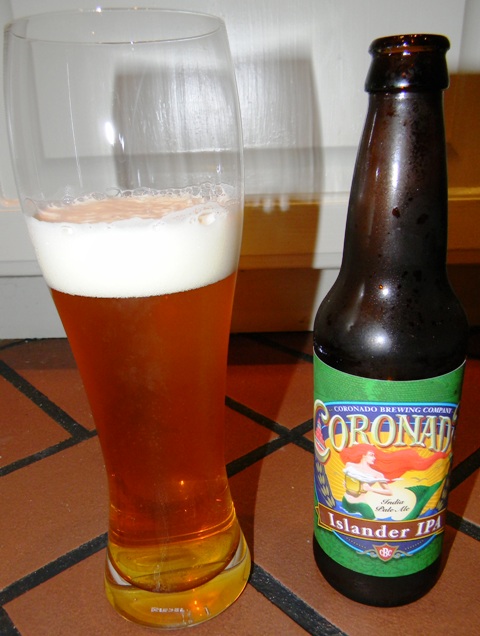 Description: Coronado island , aka "The Crown City" has a hidden jewel: our Islander IPA. Brewed within a mile of the Pacific Ocean this west coast IPA sweeps the senses with its intense hop bitterness, complex flavors and aromas. The Islander IPA pours a nice copper color with a medium body and maltiness. Silver medal winner at the 2007 L.A. County fair.
OK, I've been to Coronado twice; once for a Dolby summit where Dolby Labs put me up in a 5-star hotel and I moderated a summit on video gaming. The second was to visit my cousin Chris when he was on Navy SEAL Team V. At the SEAL Base. In Coronado. So I pretty much bought this beer because Coronado is where the Navy SEALs train. I wanted it to be a quick and brutal Hop take-down assault on my palate. A flash-bang grenade of flavor followed by an intense double tap of bitter deliciousness. Surely not too much to ask!
Pour produced a nice, thick two-finger sized head. (Though to be honest, I was in a hurry to get my drink on, and I might have poured this a bit more aggressively.) Head retained its texture throughout drinking and left thick rings of lacing on the glass. Medium gold-amber color, with very clear body. Wonderful piney-hop aroma. Like I am almost scared to taste it, it smells SO good that I fear it can only let a brother down. The beer is stacking up in the glass ready to take down my mouth; a breaching charge and in it goes! Initial and immediate notes of bitterness that ride from front to back of your mouth and linger throughout the swallow, finally giving way to reveal a nice hoppy finish. Nice balance of malt and hop flavors. Me likey; this beer is a winner. Not on the world-class level of a Pliny (but what is?) but it's certainly walking around the neighborhood and knocking on the doors of text-book Sciacca IPA.
Corey: 1st thought - Bitter, dull flavor. Mid-Light IPA with a slightly bitter bite. Didn't have a strong flavor that stood out to me; tasted like a general, run of the mill IPA. Reminded me of a basic lager that received a steroid injection of hops, creating a bitter aftertaste that confused the drinker as to what was actually occurring in his mouth. Still very drinkable, decent; just not a lot of flavor nor very distinguishable from typical IPA's.
Jon: (Beer 2) Coronado IPA had little more note of hoppiness, but if you blinked, it was gone. No finish.
Great Divide Brewing – Beglica Belgian-style IPA
Hops: Unlisted
ABV 7.2%, IBU Unlisted
$13.49 6-pack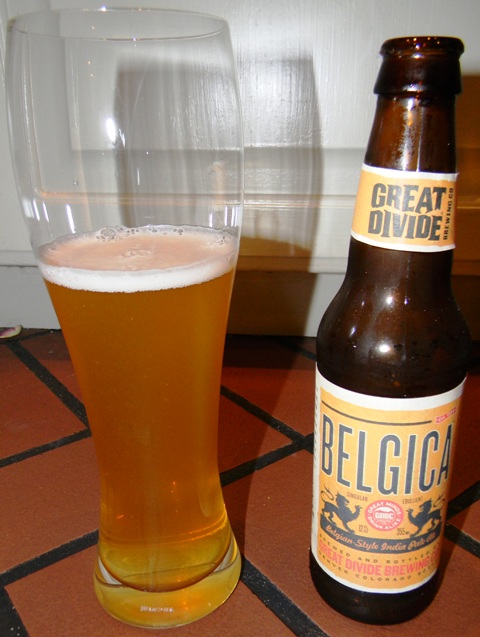 Description: The Roman name for the Low Countries – is a marriage of the best in American and Belgian brewing traditions. Belgian pilsner malt, a generous amount of American and European hops and a unique Belgian yeast strain combine to give Belgica big notes of citrus and spice, creating a lively concoction perfect for spring in the Rockies – or the Ardennes.
Yellow, golden-blonde color with a hazy bit of cloud. Half-finger of foam that quickly vanished leaving nothing but a few bubbles and film on top. Smells of coriander and spice and sweet banana. Initial zing on the sides of the tongue from the carbonation, followed by sweet, spicy flavors with a bit of grapefruit twang. Sweetness dissolves into nice wheat notes with traces of bitterness.
Corey: 1st thought - Clean, lively flavors. For a Belgian style IPA, it was decent. It had the sweet, spice enriched flavor that distinguishes itself as "Belgian" from the typical IPA. However, it didn't stand out as unique for its Belgian style; it lacked that crisp, fresh, pure tasting brew with the additional adjuncts and various spices. Belgian IPA's always strike me as a more "classy" IPA. It's like an IPA goes into a Brooks Brothers store looking for a suit and ops to go with a tuxedo because that's more 'suitable' for his kind. They are a like a sweet, delicate, flavorful infusion into the hoppy goodness that is the IPA. Overall, I like the beer, but wouldn't choose it over some of the other Belgian IPA's out there.
Jon: (Beer 3) I actually liked this one. I liked that it had a food paring on the bottle, and it was pretty accurate. Smooth, but it felt like I drank a meal WITH my meal, a little heavy.
Victory Hop Wallop
Hops: American whole flowers
ABV 8.5%, IBU Unlisted
$12.99 6-pack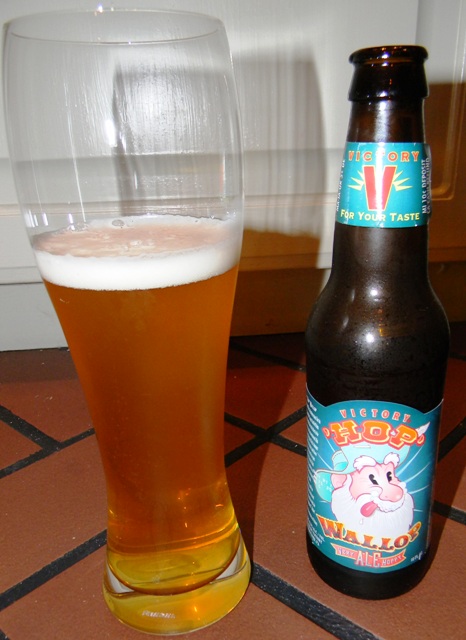 Description: The legend of "Hop" Wallop – Horace "Hop" Wallop headed West a broken man. For in the City of Blues a Miss Lulu Belle Lager had left him thirsting for more. Drawn by wild tales of riches to be had in the gold mines, Hop pressed on westward. His last nickel spent on a prospecting pan, Hop's hunger got the best of him. Two fistfuls of barley and three of some wild and wayward hops tossed in a pan with some clear water was to be his meal. But sleep overcame him and he later awoke to a bubbling, cacophonous concoction. Overjoyed with the beautiful ale that he had made, Hop realized the secret of the green gold he had discovered in those fresh hops. Celebrated far and wide, Hop Wallop lives on in this vivid ale with his words, "hoppiness is happiness."  As our annual homage to the fresh hop harvest, Hop Wallop is a fragrant experience that delights the tastebuds. Pure gold of color, this ale offers its heady bounty of hops to the adventurous of taste. Bold, bracing and surprisingly refreshing for a strong (8.5% a.b.v.) ale, Hop Wallop lives up to its name and legacy. Enjoy!
Before drinking this, all I could think of was the quote from Oh, Brother. "Never trust a Hogwallop!" Would this beer turn on its kin? Pours a clear golden color with a nice finger of foam. The head remained till the end of the beer and left clear rings of lacing around the glass. Smelled of delicious sweet and clean pine notes with a hint of spice. This smells even better/pinier than the Coronado. I'll be honest, I was a bit distracted while drinking this beer; working on a USB driver issue for a product I'm reviewing and interrupted by dinner. However I must say that even without giving it my full undivided attention, I think this is my favorite beer of the bunch. It has wonderful pine-hop flavors and the right amount of bitterness. Every sip was a treat. And it disguises it's high alcohol content well, not having that sweet-alcohol taste most beer have when they get above 7%. A wonderful beer, and my favorite of this batch.
Corey: 1st thought - Finally! Of all the beers of the Week 1 selection that I've tried so far, this has been the beer that made me appreciate sitting down, relaxing, and taking the time to clear my mind from all things except the hop-brewed deliciousness pouring down my throat and somehow weaving its way to my heart. This is my ideal, perfect IPA. The light brown color reveals its perfect balance of fresh lively flavors enriched with a deep, perfectly "hoperating" kick to make the beer taste alive as it slides through ones palette. It tasted very fresh, green and clean, with the perfect amount of bitterness. The full drink experience is perfect: the taste of the beer is great as it first reaches the mouth; it's alive and bubbles with great flavor as it sits on the tongue, making the drinker not want to rush to flush it down his throat but rather to "savor the flavor"; it goes down very smooth; and leaves a pleasant aftertaste. All around great beer and experience.
Chris: This is Salty C-Dog reporting on the Hop Wallop. I know at least two of you guys are partial to this one so I won't give it the finger death punch but it definitely holds no special place in my heart. With that being said, "LETS GET READY TO RUMBLLLLLLLLE!" Wallop starts out by throwing a fresh handful of hops right into your mouth. Now I know some of you guys are into that kind of persuasion but it's not for me. With that being said, however, this is the only IPA I have drank that had a better finish than beginning. At least for me. No bitter beer face, just a frown of disappointment. That's probably due to the fact I drank it right after the Hop Devil which I thoroughly enjoyed. So all I can add is another pic to salute Victory Brews once more.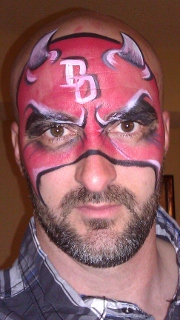 Jon: (Beer 6) If you want a melt your face off IPA, Hop Wallop is it. I love that the picture on the bottle is a dead on depiction of what my face looked like after the first swig. I will be revisiting that 6 pack again as soon as my face gets back to normal.
Categories: March 2012, Beer/Liquor/Wine, Reviews
/