Shopping Cart
Your Cart is Empty
There was an error with PayPal
Click here to try again
Thank you for your business!
You should be receiving an order confirmation from Paypal shortly.
Exit Shopping Cart
Features, Reviews and a Blog by John Sciacca
| | |
| --- | --- |
| Posted on March 21, 2012 at 4:45 PM | |
There's been some kinda-sorta negative stuff going around on the Interwebs lately about Kaleidescape and their awesome media server. They were handed down a pretty negative judgment at the first of the month which may or may not impact them from being able to continue selling their product in its current, DVD-importing form. (Kaleidescape is hopeful that the verdict will be stayed pending their appeal, which has already been filed. You can read all about the verdict and CEO Michael Malcolm's responses and letters to dealers here.)
As a long-time dealer/reviewer/user/lover of Kaleidescape's movie server system, I've written extensively about the experience that it provides. The ability to load ALL of your movies and music into a device where they are then automatically catalogued, sorted, safely backed-up and made available for instant playback at any location in your home, is pretty stunning. And Kaleidescape makes it so easy to find and enjoy – "consume" in meta-speak – your digital collection, that the average Kaleidescape family owns 506 movies on Blu-ray and DVD. (I am woefully behind these curve, being somewhere in the low 200s...) If you had this many movies -- or however many that you DO have -- wouldn't it be nice to be able to see them instantly with the push of a single button? With no more hunting around for discs or wondering if something got misplaced or scrated or having to wait through trailers and warnings?

I've even shared what other Kaleidescape owner's have to say and why they love their systems.
The biggest drawback to a Kaleidescape system is the price. And you could argue that it is a system geared towards the 1%. But have you ever wondered what the 1% like to watch and listen to? Ever wonder if perhaps they perhaps hire Michael J Nelson and crew to come over and offer personalized Rifftrax commentary versions of their favorite films while they bathe in Cristal and give themselves Beluga facials? Perhaps grabbing the Vertu to phone up some other 1%-er to share some concern or outrage. ("They say gas is going up to $5 a gallon! And do any of these people complaining have any idea how much this is going to affect us? I mean, really! They have absolutely NO IDEA the prices I'm paying for jet fuel! I mean, my G-V doesn't fuel itself! Harumpf! Oh, pooh! I spilled another bottle of that 50-year Livet.") 
But it turns out that the 1% are a lot like the rest of it when it comes to movie watching. Sure, they do it in a better house, on a better screen, with better sound and better snacks and a better car in the garage and finer horses in the stables, but, at the end of the day, people are pretty much alike all over when it comes to their entertainment.
So I thought I'd share some interesting metadata stats with you on the viewing and listening tastes/habits of Kaleidescape owners; a list that is a pretty accurate representation of movies/CDs you have probably watched/listened to  or – more likely – own.

"Imported" means movies that have been loaded onto a customer's system. "Watched" means watched. I know that one's a bit confusing...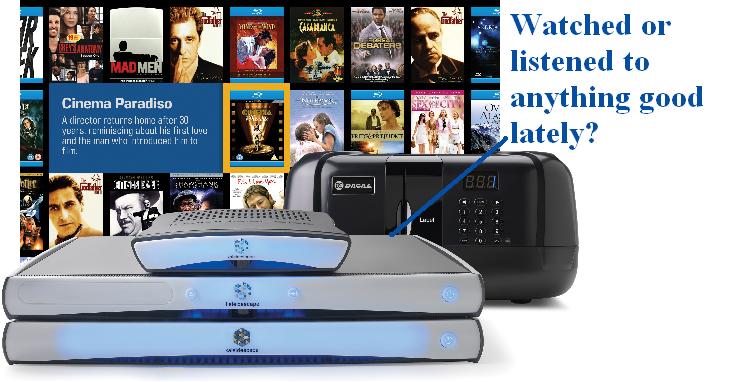 Most Imported Movies of All Time




Gladiator




Finding Nemo




Pirates of the Carribbean: The Curse of the Black Pearl




The Lord of the Rings I: The Fellowship of the Ring




The Incredibles




Shrek




The Lord of the Rings II: The Two Towers




The Godfather




The Lord of the Rings III: The Return of the King




The Bourne Identity




The Matrix




Casino Royal




Indiana Jones and the Raiders of the Lost Ark




The Godfather, Part II




Star Wars Episode IV: A New Hope




The Bourne Supremacy




Star Wars Episode V: The Empire Strikes Back




Star Wars Episode VI: Return of the Jedi




Spider-Man




Dear, George Lucas. On behalf of Kaleidescape owners everywhere, I'd like to say thank you for your first 3 movies -- aka "the original trilogy," aka "the actual Star Wars movies" aka "the good ones" -- by showing you that we have all dutifully added them to our collections. Also, I'd like to point out that none of your "prequel trilogies" -- aka "those other Star Wars movies" aka "the ones where George raped my childhood" -- made the list. With love and thanks, John.





Most watched movies in the last 90 days




Cars 2




Rio




Cars




Finding Nemo




Elf




Despicable Me




Tangled




The Help




Avatar




Monsters, Inc.

 

Most watched "kid's" films in the last 90 days




Cars 2




Rio




Cars




Finding Nemo




Despicable Me




Tangled




Monsters, Inc.




Kung Fu Panda 2




The Lion King




The Incredibles

 

Most watch "grown-up" films in the last 90 days




The Help




Avatar




Bridesmaids




The Hangover Part II




Horrible Bosses




Transformers: Dark of the Moon




Captain America: The First Avenger




Crazy, Stupid Love.




Rise of the Planet of the Apes




Friends with Benefits




Kaleidescape does this wonderful thing with TV series that makes it so terrific for people that like to collect their favorite shows. Instead of just presenting you with "Season 1, Episode 14," which, unless you are a Trekkie or something, will probably mean absolutely zilch, they catalog each episode by name so you can easily find your favorite one. This is especially helpful for shows that have hundreds of episodes like The Twilight Zone -- which is shockingly not on the top imported list.





Top 25 imported television seasons




Planet Earth (Complete Series)




Band of Brothers




The Blue Planet: Seas of Life




The Sopranos (Season 1)




Seinfeld (Season 2)




24 (Season 1)




Mad Men (Season 1)




Seinfeld (Season 1)




24 (Season 2)




Seinfeld (Season 3)




Entourage (Season 1)




Sex and the City (Season 1)




A Charlie Brown Christmas




24 (Season 3)




The Sopranos (Season 2)




The Sopranos (Season 3)




Sex and the City (Season 2)




24 (Season 4)




Seinfeld (Season 4)




Lost (Season 1) (How could you watch season 1 of Lost and then not keep up with the rest?!?! Seriously, people! The Dharma Initiative?! The hatch?! You're gonna watch season one and NOT load up season 2?! It's like I don't understand you at all...)




Entourage (Season 2)




Curb Your Enthusiasm (Season 1)




The Office (Series 1)




Sex and the City (Season 3)

 

 


One of the things that really impressed me from the "Unforgettable Home Theater Experience" at CES this past year was the that they selected a bit of a concert to demo. (The more impressive thing was Empire Strikes back and the snowspeeder simulation sitting so close to the huge Stewart Filmscreen and the D-Box chairs. But, I digress.) Concerts on Blu-ray are becoming a huge part of the home viewing experience, and are a way for you to enjoy your favorite artist over and over, with the best seat in the house every time.




Most Imported Blu-ray Concerts of All Time




The Last Waltz




Concert for George




Talking Heads: Stop Making Sense (My personal favorite. I used to go and watch this in Berkeley at midnight where they would dance in front of the screen. It was EPIC!)





Roy Orbison: Black & White Night




U2: Rattle & Hum




Robbie Williams: Live at the Albert




Andrea Bocelli: Vivere Live in Tuscany




Michael Buble: Caught in the Act




Chris Botti: In Boston




Cream: Royal Albert Hall

 

Most Watched Blu-ray Concerts last 30 days




Adele: Live at the Royal Albert Hall




Hit Man: David Foster & Friends




Andrea Bocelli: Vivere Live in Tuscany




Chris Botti: In Boston




Elton 60: Live at Madison Square Garden




Michael Buble: Caught in the Act




Shakira: Oral Fixation Tour




U2: 360




Beyonce: I Am World Tour




AC/DC: Live at River Plate




Music owners aren't left out either, but it seems the 1% prefer a more gentle, mainstream, vanilla, white-toast selection of music for their collections. This is about the most "adult easy listening" cross-sampling of 30 albums I think that you could handpick! And, I'd have bet -- and lost -- a good bit that Miles Davis "Kind of Blue" would have been on this list. Come on! We all know White People like to pour a glass of Shiraz and put some jazz on the Bose...




Top 30 Imported Albums




1    Come Away with Me - Norah Jones




2    Supernatural - Santana




3    1 - The Beatles




4    Immaculate Collection - Madonna




5    Greatest Hits - James Taylor




6    Unplugged - Eric Clapton




7    Brothers in Arms - Dire Straits




8    Jagged Little Pill - Alanis Morissette




9    Their Greatest Hits 1971-1975 - Eagles




10    Gold: Greatest Hits - ABBA




11    Abbey Road - The Beatles




12    Best of 1980-1990/The B-Sides - U2




13    Rush of Blood to the Head - Coldplay




14    Brand New Day - Sting




15    Feels Like Home - Norah Jones




16    Rumours - Fleetwood Mac




17    Genius Loves Company - Ray Charles




18    X&Y - Coldplay




19    Hell Freezes Over -Eagles




20    Legend - Bob Marley




21    Ten Summoner's Tales - Sting




22    Cracked Rear View - Hootie & the Blowfish




23    Unforgettable: With Love - Natalie Cole




24    Beatles [White Album] - The Beatles




25    Ray of Light - Madonna




26    Surfacing - Sarah McLachlan




27    Songs You Know by Heart: Jimmy Buffett's Greatest Hit(s) - Jimmy Buffett




28    Best of Van Morrison - Van Morrison




29    Greatest Hits - Bruce Springsteen




30    Tracy Chapman - Tracy Chapman

Categories: March 2012, Movies, Music

0

/