Shopping Cart
Your Cart is Empty
There was an error with PayPal
Click here to try again
Thank you for your business!
You should be receiving an order confirmation from Paypal shortly.
Exit Shopping Cart
Features, Reviews and a Blog by John Sciacca
| | |
| --- | --- |
| Posted on March 27, 2012 at 11:25 AM | |
Dana found some coupon for Lowe's Foods where if you spend $50 you then get $10 off your bill. Know what is $10 at Lowe's Foods? A mixed 6-pack of beers! Huzzah! Free beer!
At this point I have tasted nearly every 12-ounce bottle at Lowe's. Fortunately, they seem to bring in new stock occasionally, along with the occasional seasonal variety, but this might be my last Lowe's tasting for a bit. Fortunately, I seem to have found a pretty squared-away group for Beer Club 2.0 so I think that we should be able to enjoy regular tastings/reviews going forward.
On that note, here are the 6-beers up for review today: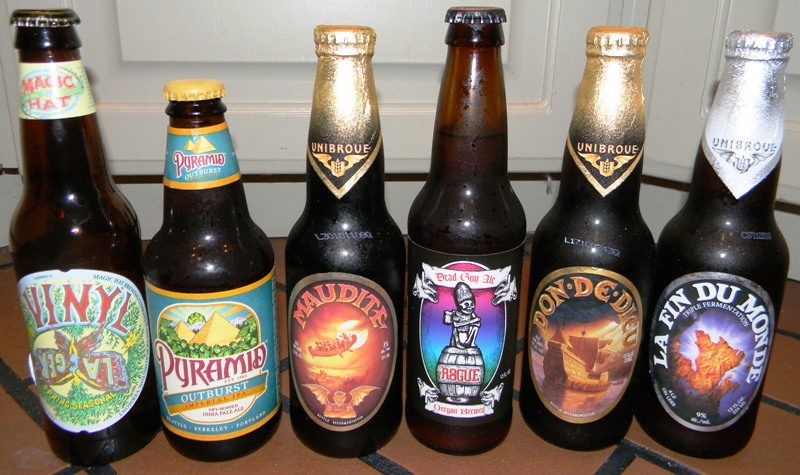 Magic Hat – Vinyl Lager Spring Seasonal
Hop Variety: Apollo, Northern Brewer
ABV: 5.1%, IBU 20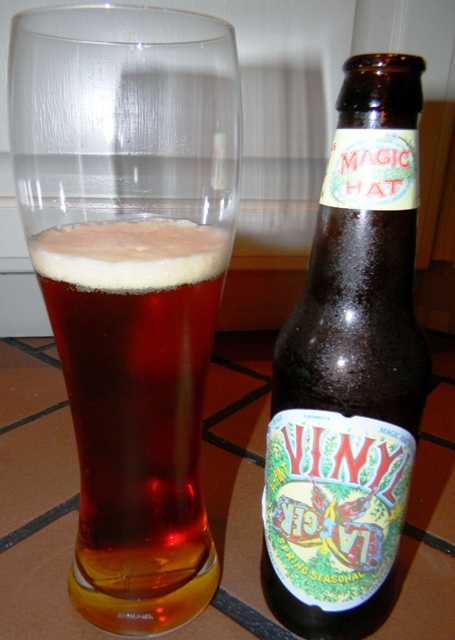 Description: Vinyl Lager is a beer with a deep amber hue, sweet malt taste and a slight balancing hop touch. The beer is produced using a lager strain of yeast and is fermented at the low end of ale fermentation temperatures, allowing the beer to maintain its easy-drinking lager-like characteristics. The ancient ritual of brewing a distinctly rich and flavorful beer is a performance to behold. Our mysterious mélange of time-honored ingredients harmonize with chaotic chemistry, humble patience, and blind faith to create unique beers to share in the rousing company of kindred spirits. Cheers!
I believe that my only other Magic Hat experience has been with #9 "Not Quite Pale Ale" which had a pleasant smell and taste of dried apricots. Also, I respect a brewer willing to use the phrase "mysterious melange" when describing their beer! Pours a nice, rich, medium reddish-amber color that is very similar to my beloved Marzen from Gordon Biersch. Pours a decent two fingers of head that looks like a richly, inviting beer. Head fairly quickly dissolves to just a circling of the foam wagons around the ring of the glass. Nice notes of caramel, malt, and maybe just a hint of citrus. Nice carbonation tingle on the tip of your tongue, and good lingering malty finish. Goes down incredibly smooth, with no bitterness or edge at all and actually is quite similar to Marzen. Watch me pull a great beer out of my hat! Another win for Magic Hat!  I could see buying a 6-pack of this beer.
Unibroue – La Fin du Monde

Hop Variety: Unlisted
ABV: 9.0%, IBU 19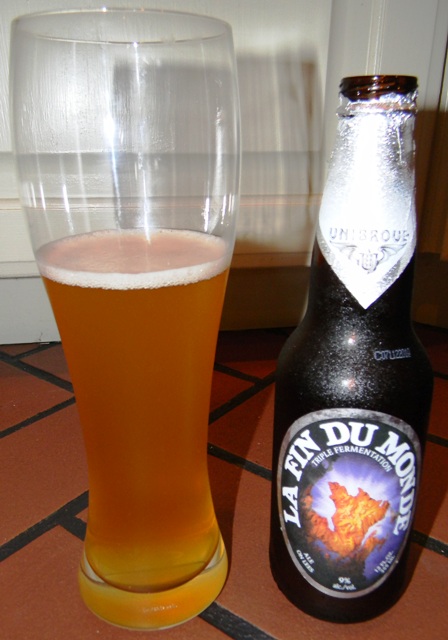 Description: La Fin du Monde was developed through 18 months of research on a unique strain of yeast originating from Europe. It is brewed in honor of the intrepid European explorers who believed they had reached the "end of the world" when they discovered North America 'the new world'. This triple-style golden ale recreates the style of beer originally developed in the Middle Ages by trappist monks for special occasions and as such it was the first of its kind to be brewed in North America. The excellence of triple fermentation through a blend of special yeasts give this malt beverage LA FIN DU MONDE (The End of the World) an exquisitely robust flavour of exceptional refinement.
Unibroue was a brewery I encountered for the first time at Lowe's during my last tasting, and they had several more beers to sample. So, I grabbed the remaining Unibroue's – all three of them – for this round. I started with La Fin du Monde because it reminds me of one of my favorite foreign films, Tous les Matines du Monde. For a beer called "The end of the world," I expect it to pour black, dark, thick and angry; maybe with a roiling, bubbling cauldron of head and laces of red. I don't know. Something. Instead, it pours a light, yellow cloudy pour in the glass that more resembles a Hefeweizen. Head foams up to a nice finger and then dissipates to just a film of bubbles on top. Wonderful, rich nose of fruit, spice, orange zest and peel, banana, and honey. Again, this is very reminiscent of the Golden Monkey Victory Tripel. (A statement I guess I'm destined to repeat every time I have a Tripel.) First sip, and the flavor is quite sweet, like I imagine a mead or something would taste. I want to shout , "Wassail!" and smash my glass into the large stein held by a Viking or something. Like I've had glasses of fruit infused sweet tea that don't seem quite as sweet as this. Another sip and I'm noticing some nice carbonation on the mid tongue, and a quick sweeping flush of bitterness at the end that helps to wash away the sweetness. The sweetness dials-back (thankfully) as you work through the glass, and the coriander and orange spice becomes more apparent. This is a quality Tripel. Between this and the Golden Monkey, I'm thinking the Monkey was perhaps a bit smoother and more flavor-rich, but that has been a while ago – and many beers since – so I can't be sure.
Pyramid Brewery - Outburst Imperial IPA
Hop Variety: Nugget, Chinook, Cascade/CTZ; Dry Hopped with: Falconer's Flight, Zythos
ABV: 8.5% IBU: 80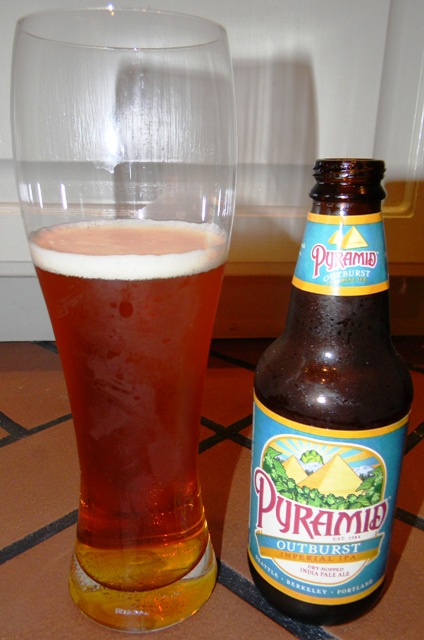 Description: Outburst is a refreshingly bitter Imperial IPA. With 80 IBUs and 8.5% ABV, our dry-hopped Imperial IPA delivers a bold taste with a massive hop flavor.
Pyramid brewery is located in Berkeley and I've visited before. In the summer they have outdoor movie events in the evening. In fact, my high school (Acalanes, class of '88!) held their 20 year reunion at the brewery. (Sadly, I missed it because I was traveling…Random bit of trivia: Will Forte – from SNL and Macgruber fame – was in my HS class! True story.) I'm most familiar with Pyramid's Apricot Ale which is delicious is you're in the mood for  a fruity beer. This pours a deep golden-brown amber. Produces a half-finger of head, that dissolved into just a froth of foam that left thick lacing on the sides of the glass. Body is clear with steady stream of champagne like bubbles. Very piney hoppy nose with undernotes of...something. Fruity or jammy or...what IS that… Ah! prune. That's it. An under note of raisin or prune. That may some weird or gross, and, believe me, I'm no lover of "nature's candy," but that's the smell I'm picking up. Fortunately, there is no sweetness or fruit in the mouth, just a gobsmacking of pine and hop. There's a bitterness that's almost coppery metallic that wraps around the sides of your tongue. The rising string of bubbles evident in the glass creates a pop in the mouth, and this beer has a lot going on. This beer is crazy bitter, as the 80 IBU would indicate, and has an aftertaste that goes on and on. For a beer that is under $10/6-pack, this is really a terrific IPA and a great find and will replace Sierra Nevada as a go-to brew.

Rogue Brewery: Dead Guy Ale
Hops: Perle and Saaz.
ABV: 6.4% IBU: 40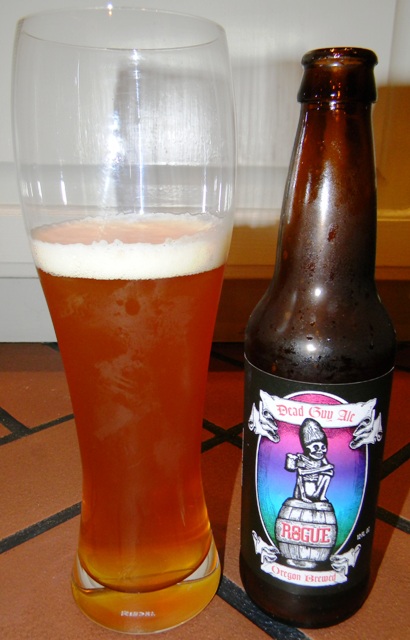 Description: In the early 1990s Dead Guy Ale was created as a private tap sticker to celebrate the Mayan Day of the Dead (November 1st, All Souls Day) for Casa U Betcha in Portland, Oregon. The Dead Guy design proved so popular with consumers and especially Grateful Dead fans, that we made it the label for our Maierbock ale. Even though the association with the Grateful Dead band is pure coincidence, we have gratefully dedicated Dead Guy Ale to the Rogue in each of us. In the style of a German Maibock, using our proprietary Pacman ale yeast. Deep honey in color with a malty aroma and a rich hearty flavor.
Rogue has a great reputation for making solid beers, but I don't think I've tried to many of them. Pours a cloudy, orange yellow , honey-color that produces a rich two finger head. Head dissolves to just a ring of bubbles at edges of glass. Notes of wheat and honey and rich malt. Goes down very smooth, with a nice full mouth feel. Carbonation lands mid-tongue, and has taste of the sweet honey I notice on the nose, along with nice malt and wheat lingering aftertaste. It has a taste that reminds me of a Bit-o-Honey candy bar; kind of that wheaty, malty, honey flavor. This is good, but the honey sweetness is a bit troubling for me and keeps it from the level of Gordon Biersch's Maibock in my opinion.

Unibroue - Maudite
Hop Variety: Unlisted
ABV: 8.0% IBU: 22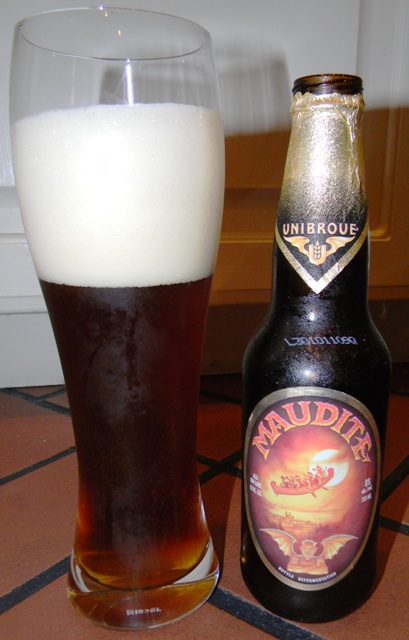 Description: Maudite (damned) was the first strong beer to be retailed in Quebec. The word "Maudite" refers here to the Legend of "Chasse-Galerie" a tribute to the early lumberjacks of Nouvelle-France. The legend tells of eight daring woodsmen who, during winter, yearned to be home for the Holidays. They conjured up the Devil and all of them pledged their soul in return for flying them in their canoe to their village. As they sailed across the moonlit sky, one of them managed to free himself from the pledge by invoking the name of God, which caused the flying canoe to come crashing down to earth. Rich and lightly sweet, La Maudite is a great ale well worth savoring. Fire and brimstone red, this sumptuous brew is surprisingly well-balanced and smoothly caramelized. Its sweet, spicy flavor goes perfectly with strong-tasting soft washed-rind cheeses like Le Fêtard or Gruyère. It is one the rare beers that can be served with tomatoes and spicy dishes. Try it with grilled meats or a dessert of crème brûlée or tiramisu.
This is described as a "Strong Amber Red Ale" so it's not much a surprise that it pours a rich, red-brown mahogany copper color. Head explodes to a giant thick froth, with tons of bubbles rising in the glass. Head is thick and rich and could easily float a bottle cap, maybe a quarter and probably more. You could say that it produces the clouds of heaven floating above the fires of hell below. Or I could say that. Someone could. I can't really identify any prominent notes in the nose, probably because of the 4-inches of head I'm trying to smell through. Sweetness for sure, but nothing I can specifically pinpoint. Maybe a bit metallic, but that could just be the alcohol. A luxurious, creamy texture in the mouth, with just a light dance of carbonation on the tongue.  The beer has lots of spice notes, and flavors that remind me of Angostura Bitters. (Gets up to smell bottle of Bitters.) Yep. That is definitely the flavor profile here. This beer is smooth and rich and goes down easy.
Unibroue - Don De Dieu
Hop Variety: Unlisted
9.0% ABV 10.5 IBU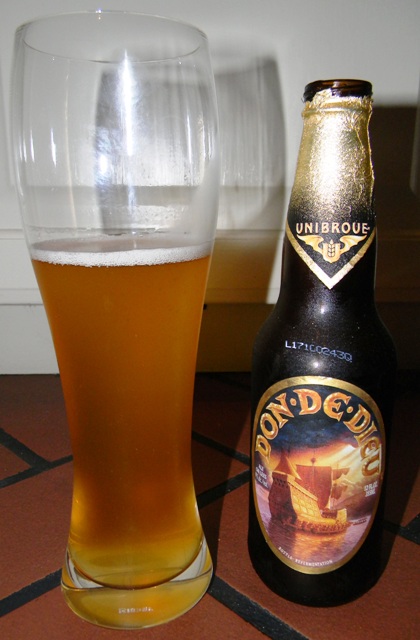 Description: Don de Dieu (Gift of God) was the name of the ship that Samuel de Champlain sailed on his mission to "explore and discover the vast and perilous land of America" in the name of the King of France. His travels led to the founding of Quebec City in 1608 (a modification of the Algonquin word "kebec" which means "where the river narrows.") Inspired by this great adventure, Unibroue created Don de Dieu an abbey-style triple wheat ale refermented in the bottle.
We arrive at our final Unibroue, and what is more fitting than to end with a Gift of God? This is a Triple Wheat Ale, so I'm guessing there will be wheat flavors aplenty. Pours a yellow straw gold color with thin head that quickly dissolved to just a thin slurry of bubbles. Cloudy color that looks like a pilsner.  Nice steady stream of rising bubbles in center of glass. Notes of spice and jammy fruit. A real zing in the mouth, as the carbonation just lights up the entire area of your tongue and sparkles in the mouth. It's like you took a drink of liquid electricity. This is followed by quick notes of sweetness  and banana and spice, that gives way to lingering finish of wheat and malt. This is probably my favorite of the Unibroue, as it is less sweet and fruit and spicy and has a more pleasing flavor-finish.
Categories: March 2012, Beer/Liquor/Wine, Reviews
/