Shopping Cart
Your Cart is Empty
There was an error with PayPal
Click here to try again
Thank you for your business!
You should be receiving an order confirmation from Paypal shortly.
Exit Shopping Cart
Features, Reviews and a Blog by John Sciacca
| | |
| --- | --- |
| Posted on March 31, 2012 at 4:35 PM | |
About ten days ago I told you about a little popularity contest that was going on. Custom Retailer was trying to garner some buzz and shares and hits and what-have-yous and decided to host a #PopularAV contest.
Having little better to do – and the entry being as simple as just emailing a link to a blog post I'd already written – I decided to toss my name into the ring. I mean, *somebody* had to win and it turned out that I had a 1 in 9 chance of being that somebody. So who am I to look 11.1% chance of immortality* in the face?
(* "immortality" to last just as long as it takes me to spend the $99 iTunes gift card and for you to finish reading this blog post. So, please, take your time...)

The contest ran for two weeks, and I began a pretty aggressive Twitter, Facebook, blog, e-mail campaign to garner as many votes for myself as Sciacca-ly possible. Well, voting ended last night at 5:00 Eastern and…IT TOTALLY PAID OFF!
I WON! (Picture the most awesome victory dance in history of Internets. But done slowly, and without rhythm and with a hurting left knee.)
So, I am now OFFICIALLY the most popular person in the entire universe!!!*

(* "the universe" being limited to the 8 other people from the audio/video community that entered the contest)
So, I an only assume that I need to thank my mom for her 213 clicks, and to13 other, kind and loving souls who cared enough to mouse-click a share icon for me!

When the contest began, Olivia Dumanovsky – who was selected as one of the "Top 30 Under 30" in our industry this past year, and who has a much larger Twitter following than myself – jumped to an early lead and proclaimed that she felt I would be her biggest competition. Turns out she was MY biggest competition too. Here's the final results, with all the shares, Facebook posts, Tweets, comments, and thumbs up/down.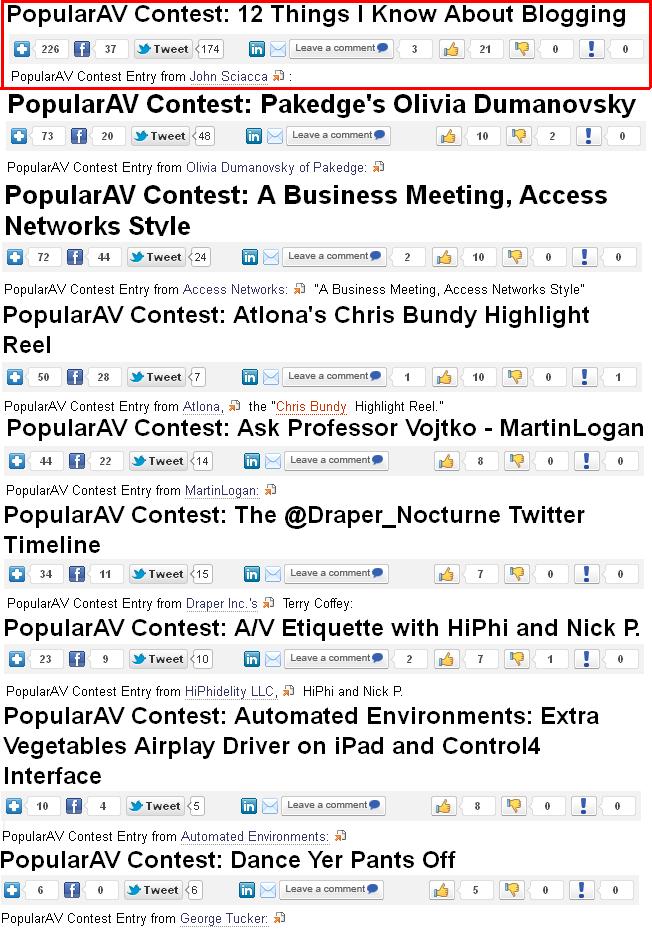 I tried to grab pics of all of the people that voted for me on Twitter, but I'm sure that I undoubtedly missed a few. Like, I'm virtually *positive* that @michaeljnelson of Rifftrax fame totally WANTED to vote for me. I've no doubt that I got a few votes from Survivors @Christina_Cha and @Monicaculpepper. And no doubt individual votes from both Johns of @TMBG. So, clearly, I missed some... So, if you Tweeted for me and your picture isn't here, I'm sorry that I missed you, but thank you for your vote anyhow!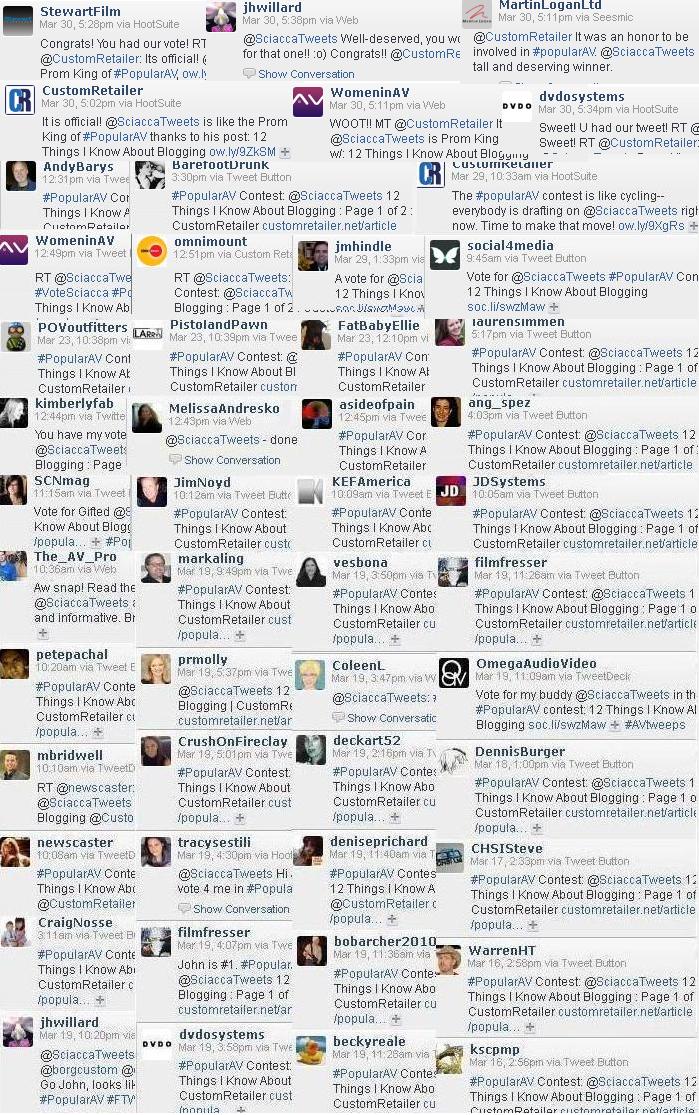 Finally, I'm definitely one to keep my campaign promises….

...so we bought Cranky's Story for Lauryn this morning. She says, "It's totally awesome!" (Are paying off campaign promises tax deductible?)

So, thanks again, everybody! I promise my rule will be firm but fair*.
(* at least half of that statement is true.)
Categories: March 2012
/