Shopping Cart
Your Cart is Empty
There was an error with PayPal
Click here to try again
Thank you for your business!
You should be receiving an order confirmation from Paypal shortly.
Exit Shopping Cart
Features, Reviews and a Blog by John Sciacca
| | |
| --- | --- |
| Posted on April 2, 2012 at 1:05 PM | |
So I started doing the Twitters a couple of months ago (@SciaccaTweets) and one of the things that I immediately liked about it was the high level of interaction. Compared to Linked In -- where I am "friends" with like 500 people I have absolutely no idea who they are and (fortunately) never hear from -- on Twitter you are personally engaged on a daily basis with people asking questions, looking for help, responding and engaging. A few times I've needed some help or an answer with something and I can put it out on Twitter and almost instantly get some feedback.
The other thing that I quickly  realized is that there are a ton of celebrities on Twitter that frequently jump on and interact with you. In the past couple of months I've traded tweets with Alec Baldwin (@AlecBaldwin), They Might Be Giants (@TMBG) Penn Jillette (@PennJillette ) from Penn & Teller and Michael J Nelson (@MichaelJNelson) of Mystery Science Theater 3000 fame.
But the group that is the most "accessible" on the Twitter-verse are the current crop of reality TV "stars." These folks usually don't have the hundreds of thousands of followers, and when you tweet something (nice) to them, they often respond, which is incredibly cool. Getting to know some of these folks – even in the most tangential of ways – certainly makes watching the show more interesting and virtually interactive. I traded a bunch of tweets with Cindy Chiang (@MsCindyChiang), the winner of last season's Amazing Race. This year I was re-tweeted by Clay Aiken (@ClayAiken) for something nice-ish I said about him (something like "I wasn't big Clay Aiken fan before, but totally respect the way he stood of for Lou Ferigno") on The Celebrity Apprentice. And I've traded a tweet or two with Survivor Christina Cha (@Christina_Cha).
But the Survivor that was the coolest on the Twitters was Monica Culpepper (@MonicaCulpepper). I tweeted her about the blog I've been doing on the show and asked her to read it, and she liked what I had to say. So, on Friday, I opened my mailbox and found this inside: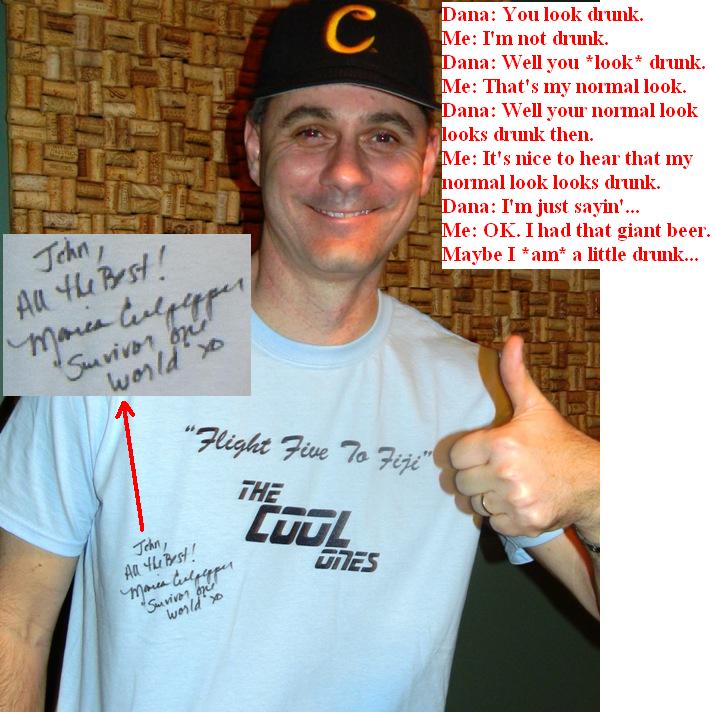 A shirt signed by Monica Culpepper! So awesome! From her tweets, "Flight Five to Fiji" refers to the five "cool" people that were voted off pre-merge (and not medically evac'd) who spend their time together in Fiji and the shirt is made from the bed sheets where they stayed!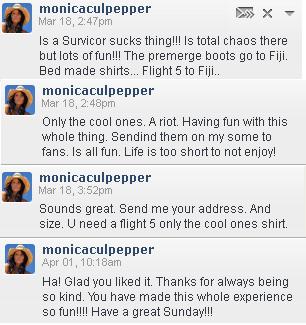 She also included a signed picture: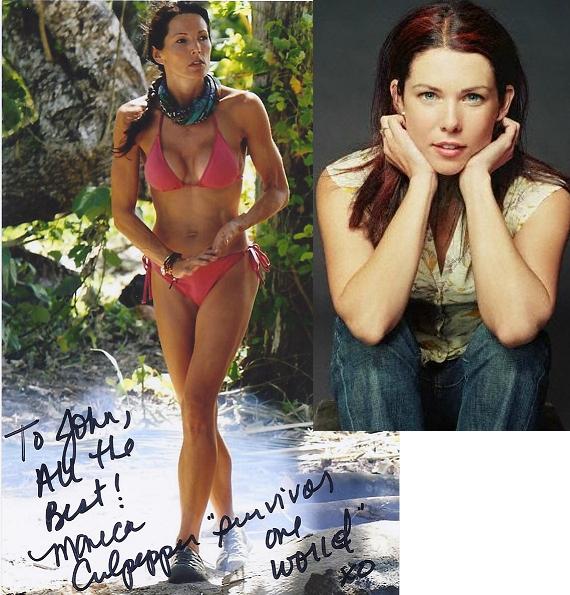 (And doesnt' she totally look like Lorelai Gilmore (aka Lauren Graham) from Gilmore Girls? And that is a Super-Sized compliment. Dana said, "Yeah, she looks like Lorelai. But in way better shape." I agreed, but then had to concede that we rarely -- if ever -- get to see Ms. Gilmore in a bikini walking around Samoa. So, Lauren, feel free to send a pic to clear up the confusion!)
So, in honor of her awesome-pepper-ness, I thought I would give you a quick recap of all the things I wrote about Monica during her time on Survivor. Enjoy, and, thanks again, Monica! Hated to see you leave the show! You got screwed in the tribe merge and then back-stabbed by Colton! If only his appendix infection could have come a couple of days earlier!

(First impressions from before the season began):
Monica Culpepper – I hate that she lists her occupation as "ex-NFL player's wife" but she seems like a pretty tough chick and my initial impressions are pretty positive. Also, she is closest to my age (41) and looks like Shania Twayne, so I'm on Team Monica.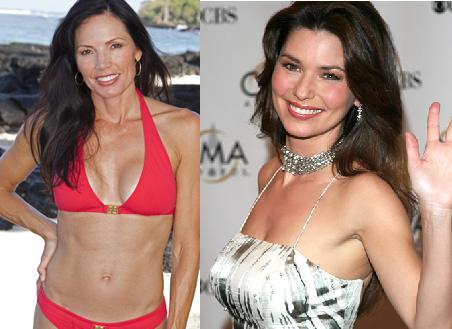 Jay gets all Sun Tzu and discusses how they're at war and any deal with them is ludicrous and if they're down, we should keep them down and if they should all catch on fire in their bra and panty fights, then we should just let nature takes its course. Meanwhile Christina and Monica sneak over and steal fire. Nice! I'm digging Monica. She seems cool. Rock on, Monica. Even if you wouldn't get nude for fire.  As the old saying goes, nothing burns out quicker than stolen fire. (That is a saying, right?)
Meanwhile the guys are getting guys to the end. Even Jeff says, "Kat may not be the best person to go on the end…" Kat even jumps into the water when she doesn't have to. Not once but twice! Just randomly jumps in. Maybe she got hot out there, I don't know. That Samoan sun can do crazy things to little blonde-heads. Monica decides to do it and just rocks it straight to the end. (I am totally digging that gal. She may be the second oldest but she is FIT and seems super squared-away.) If it was a challenge of the ladies getting ONE player to the end before the men got EVERYONE to the end, they would win. But it isn't. And..MEN WIN IMMUNITY!
Thing 2: I've traded a couple of tweets with Survivor Monica Culpepper (@MonicaCulpepper) and if I thought she was tough and cool and Shania Twayne before, I think so EVEN more now. (When I mentioned that Dana was totally impressed with her amazing abs and wanted to do the Culpepper work out, she invited us to come down to Tampa to work us over in some kickboxing.) So, I *might* be biased towards Monica going forward. You've been advised…
We segue to the first reward challenge and apparently room service was closed at the Ritz and all of the Johnnie Blue was gone because Jeff has decided to show up. The challenge is a memory test, where players have to memorize a series of 6 objects, one on one, first to correctly get the order gets a point for their team, first team to 5 points wins fishing gear including a canoe. Next up is Colton vs Monica. Of course, I'm rooting for Monica, because A) see my intro and B) I can't really stand Colton. Colton prances back first but he has the order wrong. Monica is a step behind and she has it right and she wins! Brains and beauty!
So the women do the only thing they can do. They totally just suck it up, and work together to make life more… Ah, who am I kidding? They go over and beg the men for fire. They send Monica over who calmly explains the situation. "We can't make fire because all of the coconuts are wet and we can't use the magnesium bar. Can we have an ember?" Kat looks at the ground and says, "Umm, yeah! The calcium bar and the fiber bar don't work either!" This sounds like the time for a negotiation. And when a negotiation is on the line, you need People's Lawyer, Matt J Esquire. Except it is model Jay that speaks up. Or rather squeaks up in his unnaturally high voice. (Hey, my man made fire from scratch and is KEEPING the fire going so I still give him respect.)  "OK. If we give you an ember, will you let us take the canoe out sometime?" Monica says that she can't make that decision on her own, and that she needs to consult the other women. "But, come on guys; I'm soaking wet. And just look at me, I'm Monica Hotpepper! I'm sure you'll make the right decision." Jay thinks about this for like .5 seconds and then hands over an ember. So I guess you could say that Monica actually made fire.
The next morning the sun comes up and it's a whole new outlook for the women. They go out and spearfish and Monica immediately rocks it by spearing a fish. (Despite how easy Ozzy makes it look, spearfishing is tough. And, yes, I've tried it.)
The next morning we see Monica Culpepper mashing the crap out of some snails. And by "some snails" I mean like a giant frying pan at a French restaurant filled with snails. She's frying them up with a little garlic and white wine and some shallots and says that between coconut, snails and rice the women are doing awesome and can easily survivor for 31 more days. Life has never been better. Well, at least she can. Because she's Monica Awesomepepper and it's mind over matter.
The women slowly build a lead and then Monica Awesomepepper takes aim…pulls way back…fires and….the Women win reward! Tarzan, ever the good sport, proclaims that it is "Luck. Pure luck." The women defy previous decision making and actually make the smart choice, picking the tarp.
Team Blah, I mean, Manono is Tarzan, Colton, Christina, Leif, Colton, Jonas and Monica Awesomepepper Wow. Really, just, wow. If you sat down and tried to handcraft the weakest,  worst theoretical Manono possible, this is pretty much EXACTLY the team you would pick. OK, Monica is pretty awesome and has no business on the loser-tribe; swap Monica for Kat and you've got the perfect storm of suck. Team Manono is right. Like "you gonna win ma no no mo challenges." This pick had them getting Ma-bone-holed.
Monica, super athletic Monica who looks like she could simuntaneously grate cheese and scrub clothes on the rocks of her abs, almost immediately starts off and trips, falling to the ground and spilling a bunch of water. But this is Monica Awesomepepper so she immediately bounces up, gets back on task and…IMMEDIATELY TRIPS AGAIN! I might have involuntarily yelled out at my TV. I'm not sure. I kind of lost it in the rage/shock fugue. Oh, Monica! Who tripped you? Was Leif scurrying around under your feet? Did someone wax the soles of your shoes? Did Michael string some of those bank-pens-on-a-chain in your way? Who can I blame here?
Monica says, "We've got the three girls and you. Are you set? You're not with the guys, right? OK. We've got three girls and you. So now we've got the numbers. I don't break my promise. Who's your momma?" Oh, Monica, you could never have birthed such a hateful, spiteful little succubus.
Monica then has an aside where she calls Colton the "puppet master, master manipulator. And I feel like I'm the strongest of the three girls, so it would be me first [to go]."
Over in the Outlands, they have set up some kind of Wile E Coyote Acme chicken catching trap that is basically a box with a stick and a string that will fall down on anything that comes inside. Low and behold though, a chicken/rooster wanders into the cage and Monica pulls the string and…CATCHES A CHICKEN! (Suck it Troyzan and Chelsea! Anything you can do, Monica can do more Awesomepepper!) Celebrate, high five, spinning happy chicken dan… Wait! Dammit! The stupid thing escaped out the back. Yeah, probably should have checked that the box didn't have any massive holes in it before you used it.
Colton decides that Monica has way more power because people on the other tribe like her and that will be a problem for Colton at the merge.
Women on women battle is next and this features some of the roughest action. Kat gets torn up by Christina. Sabrina throws up a one-handed half-courter that just misses and Monica grabs the ball, cruises up, does a 360-degree, Air Jordan Tomahawk dunk and makes the goal. Did she then turn to Michael, bump her chest and say, "You're in my house now, B!" or was that just my imagination?
Monica is now the head of the snake. And if last week taught us anything, it's that Colton hates snakes. Especially their heads. They try and explain the plan to Tarzan. "It's Monica."
"Who?"
"Monica!"
"Which one is that?"
"The one in the PINK BIKINI!" (He could have said "the hot one" but we all know that Colton doesn't see women that way.)
"Oh. Yeah. Monica. Right. Wait. Who again?"
"Just remember. Monica. Like Monica Lewinsky."
Jeff then totally puts him on the spot "Can you name your tribe? Now. Like right now. Go!"
Tarzan starts with himself, managing to go 1 for 1 with aces, and then struggles through, totally locking up on Monica but finally getting it and eventually arriving Jonas – someone he has been in an alliance with and spent the past 12 24-hour days with! – and he can't remember and Monica prompts him with, "starts with J…rhymes with own-us. Sounds like Joan…..assss"
Votes come in…Tarzan, Tarzan, Monica, Monica, Monica…and the fifth person voted out is…Monica. NOOOOOO!!!  Oh, Monica you were so awesome-pepper! Like a firey hot Bhut Jolokia pepper! I was totally pulling for you, girl! Who is going to wash the tribes clothes now that your washboard abs are gone? Who will keep the crazy in check? Who will insure that all women-kind don't fall under the Colton Scheherazade spell? Monica gets the ultimate parting compliment from Jeff that "You just voted off the strongest person on your tribe."
Cut back to night at camp after the vote and Alicia says, "I'm sorry, but that was the funniest tribal council I've been to." Uh, OK. Out of ALL the Tribal's you've been to, you mean. On Day 14, you're practically the damn Survivor Cal Ripken Jr. of Tribal Councils. But let me figure it up. You've been to one, plus one, carry the 2, exponential, square root, inverse cosine and tangent. Oh, yeah. That's right. Three. This is your THIRD Tribal Council. And out of ALL of those, it was…funny? Because…why? Because you voted out of the strongest player – not the strongest, woman, mind you, but the strongest PLAYER – on your tribe in Monica Calientepepper? Getting rid of the person who helped most around camp and gave you the only real chance of winning? Oh, yeah, that was frickin' *hysterical*!
Categories: TV, April 2012
/