Shopping Cart
Your Cart is Empty
There was an error with PayPal
Click here to try again
Thank you for your business!
You should be receiving an order confirmation from Paypal shortly.
Exit Shopping Cart
Features, Reviews and a Blog by John Sciacca
| | |
| --- | --- |
| Posted on April 10, 2012 at 1:50 PM | |
With the recent news that Bond will be drinking a (ugh!) Heineken in the upcoming film,  and since I've been on a beer terror lately, I've come up with a list of 10 beers that I could imagine Bond actually drinking.
Not always ordering, mind you, because I can't really picture too many moments where Bond orders himself a beer over another option. But beers that are sent to him, sending a subtle – or not so subtle – message.
So, here's the beers I've selected for Bond and the scenarios I see them being used.
#1 Stone Brewery - Arrogant Bastard Ale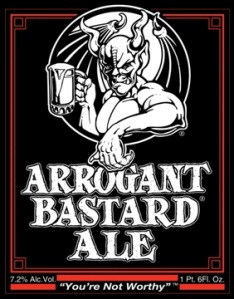 Bond opened his mouth, ready to order his usual vodka martini but was cut off by the commanding voice behind him.
"Bring him an Arrogant Bastard. That's fitting, don't you think, James?"
He recognized the voice at once and turned around slowly. "Tiffany..." he said. One word. He wasn't sure how to follow it up.
The woman raised her hand whipcrack quick, and Bond braced for a fierce slap across the face. Not doing anything to stop it, rather knowing that he had it coming. Instead, she paused at the last moment, and then slowly reached over and softly caressed his cheek his instead.
"Oh, James. It's just 'all in the line of duty' isn't it? Collateral damage. Whatever it takes for the mission?"
He brushed back the thick comma of black hair that had fallen over his eye and took her hand from his face.
"Business and pleasure sometimes mix," he said, pausing briefly. "But don't always mix well. I'm sorry." He stared into her brilliant green eyes, once again recalling the many lives he'd trampled and left behind in the wake of answering the call of duty.
"Your Arrogant Bastard, ma'am," the barman said, sliding a pint glass towards her.
"No," she said, a single tear leaking from her left eye and tracking down her cheek. "He's not my arrogant bastard at all."
Click here to start at the top of the list with Bond's Beer of Choice #10...

Categories: April 2012, Books, Beer/Liquor/Wine
/