Shopping Cart
Your Cart is Empty
There was an error with PayPal
Click here to try again
Thank you for your business!
You should be receiving an order confirmation from Paypal shortly.
Exit Shopping Cart
Features, Reviews and a Blog by John Sciacca
| | |
| --- | --- |
| Posted on April 10, 2012 at 5:40 PM | |
With the recent news that Bond will be drinking a (ugh!) Heineken in the upcoming film,  and since I've been on a beer terror lately, I've come up with a list of 10 beers that I could imagine Bond actually drinking.
Not always ordering, mind you, because I can't really picture too many moments where Bond orders himself a beer over another option. But beers that are sent to him, sending a subtle – or not so subtle – message.
So, here's the beers I've selected for Bond and the scenarios I see them being used.
#8 Highland - Bourbon Aged Oatmeal Porter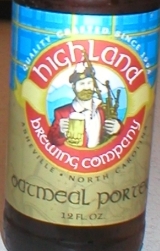 Bond turned off St. James Street and headed down Park Street. He checked his watch and picked up the pace. The old man was not one to be kept waiting. Bond took the impressive granite steps leading up into Blades by twos and pressed in through the large, heavy doors stepping into the darkened space. It was often difficult to gauge what a meeting here, on M's hallowed, private turf, was going to mean.
"Welcome back, Mr. Bond, sir. He's expecting you. Usual table."
"How's the old man's mood, Brevett? Am I advancing into the lion's den?"
"Tough to tell, Mr. Bond. From what I hear, though, he's already on his second glass of the 'Infuriator.'"
"Very well. Send Grimley over straight away would you?"
Bond strode into the dining room, taking a glance up the wide staircase to the second floor where the real action at Blades takes place. He recalled humbling Hugo Drax over a game of high stakes bridge, performing a role for M in a "personal capacity." Bond was tempted to light one of his custom-made Morlands from one of the gas-jets lining the dining hall, but shuttered the idea when he saw the look of storm clouds on M's face. He took his seat without waiting to be asked. A crisp, freshly ironed newspaper sat unopened at M's right hand.
And an empty wine glass hovering just out of the way at his left. The remnants of the cheap Algerian red M insisted on drinking hanging in the air.
"Late again, 007," M said icily.

"Sorry, sir. I lost track of time on the range."
"Q? Setting you up with something new from the armory?"
"Actually, the driving range, sir. I'm trying to keep my game in shape. Been trying to work out a bit of a…"
James stopped talking when he saw the look of displeasure crease the old man's face. Golf was barely tolerated even when it served the Queen's interests, and certainly no excuse to keep someone waiting. At least not when that someone was M.

M discreetly lifted one finger -- like he was bidding on an auction item without trying to draw any attention -- and Porterfield, Blades head steward, appeared at their table as if by magic.
"Mr. Bond. Welcome back to Blades again, sir."
M cut him off. "Porterfield. Send Grimly back around with another round for me. And you, Bond? Something strong and specific I imagine."
"Mr. Bond, if I may suggest," Porterfield interjected.
"Of course."
"Knowing you enjoy a fine bourbon, I understand that we have a special porter on hand. Aged in bourbon casks. A wonderful, rich, woody smell and it has been quite popular with the members that have tried it so far."
"Sounds good, Porterfield. But, why don't you bring me three-fingers of Booker's just in case. Large glass, four large cubes."
"Of course, sir."
With the steward away, M's demeanor abruptly changed to all business. "OK, now listen up, 007. There's trouble brewing and we need you to be out in front of it."
"That's exactly where I like to be, sir." Bond smiled.
Categories: April 2012, Books, Beer/Liquor/Wine
/