Shopping Cart
Your Cart is Empty
There was an error with PayPal
Click here to try again
Thank you for your business!
You should be receiving an order confirmation from Paypal shortly.
Exit Shopping Cart
Features, Reviews and a Blog by John Sciacca
| | |
| --- | --- |
| Posted on April 21, 2012 at 7:45 PM | |
"It's way too hardcore for me. Remember my raped-by-a-pine-tree metaphor? 120 Minute is like being gang-banged by the entirety of Plumas National Forest!" – Dennis Burger
For those who missed the brilliance of Mr. Burger's earlier comments – or wonder what minutes and beer have to do with one another – I offer this reprinting of a text exchange between myself and Dennis a few months ago:
I wasn't sure exactly what 90 minutes referred to; surely not the length of time it should take me to drink one, and 90 minutes for a full 6-pack seemed a tad ambitious as well. So, I turned once again to Dr. Beer, Dennis Burger. Here's our text exchange.
Me: What is the time thing? They only had the 90 but I've also heard of the 120 and 60. What does that refer to?
DB: How long it's boiled. They are hopped continuously during boiling.
Me: Oh. Does that increase the alcohol or flavor or something?
DB: longer boil = stronger, more intense, more complex brew.
Me: Cool. So my 360 minute home brew should kick serious ass since everyone knows more is ALWAYS  better.
DB: That would be like getting raped by a pine tree.
Me: I'm sensing that you say 'raped by a pine tree' like that's a BAD thing...
So after trying – and enjoying – the Dogfish Head 90 Minute on a previous IPA taste-off, I set my sites on trying the 120. Surely 30 more minutes in the hop hopper would make an already great beer even greater-er. Right…?
However, you don't just stroll down to your local Walmart Super Center and pick up a 4-pack of Dogfish Head 120. Oh no. They call this the Holy Grail for hopheads, and Holy Grails are not stocked in stores with aisles widened to accommodate roaming larks and the shuffling obese.
Then something awesome happened. Sandy Gross' longtime companion, Anne Conaway, happened to be a ready of my blog and enjoyed reading my beer reviews. (Sandy Gross, is a name you should recognize. He happened to co-found a little speaker company you may have heard of called Polk Audio. Then he left that to start another small little speaker concern named Definitive Technology. Then after a brief hiatus, he continued an amazing 3 for 3 homerun streak with his latest venture, GoldenEar Technology.) Turns out that Anne and Sandy vacation right near the Dogfish Head brewery. Where they sell the famed 120.
So one day I came home and found a box on my porch. Inside the box was a lovely note and this: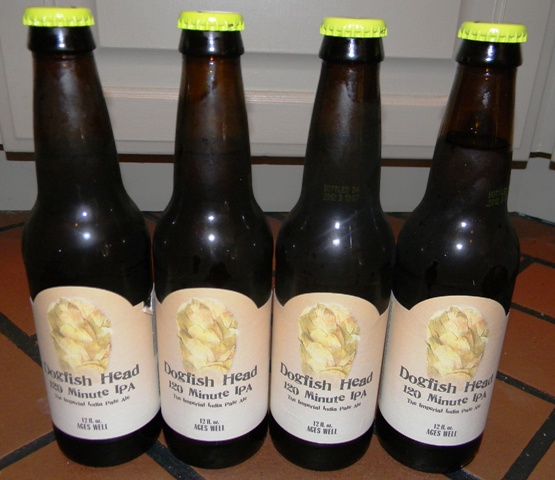 Amazing! I dare say, this blog is *finally* starting to pay off! Thanks again, Anne and Sandy! A wonderfully generous surprise!

So I let the beers "lay down" for a few days, resting from the Ace Ventura treatment I'm sure the delivery service put them through. In the interim, I did a little prep and homework on the beer. This was no regular IPA that you pop open and swill down willy-nilly. So I turned to the pros. Dogfish actually has a video on the best way to approach the 120. Slowly. Gently. With respect. And never looking it directly in the eyes.
Wanting to do this beer justice, I went out and bought a proper beer drinking tulip glass specially for the occasion. Then I made my plans for the weekend; I was going to hang out by the pool, "reviewing" a 46-inch Sunbrite HDTV, watching The Masters, and sipping a 120.
I also called my brother, Adam. He had actually experienced the 120 so I thought I'd get his take on it. His review was, how shall I put this delicately? His review was less than favorable. I believe his exact quote was, "If I hadn't paid $20 for the bottle, I'd have poured it down the sink!" I asked him how one should best prepare to drink the 120 and he asked me, "How would you prepare for a kick in the crotch? You don't. You just take it, assess and move on."
Undeterred, the weekend arrived and I was going to have my beer and golf! As suggested in the video, I removed the beer from my fridge 30 minutes prior to drinking. And I'll admit that I was checking my watch the entire time, though whether out of nerves, anticipation or excitement I can't rightfully say… Finally, it was time.
Dogfish Head - 120 Minute IPA
Hop Variety: Unlisted
ABV: 15 - 20% IBU: 120+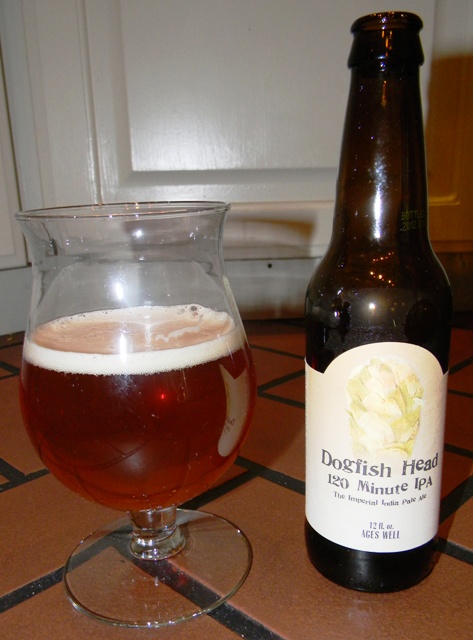 Description: Too extreme to be called beer? 120 Minute IPA is brewed to a colossal 45-degree plato, boiled for a full two hours while being continuously hopped with high-alpha American hops, then dry-hopped daily in the fermenter for a month and aged for another month on whole-leaf hops! Clocking in at 15-20% ABV and 120 IBUs, 120 Minute is by far the biggest IPA ever brewed! It's easy to see why we call this beer THE HOLY GRAIL for hopheads! We brew 120 Minute IPA a few times a year, but it goes fast. If you find some grab a few bottles -- some to enjoy and some to age for a decade or so.
After all the hoopla, you might have expected it to explode or eat through the glass or something, but it opens much like any other beer. Pours a reddish-amber, coppery-orange with a half finger of head that dissolves to a hazy layer of frothy topping. Any movement in the glass leaves a thick, creamy lacing along the sides of the glass. There's also a steady string of bubbles rising up from middle of glass. Beer has strong smells of sweet hops as you would expect, but also rich odors of malt and sweet spice.  Time for the first sip… Tingling carbonation all over the mouth and thick, almost syrupy texture. Feels like a whiskey in the mouth, with the same kind of edge/fire. The strength of this beer is *immediately* apparent, with an almost whiskey or scotch-like finish/edge, but without the woody/oaky notes. They said this was a sipping beer that you should linger on over an evening and they weren't kidding! It's almost like a cognac with its sweetness and strong, lingering finish. Second sip, smaller, more cautious than the first. It's clear that this beer is just exploding with powerful flavors. At 18% ABV this is like drinking 4 typical beers, and the pacing should be observed about the same. Each drink is like taking four regular drinks! The alcohol sweetness is a little overwhelming for me, but it seems to mellow a bit as it either a) warms a bit in the glass or b) burns my taste buds into submission in a ruthless blitzkrieg. Finish has a bit of interesting spice that is almost peppery. Dana took one tentative sip, wrinkled her nose and said, "Oh! No. No! I don't like it." (Almost an hour now in the glass and the top is still topped with foam.) I'm starting to notice more bits of caramel and malt that are peaking out behind the wallop of hops and alcohol at the end. Definite mellowing as it ages/warms in the glass and the carbonation settles. That initial mouth "yowza!" is now much subdued, leaving behind thickness and sweet malt and hop notes. Closing in on the end of the glass, this is clearly a unique beer. As an IPA it is definitely Imperial -- Emperor-ial? -- but absolutely not pale. Seems much more like a barley wine or similar. There's a bushel of hops but little if any pine, or citrus or any of the other traditional flavors one thinks of with hoppiness. It's 120+ IBU but not really bitter. Elapsed drinking time 1 hour 32 minutes.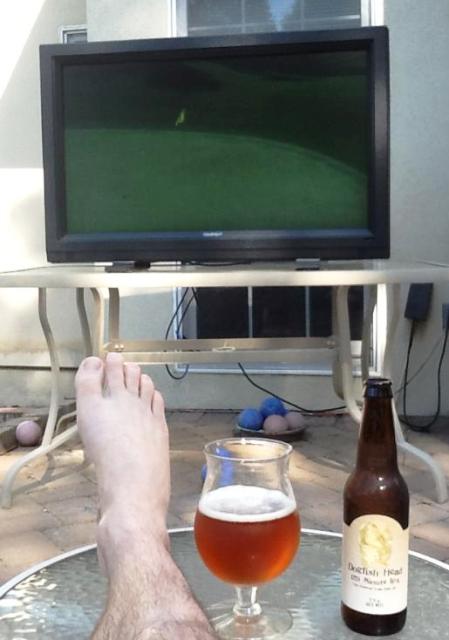 Day two, bottle two. Sunday at The Masters. Despite the fact that I would describe yesterday's experience with the 120 as being "like drinking a hammer," I'm actually excited to revisit and taste it again while enjoying the final round of the Masters. Poured straight down the middle of the glass this time and was rewarded by two fingers of head, that quickly dissolved to froth. I also noticed a wonderful strong-sweet pine-hop smell coming out of the bottle that I missed yesterday. Beer is noticeably smoother and has way less edge today. Perhaps the harder pour took some of the bite out of it. Perhaps I'm just a more seasoned drinker now. I've proved myself to the 120; I survived my beat-in initiation, and now I know the secret handshake and can give myself a single tear tattoo. And now in some ways it's almost a completely different beer. It's much more enjoyable, and today I wouldn't compare it to the same mouth burn as whiskey. This experience is WAY MORE enjoyable. It's still an intense beer to be sure, but this is a beer that has flavor and layers to the hop wallop. There's malt and caramel and a much more pleasing bitter finish. Where yesterday's pour was a whiskey/scotch/barley wine, today's is actually a beer. Still very thick with an almost syrup like texture, and still lots of sweetness from the high alcohol, but where getting to the bottom of yesterday's glass was a bit of a chore, today's was a real treat. Elapsed drinking time 58 minutes.
I'm not sure I can recommend the 120 without some caveats. To beer drinkers how crave the hoppiest of hops, or who enjoy the powerfully high ABV of strong ales, the 120 offers a taste adventure like few others.
I've got two bottles left. Think I'll save them for next year's Masters and see how they do a year later…
Categories: April 2012, Beer/Liquor/Wine, Reviews
/