Shopping Cart
Your Cart is Empty
There was an error with PayPal
Click here to try again
Thank you for your business!
You should be receiving an order confirmation from Paypal shortly.
Exit Shopping Cart
Features, Reviews and a Blog by John Sciacca
| | |
| --- | --- |
| Posted on April 24, 2012 at 3:10 PM | |
I had a bit of difficulty getting the Beer Club members in round one to A) drink their beer and then B) write about their beer. I had anticipated that the writing part would be a challenge for a group of non-writerly types, but I figured that EVERYONE would at least be excited to do the drinking part. (shrugs shoulders)
So, I decided for Beer Club: Round 2 I would recruit some new blood. Some fresh blood. Some eager to drink beer blood! And some new livers to boot.
This time around we have one returning member – Jon, who I think would punch me in the legs till I couldn't walk if I didn't invite him back – and four new tasters. All of these guys seem pretty interested, so I'm hoping that between this batch and a couple of the previous tasters, I'll be able to have a steady stream of reliable reviewers going forward. (I've already collected money for the next batch of tastings which – spoiler – I'm planning on being a stout and porter round.)
So, on to the beers, shall we?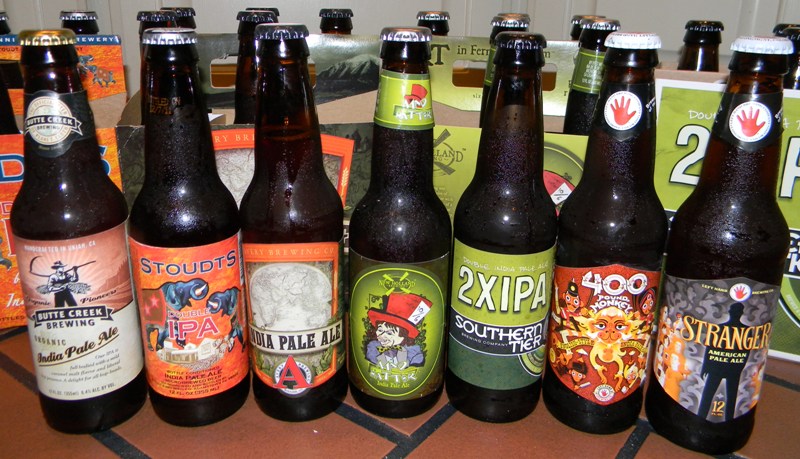 Left Hand Brewing - The Stranger
Hop Variety: Centennial, Willamette and Cascade
ABV: 5.00% IBU: 36
$10.99 / 6-pack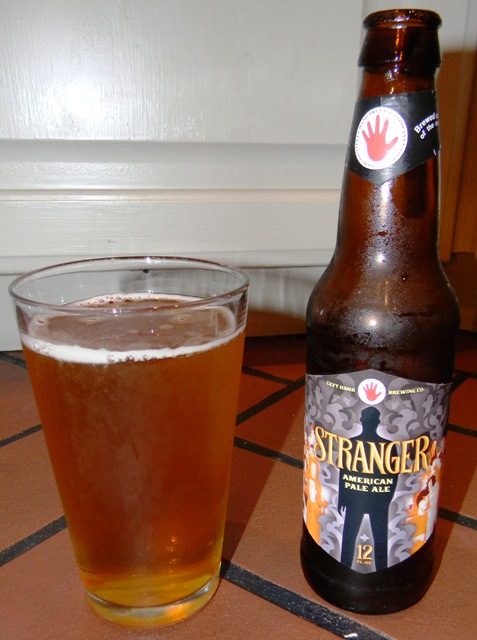 Description: Sane or senseless? Harmless or harmful? Sometimes it takes awhile to get to know a stranger. Initial impressions are not always reality, so you must delve deeper. Beyond the initial floral hop aromas, malt sweetness is revealed, yet with a spicy undertone that exposes a very rye sense of humor. Take your time to get to know the Stranger. It's strangely satisfying.
OK, I'll freely admit that I am pretty susceptible to marketing when it comes to beer labels. If you've got a cool or interesting looking label, chances are high that I'm gonna buy your product.* I have purchased more than a few brews just because the label looked cool, and The Stranger fits right in that category. I saw the label and it immediately reminded me of a certain assassin: Good old Hitman #47.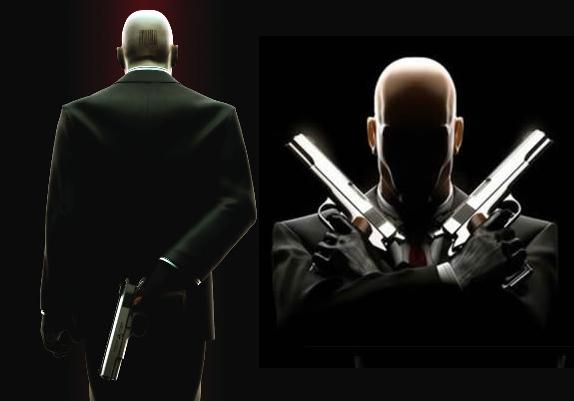 It also inspired me to write a James Bond themed scenario where The Stranger is Bond's beer of choice…
Pours a mostly clear, light golden color, with very little head. What head there was quickly dissolved into a film of frothy bubbles. Small string of micro bubbles in the glass. Subtle notes of piney hops. Immediate mouth pucker of bitterness that is just a wallop. It is a hit man, and bitterness is his weapon of choice! I can't believe this is only 36 IBU! Maybe I'm mistaking bitter for some other puckering factor...? After that blast of bitterness finishes ripping your mouth apart, the flavor develops to notes of hops and classic IPA copper-metallic. The spent brass shell casings rattling around, no doubt.  Third and fourth sips -- after my mouth developed hop-proof powers -- revealed more flavors, and subtle tastes of wheat, and significantly less of that first bitter jaw punch. The bitter just overwhelms the taste a bit too much, making it too unbalanced to give a high rec. To be fair, my mouth was pretty dry and I hadn't had lunch, so, you know, my palate could have been a bit off and less receptive to the foreign advances of a Stranger.
(*That is unless Budweiser, Coors or Heineken are in the title.)  
Anthony: Ok, I finally cracked one open. I will also preface my remarks by mentioning my slight disdain for IPA's and their ilk. I am now sipping on a frosty glass of Stranger brew. This is an APA, and was surprised that it didn't seem as aggressive as some pale ales I've had and loathed. This beer had a clean, crisp taste to it and finished with a little spiciness. Overall, though I wasn't deeply offended by this beer, it didn't impress me enough to gush about its hoppy goodness. If I were ranking this beer on a scale (which I'm not) I'd give it a 6.2 out of 10.
Chris: This was pretty good & smooth. A good drinking beer but that's probably because it's an American Pale Ale! Rank 2 of 7
Joel: My fourth was the Left Handed Stranger American Pale Ale. Didn't like this one; it tasted too much like the mainstream brewers and was reminded of the movie gone in sixty seconds because of the name. 1 out of a 6 pack
Jon: (2nd Beer) I had high expectations for you, Stranger. But it was just bitter and no flavor, I guess that's why they call you stranger. Grade : D
Zack: Left Hand Brewing Company - As a fellow "leftie," I had high expectations for this beer. And it did not disappoint. A light flavor that reminded me of Yuengling Lager, which I enjoy very much.  It was very smooth going down and tasted delicious.  The best thing about it, its brewed with clean energy!!! Rank #2
Avery Brewing - India Pale Ale
Hop Variety: Columbus, Chinook, Cascade and Centennial
ABV: 6.5% IBU: 69
$11.99 / 6-pack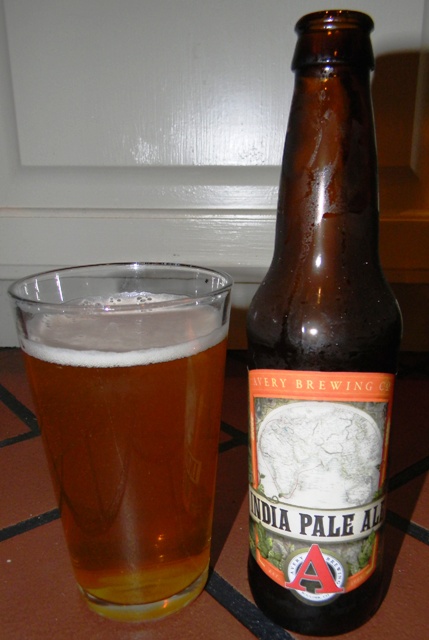 Description: In the 1700s one crafty brewer discovered that a healthy dose of hops and an increased alcohol content preserved his ales during the long voyage to India (as depicted in our label) to quench the thirst of British troops. Today, we tip our hat to that historic innovation by brewing Colorado's hoppiest pale ale. Avery IPA demands to be poured into your favorite glass to truly appreciate the citrusy, floral bouquet and the rich, malty finish. Food pairing: Seafood dishes such as Ahi tuna or seared scallops are a great match, as are creamy pasta dishes like fettucini alfredo or pasta carbonara. The acidity and hop bitterness of Avery IPA will cut through creamy flavors and textures, providing balance to the pairing.
A cloudy, yellow gold color that is reminiscent of a Hefeweizen. Very little head that just produces an ocean-crash of froth, bubbles and foam. Deep, strong hoppy floral, pine aroma. Nice tingle on the sides and around the tongue, a flash of bitter, a nice blossom of piney hops flavors that then gives way to a mellow bitter and wheat finish. Bitterness and hoppiness mellows a bit as the beer warms up, bringing out the wheat and malt finish. Lengthy textbook metallic IPA bitter finish. Pretty happy with this IPA. Yup, pretty happy indeed. It's quite possible that we've already found this week's winner…
Anthony: My next beer: Avery Brewing's IPA. It smelled a bit fruity or flowery or something.....at first sip it tasted a bit fruity or flowery or something, then a bitterness at the end. I enjoyed this beer a bit more than the Stranger APA, it reminded me of my first pale ale experience, where you get blindsided by that odd, weird, bitter aftertaste that you never thought would accompany a beverage you had been able to enjoy...an 8 out of 10 on the scale. If I was rating it.
Chris: Being as I don't care for IPA's, I was pleasantly surprised that I liked this one. There is a slight citrus taste to this one. Rank 4 of 7
Joel: My third was the Avery Brewing IPA This is what I expect in an IPA good pour, good smell, very drinkable. Would kill a 6-pack quickly with this one. 6 for 6.
Jon: (4th Beer) I would buy the Avery again. It didn't really stand out, but it wasn't bad either. Not a "in it to win it" beer. Grade : B-
Zack: To me the Avery had a dry finish with a malty taste.  I enjoyed the mild color in the glass.  The best part of this one was the good aroma.  Gets my "best bottle design award." Rank #3.
Southern Tier Brewing - 2XIPA Double IPA
Hop Variety: Unlisted "4 types of hops & 3 types of malts"
ABV: 8.2% IBU: Not listed "Medium-high"
$10.99 / 6-pack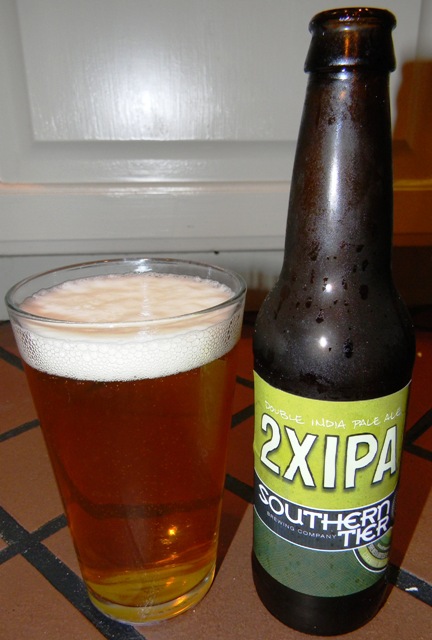 Description: Not quite an imperial, but certainly not a standard India pale ale. Our double IPA is a hop lover's dream. Citrusy and clean with an incredible finish. An India Pale Ale kicked up a notch to form a true Double IPA: feverishly hoppy with a malty back-bone and higher-than-standard alcohol content. Citrusy hops tease the senses with aromatics and lingering bitterness, while just the right balance of malts disguises 2XIPA's extra gravity. Double your expectations, this is an ale that demands reverence.
I think that Double IPAs are my favorite styles of beer. To whit, Pliny the Elder and Drake's Hopocalypse – both Double IPAs -- are my two favorite beers. Period. So, the bar was preset pretty high for the old Southern Tier. Also remember how I talked about cool labels? Yeah. This is the total antithesis of that. This label is so weak, I thought it was a generic or something. Hey, art department! You're all fired! Pours a very clear, light yellow with a finger of head. Small stream of micro bubbles that lasted throughout the pour. Wonderful, fresh, winter wonderland of pine hop floral aroma. Nice initial zing on the back of the tongue, that dissolves into bitter, hoppy flavors and then a smooth finish of malt. Subsequent drinks brought on bitter lemon and grapefruit flavors, and (sadly) less of my beloved pine. Long, lingering bitter finish. Overall I *like* this beer; I want to date it and maybe take it to the prom, but I don't want to marry it. The flavor is just missing some key note or component or...It needs more body or depth or...something. Extra disappointing because I wanted so badly to like it.
Chris: I found this one very smooth for an IPA, would drink this one again if someone offered it. Rank 3 of 7
Joel: I definitely saved the best for last. The Southern Tier 2XIPA was simply delicious. Really enjoyed the flavor of this DIPA. 6 out of 6.
Jon: (7th Beer) Now we have a winner! I thought John was gonna go 0-7 this time, but he found a winner. I have had this before and loved it, and this time was even better, since the other 6 failed miserably. Nice hoppy bite, great flavor, and a nice finish. Grade : A
Zack: "2xIPA" IPA=good, 2 x IPA= twice as good.  The best in the bunch.  Made with four varieties of hops and three types of malt, this beer has a lot going on in it.  A nice combination of ingredients that makes this brew very tasty.  At 8.2%, it also packs a nice punch. Ranked #1
Stoudts Double IPA
Hops: Cascade, Willamette, and Warrior
ABV: 10.0% IBU: 90
$15.49 / 6-pack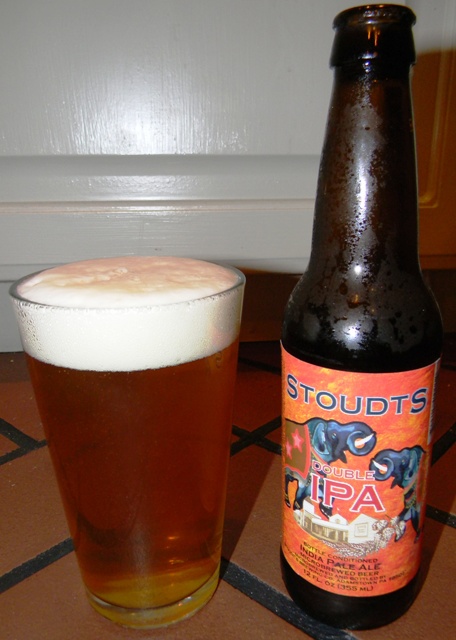 Description: Our IPA is a strong, full bodied ale with intense hop character and deep golden color. Multiple kettle hop additions and generous dry hopping contribute to the powerful yet smooth and fragrant hop character of this beer. This brew has the distinction of being the strongest of our "Big Beers."
Back into the breach with another Double IPA. And a more expensive one. Will more mean better? Medium golden color in the glass that produces a righteous rich head. No real stand out smell, possibly buried beneath the pillowy head foam. That's always disappointing in a Double to not get those wonderful fresh pine aromas. Thick rings of lacing coat the glass. Whiffs of malt and floral and a bit of sweetness. Creamy, mouth feel, with mild carbonation and a bit of tingle on the tip of the tongue.  No real flavors, just bits of malt, some caramel and some bitterness.  Right on the heels of the Southern Tier, it is easy to say I prefer that Double to this one. And since I was a bit disappointed with that one, well, that doesn't exactly make the Stoudts my favorite.
Anthony: Finally, the next day I tried the Stoudts Double IPA. I actually enjoyed this beer right from the start. To me, this was a refreshing, smooth drink, which I usually don't get from an IPA, especially a "double."  I liked the bold flavor of this beer, and it didn't seem to finish with an overly bitter taste. So far this went straight to the top of my IPA list. OK, 4 beers down 3 to go.... I'm seriously falling behind.
Chris: This had a hard bite at first but really had no taste to it after that. Rank 6 of 7
Joel: I saved the Double IPA's for last. My sixth was the Stoudts Double IPA. Very good beer I liked the taste. Reminded me a lot of Dogfish Head Brews. Very good from start to finish. 5 out of a 6 pack
Jon: (5th Beer) The Stoudts IPA was good, but not near as good as other double IPA's that I have tasted. I think the label needs to have at least a description of the beer and maybe some catchy slogan. Kinda boring beer and label. Grade : B-
New Holland Brewing - Mad Hatter IPA
Hop variety: Unlisted
ABV: 5.25% IBU: Unlisted
$10.99 / 6-pack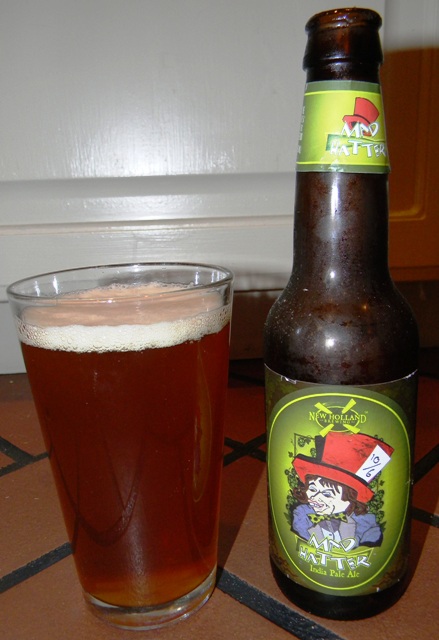 Description: Dry-hopped for a distinctive, floral hop aroma; subtly balanced with delicious malt notes. Pairings: spicy dishes, greens and aged cheese.
The label kind of looks like Austin Powers with a Big Book of British Smiles mouth full of teeth. But, hey, maybe what a good IPA needs is a little madness. That and hops. Lots and lots of hops. Pours a copper-amber color in the glass with a bit of cloud. Produces a finger of head that quickly dissolved to just a frothy foam on top of the glass. Notes of honey and something that smells like menthol or eucalyptus. First taste and I swear I've stepped into the Halls of medicine! And I do NOT mean that in a kind and generous way. This thing tastes like a throat lozenge! Now, if you said it WAS medicine and I had to drink several servings, then I'd say this is the best damn tasting medicine ever. But since it is a beer with limited medicinal value, I'm not impressed. Second tastes reveal malt and caramel, and some smoky bitterness, but I'm still getting that weird medicinal flavor and it is a deal breaker. It gets more malty and caramel-ly as it warms up, but the only thing mad here is me; mad that I bought this instead of something else.

Chris:  This is exactly what an IPA tastes like; if I liked IPA's this would be a good one. Rank 5 of 7
Joel: Second for me was the Mad Hatter IPA I have had a lot of New Holland beers would have to say this is my least favorite. Had a slight metallic taste to it. Probably would not purchase again. 2 out of a 6 pack.
Jon: (3rd Beer) Mad Hatter was an OK blend of hops and malt. It smelled like potpourri, so I wasn't if I should drink it or plug it in thewall. Grade : C
Zack: Terrible, don't even feel like writing a review for this one.  I just wish it would go away.  It tasted awful and it wouldn't get out of my mouth. Rank #5.
Butte Creek - Organic IPA
Hop variety: Unlisted
ABV: 6.4% IBU: Unlisted
$11.49 / 6-pack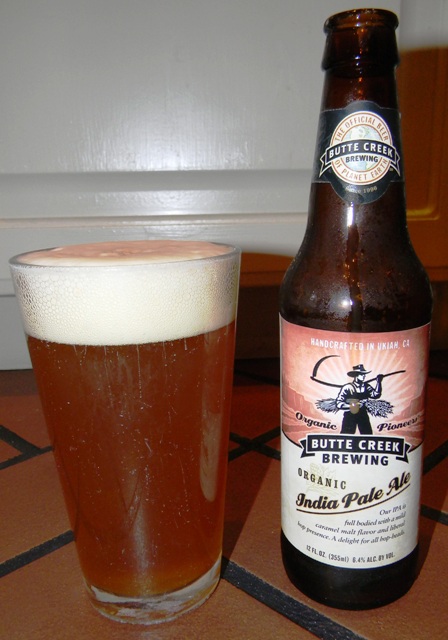 Description: Our IPA is full bodied with a mild caramel malt flavor and liberal hop presence. A delight for all hop-heads. All of our beers are made with the finest organic malts and organic hops.
I bought this because it was organic. Now, from my experiences with gluten-free beer at Gordon Biersch, I can say I don't really know what a gluten is or what it does for a beer, but I CAN say that beer NEEDS gluten unless it wants to taste weird and off-putting. Like a lingering kiss from a creepy aunt. Pours a cloudy, coppery gold color with a generous, thick head. Head stays thick and pillowy on top for long time. It's like the head is a part of the polar ice cap keeping the beer below safe and protected. But there's potentially gold oil down there, and it's time to go a drillin'. Mouth drillin'. Or drinkin'. Notes of malt and caramel and honey. Taste is kind of flat in the middle of the mouth and then kind of a dull thud of bitter and sour at the end. No real zing from the carbonation, and no life to the beer. It's flat, and mostly lifeless, with just minor caramel and malt notes buried behind the wash of bitter. Final sips were frothy and creamy due to the foamy head that was still lingering. Unless I had to drink organic beer for some health, legal or planet-saving reason, I wouldn't buy this again. In fact, if the only thing that could save the planet was me drinking this beer, well, y'all people better get your affairs in order and hug your loved ones. To quote Jon, "This beer tastes like butte."
Anthony: And then it all went downhill... I next tried the Butte Creek beer. My taste buds were assaulted by this beer. I first tasted the usual IPA flavor, but immediately I knew something was different, Oddly enough the taste reminded me of a musty, dank basement. That was my first impression. But after trying a few more sips and giving this beer dirty looks, I let it sit for awhile. It got warm, and to my surprise, it actually got better. The foul taste was gone, and was a decent beer. I still didn't trust it 100% after what it did to me at first, and I prefer cold beer, not one I could only tolerate at room temperature.
Chris: While I usually try to avoid anything organic, this was a really good beer. I especially liked the caramel malt, I think it makes for a much smoother IPA. Rank 1 of 7 (best)
Joel: First one I tried was the Butte Creek Organic IPA, thought this one was ok. Could taste the caramel but thought it lacked the flavor of an IPA. Overall decent beer. 4 out of a 6 pack  
Jon: (1st beer) If this in an indication of what all organic beers taste like, I'll stick to my pesticide sprayed and manure fertilized hops and such. Grade : F
Zack: "Organic Pale Ale" labeled as the "Official Beer of Planet Earth." If that's the case, then I plan on moving to another part of the solar system.  I did like the color of the brew but that's about it.  This beer was by far the worst in the pack.
Left Hand Brewery - 400 Pound Monkey
Hop Variety: Magnum, Boadicea and Sovereign
ABV: 6.80% IBU: Unlisted "A polite monkey never tells."
$11.49 / 6-pack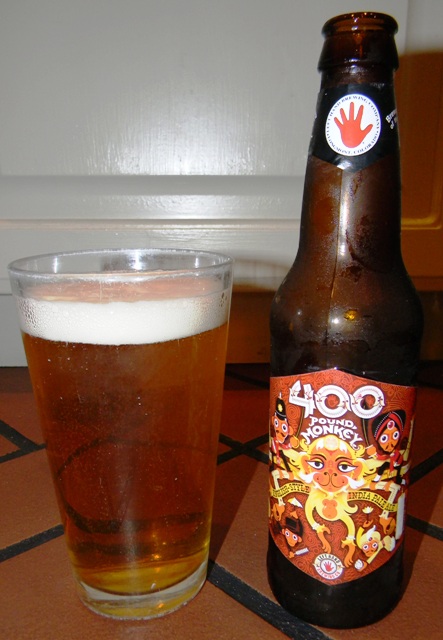 Description: Because this one ain't like them others. We use hops of a different color, earthy and herbal, well-balanced by bready malt. The result? An English-style IPA that separates itself from the ubiquitous bunch. Cartloads of bitter monkeys flinging wasteful amounts of bananas into the jungle…we're so done with that.
"Why can't you do it? Why can't you set your monkey free? Always giving in to it. Do you love the monkey or do you love me?" – George Michael
If you like monkeys, then surely a 400 pound one would be the best monkey of all. Pours a deep golden color with a nice finger of head that holds its form. Clear body with lots of micro bubbles rising up in the middle of the glass. Wonderful pine hop aroma. As the first taste lands on the tongue, there's a nice splash of pine, followed by a nice bit of carbonation. Finish is mildly bitter with a lingering note of wheat and more distant hops. I like the flavor, I do, but I wish it was just a bit more intense. Like many things – bakers chocolate, gasoline, sizzling cow hearts and onions, Kentucky Fried Chicken -- it smells better than it tastes, and I want it to taste like what I'm smelling.
Chris: This had a really hard bite at first & terrible after taste (I've never liked an actual monkey but I'm pretty sure it would leave the same after taste in my mouth as this beer!) Rank 7 of 7 (worst)
Joel: Fifth up was the Left Hand 400 Pound Monkey. I wasn't very impressed with this one either. Poured this one after about 15 minutes in the car driving. Poured it a little too fast and I think it was shook up from the car ride. 2 out of a 6 pack
Jon: (6th Beer) Apparently I don't like Rocky Mountain Water, because this beer had a weird taste to me. Maybe the monkey peed in the water??? Grade : D
Zack: Left Hand Brewing Company - "400 pound monkey" gets my "best title award." However, the beer itself was not as good.  It had a unique aftertaste that I didn't particularly care for.  Ranked #4.
Categories: April 2012, Beer/Liquor/Wine, Reviews
/