Shopping Cart
Your Cart is Empty
There was an error with PayPal
Click here to try again
Thank you for your business!
You should be receiving an order confirmation from Paypal shortly.
Exit Shopping Cart
Features, Reviews and a Blog by John Sciacca
| | |
| --- | --- |
| Posted on April 30, 2012 at 6:05 PM | |
Or: Things I learned from sitting down for lunch with the Wendy's Big Boss
Last week I went to Wendy's and I broke ranks with my typical order of two $.99 cheeseburger deluxes and instead ventured into the rarified air of the 1% burger ordering aficionado: I ordered the new The W burger.
Wendy's ad campaign and giant color displays of The W lead me to believe that I would be venturing to a promised taste land; a land flowing not with milk and honey but with thick beef patties dripping with cheese and sweet, fresh (likely locally sourced and totally organic) condiments. At $3.29 I was hoping, nay, EXPECTING to get roughly 3-times the burger of my $.99 cheeseburger deluxe.
And to say that I was "unimpressed" would be like saying that the economy has had a "bit of a downtick" or that Bernie Madoff's investments "didn't quite pan out" or that Star Wars Episode I was "a bit of a fan letdown."
So, of course, I wrote a blog about the experience.
The burger I received, which appeared like a towering beacon of burger idealness in the ad, looked like it had been smashed flat by an angry steel worker; pummeled mercilessly until it slowly wept cheese and sauce from the edges of the bun like a festering wound. It was small, it was disappointing, and it felt like a massive rip-off at $3.29.
After writing the blog, I commented on Wendy's website comment form incluing the link to what I'd written. Then I posted about my blog on Twitter with @Wendys mentioned. Well, within a couple of days I got a phone call from the local big boss, who I'll call Mr. C. I'm not sure if he was the franchisee owner or the regional or what, but it was clear that he was in charge of multiple stores in my area. It was also clear that he had read my blog. And looked at the pictures.
(Before I continue, this really demonstrates the power of social media. I wrote a blog post, I tweeted about it, and within 48 hours, I was getting Tweets and phone calls from the company. That is how you step in front of negative press. Head on. Address it. Deal with it. Resolve it if possible. So, definite points to Wendy's for that.)
After reading, he said he was very disappointed with the quality of the product that I received, and that it in no way represented The W that he expected his restaurants to serve. He apologized for my burger repeatedly and even after I said/joked that I didn't hold him accountable as I'm pretty sure that he didn't personally make it, he said the quality of product at his restaurants stopped with him and he took responsibility. So, he invited me to come in and sit down and talk with him.
I explained that I really didn't think that we had a whole lot to talk about and that I pretty much said everything I had to say in my blog. Ultimately, I'll still go to Wendy's – and especially the same Wendy's as it is incredibly close to our store -- but that I'll probably never order The W again. He asked what I normally ordered and what I liked about Wendy's and I told him my typical order (cheeseburger deluxe, sour cream & chive potato and the Caesar side salad) – "that's a real solid combo" he agreed – and that I liked that it was an affordable meal at under $4, filling and relatively healthy. I told him that my biggest gripe was really with the price; if The W that I'd been served had been $1.79, we wouldn't have been having this conversation, but at $3.29 it was really a letdown.
He said that he would like me to come in and join him for lunch and to have the chance to make me a proper W burger. I told him that I'd love to. And that I'd be taking a picture of the new burger.
So today I headed up to Wendy's to meet Mr. C for lunch. When I arrived, he shook my hand, thanked me for coming, and asked me what I'd like for lunch.
"I'd love you to make me another W. One just like in the picture."
"I can't do that. I just can't," he answered with surprising honesty. "I've had my girl make five of them today and she just can't make it look like the picture."
I wasn't sure where this was going to leave us. I mean, I had told him on the phone that that was pretty much the whole reason why I was coming in. But he quickly added, "But, I can have her make you a really good one."
Agreed! Bring it! So, they prepared my burger and he carried it over to my table on a tray along with an order of fries with great ceremony. We sat down and we chatted for a bit before I slowly unwrapped the burger.
OK, before I show you the picture, I want to say a couple of things…
1)    It's a bit awkward and unnerving to go through the process of taking out your camera, staging a shot and taking a picture of food in front of the person that "prepared" it. But ESPECIALLY so after you've already really bitched about how previous food looked. And by "a bit" I mean A LOT.

2)    I know I've written before about how you sometimes forget that there are real people on the other end of the screen when you write something, but it is entirely different to be sitting at a lunch table directly ACROSS from someone that you wrote something less-than-flattering about. Eating. While they are mentally trying to judge whether you are thinking nice things about what you are eating.
3)    This picture is not the best, most representative or elegant pic of The W burger they served me; I could have definitely managed to take a more flattering pic, but  as I mentioned, it was a bit awkward taking the pic with Mr. C just sitting there – not eating himself, but just drinking a bottled water – so it wasn't like I wanted to keep snapping pic after pic from different angles and whatsuch.
So, here's the pic: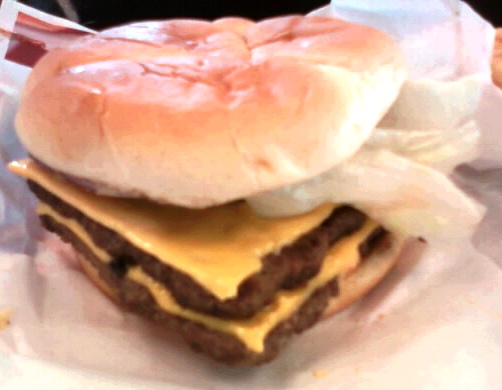 OK. Clearly it does NOT resemble the utopian ideal of The W shown in the ad. However, Mr. C admitted up front that he was just unable to recreate it. Also, it's important (and fair) to remember that that burger was created in a studio. Probably after dozens of attempts. With perfect lighting. And staging. And ideal and rehearsed camera angles. With a variety of lenses and exposure lengths. And the perfect hint of moisture on the tomatoes and angle to the pickles and proper melt-to-bubble ratio of the cheese… And probably wasn't even edible.
This was a real-world burger, made in one try, from the ingredients on hand. (And I assure you it DID have tomato, red onion and pickle; I just couldn't bear to stage a lengthy burger photo shoot while Mr. C sat there staring at me while trying to appear like he wasn't staring at me.)
Visually, it looked WAY better than my initial burger. It wasn't smashed flat and actually had meat that was visible beyond the rim of the bun. More importantly, it tasted great. Nice crunch to the vegetables, lots of melted cheese flavor, a lot of beef. Though, I still think the sauce is a wee-bit vinegary for my liking, though I've never really been much a 1000 Island man, but that's a personal taste thing.
While I think what I had was a much better representation of what a Wendy's The W *should* be, I still think it is overpriced at $3.29. This burger would be a terrific goto for $1.99, and Mr. C agreed that you would get the same amount of meat if you purchased two of the $.99 cheeseburger deluxes and put them together yourself,  making that a better deal.

So while I ate, Mr. C and I chatted and that was probably the most interesting part of this whole thing. We talked about various things and factors affecting business, and it was amazing how similar his business – selling fast food – was to my business – selling audio/video systems – and how much the two share in common.
The first thing I recognized is that the guy on top – usually me – has to take the blame. He didn't make the sandwich, design the sandwich or sell the sandwich, but he took the responsibility for it and he looked to make it right. He didn't try to make excuses or didn't try to shift blame; he just acknowledged that it was a bad first attempt, and that he was going to make it right. That's the right way to address and rectify a problem.
He said that they struggled with employees, and that training employees to stop smashing down the burgers when they wrapped them was a big thing they were dealing with with the new sandwich. Training employees to follow established guidelines is something I could definitely relate to. "We program things THIS way." "We install systems THIS way." One way – the RIGHT way – each time and every time. But if you're not there looking over someone's shoulder while they do it – every time – you can end up with a corner being cut.
He said they also have to find that balance with employees in taking time to make a good sandwich while still being fast. Just that morning I had a talk with one of our employees about time management on a job, and that fine line of going over something with a client and drawing them a detailed blueprint and roadmap of every step and process that you are going to do. Finding the balance of creating a good customer interaction and experience while at the same time being productive and effective with time spent doing something.
I mentioned that I was surprised that the counter worker on my first visit had not tried The W and that I figured they would have had all employees try new product. He said that they do, but that some employees just won't eat certain things for whatever reason. They may be vegetarian or might just refuse to each sweet potatoes (a new side item they're trying). He said that they want employees to have a thorough knowledgeable of the items so they can suggest and up sell people; bigger sandwiches, larger fries, larger drink. This is exactly what we look for our employees to do; add speakers here, a better control there, a new component here. And as I mentioned in the past, some of our best employees have been the ones that have shared a passion for this field.
Finally he said that one of the biggest issues they were facing was the rising costs of beef. Apparently cattle farmers cut back production a few years ago, and it takes 5 years according to Mr. C to get back to where they were. During that time, the price of beef has continued to rise and now they are paying roughly twice as much per pound as they had been. But to stay competitive, they can't raise the price of burgers to match. The $.99 deluxe cheeseburger is a case in point. It is a menu staple, but it hasn't risen in price to adjust with the price of beef, so they make less on each burger than before. In the A/V world, we face an almost identical issue; every year products get both better AND cheaper. And as prices continue to drop, the margin for profit in the middle is squeezed out; so we make less on each install.
The other thing I took away from this experience is that it is definitely better to under-promise and over-deliver. (Even better to over promise and then OVER over-deliver. But still...) The posters for The W burger were a promise that the restaurant couldn't deliver, and so anyone expecting that experience was bound to be disappointed. From an install standpoint, delivering more than you promise is the surest way to win clients over. And happy clients call you back. And refer you to their friends.

Sometimes a lunch is just a lunch, and a burger is just a burger. But other times, a lunch is an opportunity to learn something, and to garner a new perspective on things. And a pretty good burger too.
Categories: April 2012
/