Shopping Cart
Your Cart is Empty
There was an error with PayPal
Click here to try again
Thank you for your business!
You should be receiving an order confirmation from Paypal shortly.
Exit Shopping Cart
Features, Reviews and a Blog by John Sciacca
| | |
| --- | --- |
| Posted on May 15, 2012 at 4:50 PM | |
For some insane reason, I decided to start blogging this season of Survivor. Of course, I jumped headlong into this venture without really knowing how far down the rabbit hole that decision would truly lead. Well, thank the reality TV Gods, season #24 of Survivor is finally over! (You can read my finale blog here if you want to get caught up.)
If anyone is possibly happier than I am about the season – and the Survivor blogging – being over, it's definitely Dana. Saying that she has had her fill of Survivor talk and TV viewing that was more like a court transcription session and Twittering to readers and players would be an understatement.
I blogged Survivor like I do everything else; all in, 100%. (Or 110% if you want to put it on the Lou Ferigno Celebrity Apprentice scale.) And for me, that meant that each post took about 4 hours to do. Time involved watching the show with a laptop and typing furiously away during the original viewing – pausing and rewinding until the inevitable loud sigh and, "Really? This is what you're doing right now?!" from Dana – and then viewing it again the next morning at CBS.com basically minute-by-minute as I'd watch, pause, type, screen cap some image, edit the image, and then unpause. (The pictures – most people's favorite part about my blog – by far taking the longes to do.) 
Ba-rutal.
I know that many of my usual readers come here for A/V or custom installation related news, and the weekly Survivor blogging really took its toll on the usual blogging. So, rest assured, the stuff you used to like will be back in force soon enough. (Huzzah!)
One of the real positives from watching the show was that I received WAY more traffic than normal. A normal day at my blog bring in about 150 or so visitors. But I would typically receive 300-400 visitors on the day after a Survivor episode aired. On Sunday night – the night of the finale – I had over 500 visits and yesterday – the day after the finale – I had a whopping 946 visitors; an increase of about 633% over a "normal" day!
Another bonus was a truly breaking down of the "fourth wall" of TV as I traded tweets with several of the players. A couple from Kat (@kittenswag24) and Bill (@BillPosley) and many with Christina (@Christina_Cha). But the Survivor that was definitely the coolest to fans – in my opinion – was Monica (@MonicaCulpepper) who sent out several signed shirts and photographs to fans. Super. Duper. Cool.
The final real plus to this whole blogging journey was discovering that the community of "Survivor bloggers" is really quite cool. For the most part these are all just "super fans" who love talking about the show, sharing thoughts, sharing ideas, and even sharing the blog "love" as several of them posted links to my site on theirs. To all of them, I say a hearty, "Thanks!"

If you're getting the sense that I won't be back blogging Survivor again when it returns this September, then, Congratulations! Your powers of perception have not failed you! It was a fun diversion, but I think once was good for me.
So, if you enjoy watching – and then reading about -- reality TV, these are the blogs that I feel are amongst the best. You might not think that you could have too many different ways to talk about the same 46 minutes of TV, but you'd be surprised. And many of these bloggers have been at it for many – MANY – seasons, and now that I've gotten a taste, I have that much more respect for the work they do.
Please to read and enjoy…

This was the first Survivor blog that I started reading, and week after week – season after season -- Colette weaves an amazing narrative that is filled with hip and cutting pop culture references and "how did she think of that?!" turns-of-phrase. Hers is definitely a blog that rewards return readers and – whether you think I ripped her off or not – is one that I look forward to reading each week.

With all respect to the other blogs here, Lisa's is my favorite to read each week, mainly because it is like an alternate universe version of my own blog. (Except with more Taylor Swift-ing.) If you liked my Survivor blogging style, then you should definitely take a look at Lisa's blog. If I were a red-haired woman living in Canada, this is the blog that I'd be writing. Or hoping to write. Or something. I *love* Lisa's writing style and so many things about her blog -- Kat as Honey Badger being way up the list --  and often read things in her blog that I had are like peering into my own mind. I hope that she'll continue blogging Survivor and hopefully tons of other stuff. Plus, how can you not love a blog that recaps an entire episode with Legos? Classic.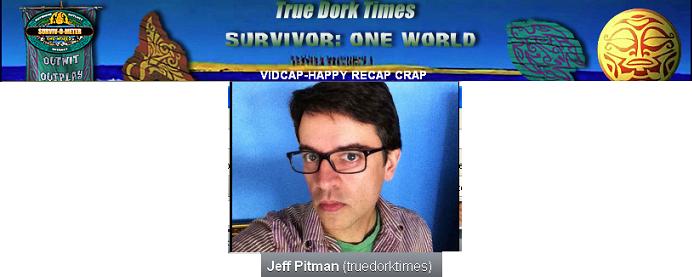 Jeff has one of the most thorough, analytical blogs on the Survivor on the Interwebs, covering the season with a statistician's eye. Each week he ranks every player weekly on an array of criteria coming up with scores and rankings for throughout the season. Beyond that, he gives out a variety of humorous awards following each episode – "the Trolly," "the Beasty," "the Slitty," etc. – that always make for an interesting read.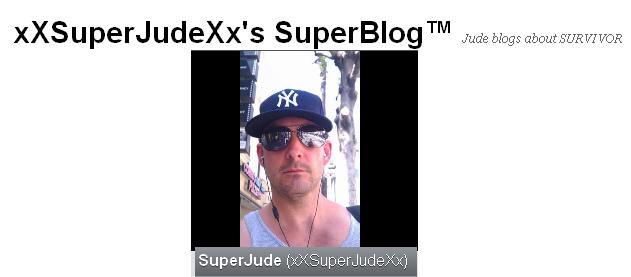 If you like a lengthy and thorough recap, look no further than Jude's blog. Jude also pulls out a ton of historical knowledge in his blog, referencing, comparing and contrasting previous seasons and players. If you like the lengthy word count of a Sciacca blog, then Jude is your man.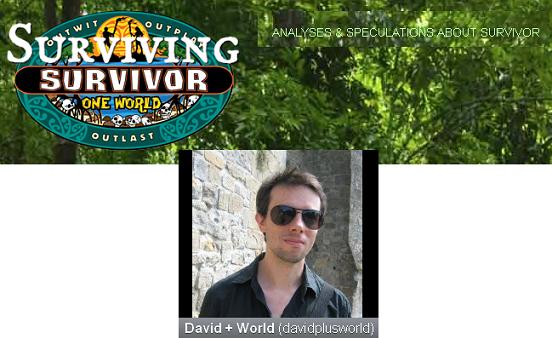 David gives a great run down on each cast member each week, sharing his thoughts on how they are playing and where they are succeeding…and blowing it.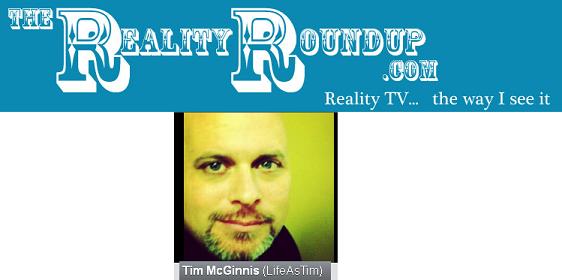 As his tagline says, this is the way Tim sees reality TV and he offers another personal take on outwitting, outlasting and outplaying.

Proving that Survivor is a worldwide phenomenon, Sheldon sends out blogging fan love all the way from South Africa.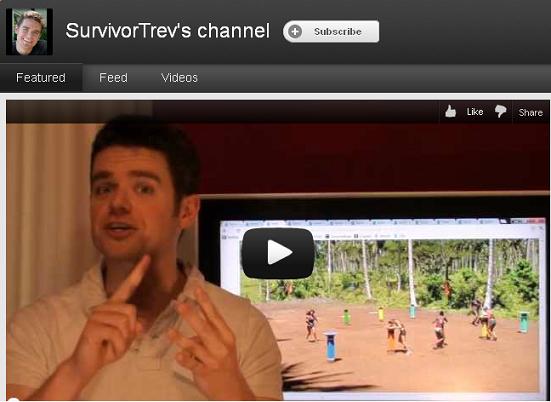 Survivor Trev has a great camera presence, is hilarious in a deadpan manner and provides a wonderful recap of the show in 10-14 minute bite-sized chunks. He's also one lucky SOB as he got invited to attend this year's finale courtesy of Matt "The Rooster" Quinlan. Trev is actively trying to get cast on Survivor and I would *love* to see him out there on the island. You already get my fan favorite vote, man! (Unless Courtney Yates is on, then, well, sorry...)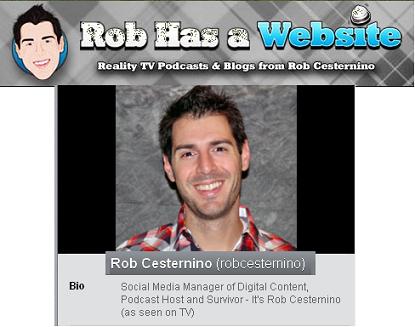 Finally, what can you say about the OTHER Survivor Rob, Rob Cesternino? He is the King of reality blogging, the super-est of Survivor Super Fans and – as a multi-time Survivor contestant himself – has actually been there and done that. Rob is about as dialed-in to the Survivor community as you can get, and he has interviews with all the cast members and asks the questions that fans want to hear. Plus he has multiple blogs covering each episode from a variety of angles. Great stuff!

So, there you go. While I won't be around blogging next season, I'll definitely be watching and keeping tabs on these guys for some insight and entertainment. Definitely worth playing for...

/