Shopping Cart
Your Cart is Empty
There was an error with PayPal
Click here to try again
Thank you for your business!
You should be receiving an order confirmation from Paypal shortly.
Exit Shopping Cart
Features, Reviews and a Blog by John Sciacca
| | |
| --- | --- |
| Posted on July 11, 2012 at 1:40 PM | |
I'm going to start this review by stepping back in time a bit...
Back to the days of the epic CEDIA booth. Back to times when Runco reigned like a conquering king and would pair with giants like Krell and Stewart and California Audio Technology (CAT) to build virtual cities that would then show the most amazing 15 minute demos at the CEDIA Expo. People would line-up like it was a ride at Disneyland and then wait hours to get a shot at seeing one of these killer demos. (Fortunately, you could stroll around back and flash an appropriate press credential and be whisked into the next presentation. Also, being given your pick of the best seat in the room. Yes, I know, not really fair to the poor souls that had been waiting all that time, but, life often isn't fair, is it?)
Many of these demonstrations included D-BOX motion seating. These chairs featured sumptuous leather coverings and advanced electronics and power actuators that would cause them to move in carefully coordinated action with the action on screen; a car would take a hard turn and you with pitch to the left. A character would nearly fall over a cliff and you would be tossed forward in your seat.
And, well, to be frank, I pretty much hated it.
I found the effect distracting and so overdone that it completely pulled me out of the movie and left me feeling a bit nauseous; like I had been sitting on the deck of a boat in a storm, pitching and yawing. And that was after only 15 minutes, let alone the full length of a movie. Or, heaven forbid, say a Peter Jackson Director's Cut!
Fast forward a bit in time and we come to CES this past January where a consortium of manufacturers -- Kaleidescape, Digital Projection, Stewart, Totem, ADA -- combined to give "The Unforgettable Home Theater Experience." Among these manufacturers was D-BOX.
At first I was a bit leery, but I was told that they had made some adjustments to the system and that I should give it another try. And after sitting through the demo – which included a lengthy clip from The Empire Strikes Back – I was a long way towards being a convert.
D-BOX's Mario Thibeault told me that for years manufacturers and dealers had been demoing the system incorrectly. To ensure that people really felt the system in action and got a gee-whiz 2-minute demo, they turned the motion effect to maximum, akin to playing a subwoofer with the volume knob cranked to 11. But, with the effect dialed down to a more realistic level, the D-BOX  seating added an extra layer of enjoyment to the movie watching experience. The subtle sway and tilting and rumbling as you watched the snowspeeders take on the AT-AT walkers really made you feel a part of the on-screen action.
So, jump cut ahead to last June and the manager of the local Frank's theater chain comes into my custom install showroom one Saturday afternoon. He desperately needs some DVI-to-HDMI cable changers for the theater and I happen to have the parts he needs. We chat for a bit and he mentions that his theater has just been outfitted with some new kind of seating; seats that move.
"Seats that move? Are they by D-BOX?" I ask.
"Yeah. Have you heard of them?"
It turns out that D-BOX  has been teaming with a handful of theaters across the country (you can check the map here to see if there is an equipped theater near you) and shockingly they selected a theater a scant 4 miles from my showroom in Murrells Inlet as one of the sites. After talking for a while, the manager invited me to come in and take the chairs for a spin.
"We're currently showing Snow White and the Huntsman, but next month it will be Spiderman."
"Cool, "I said. "I'll see you next month!"
So, on Monday I took a trip down to the Frank Theaters with my wife, Dana, for the 4:50 showing of The Amazing Spiderman in 3D. Along with a ride in D-BOX's MFX seating.
When we arrived at the theater, this poster greeted just prior to entering: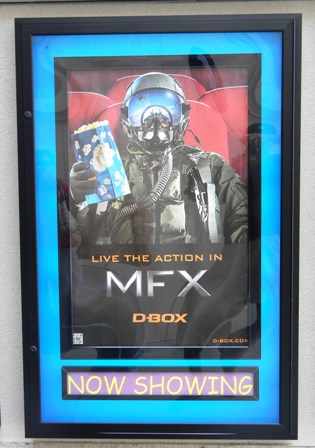 A brief explanation of D-BOX's technology is probably in order. According to its Website, "Motion editing is a new artform, a new sophisticated discipline where art meets technology meets cinema. It leads to the rise of MFX, a multi-sensorial revolution in movie-watching and gaming. Action becomes motion. Sounds become motion. Events become motion. All of this MFX fun is made possible by our patented, award-winning D-BOX technology. Only D-BOX offers you MFX using 3 types of intelligent movement (subtle pitch, roll and heave) to move you gently forwards and backwards, from side to side and up & down. Combine that with the D-BOX-encoded intelligent vibrations and it all comes together to create the most amazing, all-encompassing entertainment experience ever."
Thibeault said, "Forget the motion; we provide reality. The experience of being in the movies. Period. Systems without D-BOX are like watching movies in black and white with mono sound."
Sounds pretty cool, right? Well, that's what I went to the theater to find out.
In the lobby in front of the concessions area was a fairly elaborate D-BOX  demo system. The system included a flat panel TV, audio system and two D-BOX  seats: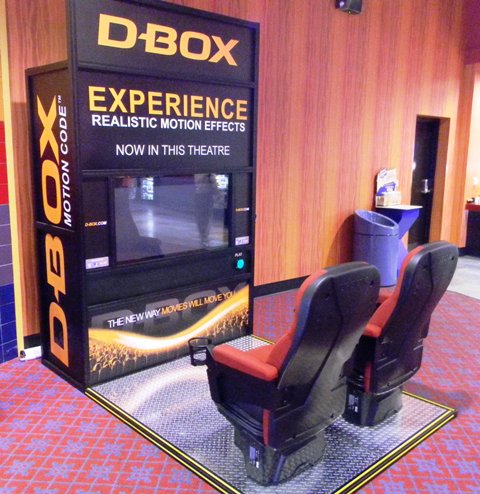 Here's a close-up of the seats: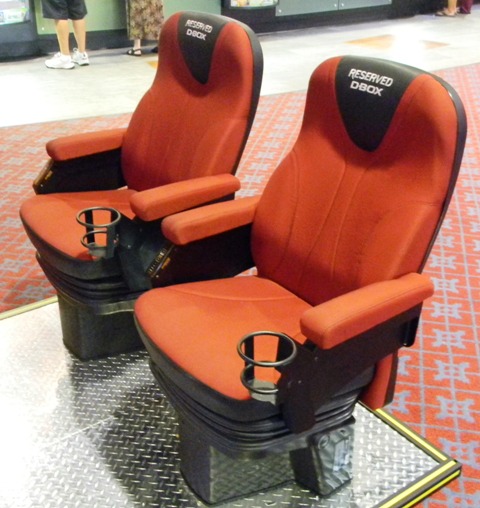 There weren't too many people milling about the lobby but I did notice a few people trying out the demo setup which included scenes from Spiderman. The people that made any comment usually said, "Cool!"
The D-BOX experience adds a pretty hefty -- $8 – premium to the price of a regular ticket, meaning that an evening showing of Spiderman in 3D would run you $19 locally. The manager said that he didn't think that Snow White was really the best movie to start it off with, but that the feedback on Spiderman has been very positive and that "they've sold a lot of tickets" to view the movie in D-BOX.
Click here to continue reading the rest of my review at Residential Systems and see what I thought of my D-BOX experience. Also, I interviewed EVERY...SINGLE...PERSON in the theater to ask what they thought of the experience also!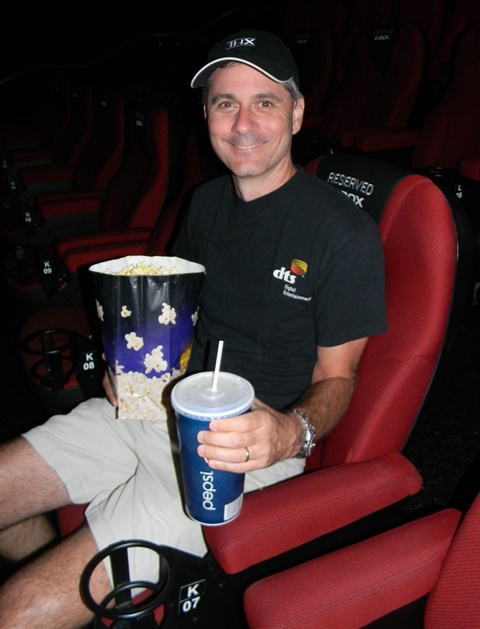 /