Shopping Cart
Your Cart is Empty
There was an error with PayPal
Click here to try again
Thank you for your business!
You should be receiving an order confirmation from Paypal shortly.
Exit Shopping Cart
Features, Reviews and a Blog by John Sciacca
| | |
| --- | --- |
| Posted on July 12, 2012 at 11:25 PM | |
An itch had been brewing. It started as a low, irritating tingle but slowly grew to a steady throbbing that couldn't be forgotten and wouldn't be ignored. I had a hankering that only the incredibly piney aromas and long, bitter hopped finish of a 6-pack of Pyramid Outburst IPA could quench. (It's really the best beer I've found for the money. Would love to hear some other feedback from anyone else that has taken this girl out for a whirl...)

So I went to Lowe's, with sweet Pyramid drinkin' on my mind and strode straight to the beer aisle. Looking…looking…looking…and no Pyramid to be found. Damn! DAMN! DAMN!

But as life will often do, when you're dealt a Pyramid-less hand, serendipity can step up and serve you up an interesting 6-pack of something else; several new beers were on the shelves so I grabbed my trusty mix-pack carton and stocked up.
Let's get to the tasting, shall we?
Boulder Beer Company - Mojo India Pale Ale
Hop Variety: Amarillo and Centennial
ABV 7.2%, IBU Not Listed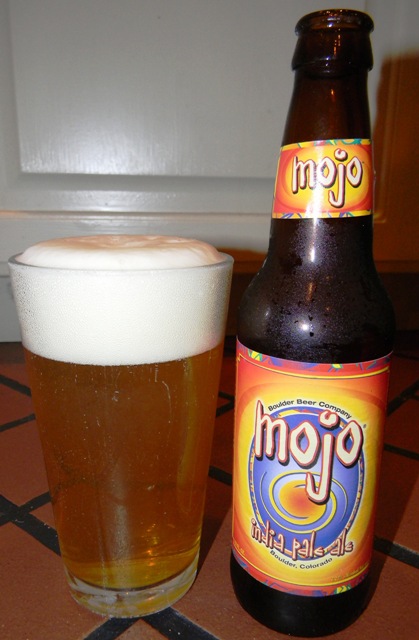 Description: "Mo-Jo n. 1: a magic spell or charm; magical power 2: herbaceous ale that summons hop attacks. Our journey through the Looking Glass takes a sharp turn beyond the traditional IPA. Introducing MoJo India Pale Ale, brewed in the style of the English who first shipped their ales to India...big, bold and fearless. Light in color with intense hop aroma, MoJo's "mojo" lies in the power of the Amarillo hops. Fresh and crisp with a slight citrus finish, this brew has become a staff favorite. We hope you enjoy the 4th release in our Looking Glass Series as much as we do. Take a trip to the other side and discover all of our award winning beers at BoulderBeer.com."
When I hear mojo, I think of Mr. Mojo Risin. And if a beer has got it's IPA mojo risin, I want to keep on risin with it. Mojo pours with a gigantic, frothy head that holds its weight and fluff for a long while, keeping the precious beer safe below its frothy polar ice cap topping. Leaves a thick, creamy coating all around the glass that stretches to the bottom. Nice golden yellow color with lots of rising micro-mojo bubbles. Really nice floral hoppy aromas, with a hint of the resinous pine spice I so dearly love. First taste and a nice springy bit of carbonation on the tongue, followed by nice mid notes of pine, and a smooth bitter finish. There is an aftertaste of *something* that I'm not in love with. Metal? Tin can? Residual mojo? Something. After some time warming and mellowing in the glass, the finish improves, but the trade off is that it sadly lost the distinct hop flavors as well. This is a solid mid-pack IPA that is definitely worth giving a try. Apparently they make a Double IPA – called Mojo Rising – that I'd love to try.
Boulder Beer Company - Hazed & Infused Dry Hopped Ale
Hop Variety: Nugget, Willamette, Crystal, and Centennial
ABV 4.85%, IBU Not Listed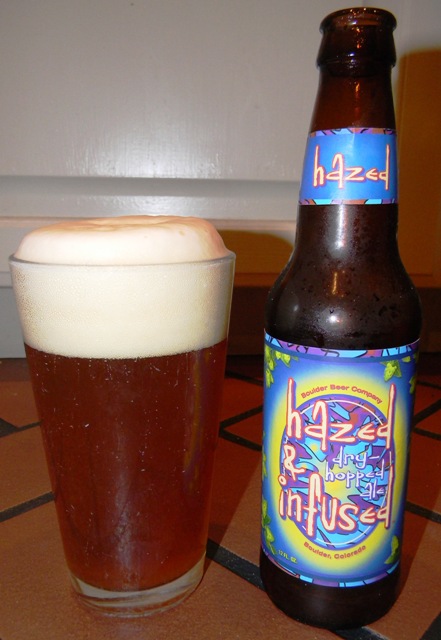 Description: "Take a trip through the Looking Glass to discover a whole new world of ales from the brewers at Boulder Beer Company. Introducing Hazed & Infused, the first release in the Looking Glass Series of specialty beers. This unfiltered, dry hopped ale is 'hazed' in its natural state and 'infused' with Crystal and Centennial hops creating a flavorful aromatic brew you have to taste to believe."
I completed my tour through Boulder brewery by popping my second brew. A more gentle pour down the side of the glass did not keep the volcanic head explosion action from producing a massive amount of foam. Even after several minutes the glass was topped by a ice cream sized scoop of thick, creamy foam. Leaves a bubbly tracing down the sides of the glass. Very cloudy, hazy body that lives up to the name with a rich golden-amber, bronze color. Wonderful hints of pine, floral hoppy aromas that takes me back to the Epic IPA taste-off; always a real compliment. First taste produces a surprising bit of smokey, malt flavors and none of the great pinecone suck I was hoping for. The hops start appearing at the finish, but their flavor is sadly pretty slight and doesn't reward me with any of the mountain spring notes I smelled. There is some grapefruit and citrus bitter on the finish. Like the previous Boulder, MoJo, the flavors here mellow pretty considerably after some glass time, and you are left with a decent beer but one that doesn't overwhelm.
Sea Dog - Wild Blueberry
Hop Variety: Unlisted
ABV 4.6%, IBU Not Listed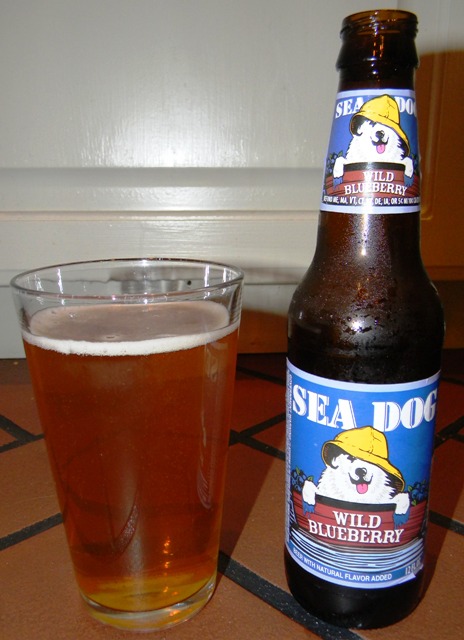 Description: "Our unique contribution to the fruit ale category features the nutty quench of wheat ale combined with the delightful aromatics and subtle fruit flavor contributed by Maine wild blueberries."
Though I'm not a freak for the genre, I've certainly tried my share of fruit beers. Among them, I really like Pyramid's Apricot Ale and Wyder's Dry Pear Cider. (I've yet to try Dogfish Head's Fesina Peche, but am hoping to do so.) I had a really great Blueberry Wheat at a local micro-brewery once, and have been chasing the taste ever since. My last exploration was Blue Dawg Wild Blue , which I found sickeningly sweet like trying to chug a cough syrup masquerading as an ale. When I saw this, I figured I'd give going Blue another chance. Poured a nice golden with just a bit of head that quickly vanished into a mostly clear top surrounded by a ring of bubbles. I was really expecting a slick blue or purplish tint to the beer, but nope. Smell is wonderful of sweet, fresh blueberries; really a great nose. First sip and...wow! They really nailed this! It has just a wonderful trace flavor of blueberries without smashing you in the face with it and then ends with a nice clean, wheat finish. This beer reminds me of the way Grey Goose does flavored vodka; you get a wonderful nose of the fruit, but then just a *hint* of it on the palate. Unlike, say, a Smirnoff which goes for the, "Oh, so you want a flavored vodka, eh?!" and then crams sweetness down your throat. Granted, fruit beers aren't everyone's cup of tea, but if you fancy them, or just want to try something off your beaten path, this is one of the best fruit beers I've had. (Course, doesn't hurt that I love blueberries.) Think this would be a wonderful summer sippin' ale and would be mighty refreshing on a hot day.
Founders Brewing - Centennial IPA
Hop Variety: Unlisted
ABV: 7.2%, IBU 65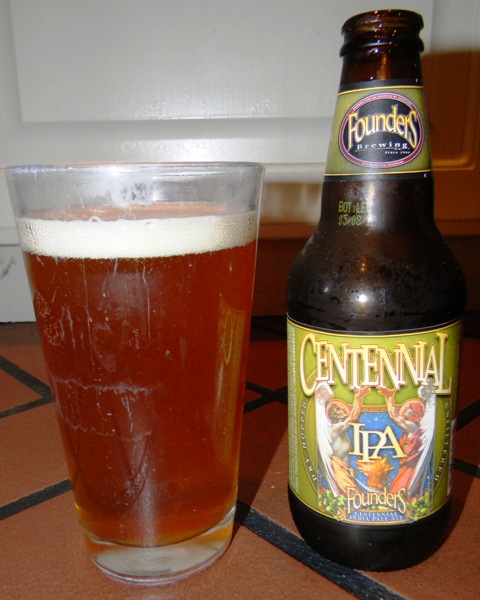 Description: "Get ready to bask in the glory of the frothy head's floral bouquet. Relish the citrus accents from the abundance of dry hopping. This one's sweet, yet balanced. Malty undertones shake hands with the hop character for a finish that never turns too bitter."
The label has kind of an Arc of the Covenant thing going on, and I then I saw the high-ish IBU rating so I knew I had to grab it. Produces a finger of very tight, thick foam that is just short of whipped cream consistency. Leaves thick, rich rings of lacing along the entire length of my glass and kept the thick topping till the last swallow. A rich, dark golden-amber color with a hint of red-orange, a bit of cloud and a ton of micro-bubbles. Smell is a wonderful floral-pine hop aroma that is filled with the promise of hoppy delicious. First sip, and there's a nice carbonation engagement on the tongue, followed by some strong pine hop notes and then a delicious, lingering bitter finish. The flavor profile is very similar to the Pyramid Outburst, and is a real winner. Each sip delivers the same zippy, hoppy, bitter dynamic, and this is a really enjoyable IPA. I think the Pyramid might be a touch "sweeter" with a bit more pine resin flavor, but this IPA is its own entity and earns a definite rec.
Founders Brewing - Red's Rye P.A. Ale
Hop Variety: Amarillo
ABV: 6.6%, IBU 70
Description: "Serious hop bitterness, along with an unyielding grapefruit bouquet from the Amarillo dry hop, balances the malty richness of four varieties of imported Belgian caramel malts. Pours a spectacular crimson with a creamy tan head. A generous addition of rye malt accentuates a spicy, crisp finish."
Followed the Centennial immediately with this, wanting to give Founders a chance for a two-fer of good brews. The Red pours with a definite reddish-amber color and produces a nice fat finger's worth of thick, foamy topping. Leaves thick rings of lacing down the length of the glass. Body has a little haze and a ton of visible bubbles. Smell is packed with rye with an undercurrent of nice citrusy hoppiness. First taste and again, begins with a nice sparkle of tingly carbonation on the tongue, with a strong finish and follow of rye, and a lemon/grapefruit bitter. The beer has a pretty even balance of flavors, with rye and citrus being the prominent players. My experience with Rye-PA's is pretty limited, and I'm not sure the rye notes are my favorite. The rye flavors are clearly present, so I have to say that since that is this beer's MO it is definitely successful in that regard. But that doesn't mean it's my cup of tea.  Between the two the Centennial is definitely gets my preference, but this is an interesting brew that merits a try, especially if you are a Rye-PA fan.
Sierra Nevada - Porter
Hop Variety: Goldings and Willamette
ABV: 5.6%, IBU 32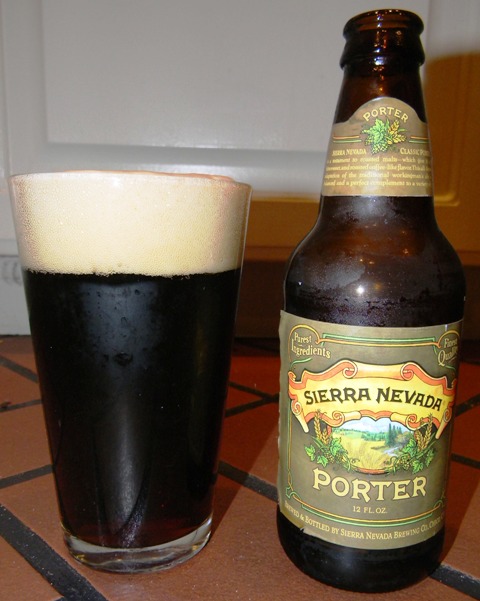 Description: "Sierra Nevada classic porters a testament to roasted malts -- which give it a rich bittersweet and roasted coffee-like flavor. This all American adaptation of the traditional workingman's ale is well balanced and a perfect complement to a variety of foods. Before Sierra Nevada was a reality, nights were spent perfecting home brew recipes and dreaming of starting a brewery. One of our favorite beers was a porter. Made before roasted malts were readily available, we spent time in the kitchen roasting barley for our own malt. The result is big malt flavor -- rich, bittersweet and roasted!"
Before I started my beer tasting journey, I held Sierra Nevada up on a pedestal as making – what I thought – was one of the best beers out there with their Pale Ale. I thought that was the hallmark of bottled brews. But I've come along way, and I've been pretty disappointed with the other beers of theirs – Torpedo IPA and Ruthless Rye – that I tried recently. I thought I'd go back to the Nevada and give their Porter a whirl and see what their take on this brew was. Pours a dark brown, more the color of medium-strong coffee than the pitch black motor oil color of many porters I tried recently during the Beer Club porter and stout taste-off. Produces a generous two fingers of frothy tan foam that holds its form pretty well throughout the glass. Notes of dark coffee and roasted malt but not overwhelming. Nice carbonation on the tongue followed by iced coffee flavors that dissolve into toasty malt. Flavors are pretty mild and restrained overall, making this a pretty light porter. If you like porters and want something that won't fill you up or weigh you down the Sierra Nevada might fit the bill. But if you love a big, heavy, dark-and-thick-as-oil brew, this will likely disappoint, and comes across as more of a macro-take on the style.
Categories: July 2012, Beer/Liquor/Wine, Reviews
/