Shopping Cart
Your Cart is Empty
There was an error with PayPal
Click here to try again
Thank you for your business!
You should be receiving an order confirmation from Paypal shortly.
Exit Shopping Cart
Features, Reviews and a Blog by John Sciacca
| | |
| --- | --- |
| Posted on July 26, 2012 at 11:40 AM | |
For most of us, celebrities travel about in a rarefied air that we barely have the opportunity to breathe. They are something to be viewed on screens big and small and on pages real and digital. But only so rarely to be glimpsed in the flesh.
When I worked at the country club in my former life, we had our occasional brushes with celebrity. Joe Montana visited – quite tall – as well as Clint Eastwood – quite thin and oh-so-old looking – country singer Amy Grant – very cute and friendly -- Mikhail Baryshnikov – surprisingly short with legs like tree trunks – and President Clinton – exuded an amazing air of confidence, charisma and power – the actual Rudy from the movie Rudy – about twice as big as the actor who portrayed him – amongst others.
Working at my current installation shop in Murrells Inlet, however, our biggest celebrity run-in is likely to be some random local TV news personality. (We did supply a handful of LCD TVs once that were rumored to be destined for a yacht owned by John Travolta, but, who knows.)
In the custom installation world, celebrity clientele are often viewed as being a Golden Ticket; one that is difficult if not impossible to find, but that can grant those lucky few full Wonka access to amazing exposure and introductions to a world of champagne and caviar clientele where the money flows like sweet wine.
I stumbled across Todd Anthony Puma, President of The Source Home Theater, on Twitter (@thesourcehti) fairly recently. When I reached out to installers looking to share stories for my Nightmare Installations blog, Todd got in touch with me and contributed one of the nine stories used. Afterwards, I clicked through his on-line portfolio, and found that his work has been featured in multiple publications including Home Theater Magazine, Electronic House and Residential Systems, where he will be joining myself and Heather Sidorowicz as one of the regular blog contributers. (His first blog post can be read here.)
It quickly became apparent that Todd was something of a veteran with celebrity installations, featuring multiple celeb testimonials and photos on his site.
Curious, I reached out to Todd and asked if he would let me interview him about this, and shed some light on this fascinating subject and he graciously agreed. (Probably not aware the barrage of questions I was about to unleash on him...)

My questions in bold, followed by Todd's answers.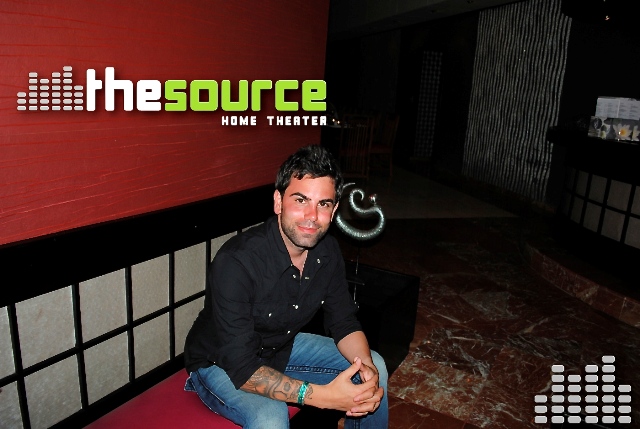 What percentage of your business is working with celebrity clients?
My business consists of about 60% celebrity clients and 40% other professionals. Our celebrity client base consists of about 130 people, not counting others from within their circle. We've been working with sports teams like the [New York] Giants for years, so as the teams grow and change, new players and rookies are given our information to hook-up their homes in the area.
The (potentially) million dollar question: How did you land your first celebrity client?
Before I started The Source Home Theater, I was the "go to" installer for a big box store and they would send me out on all of their high profile jobs. I eventually left the company due to an injury, but these clients continued calling me to do work at their homes because they preferred dealing directly with me than working with the larger company. These clients included Giants, Yankees, Mets, and Devils players, as well as members of the music industry. My first month felt like I had been in business for 20 years.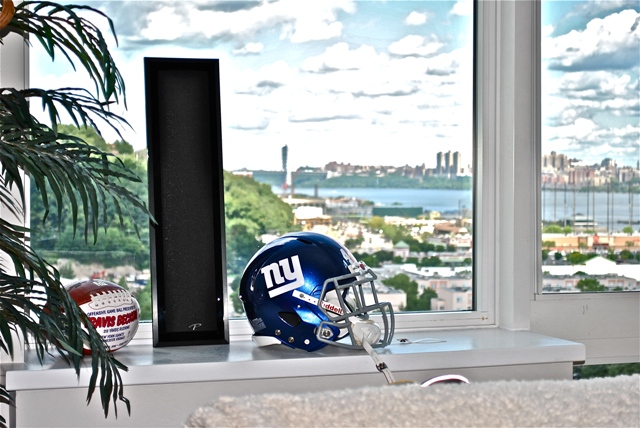 I imagine there are some unique challenges or demands involved with celebrity clientele.
Celebrity clients are generally pretty similar to other high-end customers; they know what they want and they want it done yesterday. Based on my experience, the client is normally a ball to work for; it's those working for them – a family member, agent, personal assistant, etc. – that are demanding. Because of the client's busy schedule, after initial meetings with them to decide on the system, they usually delegate most of the follow-up interactions to someone in their circle and these are usually the ones calling the shots of what they want and how they want it done. I really connect with a lot of my clients and have never felt pressured into unattainable demands by them personally. The biggest difference is that celebrities know the worth of their name and how to work a brand to get things done for free. This potentially creates a catch-22 because, on the one hand, having a celebrity's name attached to your work can definitely build credibility, but on the other, we still need to make a living and can't give everything away.
So, do you find that many of them want something for nothing, or something in exchange for, "You can tell people you did my job"?
No matter how much money or fame a client has, they will always do what they can to get the best deal possible. Although most of our celebrity clients tend to freely offer testimonials simply because they love the end results and the quality of our work, others expect some sort of discount or free product in exchange for allowing us to use their name. We pride ourselves in maintaining the integrity of the brand and the industry so we don't personally offer anything at a discounted price; if a manufacturer wants to accommodate them, we set them up with the right people to talk to and then it is directly between the manufacturer and the client.
How are they usually about privacy concerns? Are you allowed to mention them?
It really depends on the client. Football players, for example, are extremely cool and always willing to help in any way that they can. But we have other clients – musicians, actors, models – that don't want their homes listed, shown in any publications or even in a personal portfolio. You have to respect the client's wishes and maintain that privacy because when they know you can be trusted, they will continue to use you.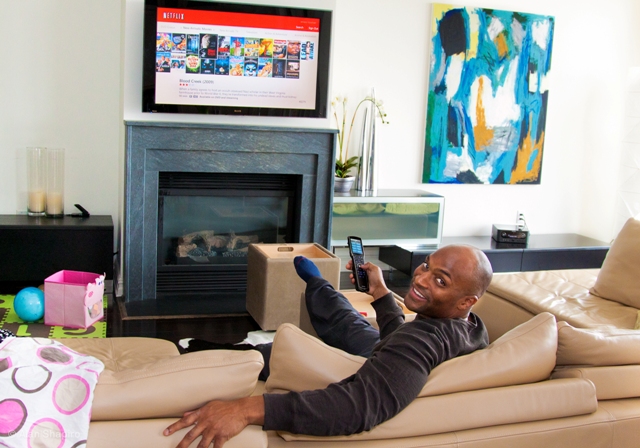 Do they seem to be tech-savvy and know what they want or do they just want to have something cool and trust you to come up with a system?
I have found that it is not so much that they are tech savvy, but that they heard or saw something that they liked and they want that reproduced in their house. One of the most requested products is Apple, and they want everything in the system to integrate with their iPhones and iPads.  Customers are also familiar with URC and have been excited by the URC's new Total Control system because they know URC works. They also know and request Lutron as the lighting control solution. Recently we have been getting emails requesting Nest thermostats.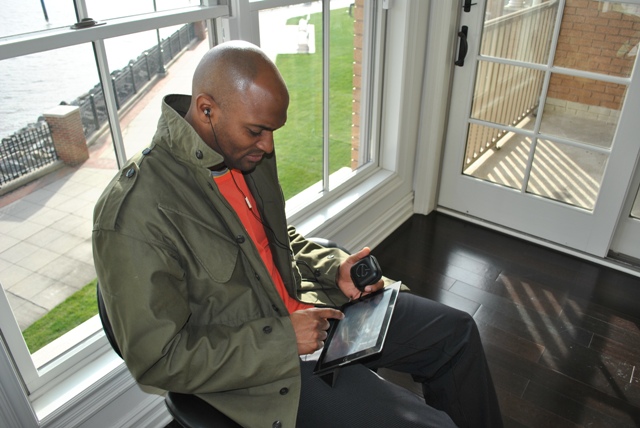 How does the design process usually work?
I sit down with them and discuss the overall scope of the system. What will its main purpose be? Are they looking to primarily enjoy movies, do they want music throughout the house or just in certain rooms, etc. It's a conversation that helps me to determine the best products to achieve the performance they are looking for. I also evaluate the space to learn their personal design aesthetics and plan for the layout of the system.
Budget-wise, would you say that celebrities usually spend more? Do they usually give you a "sky's the limit" budget or set a cap?
It is actually a pretty even split. Some celebrities are all about that "wow" factor for anyone that sees it and those are willing to pay whatever is necessary to get it. On the other hand, there are some clients who are really down to earth and just want a system that meets their basic needs.
Ever get paid with a Black Card? This is *kind of* a personal obsession of mine.
Yes, a few different times.
Have you found that there are certain types of movies or specific genres or actors they prefer? Like it seems like all rappers own Scarface…
You're right on point with Scarface; that's one of the most popular movies I find in my client's collections. Interestingly, another movie everyone seems to be into is Bring It On. After we install a new system, we demo movies with high image and sound quality like Star Wars, Monsters Inc., Nine Inch Nails Live and X-Men, but we find that our clients tend to prefer movies with lower image and sound quality like Rocky, Batman, Juice, 300, Watchman, and that Al Pacino football movie, Any Given Sunday.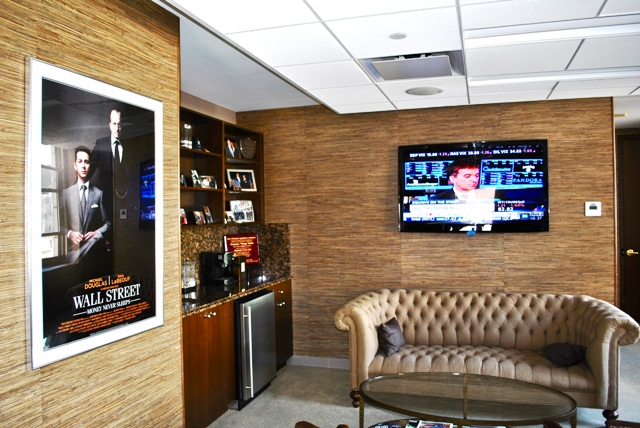 Do you find that there is one-upping between celebrities, where the next person wants to out-do what the previous person did? Imagine this would be especially common amongst players on the same team.
Their home is an expression of themselves, so it's not so much about one upping or trying to outdo each other, but more about wanting to be different. Although my business thrives on referrals, a lot of high profile clients don't like to share designers and contractors. They want what they have to be unique, and when they find an installer that thinks outside the box, they want to keep you to themselves.
Do they typically upgrade frequently or is it usually a one-and-done type of thing?
Some clients follow and keep up with trends, but others don't; they're all different. Most of the upgrades involve TVs and Apple products. If a new Apple TV comes out, they want it changed in every room. One of the biggest changes we are making now is installing 3D TVs in all major rooms. While I'm not a big fan of 3D, my clients always want the best picture possible, and – currently – this is what they feel creates that for them. Once their system is stable, they usually don't make any changes until they move or remodel their homes.
With the traveling that many sports players do, do you get asked to do houses in other areas? If so, how does that usually work?
Because our big name clients know that we can be trusted and don't want anyone else doing work in their home, during work in other areas is very common for us. The client arranges for the flight, car, hotel and any other accommodations we may need while we're away. We plan the job beforehand, choosing product that will be easy to maintain and that we know won't create service calls. Once the products are chosen, we ship them to the location ahead of us so they're ready when we arrive. After the installation, we schedule an extra day to test the system inside and out for any issues and thoroughly teach the customer how to use it. I'm proud to say that there has not been one time that we needed to schedule another trip to service an out of state install.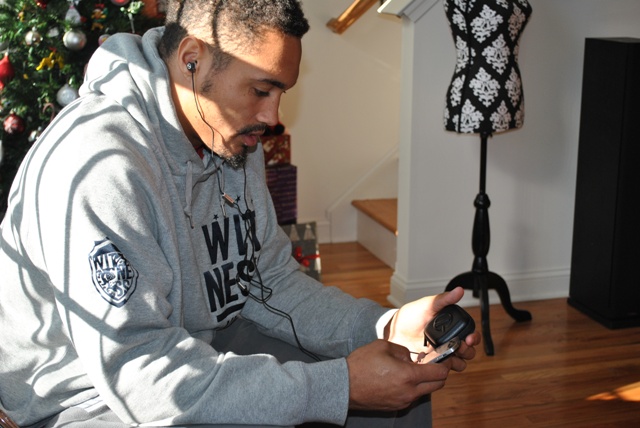 What is the celebrity install that you are most proud of and what did they get that made it so special?
Based on the fact that this job would make or break us as a company, that would have to be our first big celebrity client as The Source HTI. While I can't release the client's name, there are some details I can share. This client wanted a custom built movie room to escape the stresses of life and bring him to a different world where he would be engulfed by whatever he was watching. And that is exactly what we delivered. We hired the entire staff that worked on this room; the designers, the woodworkers, painters and flooring crew. He wanted the decor to resemble the Roman Empire so we hired an artist to paint freehand portraits on the walls leading into the room. We created a crest that we had carved into the carpet and every seat in the room was molded to his body. The speakers were custom built into the ceiling, surrounded by wooden sound proof boxes. We took the screen and customized it into a wooden frame that matched the rest of the room. This job was a defining moment in our career as this was the first Everest that we saw and conquered ourselves.
That's a heck of a start since you came from a Big Box background! Where'd you get your install chops and confidence to pull that off?
I came from a long line of hard working, Sicilian contractors who taught me every hands-on trade they knew from a very young age. However, a lot of people – teachers, other family members, friends – told me that I would never amount to anything. Honestly, I used their negative words to drive me to success. While at the big box store, I saw lots of business opportunities that I knew I would never be able to implement as an employee. I knew that as the boss of my own company, I could make these changes and develop a stronger, more solid company. Knowledge is power and I stayed up nights researching products and trends, reading customer reviews and industry associated blogs. I also took whatever money I could and purchased products so I could test out every feature and setting. Then, when I installed the same product in a customer's house, I could calibrate everything to its utmost potential.
Any funny/odd celebrity anecdotes you can share?
Here's a humiliating – yet successful – attempt at landing a big celebrity job. I was walking in NYC one day and I saw a celebrity walking into the building he lived in. I saw this as a huge opportunity, so I stationed myself on his curb for weeks like a paparazzi, but without the camera. Just as I started to feel discouraged, I saw him again walking with his children. I mustered up my courage, walked up to him, introduced myself and handed him my card. I said, "I'd like to offer you a free TV mounting with wiring and the works. If you like my work, then you can move forward with us." I happened to catch him at the perfect time as he had just moved in. Of course, he loved my work and we ended up doing his whole apartment, a $22-million residence.
You seem to do a lot of high-quality photography on your jobs; Can you talk about the importance of having good photos of your work for selling yourself and your company to others?
I actually invested in a great camera and lenses as a hobby and it turned into a key tool for my business. As with any design profession, the best example of your work is a stunning visual portfolio. Photos taken with an iPhone or whatever tend to be blurry and pixelated, detracting from the details. It's so important to get the perfect shot because these are going to be the examples of what you can accomplish. When you send a client your photos, they should be able to envision themselves in that room, enjoying their home theater set up. These are also crucial for pitching your work to magazines for publication. Installers should definitely invest in a camera and start keeping a release form ready for all customers to sign.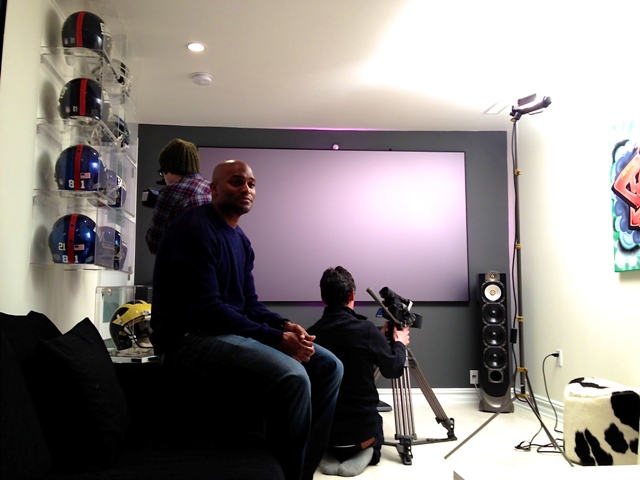 What advice would you share with other installers trying to break into the celebrity install game?
The best advice I can give is to treat them like you would treat anyone else. They're normal people like you and I, and that's how they want to be treated. One of the reasons I get along with them so well – and why they continue to use me – is that I don't walk in and get star struck. I just go in and do what I do best, and they respect me for that. Networking is also key because with celebrities, it is all about being in the right place at the right time. Attend functions like charity events, red carpet events, and film festivals. Landing the celebrity is the hard part, and you never know who you will meet at these events. Once you are in and they see your results, the jobs will just keep rolling in.
Thanks, Todd! Super informative and interesting information!
Todd's company is The Source Home Theater. Now, if you'll excuse me, I'm going to go and hang-out in front of a certain Ranch on Lucas Valley Road in Marin. Something tells me that guy would be into having a good home theater…
Categories: July 2012, Guest Blog
/