Shopping Cart
Your Cart is Empty
There was an error with PayPal
Click here to try again
Thank you for your business!
You should be receiving an order confirmation from Paypal shortly.
Exit Shopping Cart
Features, Reviews and a Blog by John Sciacca
| | |
| --- | --- |
| Posted on July 31, 2012 at 3:15 PM | |
We visited Columbia recently – the South Carolina one, not the home of Medellin drug cartel and headless bodies hanging from bridges one – and our hotel was like 2 blocks from Green's Beverages, one of the bigger/better beer suppliers in our area. Wanting to check out the local wares, I strolled down and spent some quality time perusing the beer aisles.

When I discovered several new Stone offerings, I knew that it was time for a Stone-themed tasting! If you aren't familiar with Stone, read this blog about my visit to their brewery in San Diego. It is *seriously* the coolest brewery I've been too, with amazing food, beer and grounds. I highly recommend taking the tour. And staying for the lengthy tasting session following the tour.
Now, enough with the talk and on with the drink!
Stone Brewery: Ruination 10th Anniversary IPA

Hop Variety: Citra and Centennial
ABV 10.8%, IBU 110
$6.99 22 ounce bottle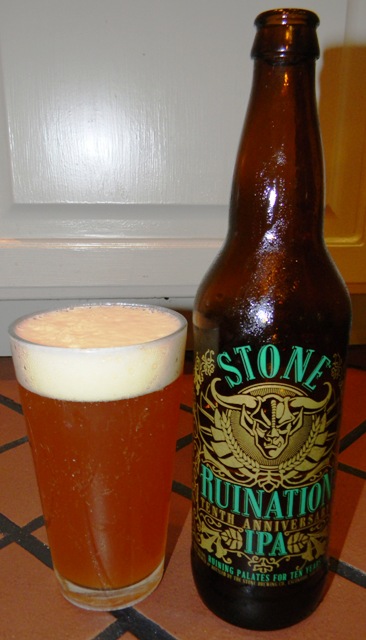 Description: In June 2002, we released Stone Ruination IPA. Bigger, hoppier & much much much more bitter than the popular beers of the day. In fact, back then it was on the outer fringe of craft brewing. So, in a bid to warn folks of the bitter impact of our "Liquid Poem to the glory of the Hop,' we named it Stone ruination IPA, for its extraordinarily bitter, "ruinous effect" on the palate. People thought we were nuts. Nobody would want such a bitter beer. You see, in June 2002, only a tiny handful of breweries either had bottled a double IPA as a limited release or had one on tap at their brewpub. Without realizing it, we'd made a bit of history, as our new beer proved to be the first full-time brewed & bottled double IPA on the planet. How things have changed. Today, double IPAs are brewed by literally hundreds of craft breweries all over the world. Incredible. Delicious. And incredibly delicious. No, we didn't create the double IPA style. That honor's been attributed to our friend Vinnie Cilurzo, who produced his Blind Pig 1st Anniversary IPA in 1996 in nearby Temecula, CA (the same year Stone opened). We then picked up the double IPA baton with our successively-ever-bigger-and-hoppier Stone 2nd thru 5th Anniversary IPAs (1998-2001). Ultimately, in 2002 we blended those recipes to create Stone Ruination IPA, if for no other reason than we simply wanted that big, hoppy character available to us all year 'round. Turned out you did too! Today Stone Ruination IPA is one of the best selling double IPAs in the world, thanks to you, so we brewed this special version to celebrate."
"Stone Ruination Tenth Anniversary IPA was created as an homage to the almighty hop. As the celebrated Stone Ruination IPA approached its 10th birthday this June, we knew we had to do something special, so we cranked it up from 7.7% to 10.8% and used twice as much hops – a whopping 5 pounds per barrel, including a pound each of Citra and Centennial in the dry hop. The results were GLORIOUS, but don't take our word for it. The only people more bitter than those who don't get any...will be those who do."
I was a fan of the original Ruination (my review of that here) and I had been quite excited by the early buzz surround the 10th Anniversary batch. In fact, I specifically went to Green's looking for a bottle of this. Poured down the side and middle of glass and produces a nice finger of thick, creamy head. Beer has a heavy golden orange color that kinds of reminds me of the color and texture of honey. Hazy and cloudy color that you can't see through indicating a thick, rich body. Wonderful fresh pine aroma with trace notes of citrus and grapefruit, but primarily sweet-sweet, delicious forest pine. You can just tell this is full of delicious hop-juice. First sip and...oh. It's good. It's really, really good. Hoppy, but really well balanced with a nice, full, lingering bitter finish. Nice engaging carbonation, and thick mouth feel. It is almost syrup-like in its thickness, but in a good, rich, full textured way. It has that sweet, pine finish that I just *love* in an IPA and it delivers this in trumped spades. You are not aware of the high alcohol at all, just a wonderfully balanced, super-hoppy flavor. (2nd pour) Little more aggressive down the center of the glass produced a bit more head that released more of the wonderful aroma. This beer reminds me of the Epic IPAs and I think it would have easily finished in the top 5, probably the top 3. This beer has a wonderful sweetness, and full bodied flavor that will be cherished by all hop-heads. Hopefully it will become the Ruination norm as this is just TOO good to disappear. Also, the 10.8% ABV hits like a hammer but is totally non-evident while drinking. A+ and very highly recommended. (I have since looked for more of this beer and no one else in town has it. My brother, Adam, said that all of the shops near him in the Bay Area sold out within an hour. So I called the liquor store in Columbia and ordered myself a case! I'm trading Adam for two bottles of Pliny the Elder.) (Stone also says they don't currently have plans to make another batch. Something about needing more Citra hops. I don't know what Citra hops are, but I want to plant an entire field of them and then sprinkle them on everything I drink from now on!)
Stone - Smoked Porter with Vanilla Bean
Hop Variety: Columbus & Mt. Hood; Malts: Pale Malt, Crystal 75, Chocolate Malt, Peat-Smoked Malt
ABV 5.9%, IBU 53
$2.99 12.5 ounce bottle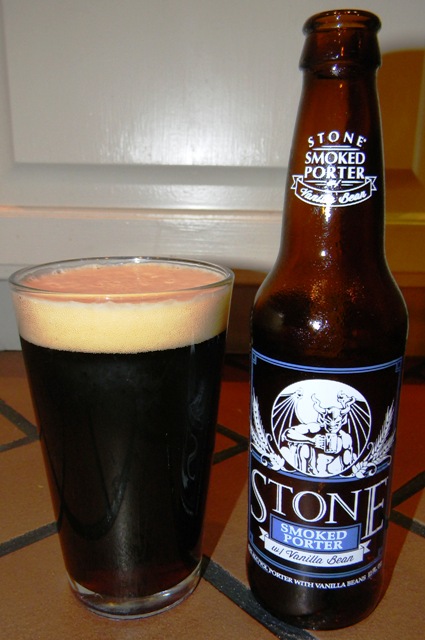 Description: In 2006, almost exactly ten years after we released Stone Smoked Porter (our second beer ever to be unleashed upon the public), Stone brewer Laura Ulrich had a stroke of brilliance…what if she introduced whole Madagascar vanilla beans into a small batch? And voila, Stone Smoked Porter w/ Vanilla Beans was born! It was an instant hit, as the resulting flavor combinations were practically made for each other. Natural vanilla beans melded perfectly with the chocolatey, malty, coffee-like characteristics of the beer, making it almost like a liquid dessert, but without an overbearing sweetness (add a scoop of  vanilla bean ice cream and it's off the hook!). And while Greg sticks by his preference for the aggressiveness of the chipotle version*, the vanilla bean version is the clear fan favorite. As for our other Stone co-founder, Steve? "Me? I love 'em both!" Ever the diplomat. No matter your preference, they're now both available for your sensory pleasure in a limited special 12 oz bottling. Will either come back? Both? Depends on you! Voice your thoughts.
I picked up both the Vanilla Bean and Chipotle Pepper Porters to give them a try, and the Vanilla sounded far more appetizing so I gave it a go first. Poured down the side of glass produces two fingers of foam that gradually reduces to a thick, tan topping of creamy froth and bubbles. Color is dark brown with hints of red, but clear and allowing some light through. It looks more like a glass of iced tea than coffee or a deep black espresso, and not as dark as many porters. Nose of toasty, roasted  malts and a hint of sweet vanilla. First drink and there are sweet lingering notes of vanilla followed by a nice creamy smoothness. There's a faint finish of dark coffee but it is tempered with the creamy vanilla sweetness.. The aroma is quite wonderful, and this beer would be a terrific pairing with a soufflé with Anglais sauce. It is light in body with a nice sweetness that doesn't weigh down or overwhelm the palate. As porters aren't my favorite beers, I really love the lightness of this beer, but if a big, thick, heavy porter is your style, this might be a little disappointing. For me, though, another win for Stone! Also, I appreciate the extra .5 ounce in the bottle. It's kind of like that little bit of the film that runs after the end credits. Nice.
Bottleworks 13th Anniversary Ale
(Brewed and bottled by Stone Brewing)
Hop Variety: (13 types) Bravo, Target, Columbus, Cascade, Delta, Warrior, Magnum, Apollo, Calypso, Perle, Galena, Chinook, Mt. Hood Columbus & Mt. Hood
Grains: (13 types) Pale 2-R, White Wheat, Aromatic, Weyermann Chocolate Rye, Light Munich, Brown Crisp, Oats, Crisp Light Crystal, Caramunich, Baird's Chocolate, Lightly Peated, Simpsons Dark Crystal, Crisp Amber
ABV 11.4%, IBU 80
$7.99 22 ounce bottle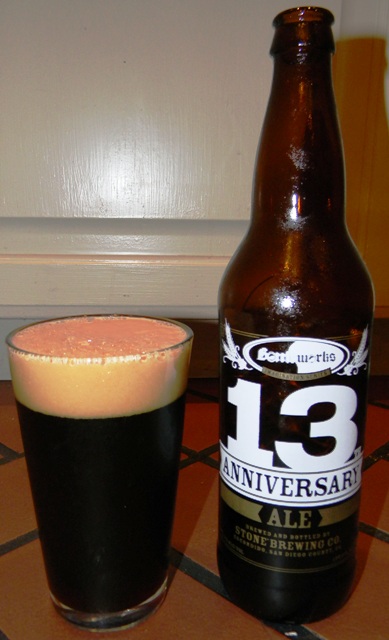 Description: When it came time to brew Bottleworks' 13th anniversary beer, we turned to Stone to brew this behemoth. "The Matts" traveled down to San Diego in December to help create this 13-hop, 13-grain monument to our 13 years of selling great craft beer!
I'd never heard of Bottleworks, but I've heard of Stone, and if they made a 13 hop/13-grain/13th anniversary ale, I wanted to try it! 13-times worth! Pours a deep, dark color similar to a porter but with a tint of red when held to the light. The beer is dark, brooding and impossible to see through. Poured pretty thick and smooth into the glass kind of like motor oil, then sneakily frothed up into 2 fingers of creamy tan head. Leaves thick rings of lacing on sides of glass. Notes of rich and toasty malt. Smelling for any hints of the 13 hops but not really detecting any. First sip, and... the taste is...um…it's uh...it's kind of totally all over the place. There's so many flavors going on battling with each other, it's tough for any to really mesh or stand out. Or work together. There's sweetness on the tongue and definite evidence of the high alcohol, but there's other sweetness that tastes weird, and a bit like burning plastic. (That is in no way to be taken as complimentary.) There's other notes that could be chocolate, followed by a lengthy, bitter coffee finish. Overall the flavor is kind of a cacophony of discordant notes that doesn't in any way result in a masterpiece. Like a blaring, mind-numbing symphony of chainsaw, vuvuzela, peacock scream, air raid siren and rape whistle. All the flavors are just mashing up against each other and instead of standing out, just make a big noisy mess in your mouth. What it does have is punch; After finishing the bottle I felt pretty blitzed. Apparently they wanted to get this to 13% ABV, something which I can't imagine would have improved the taste any. This is a *real* fail of a beer and easily the worst thing I've ever had from Stone.
Stoned Smoked Porter w/ Chipotle Peppers
Hop Variety: Columbus & Mt. Hood; Malts: Pale Malt, Crystal 75, Chocolate Malt, Peat-Smoked Malt
ABV 5.9%, IBU 53
$2.99 12.5 ounce bottle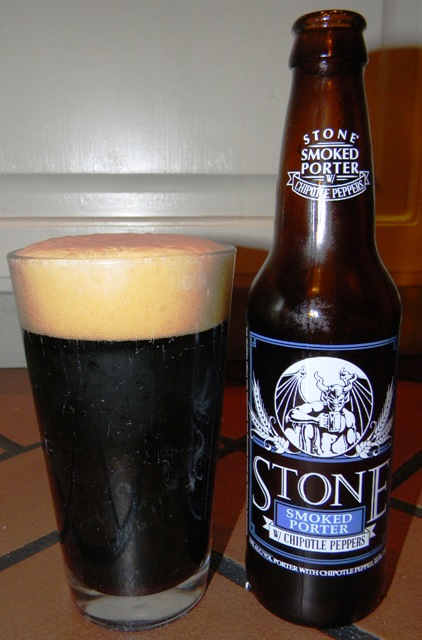 Description: "In December of 1996, we first releases cult favorite Stone Smoked Porter, our second beer to ever "go public," following Stone Pale Ale, which debuted five months earlier. Fast forward one decade shortly after we'd moved into our new brewery on Citracado Pkwy in Escondido. In May of 2006, Stone Smoked Porter became the first Stone beer to get a "modification treatment," reborn as Stone Smoked Porter w/ Chipotle Peppers. It was a thing of spicy glory, with the just-right smoky heat of the roasted jalapeño peppers combining beautifully with the beer's peat-smoked malt and toasty character. The mix of spiciness and the beer's natural chocolaty overtones further complimented the symphony of flavors. (Ever try a spicy artisanal chocolate? You should; they can be quite incredible!) The beer quickly became one of Stone co-founder Greg Koch's personal favorites. Even so, it's still only ever been a limited "frome-time-to-time" draft beer, and has never been bottled. Until now. Will we ever bottle it again? That's for you to decide!"
I think that maybe Bobby Flay ruined chipotle for me. I'm just not a big fan of the smokey flavor. Or Flay. So, I wasn't really super enthused for this beer. But, it's a beer, and drink it I shall! Pours dark and thick and heavy like the Vanilla porter, with a nice 2 finger tan cap of thick, creamy foam topping. Body is dark like cola, with the same hint of red. Leaves thick, clear rings of lacing along the sides of the glass. Nose thick with smoky malt and coffee notes with maybe a thin background whiff of pepper spice. First taste and this is definitely milder on the chipotle notes than the vanilla porter, which is a good thing. It's smokey, and there are hints of spice that I take for chipotle because that's what the label says, but it's not like the delicious vanilla cream of the vanilla porter is being echoed with fiery pepper sauce. If you just had this in a glass blind, you'd think it was just a smoky porter. Smoke is definitely the prominent note, and you almost want to lean your head back and exhale a thing wisp of smokey vapor towards the ceiling. It's the linger on your tongue where the peppery finish becomes apparent. If I'm voting, I definitely prefer the Vanilla, but I didn't hate the Chipotle. And considering how I felt going in, count that as a victory for this beer.
Boulder Beer – Mojo Risin' Double IPA
Hop Variety: Amarillo and Centennial
ABV 10%, IBU Unlisted
$12.49 4-pack 12 ounce bottles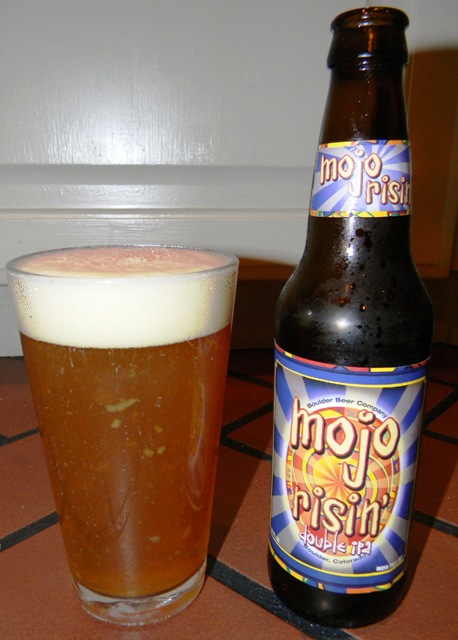 Description: "Gotta Keep On Risin'. Ina  moment of creative chaos, our brewers at Boulder Beer Company decided to take our hopalicious MoJo India pale Ale to the next level. The result – MoJo Risin' Double IPA, a souped-up extreme version of the one and only MoJo IPA. We added more than half a ton of extra malt and twice the amount of Amarillo hops, so be prepared for a full sensory explosion. The double dry-hop addition elevates the grapefruit-like aroma and flavor to an outrageous intensity, while the added malt raises the alcohol level to 10% by volume. And if you say you never love it, we'll know you are a liar! This limited edition brew of MoJo Risin' Double IPA is the 6th Release in our Looking Glass Series of specialty beers."
If you'll recall from my review of the Mojo IPA, I read that Boulder had a Double IPA – Mojo Risin' – that I was interested in trying. When I saw the 4-pack at Green's, I knew I had to keep on risin'. Pours a golden orange with two fingers of head that slowly recedes down to a nice creamy topping. Leaves thick, rings of lacing all down the sides of the glass. Cloudy body with noticeable chunks of some random stuff floating around. Yes. Random little bits flotsam and jetsaming around in the glass. Chunks that are swirling, and slowly being buoyed to the top amidst a rising tide of micro-bubbles. Perhaps that is Mr. Mojo and this is him risin'… Nose is full of sweet, citrusy hops and thick, heady malt. First sip, and the carbonation is not that strong, and there is a real thickness to this beer. There's definite huge hop notes, with flavors of lemon and grapefruit, but also a ton of alcohol sweetness. I think the alcohol is a bit overwhelming, and such a difference in styles between this and the (even higher ABV) Stone Ruination on balance. The flavors mellow a bit in the glass over a little time. The hops continue, but the finish is less bitter and more full of sweet, alcohol malt. I love a great double IPA, but just not *this* double IPA...
Foothills Brewery - Hoppyum
Hops: Simcoe, Columbus, Centennial and Cascade
ABV: 6.25% IBU: 78
$3.99 22 ounce bottle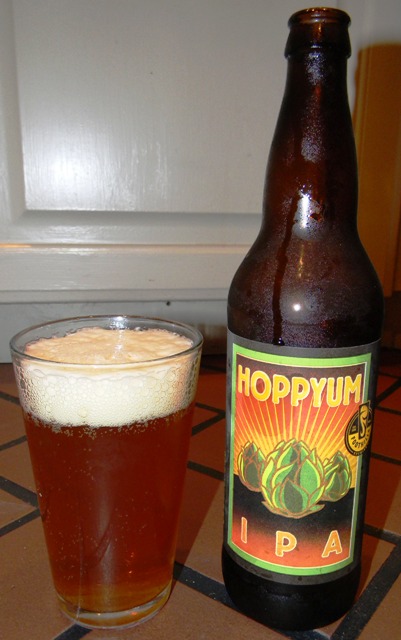 Description: "Hoppyum is an American IPA full of pungent Simcoe, potent Columbus, and citrusy Centennial and Cascade hops. A medium dry finish ensures that Hoppyum makes an excellent session beer."
This label called to me. Just one frickin' giant, throbbing hop. Pulsing magnificently with beams of hopness cascading from it. It's not trying to put on any airs. It's not pretending to be something it isn't. It's just a massively hopped IPA. Also, I tried Sexual Chocolate from Foothills at a beer tasting, and it was amazingly delish. I figured if that could do that for chocolate, maybe they could do a thing or two with hops. Pours a rich golden amber color, with a nice two fingers of head. Foam turns into big, chunky bubbles that slowly dissolve into just a thin, creamy bubble froth atop the glass. Very clear body. Nice pine hop notes, with background of citrus and honey. Really nice engagement on the tongue, with a quick flash of bitter, followed by notes of delicious sweet pine and then a lingering grapefruit finish. Beer has a nice silky texture in the mouth. It has nice balance, but not the overwhelming pine hops that I love-love. (Second pour) Again, big foamy head from a straight down the middle of the glass pour. The fresh pine sweetness is more noticeable and more pleasing when the beer if first poured in the glass and cold. The grapefruit bitter is a bit abated and the beer is at its best and hoppy freshest at this point for me. I drank the second glass quicker, and it was far more enjoyable as it stayed colder and tasted "fresher" for it. This is a borderline great IPA, and was definitely enjoyable and worth giving a try, especially considering the price which is quite reasonable.
Categories: July 2012, Beer/Liquor/Wine, Reviews
/