Shopping Cart
Your Cart is Empty
There was an error with PayPal
Click here to try again
Thank you for your business!
You should be receiving an order confirmation from Paypal shortly.
Exit Shopping Cart
Features, Reviews and a Blog by John Sciacca
| | |
| --- | --- |
| Posted on August 17, 2012 at 4:55 PM | |
"I know a girl, she puts the color inside of my world. But she's just like a maze, where all of the walls all continually change. And I've done all I can, to stand on her steps with my heart in my hands. Now I'm starting to see, maybe it's got nothing to do with me. Fathers, be good to your daughters. Daughters will love like you do…" – John Mayer
Time flies. And at no point does in your life does it fly faster than when you have kids. It seemed like just yesterday that we were bringing Lauryn home from the hospital. Then she was walking. Then we were bringing her home from the hospital again (after she fell into a wall and needed six stitches).
And now, our little baby girl is getting ready to start school. Next week. And, I'll be honest, it's a little heartbreaking.
You want them to grow up and become a person with their own individual tastes and personalities, but, at the same time, you want them to stay your little-baby-Lauryn forever.
So, I decided that I would take the day off work yesterday and have one last great hurrah with Lauryn where we spent the day together doing stuff she loves. We call it, "Our Special Day."
Our first "Special Day" was back in August of 2010. And I dare see we both had a brilliant time.
Stop 1: A Movie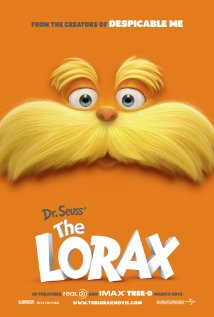 We started out this day with a movie, The Lorax. As we were walking up to the theater I said, "Lauryn, what would you think if there was a mix-up and they didn't show The Lorax but instead showed Star Wars?"
She got this really serious look on her face. "Dad, that would be crazy. They can't show Star Wars. We're watching Star Wars at home. On that special couch. Ya know? The one that moves? (She was talking about the D-BOX motion seating I'm getting in for review.) So if we watched it here that would just spoil it, ya know?" And that, ladies and gentleman, is why I love that little girl. (There are some other reasons as well...)
Neither of us had seen The Lorax, but Lauryn had seen the trailers and thought it looked, "HILARIOUS!" Lauryn also loved the idea of pink lemonade and popcorn for breakfast. Many theaters offer summer movie specials where they will show 2nd run kid's films for free, along with reduced snack prices. And I have to say, what a GREAT way to bring in added business and create goodwill. They had probably eight auditoriums open – and packed – all showing The Lorax to people the nearly all bought a $1 drink and $1 popcorn. Plus they showed hundreds of kids how great the big screen experience is.
Lauryn *loves* talking about the movie, giving narration about 2 seconds after the action happened. Things like, "OH, DID YOU SEE THAT! HE CUT DOWN THAT TREE! AND THEN THAT GUY POPPED OUT AND SAID, 'HEY, WHY DID YOU DO THAT? THAT WAS MY TREE?!' HA-HA! DADDY, WASN'T THAT HILARIOUS?!" But with hundreds of other kids in attendance, I just let her commentary run free. It was a bit like my own Mystery Science Theater.
After the movie, I asked Lauryn, "OK. What do you want to do now?"
Stop 2: Barnes and Noble
We walked over to the bookstore and headed into the kid's section. We have this corner that we like to go and sit in and read books. Lauryn spotted The Lorax book and thought it would be cool if we read the book and compared it to the movie. Great idea! (Turns out, very similar. If you worried they strayed too far from the source material, know that Seuss would be pleased.) Then she walked around picking other books she wanted to read – every one of my choices was met with a dismissive, "Maybe we can read that after we read all the books I pick out" – and then she played with Thomas the Train for a bit.
The Piggly Wiggly where I like to buy a lot of my exotic beers was just down the way so I asked Lauryn if she wanted to see if they were offering any free samples of things. Momentarily tricked, I got about 5 minutes to look through the beer selections while she ran around with koozies on her hands saying, "I have no hands! I have no hands!"
"OK. What do you want to do now?"
Stop 3: Lauryn's Happy Place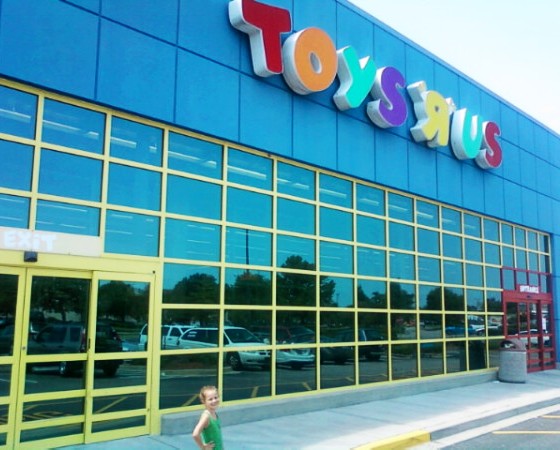 "You always buy me a toy on our Special Day!" Lauryn is pretty methodical when it comes to toys. She likes to walk up and down all the aisles. She's also pretty particular. She wants *girl's* toys. While she was busy browsing through the Barbie aisle, I found a couple of dolls that I posed up…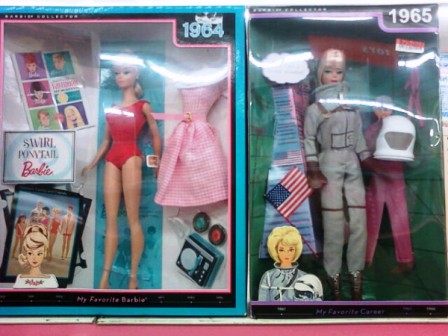 This is Barbie when she took that year off of swimsuit modeling to pursue her dream of being involved in a career in the Space Program.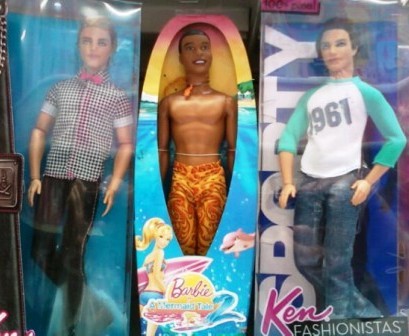 "Barbie, we need to talk. Me and the other Kens have decided that we're gonna go a different way. And, well, we don't need girls any more..."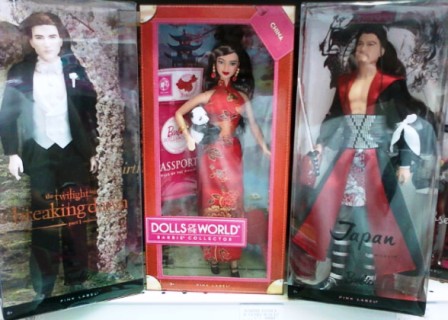 "Hai! Barbie! Samurai Ken will slay the pasty-white monster and save your honor!" (I seriously *love* Fu-Man-Chu moustache Samurai Ken. If he wasn't like $70 I would totally buy him. I constantly threaten Lauryn that I'm going to buy her Samurai Ken as a present. Whenever we go to the store, she hides Samurai Ken so I can't find him.)

She finally picked out a Littlest Pet Shop guy – "Oh! He's so cute!" – that we purchased.
"OK. What do you want to do now?"
Stop 4: "Daddy, I'm starving!"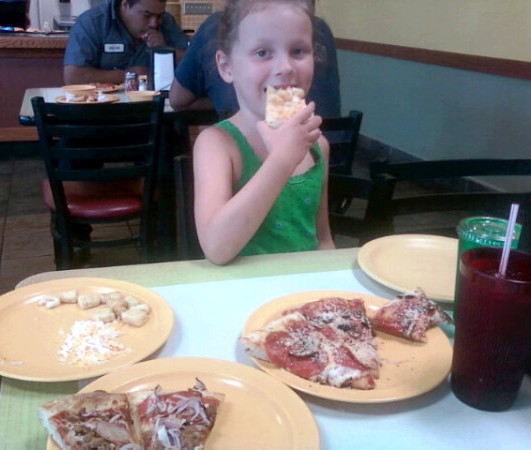 I gave Lauryn her pick of places to eat. Originally it was Taco Bell. Then I thought it might change to PF Changs. But, she decided on this pizza buffet place called, Cici's. Dana hates this place, but Lauryn and I like it. (Lauryn had me text Dana to let her know that we were eating at Cici's so she wouldn't feel sad that she was missing out.) They have a macaroni and cheese pizza there she loves and three different dessert items that I let her get as many as she wants.
"OK. What do you want to do now?"
Stop 5: "Let's go see Nutsy's family!"
We got our guinea pig, Nutsy (aka "The Nut Guy," aka "The Nut Fella") at PetSmart and Lauryn likes to go in and see his family. She also likes to stroll around the store asking if she can pet any of the dogs that happen to be there. So she walked around "meeting" all of the dogs and watching them get groomed, and looking at birds and snakes and fish and picking out all of the accessories she thought Nutsy would like and then she was done. Time to move on.
"OK. What do you want to do now?"
"I don't know."
"You want to go to the library?"
"Oh, yeah! Sure! Let's go to the library!"
Stop 6: Feed the Brain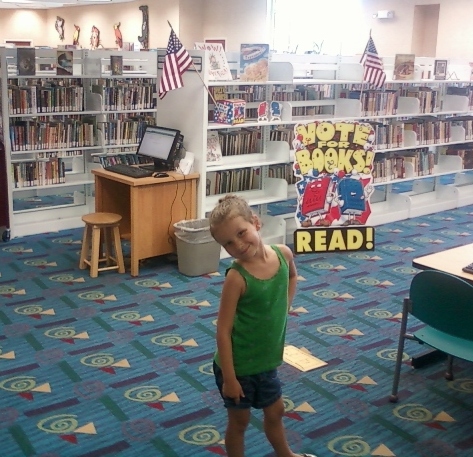 We loaded up on some new books for the "nighttime sleeping routing" and I even got a couple of minutes to pick-up a book – John Knowles "A Separate Peace," one of my favorites – and then she was done.
"Dad, I'm ready to go home now."
All told, we spent about 7 awesome hours together, doing whatever she wanted. It was great. (And exhausting. I got home and took a nap.)
If you have kids, savor all the time with them that you can. Before you know it, you'll blink and then they won't want to be with you and then you'll blink again and they'll be gone. It's the way time works with kids.
Want to know how to have a great day with your kids? It's simple. Just ask them what they'd like to do. Then do it. Then ask them what they want to do next. I guarantee that you'll both have a great Special Day of your own.
Categories: August 2012, Family, Books
/