Shopping Cart
Your Cart is Empty
There was an error with PayPal
Click here to try again
Thank you for your business!
You should be receiving an order confirmation from Paypal shortly.
Exit Shopping Cart
Features, Reviews and a Blog by John Sciacca
| | |
| --- | --- |
| Posted on August 24, 2012 at 11:25 AM | |
Really, what do we know of this Sam Adams? Brewer. Patriot. Likes to drink frothy ale from a hearty, silver flagon. Wears a sleeveless leather vest fully unbuttoned with a shirt slightly agape. Wears his hair in a classic Friendo. Wins all kinds of Great American Beer Festival awards. Has a blue tap handle available at most breweries. Blah, blah.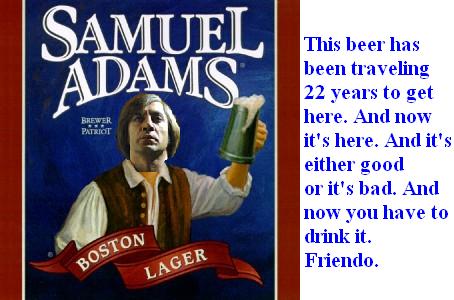 I always associated Sam with the classic Boston Lager and the random Seasonal beers you'll see in the beer cooler. But when we attended a Beer Festival earlier this year, Sam Adams had a tent and there I met Katie, district manager of coastal South Carolina for Boston Beer.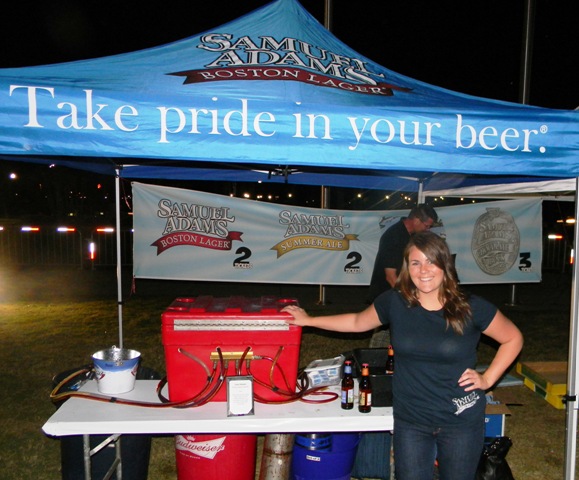 Katie informed me that Sam actually has dozens of different brews, many of them just not available too far outside the northeast/Boston area. We tried a delicious Chocolate Bock and a couple of others that I can't really remember because, well, the Sam Adams tent was our last stop of the night and there had been a lot – A LOT – of drinking leading up to it.
But, it opened my eyes to Sam Adams. And, dammit, if he could be a leader of the movement that became the American Revolution, and one of the architects of the principles of American republicanism that shaped the political culture of the United States, then, by God, maybe he could brew up one hell of an IPA as well!
Raise your steins with me as we drink...to freedom!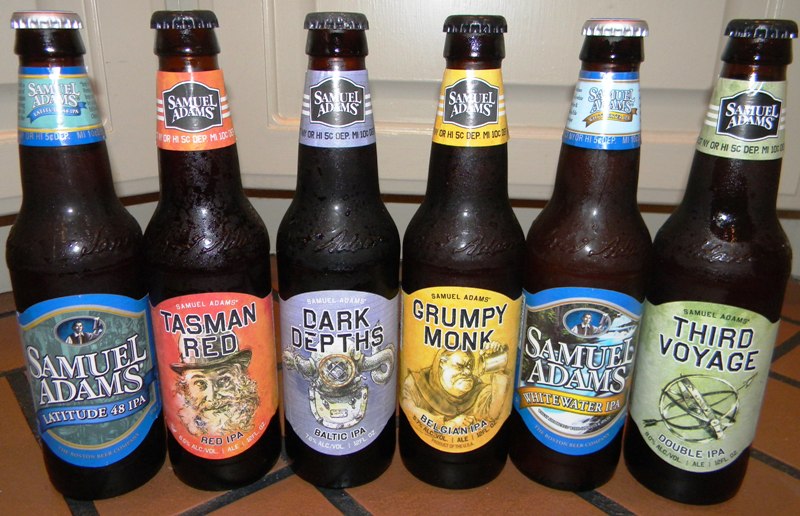 These beers all came out of a special, seasonal Hopology 12-pack ($17.99) I found in Columbia.
Latitude 48 IPA
Hop Variety: Hallertau Mittelfrueh Noble hops, East Kent Goldings, Zeus, Simcoe, and Ahtanum
ABV 6%, IBU 60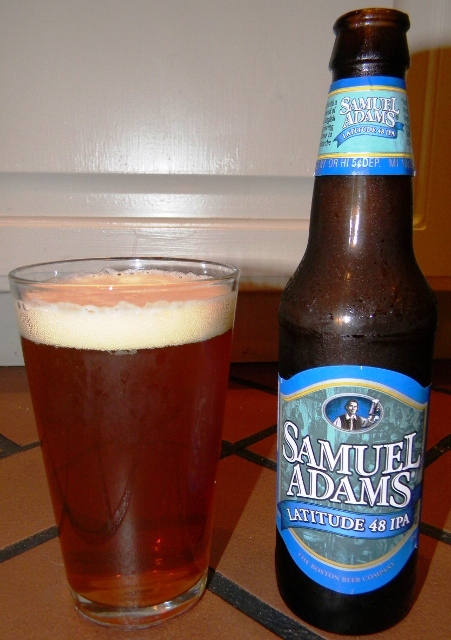 Description: "A unique IPA brewed with a carefully selected blend of hops from the German, English, and American growing regions all located close to the 48th latitude within the 'hop belt' of the Northern Hemisphere. The intense hop character is balanced by a slight sweetness and full body from the malt blend." The distinct character of this IPA comes from its combination of hops. The German Hallertau Mittelfrueh provide a floral and aromatic quality, while the English Fuggles bring a foundation of earthiness, and the American Ahtanum, Simcoe, and Zeus add a bright citrus and grapefruit character. Together they create a flavorful and layered hoppiness that's full of personality."
This beer is available on a regular basis and with a pretty broad distribution so I thought I'd try it first. Pours a nice, rich mahogany color with a hint of red and a finger of creamy foam. Body is pretty clear with lots of visible micro-bubbles. Leaves nice rings of lacing down the sides of the glass. Nose is full of sweet, resinous piney hops, the kind that me loves. Holy crap! Could Sam Adams nail a home run IPA right out of the gate?! Brewer, Patriot, Hopologist?! Nice carbonation on mid tongue, followed by deep, pithy grapefruit bitterness. Sadly, none of the sweet pine flavors present on the nose make it to the palate. Instead, the flavor is more like biting into the bitter rind. Of a bitter fruit. From a bitter tree. It's just full of citrus bitter and nothing else to balance it out. A little mellowing near the end of the glass, but I'm guessing that the 48th latitude is a harsh, bitter place that only dreams of sweet, fresh pine.
White Water IPA
Hop Variety: Australian Topaz, American Chinook, Cascade, Simcoe and Citra  
ABV 5.8%, IBU 60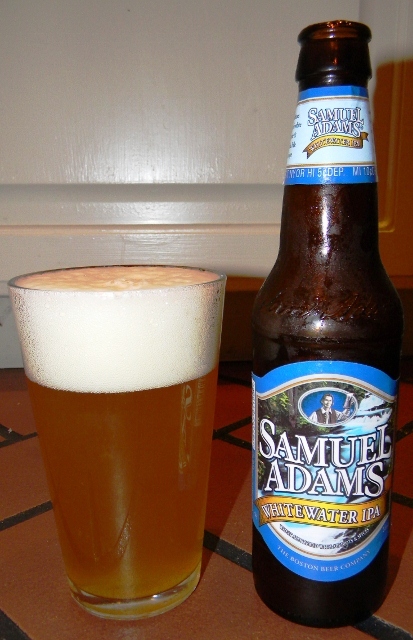 Description: "This unique and flavorful brew fuses two styles, with a twist of our own. The crisp white wheat, sweet citrus orange peel, and spicy coriander of a white ale form the base of this refreshing brew. The big hoppiness and grapefruit notes of an IPA bring the flavor to a new bold level. Our addition of apricots brings these flavors together and creates a soft fruit undertone and balance."
Poured straight down the glass produced a mountain of thick foam, that slowly broke down and turned into chunky meringue looking topping that eventually reduced to just a frothy topping. Cloudy, light yellow color with presence of chunky particulates dancing about on carbonated bubbles. Nose is fruity and floral, with notes of pineapple and jammy apricot. First taste, and the beer just kind of sits there in your mouth without a lot of zing or life. There are no rushing rapids of flavor. No cascades from the tasty alps of Hoplandia. There is some grapefruit bitter at the end along with some coriander spice and wheat notes, making this far more like a White Ale than any IPA. As I near the end of the glass, the sweet mid-notes of apricot become more apparent, adding some interesting aspects to the flavor. This is a decent White Ale for IPA fans, less so an IPA for White Ale fans. I could see this being a nice refreshing summer brew.
Third Voyage Double IPA
Hop Variety: Cascade, Simcoe, Zeus, and Summer Saaz
ABV 8%, IBU 80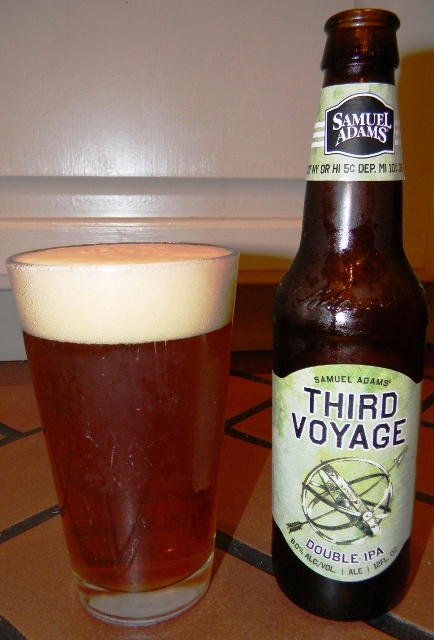 Description: "Bright and intense with a vivid hop punch. This unique double IPA takes the style's origins a step further. IPAs were born out of making an ale that could sustain a long voyage. For our take, we were inspired by the indomitable Capt. James Cook whose 3rd voyage made him the first to navigate a treacherous route England to New Zealand to the Pacific Northwest. Using Cascade hops from each of these regions, we created a brew that's citrusy, earthy, and full of bold character."
Another great label (I love maps and compasses, and sextants and clocks) and Double is without question my favorite style of IPA. I had been saving this guy till I was good and ready for a nice treat -- and how could I not drink a beer called "Third Voyage" third? -- and I was excited to set sail and see what ole Sammy A could do with this one. Poured silky smooth into the glass and produced an inviting two fingers of rich, dense, creamy foam. Leaves thick, whipped cream lacing all along the sides of the glass. Color is a rich amber-orange that is mostly clear with lots of visible bubble action. Smell is filled with sweet pine and citrus hop notes with a bit of malt buried beneath. First sip, and it's rich in the mouth with flavors that are initially reminiscent of Hoppyum, but with a finish that is more copper and caramel malt. The initial flavors are good and pleasingly classic Double IPA, but the finish has an oddness to it that I'm having a hard time coming to love. On third sip, the metal seems to have abated, and is replaced with a far more pleasing grapefruit citrus bitter that has a nice linger. This beer definitely improves from some time in the glass and is my favorite of this batch so far. The caramel malt notes are there, but there is a nice balance of flavors, especially with the 8% ABV this beer is packing. This is a beer that I'd definitely consider buying in 6-pack form and is a good showing in the Double IPA style.
Dark Depths Baltic IPA
Hop Variety: Zeus, Ahtanum, Saaz, East Kent Goldings, Topaz, and Simcoe
ABV 7.6%, IBU 55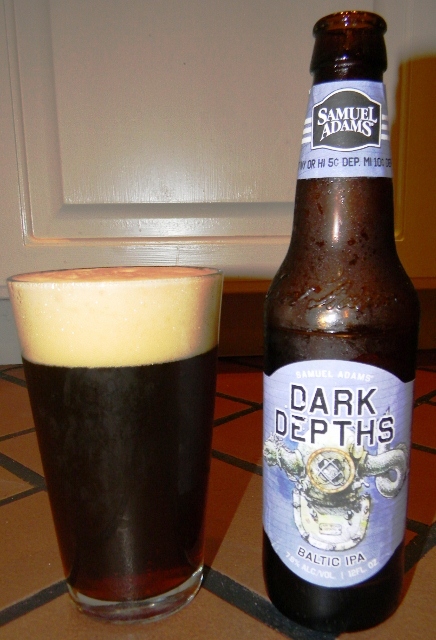 Description: "Dark, fierce, and blustery. Across the cold and brackish waters of the Baltic, the English porter was transformed from a mild ale to a dark and complex lager that confounds definition. Immersed in dark, roasted malts and a bold citrus hop character, these big and contrasting flavors are brought together with the smoothness of a lager for a brew that's bold, mysterious, and full of flavor."
First, I really like this label. It's cool in a Jules Verne, 20,000 Leagues Under the Sea kind of way. This is the kind of daring brew submariners would pour after surviving an especially grueling sub-arctic voyage. Pours a clear, medium brown color that resembles a strong tea. Surprised that it wouldn't be black, like how I picture an angry, churning Baltic sea. Initially produced a good two fingers of tan head that dissolved to a creamy, frothy topping. Nose of dark, roasted coffee malts and some hop sweetness. Initial sweetness on the tongue, followed by roasted coffee malt flavors, and a little bitter at the finish. Taste is very reminiscent of a weak porter, except that it finishes with a twinkling of IPA citrus tinged bitter. So far these Sam Adams brews have all been IPAs masquerading in other styles. If I want a porter, I want all the big malty, heady, chocolate-coffee notes of a porter. If I want an IPA – as is the usual case -- then I want those big rich hop juices flowing. This is just somewhere in the disappointing middle, reminding me of the bible verse found at Revelation 3:16: "Since you are lukewarm and neither hot nor cold, I am going to spit you out of my mouth." (But, you know, since it WAS beer, I went ahead and drank the whole thing.)  
Grumpy Monk Belgian IPA
Hop Variety: Ahtanum, Simcoe, Cascade, Amarillo, Fuggles, and Saaz
ABV 5.7%, IBU 55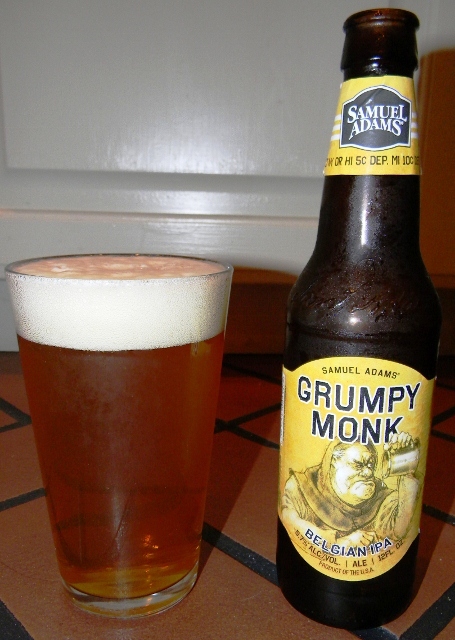 Description: "A spirited reinvention of the Belgian tradition. The long held brewing traditions of Belgian monks aren't meant to be broken. Yet, to the monk's dismay, the distinctive character of Belgian yeast with its spicy clove and fruit notes can be reimagined when combined with the brazen hop character of an IPA. These hops impart a citrusy, piney, and earthy flavor that's balanced by a rotated malt sweetness for a complex and playful brew."
Pours a nice rich golden color with two fingers of head that soon breaks down to a foamy topping. Clear body with lots of visible carbonation. Sweet spicy aromas reminiscent of Tripels, with the Belgian yeast being prominent. I can't quite place the sweetness I sense in the aroma; it's a little of pumpkin pie spice, but that's not quite right. There's also hints of orange, clove and coriander. None of these tastes are immediately apparent on the palate, though, to be fair, I did just eat a chili dog with Dijon mustard and onions about 20 minutes ago... A few sips in and I'm getting some of that classic Tripel bubble gum, juicy fruit flavor, but more bitterness and some wheat notes on the finish. With the sweet-spiced notes, and mild bitterness, this beer is pretty refreshing. (I happen to be sitting outside right now, where the weather about 90 degrees and humid.) For those times when a giant IBU bomb might not be right, this gives you a variety of tastes and some nice bitter that strikes a good balance between the styles. If a classic Tripel is too sweet or spiced for your palate, the Grumpy Monk might make you smile.
Tasman Red Red IPA
Hop Variety: Australian Topaz and Galaxy
ABV 6.75%, IBU 60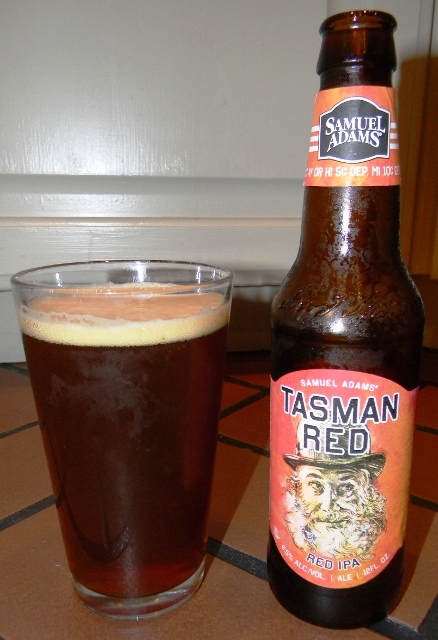 Description: "Bold, lively, and a bit rugged. This wily red IPA gets its character from Tasmanian hops that are full of grapefruit, pine and earthy notes woven throughout the taste. The hops are balanced by a core of roasty malts that provide a rich body with hints of toffee. This flavorful brew is rounded and smooth with a dry, citrusy hop finish."
Ah! Now I remember! We also sampled the Tasman Red at the beer fest thing. Obviously, I don't remember too much about the flavor. Also, the guy on the label bears a striking resemblance to The Oncer-ler from The Lorax. Maybe once he got out of the Thneed business he started home brew… But I digress…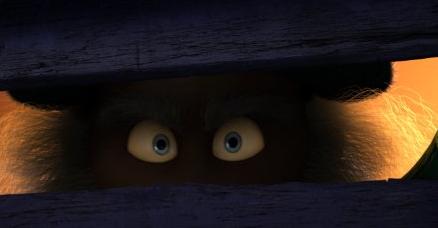 Pours silky smooth into the glass, sliding effortlessly out of the bottle and easing gently into the glass, producing a finger of reddish-tinged tan head. Head dissipates after a few moments to just a bubbly, frothy scrim on top. Leaves nice rings of lacing marking your progress down the glass. Clear, reddish-amber body with lots of visible bubble activity. Nice aromas of malt, caramel and sweet hops. Maybe also a hint of alcohol on the nose. Very thick caramel and malt flavors, with a little bit of toast at the finish. There is a hint of bitter following, but the front notes of malt and caramel really carry the day. None of the alcohol is present in the taste, and the balance of flavors is pretty even. This beer tastes like it should look darker, richer or something. It mellows nicely in the glass, making the toasty, burnt flavors a nice balance to the caramel malts. I don't get any sense of this being any kind of IPA but it was enjoyable enough to drink in its own right.
Categories: August 2012, Beer/Liquor/Wine, Reviews
/