Shopping Cart
Your Cart is Empty
There was an error with PayPal
Click here to try again
Thank you for your business!
You should be receiving an order confirmation from Paypal shortly.
Exit Shopping Cart
Features, Reviews and a Blog by John Sciacca
| | |
| --- | --- |
| Posted on December 19, 2012 at 9:30 AM | |
HGTV's Million Dollar Rooms recently featured home-theater-design Jedi Theo Kalomirakis showing off one of his classic designs, The Ziegfeld. The entire 3,000-square-foot theater space was, of course, gorgeous, with a nearly six-figure custom-made neon and fiber-optic marquee, custom carpeting costing more than most people's cars, and custom woodworking costing more than most people's homes. And all of that design was meant to lead people into a gorgeous theater space driven by $600K worth of the highest-end electronics. (You can read my interview with Theo here. We spoke at length about his love of movies and design.)

If you've got the room in your house and a couple extra mill you just can't figure out what to do with, then by all means hire Theo to handle your design! You'll end up with an incredible theater that will be magazine and TV worthy in every regard and feel like magic every time you step through the doors and into the lobby.

But, for those of us who aren't tripping over the stacks of gold bullion lying around, here are five things you can do to make your home theater system look and sound more like a million bucks, all of which can easily be done for well under $10,000.
GO BIG AND WIDE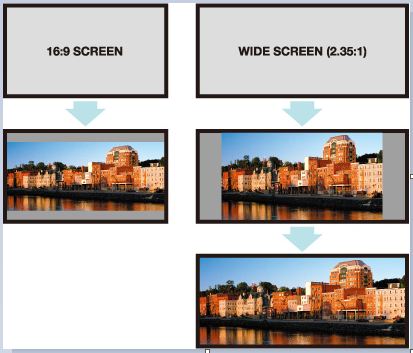 When people tell me they have a home theater and then tell me the centerpiece of their setup is a 42-inch TV, I die a little inside. I'd almost rather you just took out a white glove and slapped me with it.
"Home theater" used to mean something special, like the media palaces Theo builds. Of course, beyond the grandeur of hand-applied platinum leaf and custom millwork, a large part of the cinematic experience is a big, engrossing picture—and the best way to experience that at home is with a front-projection system.

Projectors used to be big, bulky, finicky, light-anemic, and expensive. But technology has improved to the point that Optoma, JVC, Sony, and Epson all make terrific, full-1080p HD projectors that can be had for prices starting around $1,000. Pair the projector with a decent screen and you can create a 100-plus-inch video experience for under $2,000. Increase your budget a bit—the cream of the crop is in the $5,000 to $8,000 range—and you can get a projector with lens memory that automatically zooms/focuses/aligns the image so you can enjoy widescreen movies the way they're supposed to be seen...larger! (To read more about viewing widescreen, anamorphic movies at home, check out my blog on the subject.) I remember Theo saying in our interview that  movie like Star Wars should not be smaller than a movie like Dude, Where's My Car? If you can argue with that logic, then I've got a white glove I want to show you...

Want to add a Theo K touch to your room? Install a motorized curtain in front of your projection screen. The closed curtain creates drama and allows for a cinematic reveal as the movie begins.
GET MORE SURROUNDED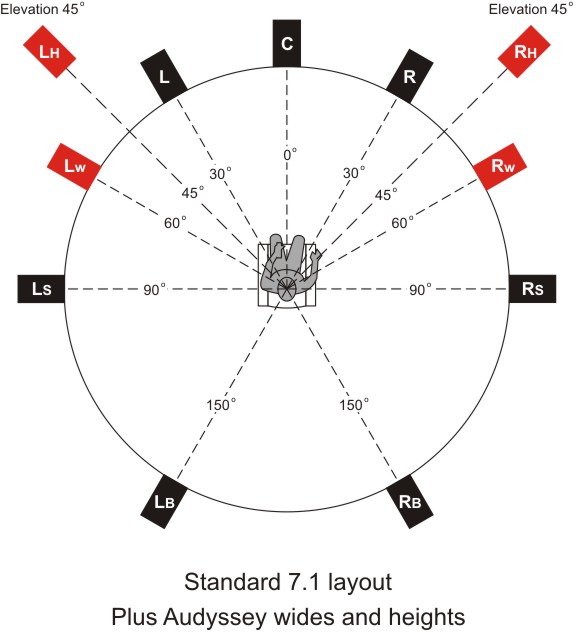 Listening to movies in 5.1 is so 1980s. Now, the coolest theaters are adding speakers and running up to 11 audio channels! (This was actually a huge reason why I upgraded to my new Marantz AV-8801 processor!) Adding these new channels to the basic front left, center, right, and surround left and right channels creates an even more immersive surround experience. Here are the extra audio channels now available:
Surround Back: Originally developed by Dolby Labs and Lucasfilm for the 1999 release of Star Wars Episode I: The Phantom Menace to place sounds from the Pod Race directly behind the audience, these speakers go behind you and help to envelope you in the action. With surround back speakers, sounds travel more convincingly from front to back, and vice versa.
Front Width: These channels extend beyond the front left and right speakers to help create a more spacious soundstage. Imagine the jets streaking across the screen in Top Gun—with width channels, the jets fly wider across your room, creating the illusion of a much bigger space. They also help sounds transition more seamlessly into the surround channels.
Front Height: These speakers go high up above the front channels, making sounds that should come from above—like rain drops, or people walking above you, or airplane flyovers—sound like they're really coming right over your head. Height speakers also help create a large wall of sound in the front of the room and make a real impact if you watch concerts on Blu-ray/DVD.

To continue reading this at Theo's Roundtable, click here. Go on. Do it! The traffic I drive to them makes me look good. It's really the least you can do for me... Plus Theo has gathered an interesting cadre of writers so I bet you'll find some other stories you'll enjoy as well!

Categories: December 2012, Movies
/