Shopping Cart
Your Cart is Empty
There was an error with PayPal
Click here to try again
Thank you for your business!
You should be receiving an order confirmation from Paypal shortly.
Exit Shopping Cart
Features, Reviews and a Blog by John Sciacca
| | |
| --- | --- |
| Posted on December 21, 2012 at 10:50 AM | |
If you know anything about me, it's that I love IPAs. Big, giant, crazy IBU, hop-filled beers that just light your mouth ablaze with flavor. Nay. Flava.

So whenever I spot a new Double/Imperial that I haven't tried, I feel compelled to pick it up. You never know when you're going to stumble on that next Hoppy Grail that is going to put a smile on your face for few days.
Unfortunately, sometimes you've gotta kiss a lot of frogs to find that Imperial Prince. Below are some frogs, but at least one Prince. Let's start kissing…
Mad River Brewing Co. - Steelhead Double India Pale Ale
Hop Variety: Amarillo
ABV 8.6%, IBU Unlisted
$12.99/6-pack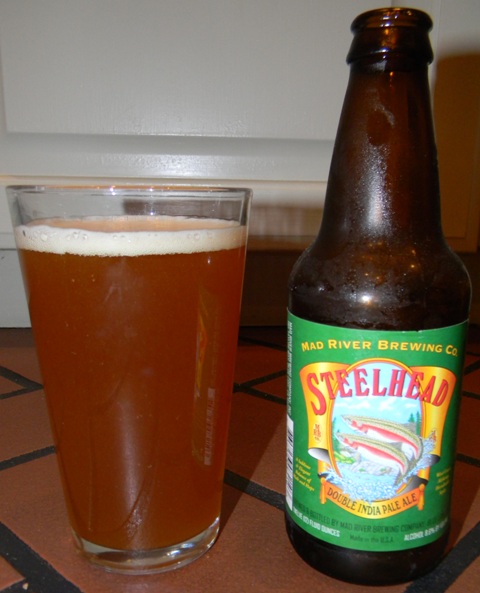 Description: "Maltier, hoppier and more robust in flavor than regular IPAs, Double IPA is dry hopped with Amarillo hops for a fresh citrus flavor and aroma.  Goes great with red meats and life in general. Does not go well with driving or machinery."
I'm not gonna lie; when I first glanced this label, I thought it was from Bell's who makes the delicious Two Hearted Ale, which features a fish on the label. So I was thinking, "Hmm, this must be the Double version of that! Sweet!" By the time I grabbed it and discovered it wasn't from Bell's, well, it was too late, and I decided to still give it a go. So, score one for you label/marketing department! Pours a cloudy, golden orange color with very little head the resolves down to a frothy, foamy topping. Color is rich and inviting, but body is dense and thick looking. Smell is sweet with hops and citrus and hints of orange and caramel malt. First sip and nice zing on the tongue, followed by a blossom of citrus and malt notes then a nice solid lingering bitter finish. The initial splash of sweet dissipates on subsequent sips, leaving a bit of a hole in the flavor profile. I liked that initial flash of big, sweet juicy hop flavor, and with that missing, the rest of the flavors seem abated and weaker. At the end of the glass, the light carbonation and thin up front flavor result in just a mediocre experience. Most people that choose to drink a Double do so because they are seeking a big, giant flavor experiences. This seems more like a regular IPA, and not even an extremely hoppy or interesting one at that.
New Holland Brewing - Imperial Hatter Imperial Pale Ale
Hops: Unlisted
9.38% ABV, IBU Unlisted
$14.99/4 pack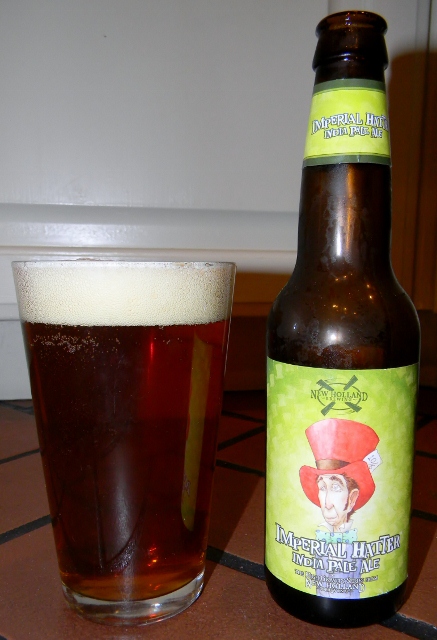 Description: "A robust renovation of the India Pale Ale. Assertive dry-hoppying provides an aromatic telltale nose, indicative of the bitter symphony to follow. Bold hop character with lively grapefruit and citrus notes."
Even though my initial run in with New Holland's IPA left me more of a mad hater with it's odd medicinal taste – to whit, my review was, "Notes of honey and something that smells like menthol or eucalyptus. First taste and I swear I've stepped into the Halls of medicine! And I do NOT mean that in a kind and generous way. This thing tastes like a throat lozenge! Now, if you said it WAS medicine and I had to drink several servings, then I'd say this is the best damn tasting medicine ever. But since it is a beer with limited medicinal value, I'm not impressed." I'm a sucker for a new Imperial so I'm willing to give New Holland another chance. Pours a really nice rich coppery color with two finger with frothy head that slowly melt down to a creamy topping. Body is totally clear. Just coats the sides of the glass in thick wall of lacing. Nose is rich with pungent hops, filled with grapefruit citrus, some sweet spicy hop notes and just a bit of dank underneath. First sip and it lands like a bomb on my tongue, just exploding a nice zing that encompasses the mouth and a nice hop filled swallow with lingering dank finish. There's just a *hint* of pine at the end, like that lingering whiff of car pine tree air freshener that buries into the fibers of your clothing. Second sip and it's that same initial POW! on the tongue. I like the beer, but it has a bit of a hole in the flavor arc for my preference. There is a nice initial engagement, and a nice finish, but kind of a weak dip in the middle where the best beers really shine. The finish is smooth and easy and you wouldn't believe it was packing a 9+% ABV. Over all, it's a solid Imperial IPA and was a thoroughly enjoyable drink, but at the price -- almost double Hoptimum, a FAR superior beer -- it is tough to recommend too highly.
Foothills Brewing – Cottonwood Endo IPA
Hop Varieties: Cascade, Magnum and Chinook
6.0% ABV, IBU 66
$9.99/6-pack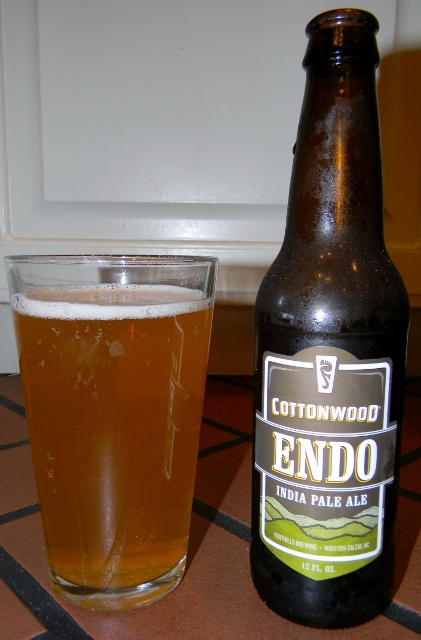 Description: "True to its roots, this American IPA delivers on the floral, hoppy notes that made Cottonwood Endo a Boone favorite. 100% malted barley and copious amounts of Cascade, Magnum and Chinook hops do the trick, artfully brewed by Foothills."
Here's what I knew about Endo prior to drinking this: "The bottom tips of the marijuana plant that accumulate the most resin and crystals after being hung to dry." -- Urban Dictionary
I used to live fairly close to Boone, where Foothills is located. (Though I don't believe they existed when I lived in Rutherfordton, NC back in the early 90s...) My previous run-in with their offerings has been Hoppyum – which I consider a solid IPA for the price – and the awesomely named, Sexual Chocolate, which is one of the very best chocolate porters I've ever tasted! (So awesomely named, in fact, that I wrote a scene imagining James Bond ordering one!) Even with a fairly straight down the glass pour, the Endo produces almost no head at all, just a light froth at the top of the beer. Even right into the glass, it looks more like a beer you'd find sitting around; poured and forgotten then rediscovered like 45 minutes later. Not surprisingly it leaves very little lacing in the glass, in fact the glass looks almost pristine. Body has a straw-yellow color with a bit of cloud to it. Has a nice resinous, hop-forward smell with lots of citrus and orange notes. First sip and it lands with a little sparkle on the tongue and then eases back to the throat. The finish is pretty mild, but does have a little ring of malt to it that is pleasing. As it opens up in the glass, the hop finish becomes more apparent, a little bit more bitterness on the finish, but still this is not an overpowering beer and doesn't have a lot of mid-note flavor. Starting to notice some fruit notes at the finish; like a hint of mango. I could see this being a great long afternoon endurance beer. It has just enough flavor to be interesting but not enough that you are going to have your palate blitzkrieged by the third bottle. Interesting to try, but nothing especially noteworthy.
Napa Smith Brewery – Hopageddon Imperial IPA
Hop Varieties: Chinook, Cascade, Warrior, Columbus, Mt. Hood, and Centennial
9.2% ABV, 144 IBU
$13.99/4-pack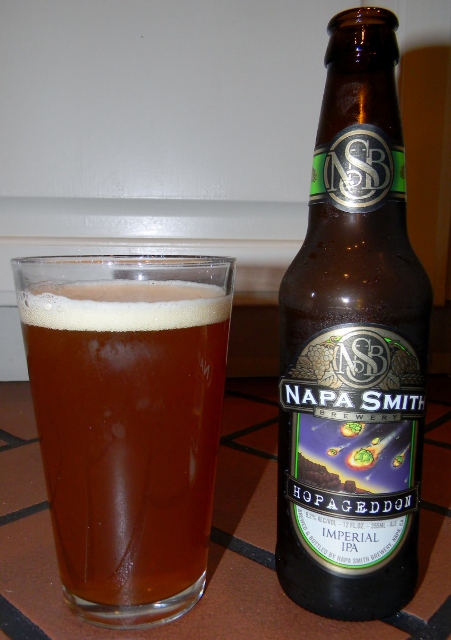 Description: "Hopagedddon is an end-of-the-world Imperial IPA with an intensely aromatic hop profile that defies expectations and will leave you wondering, 'What just happened?' At 144 IBUs, Hopageddon glows with a gorgeous fiery orange color and showcases a distinct, full white head. The unique flavors from our obscenely extended dry-hopping and shockwave of bitterness lingers on the palate and leaves hopheads with a Post-ahopalyptic yearning for more. Can you survive the Hopageddon?"
"You can pray to the Hop Gods all you want…you'll never find another IPA like this one."
You want to know the difference between a weak beer and a beer with strength? A beer with strength has an IBU rating pushing 90. Now, I thought the 100+ IBUs of Stone Ruination was a lot. I thought 120 IBU of DFH 120 was a lot. But this! This, is an IBU atomic bomb and I had to try it! Pours with very little head and a rich golden orange-brown color. Body is mostly clear, but tough to see through because of the medium-darkish color. Leaves a crazy coating of foam lacing on the sides of the glass. Aroma is pungent with rich, sweet, juicy hops. I get tons of citrus and orange spice and pine-juice deliciousness. Just the glass sitting there is like an amazing Yankee Company scented candle called "Hop Bomb" or something. First sip and the beer bursts onto your tongue; there's a ton of big juicy hop flavors and a nice splash of sweetness that really fills the mid-notes followed by a really lengthy bitter finish. The alcohol is kept well in check, providing just the right amount of sweet but without being over-powering. If you can call a 9.2% ABV/144 IBU brew "incredibly well balanced," this is it for sure. Every sip just lights up your mouth with fully engaged flavor, and I'm really enjoying the taste notes. Just tons of hoppy citrus and a really great flavor arc-profile from first sip all the way through to final swallow. Also, the 9.2% leaves you with a nice, warm glow when finished. This beer is a contender and is definitely worth picking up if you spot it!
Coronado Brewing Company - Idiot IPA Imperial India Pale Ale
Hop Varieties: Nugget, Columbus, Centennial, Chinook, Cascade
8.5% ABV, 90 IBU
$6.99/22-ounce bomber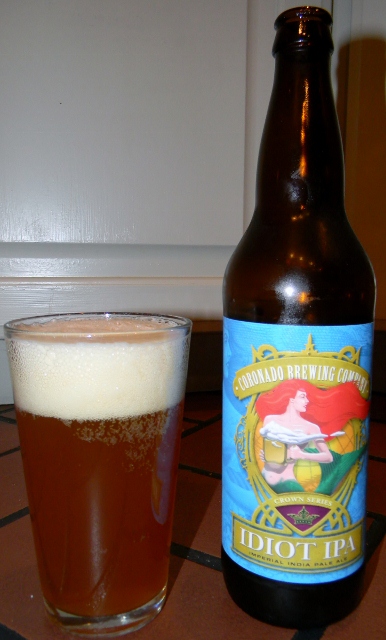 Description: "Coronado Brewing Company's Idiot IPA is a West Coast-style double IPA. Brewed large, with four hop varieties, creating an assertive, over-the-top hop experience. Idiot IPA, the intelligent beer."
"It doesn't take a genius to know quality West Coast IPA's require a stupid amount of hops. A generous blend of Nugget hops and the four C's – Cascade, Centennial, Chinook and Columbus – brings forth a myriad of tropical fruit flavors and a brawny, persistent bitterness that makes for a highly intelligent brew."
A beer so hoppy that it makes you an Idiot? Sign me up! Pours a golden yellow orange color that produces a generous eruption of creamy white foam that is nice and thick like the topping on a well-made cappuccino. Over a bit of time the head settles to a nice thick cover over the top of the pour. Leaves nice, big rings of lacing that coats the sides of the glass. Very cloudy, hazy body. Nose is rich with big juicy hop notes; sweet with orange juice and grapefruit citrus. First sip and boom! This lands like a bitter bomb right on the tongue, surrounding it and coating your mouth with rich, juicy hop citrus. There is some sweetness there, and the finish isn't as lengthy as I'd like. The flavor profile of this beer is interesting, tasting a bit like an inverted V. Usually I feel like beers are lacking flavor in the middle, but this beer has a weak beginning, a huge middle and a thin ending. After a few sips and a big of time in the glass, the beer is starting to open up nicely. The nose continues to be huge and juicy throughout the glass, and is really a treat on every sip, and near the end of the first glass the finish while still not lengthy is longer. (Second pour) This beer definitely benefits from a little time to open up and the second glass retains all of the wonderful nose and big mid note flavors, but with the added since of a lengthier, richer finish.  A nice full, creamy mouthfeel that coats the palate in juicy hop goodness. This is a good representation of a big, juicy, slightly sweet, hop powered West Coast Imperial. The 22 ounce is a good size to enjoy as you get to experience the best this beer has to offer in the second glass.
Categories: December 2012, Beer/Liquor/Wine, Reviews
/