Shopping Cart
Your Cart is Empty
There was an error with PayPal
Click here to try again
Thank you for your business!
You should be receiving an order confirmation from Paypal shortly.
Exit Shopping Cart
Features, Reviews and a Blog by John Sciacca
| | |
| --- | --- |
| Posted on December 27, 2012 at 3:15 PM | |
In my last post, I told you six reasons why watching movies was better at home. When it comes to pricing, quality, schedule, snacks, crowds and tech, the commercial cinema just can't compete with the luxury of watching movies in your own private theater. (And I didn't even mention the comfort of the seating! If you've ever had the "privilege" in sitting in one of those stiff backed chairs with a spring that feels like it is trying to perform an overly aggressive colonoscopy, then you'll understand why I far prefer my couch!)
And because this home/commercial experience-divide continues to grow, those of us that have installed even modest theaters in our homes are increasingly saying, "No thanks!" to the commercial experience.
But there's still one place where the commercial cinema continues to beat watching at home: Day and date.
For now, watching a first-run film means scraping up some dough, leaving the cozy confines of your home, maybe or maybe not filling a pocket flask, and heading down to the Cineplex. Hoping that the lamp is new. Hoping that the speakers and amp channels are all working. Hoping that everyone silenced their cell phones. Hoping that the sadistic spring was temporarily sated by the last patron.
Because until movies are released on disc or pay-per-view – often several months after the theatrical release – the theater holds them hostage. And the bigger the movie, often the longer the wait.
For now…
Because if you use just a little bit of imagination, you can see how Best Buy might be positioning themselves to overthrow the Cineplex altogether with some recent acquisitions and investments.
Consider CinemaNow. This is a cloud-based streaming service that lets you buy or rent new movie releases and stream them to a variety of devices. According to Wikipedia, "CinemaNow primarily employs Windows Media DRM to control access to downloaded movies. In August 2008, CinemaNow added Widevine Technologies DRM for streaming to Internet-connected consumer electronics devices."
This is a secure, copy-protected way of delivery content – movie content -- safely and securely to a variety of devices with the blessing and support of several major movie studios.
And, FYI, Best Buy acquired CinemaNow in November of 2007.
"Big deal," you say. "That's just another spin on the disc rental/purchase model in the digital age."
Perhaps. Or maybe CinemaNow is one piece of the puzzle. For the second piece, think outside the box for a second. Rather, think inside the box; the new PRIMA Cinema box.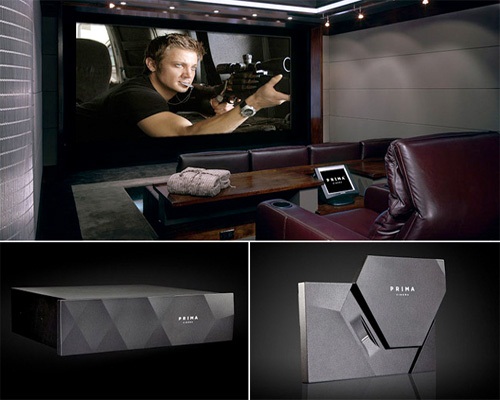 "What the hell's a PRIMA?" you ask. A potential cinematic game changer, I say.
Or, to be a bit more dramatic, PRIMA's motto may very well prove to be, "Now, I am become Death, the destroyer of the Cineplex!"
According to PRIMA's website, "PRIMA Cinema presents theatrically-released Hollywood films, in the comfort of your home. PRIMA Cinema presents opening weekend Hollywood films directly into professionally-installed home theaters. For decades, only a select few Hollywood insiders were able premiere a Theatrical film in the home. No longer. With PRIMA, you can host your very own premiere party in the comfort, privacy and security of your own private theater. It's the Ultimate Private Cinema experience."
So, PRIMA Cinema is a new service that allows people to view first run, commercial titles in their home, day-and-date with their cinematic release. Want to watch The Hobbit on opening day, but feel like having your own private band of dwarves over so you can trade Tolkein and Silmarillion refs in private? Want to host a black-tie Skyfall premiere drinking properly made Vespers (which means Black Label Smirnoff and Kina Lillet, mind you!)? Want to watch Jack Reacher in private so no one else is distracted by you yelling, "REALLY?! THEY CAST TOM CRUISE AS REACHER?! WHAT THE CHRIST?! REACHER IS BLONDE, SIX-FIVE AND WEIGHS 250! WHY WOULD THEY DO THIS?!" at the screen every few moments.
This is the promise of PRIMA.
But, the PRIMA promise right now comes with a price. And I don't mean a small one. I mean a wallet-punching, check your credit limit one. And unless you frequently use phrases like, "Let's take my jet to New York for the weekend," or, "Should we drive the Lambo or the Aston today?" or, "Put it on the Black Card," you probably won't be a PRIMA candidate.
For now, the PRIMA system sells for around $35,000. Which actually isn't the bad news. You'll then need to shell out around $500 for each movie you want to watch. Obviously, for those of us that quibble over a $10 movie ticket and carefully weigh the merits of the popcorn-and-soda combo pack, PRIMA may be a little rich for the blood.
Still, a pretty cool concept, right? And technology pricing has a way of quickly falling from the stratosphere to the mass-market. (I remember the first Plasma TV I sold was a 42-inch, 480p EDTV, that was about 6-inches thick and sold for $12,000! That TV today would probably sit next to a pile of discarded microwaves and fetch somewhere around $99 at a Goodwill.)
But are you ready for PRIMAs's quiet little secret? The thing that could change everything? The thing that you probably don't know about PRIMA…
Categories: December 2012, Movies
/