Shopping Cart
Your Cart is Empty
There was an error with PayPal
Click here to try again
Thank you for your business!
You should be receiving an order confirmation from Paypal shortly.
Exit Shopping Cart
Features, Reviews and a Blog by John Sciacca
| | |
| --- | --- |
| Posted on January 17, 2013 at 10:40 AM | |
"Swag may refer to:
•    Swag (album), a 2002 album by former Guns N' Roses guitarist, Gilby Clarke
•    Swag (bedroll), an Australian bedroll
•    Swag (motif), a garland
•    Swag (novel), a 1976 crime novel
•    Swag (TV series), a United Kingdom reality television series
•    "Swag" (Ugly Betty episode), the eleventh episode of the television series Ugly Betty
•    Swag, a type of window valance, often in combination with a full curtain underneath
•    Swag, slang originating in the early 1800s[1] for stolen goods or booty; possibly carried by a swagman
•    Swag, promotional items given away at trade fairs and events
•    The Swag, a magazine published quarterly for Catholic priests and deacons of Australia" -- Wikipedia
I'll admit, I'm but a babe in the woods when it comes to getting swag at tradeshows. If you ever have the means to visit but one booth with Darryl Wilkinson, you'll learn what a true Jedi Master is like. He is smooth, confident, charming, working the vendor much in a way I'd imagine that Don Juan persuaded women into bed. By the time that Darryl gets to the, "So, do you happen to have any review samples?" the spell has been so completely cast that other people standing around are ready to consummate the deal, handing Darryl items they have picked up at other booths… It's a strange kind of voodoo.

But, if you go to enough booths at CES, you're bound to score some sweet swag.  Some booths can't give it away fast enough. Other booths make you really work for it, going through a lengthy pitch and showing more than the utmost attention. Others make you register and attend a special event. In CES shows past, I used to try and grab every T-shirt, shot glass and USB drive I came across. But then come packing day, I realized that I didn't have room for all this piddly stuff. Since then I've focused on the really cool stuff; the gear that I think I might actually continually to use after the show ends.
So, here's a look at the swag I packed home from CES13…
It's All About the USBs

There's a new trend at CES and let me just say this: I'M AGIN' IT! The trend is for manufacturers to just hand you a postcard or business card with a link to their Website so you can then retrieve all of the press information to your little heart's delight. I hate this! What if I don't have Web access, hmm? What if I want to access something on the plane home? The USB is the acceptable way of disseminating press information. We know it. And we like it. Also, 2 Gig drive is the new 512 Meg. If you want to impress us, how about a 4 or 8 Gigger? (My "Big Swinging Drive" award this year goes to Definitive Technology for giving out an 8 Gig! Well played, Def Tech!)
But some companies managed to be clever and impressive in their choice of USB, showing that a drive doesn't just have to be a faceless tool for shuttling information. For their creativity in the field of USB branding, I would like to honor them here. Now.

DISH gave out a USB drive that looks like the remote controls that accompanies their satellite systems. That's awesomel Yale managed to perfectly incorporate the company logo into a drive. The Ferrari Logic3 team handed out drives that looked like a car key. THX's drive looks sleek and modern and cool. And Polk had a wooden drive (with a nice magnetic closure) that matches the fit and finish of the company's new executive Woodbourne speaker.
Lauryn Approved
Every year I look to bring Lauryn something back from CES. Usually there is some toy that I know she'll love. Since she's a sucker for stuffed toy animals of all shapes and sizes, I *knew* my work at CES was done on Monday when I saw this at the DISH press event: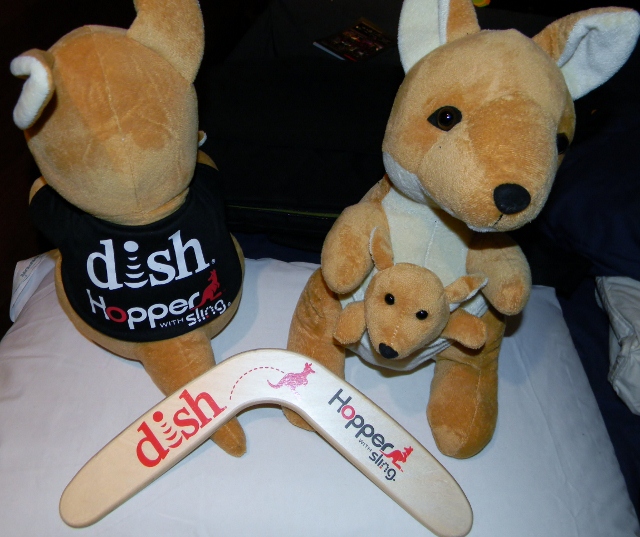 She got a Hopper and Joey from last year's product launch as well, but they were small than the one this year. (She says that this is the dad now and the old one is the mom and they are having a family...) DISH also handed out boomerangs which – AWESOME! Unfortunately, the boomerang does not return, but we had some good time stalking through our front yard and pretending like we were stalking wild game and then throwing the boomerang at stuff.
However as much as she loved Hopper and Joey, this is what caught her heart from this year's show: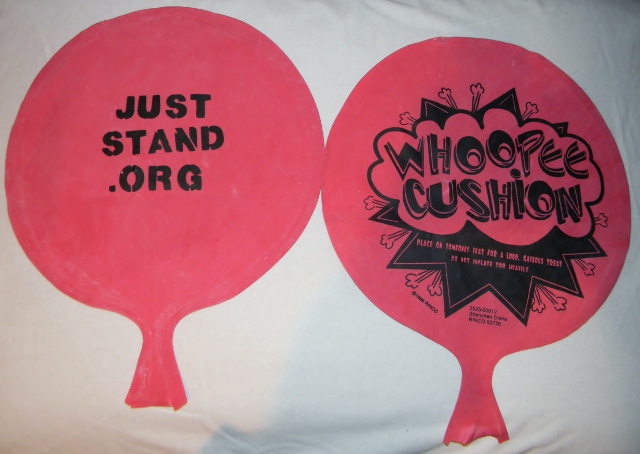 Yes. A whoopee cushion. When I took it out and demonstrated its operation, Lauryn burst into laughter. "It's a toot maker! It makes toots! I love it! Do it again!" She likes to sneak up on Dana and then squeeze it right by her head. She is also planning on taking it to show-and-tell at school. So, thanks and congratulations to Betsey Banker and OmniMount! Your #JustStand Whoopee Cushion gets the 6-year old Product of the Year award!
Best Thing I Didn't Know I Needed
Generally I carry a backpack at CES. It holds my laptop, my camera, notebooks, pens, maybe a water, literature and USB drives, etc. So when I ran into the folks from Samsung Mobile at an event and they shoved this laptop bag into my arms, my initial thought was, "Ugh, I don't need another bag…"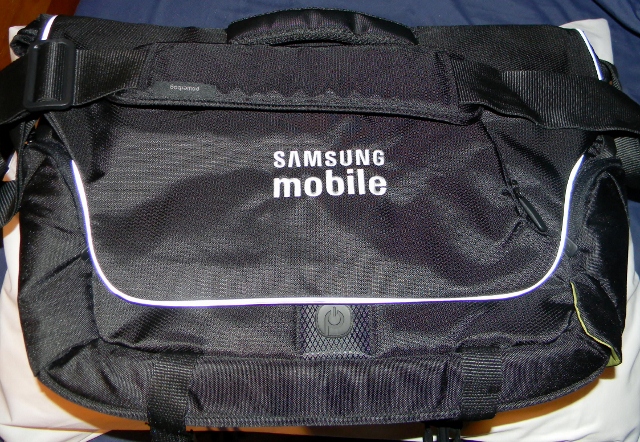 But the bag felt really nice, had some nice padded compartments for portable gear and a comfy shoulder strap. And then I discovered the magic of the PowerBag: It has a rechargeable battery inside!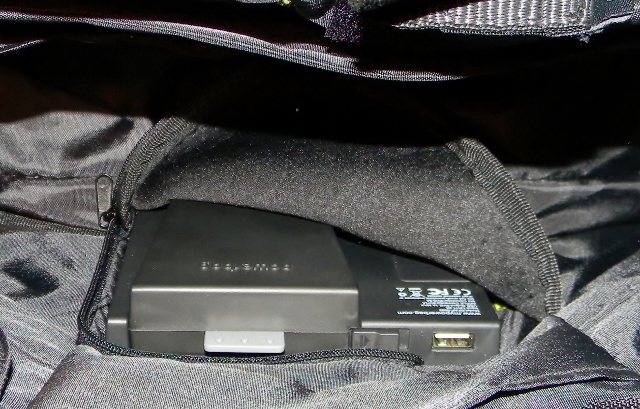 And on top of the direct-connect USB jack, there are a variety of connectors inside soft, concealable pouches to charge your mobile devices!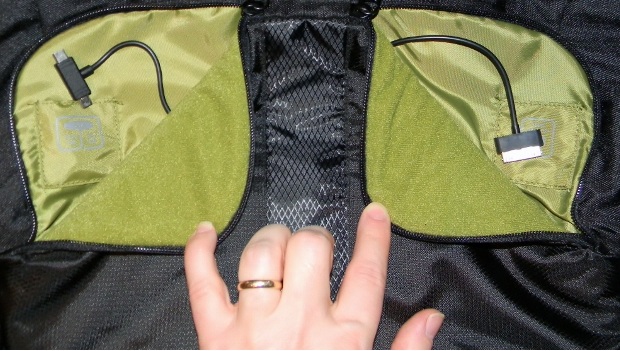 (Me throwing up a Rocker is totally optional)
This is also when I discovered that the iPhone5 battery is designed to last about 4 hours under intense usage. I started carrying this bag everywhere, and would plug my phone in in between events to keep charged and ready to go. This bag is awesome and will likely be my new tradeshow go to! Also cool? They stuffed the bag full of some "emergency supplies" like Red Bull, aspirin, Snickers, Kleenex, water, etc. That's an awesome PR work right there! Thanks, Samsung Mobile!
Writers Gotta Write
You can never have too many notebooks. I love them for, you know, taking notes. I also take them to job sites to, uh, make more notes. Or I leave them on the seat next to me for when I'm driving and I have a brilliant idea and I need to jot down a, umm note… Lauryn also loves them because she uses them to draw and draw and draw. Apparently even one tiny pinpoint of ink on a page ruins it for any further artistic endeavors, so we go through *a lot* of notebooks.
Here's the best notebooks of CES: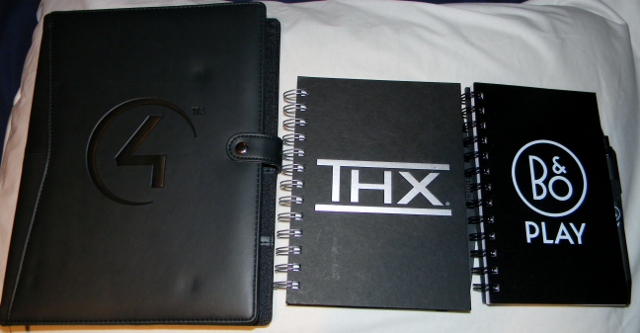 The Control4 binder is really sweet Leeds model that has a soft-and-supple leather cover, you can replace the paper inside and it also has an iPad holder area.
Most Likely to Save Your Life
In a sea of gadgets where flashing lights and clanging bells garners all the attention. In a world where there is another pair of headphones around every corner. In a time where you are surrounded by tens of thousands of disease ridden foreigners armed with one common goal: getting as deeply into your personal space as possible and then coughing on you and infecting you with the latest strain of Asian flu… There stands a company atop that wall striving to look after your health…HealthSpot.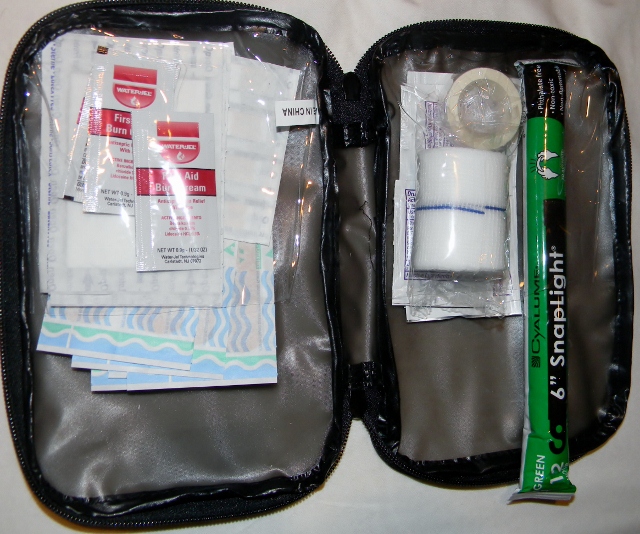 Besides having a very cool idea for bringing easy access to healthcare to a huge variety of people AND having one of my favorite marketing people ever (you should really read about them in my CES post here) HealthSpot handed out this handy, man-portable packet of medical supplies, ointments, creams, unguents, and bandages that would definitely be a lot more handy in a trauma situation than a handful of USB drives and some headphones. (Unless you were McGyver. He could probably start a signal fire with the drives and use the headphones to snare animals for food. But, still, he'd probably love the medi-pack too...)
I'm a Man, Man!
So, as you know, I replaced Lady Phone a while back with a new iPhone5. Well, so many of my "friends" – ie: Darryl Wilkinson, arch nemesis – felt that the tech industry would be incomplete if I didn't still carry a pink phone. So, one day a package shows up at my store and it is addressed to "The Sicaca," and inside is this: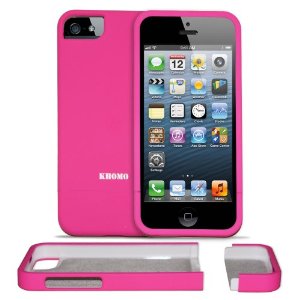 Even more twist the knife? The case has the manufacturer's name prominently stamped on the back in manly silver foil: "KHOMO," which, despite what Darryl says, I don't believe uses a silent-K. To show what a trooper I am, I have been using the case. (It was actually *really* thin and I liked the texture of the case.) But, Dana *hated* the case. She felt that she was at a point in her life where she wanted to be married to someone who no longer carried a pink phone.
So my prime objective from Dana was to return from Vegas with a new case. Last year, I had people throwing iPhone4 cases at me left and right. And this at a time when I didn't even have an iPhone! So I figured it would be NO problem to have my pick of phone cases. Unfortunately, seems that many of the companies didn't come with iPhone5 wares to hand out and I was rebuffed at every turn. But then fellow Resi blogger, Heather Sidorowicz, told me about Speck Products giving away cases. I headed over and…Pow!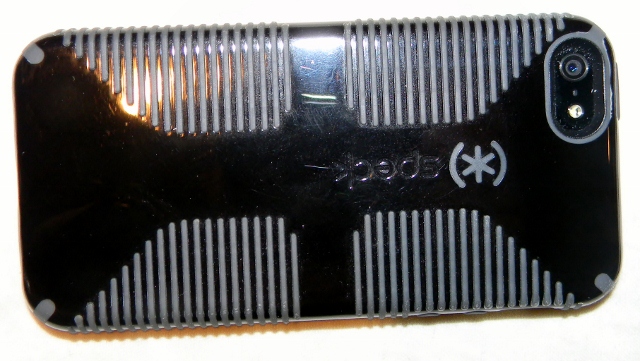 When they saw the current case I was using, they basically called the entire team over to have a look and a laugh and to perform an emergency phone case intervention. They said they would be more than happy to give me a new case – a CandyShell Grip – in exchange for my old case which they wanted to put up on their wall of shame. Done and done!
Headphones:
There is no shortage of headphones at CES. I mean nearly every manufacturer with anything to do with speakers or phones has jumped into the market. And if someone is even a B-list celeb, they likely have an endorsement deal. You've got House of Marley, 50-Cent, Tim Tebow, Lady Gaga, Snookie, Bieber, Luda, Usain Bolt and many – MANY – others. And, I'm sure some of them actually sound OK. But I really don't care to "brand" myself with any of them. What I want in a headphone is comfort and good sound. So, I definitely didn't go out of my way to grab as many phones as possible this year. (In fact, I left two pair with Darryl Wilkinson when I didn't think they'd fit into my bag. I mean, I've only got two ears; how many pair of phones do they need?)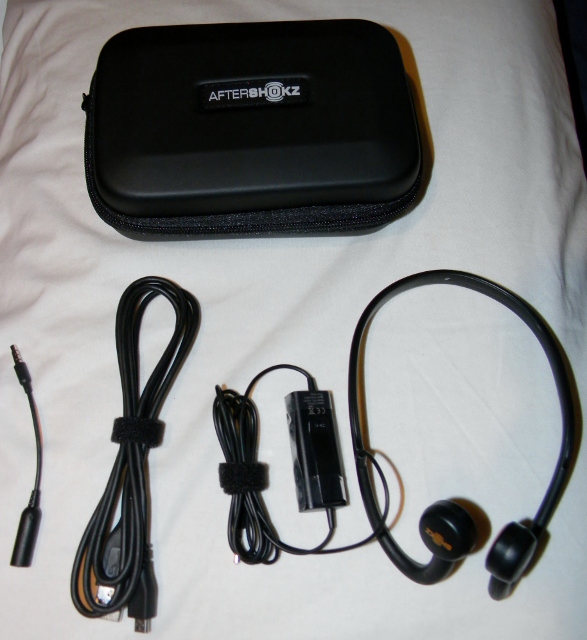 I love these AfterShokz phones. Why? Because they are Zero Dark Awesome! How so? They utilize the same technology as Spec Ops guys. How do I know? Because my cousin was a for-real Navy SEAL (Team 7) and he told me. So whenever I where them I always feel a very  special bit of bad-ass. Second, they use bone conduction technology that allows you to still hear what is going on around you while still enjoying the music. Are they audiophile? No. Not even close. But will they save your life when you are out walking/jogging/riding a bike near traffic? Maybe. The new models are black which is defiitely cooler than the old grey ones and they also include a mic and in-line controls for use with a phone and a better system for charging the battery. I am going to use the crap out of these just like I did the grey ones from last year.
If you think that Spec Ops head phones are cool, then you're gonna love the Munitio Nines. First off, the name is pronounced "Mu-nih-she-oh" kind of like ammunition. Because they are made to look like 9mm shell casings. That you stick in your ears. As far as cool factor goes, these things are off the charts. I also totally love the cord which kind of feels like cloth. That's because it is a Kevlar reinforced fabric. I doubt it's enough Kevlar to stop a bullet, but still, using Kevlar in a "tactical earphone" is pretty frickin' awesome. And functionally it does a great job of reducing cord noise and of keeping the cord from turning into a twisted mess. Also, my hat off to the marketing team for working in phrases like "individually machined from a solid piece of high-density copper alloy," "titanium-coated finish," "neodymium 9mm drivers," and "noise-isolating Silicone Hollow Points." The other thing about the Nines? They actually sound pretty awesome. Some serious bass and a good, comfortable fit. I'll definitely be rockin' the Nines for a while. Until they make the noise-cancelling Magnums, of course…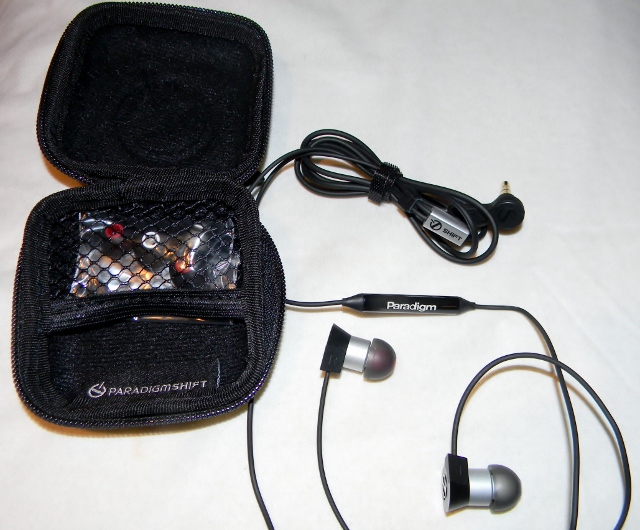 Paradigm has two big things going for them. (OK, they actually have a lot more than two, but...) And those two things are Mark Aling and Erin Phillips. Mark and Erin head up the marketing team for Paradigm and they are a dynamic-duo of awesome. Funny, easy going, totally squared-away on product knowledge and as an added bonus, Erin looks like Erin. (Even if she does welch on a Polar Bar bet. Unrelated...) So when they offered me a pair of the flagship Paradigm's Shift E3m headphones that have been voiced to sound like Paradigm's high-end Signature Series I'm like, "Hells, yeah I want them! Gimme-gimme-gimme!" Mark was also cool enough to take them out of the packaging so I could fit this svelte little carrying case in my pack. That's class. The amazing thing is how great these fit in my ear and the incredibly tight seal which blocks out outside sound and produces bass like I've trapped two Signature subs inside of my brain. The bass notes in The Crystal Method's "High Roller" are deep and massive, while maintaining smooth and silky mids and highs. Fit is such a big deal to me in in-ear models and these fit SO well that these very well may replace the Etymotic and Future Sonics I have been using…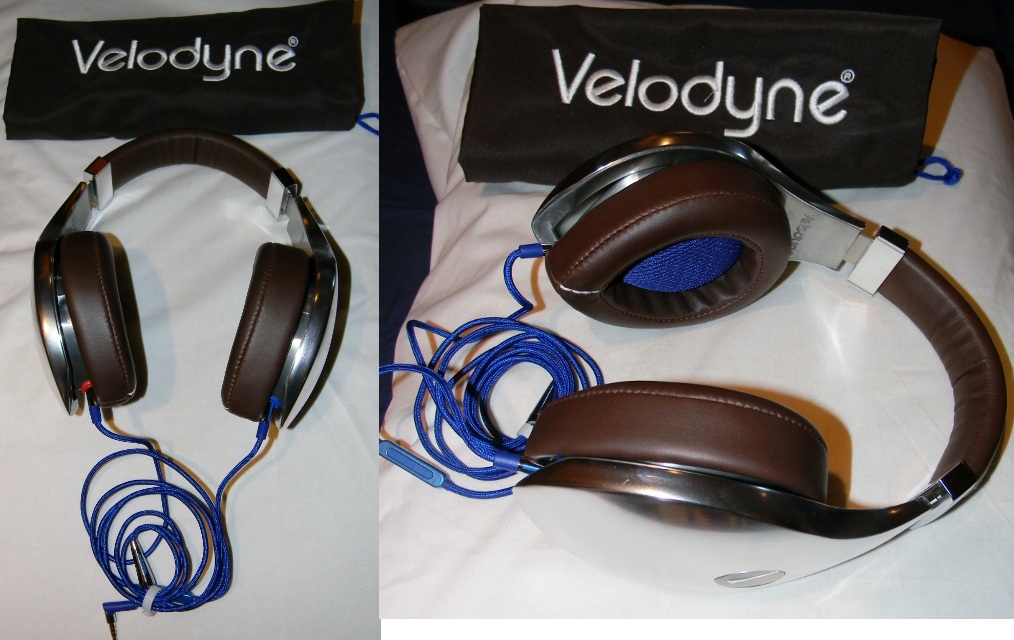 Then we come to these… Obviously not-so-much in-ear models. I first heard these Velodyne beauties in a giant, crowded, super-noisy showfloor at either CES Unveiled or Pepcom. (They all blend together after a week in Vegas...) When I put the Velodyne vTrues on inside of that noisy space, it was like I was locking myself away into a vault. A cushy, buttery-soft leather padded and brushed aluminum trimmed vault where there was beautiful music playing. Tight bass pounded away, while smooth mids and detailed highs made you forget you were in a Vegas banquet hall surrounded by plague-carriers, letting you instead close your eyes and just enjoy a brief musical respite. I listened to these babies with high-res audio in my hotel room while writing. I listened to them all the way home on my plane flight from Vegas. I listened to them in the US Air lounge in Charlotte while I sipped free Budweiser and waited for my weather-delayed flight to arrive. And never once did they fail to impress. While the size of the vTrues make them perhaps less-than-awesome for portable listening, the sound will make you regret leaving them behind.
Float Like a DragonFly, Sting Like an Audiophile
Oh, how this industry turns… One day someone is the editor-in-chief at your principal competitor and the next they are the head of marketing at a cable company. The person in question here is Shane Buettner who moved from Home Theater Magazine (one likely scenario is the he was slowly driven insane like arsenic poisoning from the antics of Darryl Wilkinson...) to AudioQuest. Shane has been great about reaching out to A/V editors and inviting them to come by the AudioQuest booth and experience the latest demo. This year at CES Shane was demonstrating the DragonFly: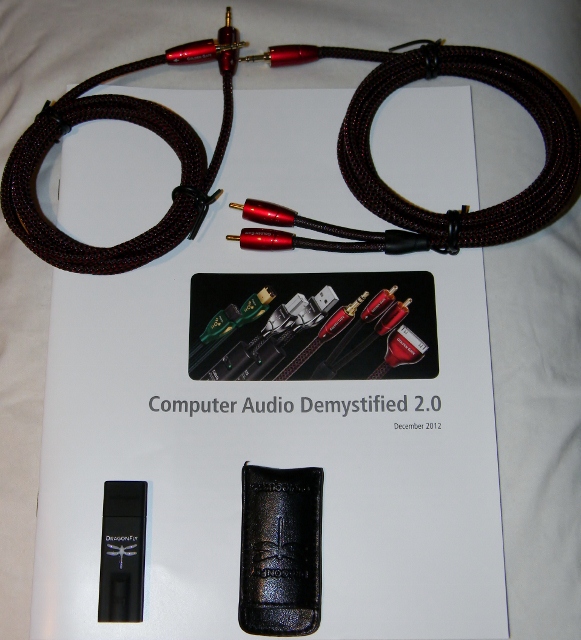 This is not ordinary USB thumb drive, but rather a high-performing USB DAC that is designed to turn your computer's terrible audio card into a think of majestic beauty. Unfortunately, I arrived at the AudioQuest suite late on Friday after Shane had already left, but they did hand me that awesome pack of audio goodies, which is also a great Shane touch. He didn't just give me the USB DAC and send me on my merry, bound-to-screw-it-up way. No. He included the necessary AudioQuest cabling to insure that I got the most sweet-sounding-sonics from the DragonFly! Also, an entire book explaining computer audio any why you need theDragonFly in the first place. Well done, Shane!
I'm (Kinda) Smart Watch
I was going to totally blow the IMCollection event off. It was going to suck a precious hour of my day, I already have an awesome watch, and "smart watches" isn't really a beat that I cover. Then Wilkinson said that they were going to give any registered press a FREE IMWatch if they attended the event. Then he said he was going and he was going to rub that free watch in my face every chance he got if I didn't go. Plus, it's an Italian company, so the chances for the style to be awesome were pretty high. Surely I could spare but one single hour for a cool watch, no?
Turns out we had to *totally* earn this thing. The event was mobbed in this tiny booth with people fighting and pushing like you were stranded in a Paris Metro car in rush hour. The temperature soared to malaria-fever levels, but Darryl and I stood our ground, dammit! Finally, after starting like 20 minutes late (kind of an ominous portent for a watch company...) and then having the entire Italian board of directors give presentations that started with, "Fifteen years ago…" Darryl and I finally had to bail, sans watch, to make it to another meeting. But after lunch we returned like conquering heroes, stormed to the front desk, presented our business cards and our tales of lengthy line woes and claimed our prizes! (I originally got one with a blue band but figured I suffered enough for this thing, I might as well at least get one with a band that looked more cool.)


I plan on doing a review of the watch later, but my initial thoughts are: cool idea, but glitchy, sucky speaker/microphone, battery killer, incredibly large, and not-yet-ready for primetime.
The Grand Daddy – aka: The Mother of All Swag Bags
There can be but one true MoASB. An event SO powerfully awesome that you literally plan your CES schedule around attending. Things like, "I'd love to join you for dinner, but understand that if the DEG (Digital Entertainment Group) party should fall on that nice, I'll be forced to cancel..."
The DEG knows how to throw a party. First, it has a large open bar. (Though, you are limited in your scotch selections to 12-year and under...) Second, there's always a bunch of cool people there. This year I hung with Sound + Vision's Al Griffin, Mashable's Pete Pachal and Kaleidescape's Tom Barnett and Cheena Srinivasan. Third, they don't drone on and on with speeches and presentations. Last year the presentation was exactly, "Thanks for coming! Have a great time!" This year it was *literally* a two minute video. In fact, the video was time stamped counting down from two minutes to let you know exactly how many more seconds there were. I've gotta be honest; I kinda wish the presentation was a little longer because Digital Entertainment is cool and I'd like to hear about the top sales performers and stuff.
But the real reason you go to the DEG party is this:
Swag frickin' bag! When you leave you are given a duffel bag literally *stuffed* with Blu-ray movies. Didn't get the movie you wanted? That's cool. Here's a $25 Amazon Gift Card to pick the one you were hoping for! Look at that pile of discs. Soak it in. Bathe in the awesomeness of it! The first thing I do when I get home is have a Kaleidescape Server loading party with all my new discs! Thank you, DEG! You never fail to impress! Let's be friends forever!

Did you make it to CES? Tell me about the best swag you managed to score in the comments section. Go on; I promise not to be too jealous...
Categories: January 2013, CES/CEDIA, Best Of...
/