Shopping Cart
Your Cart is Empty
There was an error with PayPal
Click here to try again
Thank you for your business!
You should be receiving an order confirmation from Paypal shortly.
Exit Shopping Cart
Features, Reviews and a Blog by John Sciacca
| | |
| --- | --- |
| Posted on January 21, 2013 at 2:30 PM | |
If you think I've been slack in reviewing beers lately, you'd be wrong. Dead wrong. What I've been slack in is *posting* beer reviews lately. I've been drinking and reviewing beers just fine, thank you very much. But in looking through my notes, I see that I have over 20 beers already photographed and reviewed and just waiting for their days in the sun!
So, let's start with four new IPAs that my brother hand delivered from the Bay Area…
Laughing Dog Brewing - Alpha Dog Imperial IPA
Hop Varieties: Columbus and Mt Hood
8.5% ABV, 127 IBU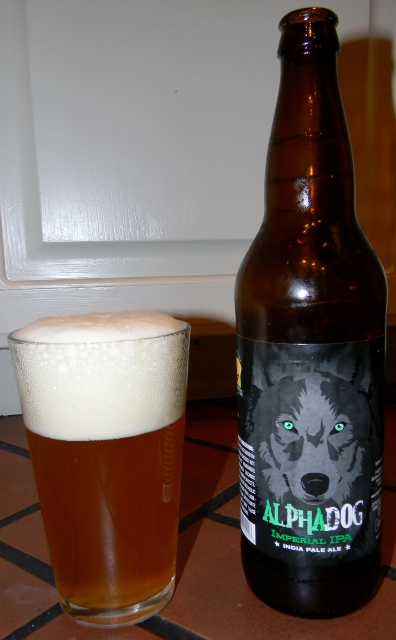 Description: "Alpha Dog Ahead Of The Pack. A True Hop Bomb. Brewed [with] plenty of Columbus and Mt Hood Hops for a Piney hop character. Premium Pale, Honey and Munich Malt make this beer a little less malty but packing plenty of hop punch."
Cool, simple label. The dog looks like he means business. Is he coming to rescue you as you're trapped under your snowmobile, your leg crushed, pulling you to safety? Or is he going to gnaw on the fleshy bits exposed around the open wound? Who can say? Pours smoothly out of the bottle but explodes with a massive volcano of creamy, off-white head rising nearly three fingers up and out of my glass. The sides of the head slowly reduced down leaving me a nearly perfect flan-shaped bit of head that just rested on top of my glass. Color nearly the exact color of thick honey, with a cloud to it. Lots of visible bubble activity going on inside the glass. I get notes of sweetness, like alcohol sweetness, rising through the thick foam with a bit of floral and orange citrus residing underneath. First sip and the beer lands sharply on the front of my tongue, and then it is followed by a wave of smokey, almost porter-like burnt coffee and a wash of hoppy-bitter at the end. The citrus notes become a bit more present with each subsequent sip, but that burnt coffee flavor is still there, and it is the first flavor I'm aware of and it is a bit distracting in an IPA. (Second pour) Damn if this thing doesn't pour so sneaky smooth that it just flows into the glass and then bursts with a HUGE head! Even the second glass bubbled over on me! It just slides into the glass so easy, but is so carbonated that BOOM! Volcano. The huge frothy topping looks like I made myself a latte instead of a beer. The coffee taste – despite my latte allusion – is nicely abated in the second glass, letting me enjoy the rest of the flavors more fully. Unfortunately, the tastes that are coming through are not incredibly pleasing. A bitterness that is treading more towards sour, and a kind of a chemically, alcohol forward taste. If this is the Alpha Dog, I'm clearly not ready to run with this pack… I'd say it may be time to start thinking about putting O'le Shep down.
Southern Tier Brewing – Unearthly IPA
Hops Varieties: Kettle hops: Chinook and Cascade; Hop Back: Styrian Golding; Dry Hopped: Cascade, Centennial and Chinook
9.5% ABV, IBU Unlisted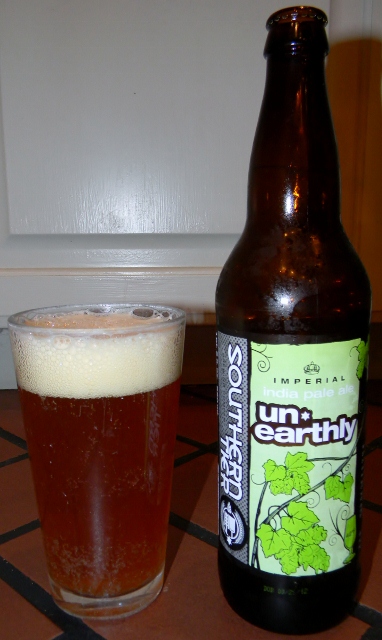 Description: "An Uninhibited Infusion of Hops. At the Southern Tier Brewing Company, vigorously hopped beer is our standard and inspiration. We continue a commitment to innovation with our most aggressive offering yet. Unearthly is a manifestation of the brewer's craft; skillfully balancing art and the forces of nature to produce a diving liquid. Delicately pour a taste into a fluted glass. Smell the enchanting aromas of the hops waft forward as your first sip divulges this beer's fervent soul. To underestimate Unearthly is to trifle with the mysteries of the universe, so please consume wisely."
Southern Tier isn't one to go in for fancy things like "graphic design" or "catchy bottle graphics." A kind of glug-glug pour out of the big bottle produced two plus fingers of chunky white foam which slowly broke down and reduced into big, thick bubbles.  Color is a deep, golden amber-orange with lots of haze and visible bubble activity. Leaves thick creamy lacing on the sides of the glass. Smell is rich with juicy sweet orange citrus and sticky hops. Almost smells a bit like Burt's Bees honey throat lozenges. Beer lands thickly on mid tongue and I really taste it on the roof of my mouth. The orange filled hop juice sweetness is there, big on the first taste, but a little more laid back -- and more enjoyable -- on second and subsequent swallows.  The finish bitter is there but a little muted and not as lengthy or complex as I'd like. (Second glass...) Poured with a beautiful, creamy two fingers of textbook head that look like it should be in a magazine photo shoot. First sip with dinner and the sweetness is more in balance and even. It is still sweeter, but without the sharpness of too much alchol-sweet. Even still, the sweet orange citrus forward hops are the big note in this IPA which isn't necessarily a bad thing. If you like beers that tend towards the sweet side, this is one with trying.
Deschute Brewery – Chasin' Freshies Fresh Hop I.P.A.
Hop Varieties: Bravo, Fresh Heirloom Cascades
7.4% ABV, 60 IBU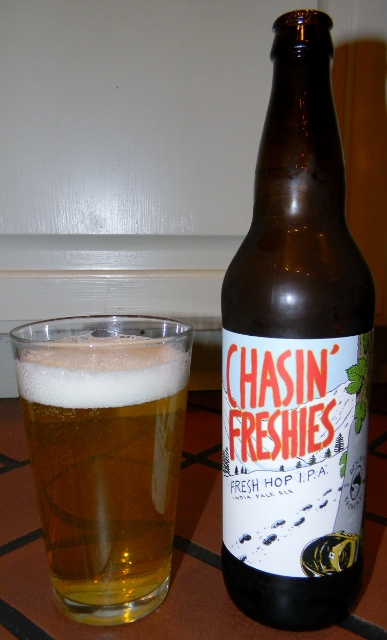 Description:  "Like fresh powder, it's a seize-the-moment thing. At harvest, we rush goschie farms cascade hops fresh from vine to kettle. Not any cascades, mind you, but an heirloom strain, from a single field, restored from the original rhizome. Hope you're as hopped up as we are."
Even with a fairly aggressive pour, the beer produces just a single finger of snowy white head that quickly dissipates down to just frothy bubbles.  The beer is very light yellow in color, similar to a Bud Light or some other thin pilsner. The body is literally clear enough to read through and is filled with tons of visible bubbling action. The nose is pretty non-distinct. I'm catching a whiff of something, but I can't pin it down. But it definitely isn't the typical hoppy, citrusy, piney smells typical of big IPAs. First sip and it really wakes up the mouth, with just an allover zing of involvement. You can really feel all of the micro bubbles working on the full-length of your tongue. There's a hint of sweetness -- pineapple? -- and then a wheat flavored bitter finish. Next swallow and pineapple may not be exactly right, but it's close. Also like papaya. It's got that spicy edge to the sweetness that those fruits exhibit. The finish definitely has wheat notes. End of first glass and I can't really pinpoint anything about this beer that is IPA. (Second pour...) An even more aggressive pour produces a finger-and-a-half of beautiful fluffy, snow packed head. I think the smell reminds me of a Viognier. (Which is a fruity white wine.) It has fruit and an edge that reminds me of fermented grapes. Odd for a beer for sure. Ultimately, this beer has too unusual a flavor for me to recommend; hints of pineapple and papaya and traces of wheat in the sweetish bitter finish. I finished it for sure, but don't mourn the passing of this bottle.
Pike Brewing - Doubble Troubble IPA
Hop Varieties: Columbus, Centennial, Chinook, Cascade; Dry Hopped: Amarillo & Palisades
8.0% ABV, 80 IBU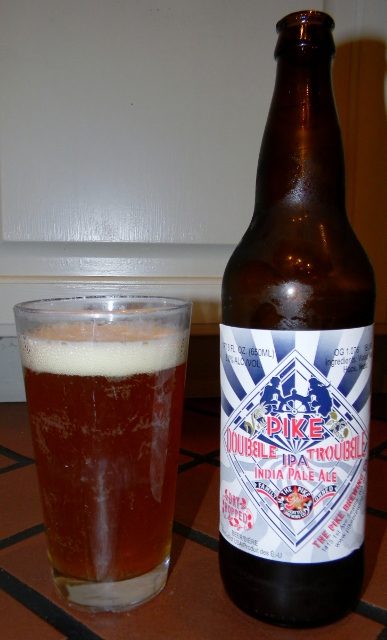 Description: "A bouquet of herbal flowers is followed by the dry, crisp, evergreen and citrus character of humuus lupulus (hops) on the palate. This hop bomb is balanced with smooth, biscuity, earthy malt flavors."

A fairly firm pour into the glass produced a finger-plus of tannish-tinged foam. After a few minutes the head compacted down to an even, full layer covering the top.  Leaves clear rings of lacing all along my glass marking the progress of each sip. Color is of deep, golden honey with a cloudy body. Smell is rich with sweet, orange filled hops and the promise of juicy hop goodness. Beer lands with a thickness in the mouth. It has a real viscous quality and a weightiness to it. I feel the hops and bitterness in my cheeks. There's also a definite sweetness and a bit of the alcohol. The beer really has a nice flavor arc, with a good initial splash in the mouth, nice hoppy bitterness, then a flash of sweetness and a long, lingering finish. (Second pour...) First drink of second glass and everything is just really working. Flavors are all in better balance, sweetness and alcohol are dialed back. Finish still retains a nice bitter character a good linger. A little time in the opened bottle has really made this beer the beer it hoped and wanted it to be, and elevates it to something worthy of trying.
Categories: January 2013, Beer/Liquor/Wine, Reviews
/