Shopping Cart
Your Cart is Empty
There was an error with PayPal
Click here to try again
Thank you for your business!
You should be receiving an order confirmation from Paypal shortly.
Exit Shopping Cart
Features, Reviews and a Blog by John Sciacca
| | |
| --- | --- |
| Posted on January 23, 2013 at 10:15 AM | |
Electronics-industry pundits and consultants, along with futurists, have long been eager to declare disc-based media dead. Almost as quickly as a new format is announced, we're quickly reassured, "This, surely, will be the last physical media format we see."
And the digital writing is definitely on the wall. Streaming and downloading will be the future of audio/video distribution. There are just too many benefits to digital delivery over physical media, including the convenience to the user, the cost savings in manufacturing and shipping, and even the landfill savings by eliminating all the unnecessary packaging.
And yet . . . I think we're likely to see one more disc format before the old gal is ready to roll over and let digital have its fancy 0-and-1-filled way with her.
Unless you've chosen to ignore any technology news lately, you're aware that the big news coming out of CES this year was 4K (or Ultra HD or UHD, depending on your preferred nomenclature).
(For some excellent primers on 4K, read Andrew Robinson's two blog posts here and here.)
You see, I think 4K will have disc makers saying, "Don't bury us . . . we're not dead just yet!"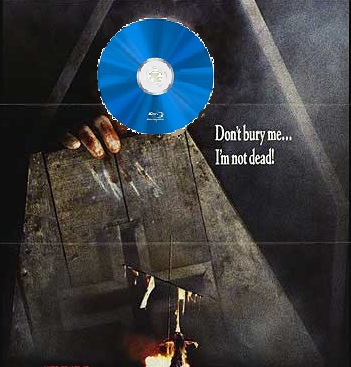 Whenever a new format rolls out, it's in the technology manufacturer's best interests to make sure the new tech performs as well as possible. There needs to be a noticeable and quantifiable improvement in features and performance in order to inspire consumers to part with their hard-earned cash.
Look to the past to see how this game works. DVD offered a huge, easily noticeable improvement over VHS—perfect slo-mo and pause, no tracking errors, plus a digital picture and sound that clearly put videotape to shame. It only took about 2 minutes of demonstration to show people that DVD was the future. Then Blu-ray came along and offered similar A/V advancements. People understood that DVD was lower resolution than Blu-ray, and you didn't have to look at Blu-ray too long to realize it was what your new TV needed to look its best.
But for 4K to be successful, it can't be another niche, videophile laserdisc-type offering. And it can't be just a little better than Blu-ray. It has to be another major, generational improvement that really shows off the power of what 8 million pixels can do.
"But what does this have to do with a new disc format?" you ask.
Everything.

Click here to read the rest of the story at Theo's Roundtable and I'll tell you five reasons why I think physical media will have one last hurrah…
Categories: January 2013, Movies
/