Shopping Cart
Your Cart is Empty
There was an error with PayPal
Click here to try again
Thank you for your business!
You should be receiving an order confirmation from Paypal shortly.
Exit Shopping Cart
Features, Reviews and a Blog by John Sciacca
| | |
| --- | --- |
| Posted on January 25, 2013 at 4:50 PM | |
Not all beers are created equal. Some beers are thin, yellow, pissy affairs that are suitable for little more than flavoring the water they're brewed in. Others are meant to be light and easy, letting you drink all day while lying by a pool or ocean and taking your mind off of a sweltering sun. Others are flavored with fruit and sissified for people who want to drink beer but that don't really like beer.
Then there are beers made for men.
Big beers. Strong beers. Bold beers. Beers with complex and powerful flavors meant to challenge and assault the palate. Beers meant to be slowly sipped and thoughtfully enjoyed and considered. Beers with double-digit ABVs that laugh, nay spit in the face of thin and weak pilsners and ales. "Use performance enhancing products to improve my flavor? Hell yeah, I did! I'm using some right now!"

These are the Bastard beers… Today I review two true Bastards that walk among us.
Founders Brewing - Backwoods Bastard
Hop Variety: Unlisted
ABV: 10.2%, IBUs: 50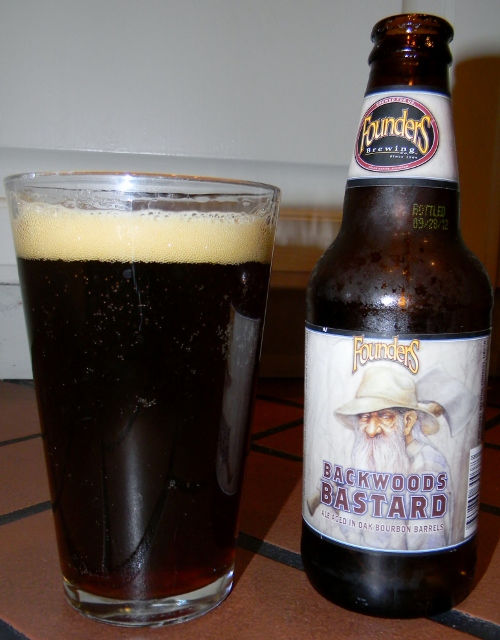 Description: "Expect lovely, warm smells of single malt scotch, oaky bourbon barrels, smoke, sweet caramel and roasted malts, a bit of earthy spice, and a scintilla of dark fruit. It's a kick-back sipper made to excite the palate."
Right off the bat, I loved the label, with a Gandalf looking mountain guy holding an axe. Gandalf never seemed to use any cool wizarding powers, so him holding an axe with kinda dead, soulless eyes as some kind of mountain brewing coot seems a pretty solid fit. I mean, you made light out of your staff and set some pine cones on fire?! That's it, great wizard?! This guy looks like he's seen the horrors of a thousand dark woods, uses his axe to cut his bacon, cleans himself with a rock he found in a stream bed and knows how to make a person squeal like a pig. Also, I also love oaky, wood-filled, picking splinters out of your tongue, bourbon. Also, I've been pretty impressed with several of the Founders brews I've tried so far. They seem to have burst onto the scene and I like the cut of their jib. So, I pretty much loved this beer before even popping the cap. I expected the beer to pour the color of thick, viscous, black motor oil or sweet, sassy molassey, but it is actually more a light-cola brown. Even with a pour down the middle of the glass, it produces just a single finger of tan froth that quickly reduced to just a covering of foam. The smell is sweet but also redolent and rich with bourbon wood notes. I'm also getting notes of vanilla and maybe some molasses sweetness. The nose is really rich and nice. First sip...wow! I'm struck by how amazingly smooth it is. It's got some smokiness and wood notes of bourbon, but it's creamy and smooth and there's none of the bite or burn. It's really like the beer leached out the very best notes of the bourbon barrels and left all the bad elements behind. It's smooth, it's creamy, it's woody and toasty and vanilla-ey. Even in the mouth it just feels wonderful. Thick and loving on the tongue. The finish is lengthy with cream and wood and warming. This is a beer that you could get in *a lot* of trouble with. With the high alcohol, and smooth, easy sippin' flavor, you could find yourself sittin' out back, rockin' on the porch, starrin' off into the distance and workin' through several bottles and then – if not careful – end up squealing like a pig for some Backwoods Bastard. Good stuff! Definitely recommended.
Stone Brewery – Double Bastard
Hop Variety: Classified
ABV: 11.2%, IBU Unlisted
"Sometimes, you feel like a Single. But other times, you feel like a right Double." – Me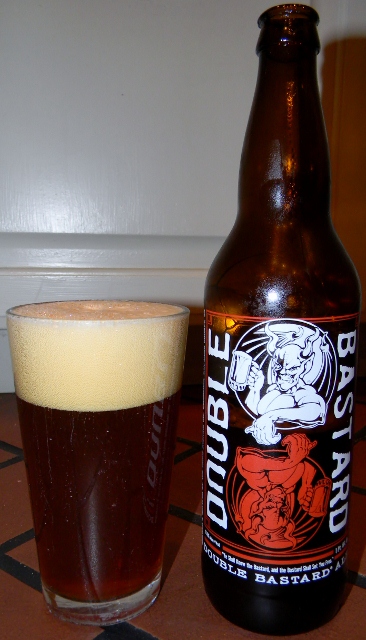 Description: "Warning: Double Bastard Ale is not to be wasted on the tentative or weak. Only the Worthy are invited, and then only at your own risk. If you have even a modicum of hesitation, DO NOT buy this bottle. Instead, leave it for a Worthy soul who has already matriculated to the sublime ecstasy of what those in the know refer to as 'Liquid Arrogance.' This is one lacerative muther of an ale. It is unequivocally certain that your feeble palate is grossly inadequate and thus undeserving of this liquid glory...and those around you would have little desire to listen to your resultant whimpering. Instead, you slackjawed gaping gobemouche, slink away to that pedestrian product that lures agog the great unwashed with the shiny happy imagery of its silly broadcast propaganda. You know, the one that offers no challenge, yet works very, very hard to imbue the foolhardy with the absurd notion that they are exercising 'independent' thought, or attempts to convey the perception it is in some way 'authentic' or 'original.' It's that one that makes you feel safe and delectates you into basking in the warm, fuzzy, and befuddled glow of your own nescience. Why so many allow themselves to be led by the nose lacks plausible explanation. Perhaps you have been so lulled by the siren song of ignorance that you don't even notice your white-knuckle grip on it. You feel bold and unique, but alas are nothing but sheep, willingly being herded to and fro. If you think you are being piqued in this text, it is nothing when compared to the insults we are all asked to swallow streaming forth from our televisions and computers. Truth be told, you are being coddled into believing you are special or unique by ethically challenged "pay no attention to the man behind the curtain" marketers who layer (upon layer) imagined attributes specifically engineered to lead you by the nose. Should you decide to abdicate your ability to make decisions for yourself, then you are perhaps deserving of the pabulum they serve. Double Bastard Ale calls out the garrulous caitiffs who perpetrate the aforementioned atrocities and demands retribution for their outrageously conniving, intentionally misleading, blatantly masturbatory and fallacious ad campaigns. We demand the unmitigated, transparent truth. We demand forthright honesty. We want justice! Call 'em out and line 'em up against the wall... NOW."
I was worried that this might be too sweet, too overpowering, too Bastard-ey even for me. But then when I saw it mocking me from a shelf in a beer store, I felt I needed to test myself on the crucible of Stone beers; to summit the Double. I brought this monster of a beer home, chilled it appropriately, and then drank it with a vengeance. It pours a hearty, copper color with a generous three fingers of khaki head that is thick and fluffy and creamy.  Head remains like a dense cloud on top of the beer for quite some time; even down to the end, there is a half-finger of foam resting on top of the beer, with the sides of the glass covered in thick, creamy lacing, challenging you to go in after it. Beer has a clear body with lots of visible carbonation going on. The smell is sweet with thick orange-honey notes, and reminds me a bit of the Weyerbacher Double Simcoe. First sip…actually not as much of a flavor bomb as I was expecting. Beer has not so much a thick mouth feel, as a full mouth feel. There is definitely some body and weight to it, but not like syrup, but just IN your mouth you can tell it isn't a lightweight brew. It has the taste notes from the smell, maybe some malt and alcohol as well, but then a really lengthy finish with some nice roasted bitter. I think the finish is where this beer excels. As the beer develops in the glass, the sweetness definitely abates, and the lingering bitter is still there in force, reaffirming my thoughts on the Double B. (Second pour...) I gave it a more gentle pour the second go, and the thickness and luxurious of the beer is even more evident. As with many beers, the second pour is more impressive, and more representative of the beer. It is smoother, fuller, less sweet, but still retaining the lingering bitter finish that made it good. I am also feeling the alcohol of the beer far more than I am tasting it. (A good thing.) While there was a lot of noticeable sweetness in the first glass, the second is more full of flavor than sweet. Double Bastard was and wasn't what I was expecting. It is bigger, but not really the same flavors as regular (Arrogant) Bastard. I think flavor-wise, I prefer the Arrogant Bastard, but as a bigger, bolder choice, Double Bastard retains the classic Stone ability to deliver big taste, big flavors and big alcohol while remaining balanced in flavor.
Categories: January 2013, Beer/Liquor/Wine, Reviews
/