Shopping Cart
Your Cart is Empty
There was an error with PayPal
Click here to try again
Thank you for your business!
You should be receiving an order confirmation from Paypal shortly.
Exit Shopping Cart
Features, Reviews and a Blog by John Sciacca
| | |
| --- | --- |
| Posted on February 5, 2013 at 10:55 AM | |
If you watched the Super Bowl – or even surfed the Web at all in the past 24 hours – you likely read about the little power disruption that occurred just after halftime at the Superdome in New Orleans. (Insert jokes here about New Orleans forgetting to pay the power bill, or Beyonce's halftime show being too much for the power grid or whatever...)

Had the Niners gone on to come back and win the game – seemingly returning from the dead after the power was restored and quickly going on a 3rd Quarter scoring tear the Ravens couldn't stop or match – this would have likely gone down as the most disruptive tech mess-up in history!
Fortunately, when we "mess up" in our jobs, it is usually only witnessed by a few people, but there are five obvious power-related lessons we can glean from this little 34 minute "Whoops!" that was witnessed by hundreds of millions of people around the globe.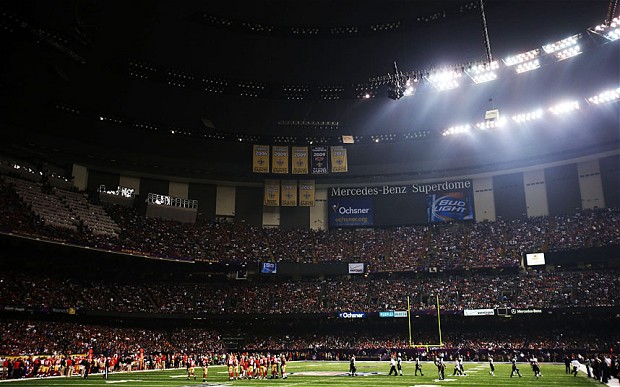 1 - Eliminate Dumb Mistakes
We've all worked on those racks or cabinets that are so tight or that have cabling that just barely reaches where even the slightest bump or repositioning of gear results in cords been ripped from the back. This is stupid. Don't do this. Part of having clean, well-managed cable bundles and proper wire management is having enough slack to be able to work on or move the gear without wires becoming disconnected. Don't let a maid's overzealous dusting be your downfall.
2 - Protect It
Surges, spikes, brown outs, sags, under-voltage, over-voltage, lightning… fluctuations in electricity can work some bad mojo on electronics, wreaking havoc that can rob a system's performance, shorten lamp life, destroy single components, entire systems, and even the wiring that interconnects them. And since basically every component that we install relies on power in some form or fashion, we need to make sure that the systems we install are appropriately protected. There are a variety of ways to go about this, from single component solutions, to rack mount components and strips, to panelized solutions that eliminate issues at the circuit level.  One of the most effective technologies I've used – and what I have protecting my own home – is SurgeX. (You can read my review of the SurgeX XN120 here.) The surge elimination technology SurgeX employs completely absorbs electrical surges up to 6,000 volts (beyond which, apparently the physical Romex wire itself fuses together...) But whatever brand/system you prefer, some protection from the elements is the second line of defense. Also, it is one of those things that homeowners almost never question on a proposal. "You need this to protect your investment from lightning or surges…"
Please click here to continue reading this article for the other three tips at Residential Systems!

Categories: February 2013, TV, Electronics
/