Shopping Cart
Your Cart is Empty
There was an error with PayPal
Click here to try again
Thank you for your business!
You should be receiving an order confirmation from Paypal shortly.
Exit Shopping Cart
Features, Reviews and a Blog by John Sciacca
| | |
| --- | --- |
| Posted on February 5, 2013 at 11:30 AM | |
Starting a couple of years ago, I started a personal tradition of spending Super Bowl Sunday drinking a variety of high-end brews. The Super Bowl is one of only two sporting events I enjoy watching religiously. In fact, this will be the first football game I watch this year. (It certainly doesn't hurt that my favorite team – the Niners – is in the Bowl. I mean, I'd watch it either way, but now I'm going to be a lot more vested in the actual game and not just watching for the gorging on chips, dips, salami and cheese and waiting for the commercials.) (The Masters is the second event I like to watch, now just a few weeks away. Augusta is the Holy Grail of golf courses, and always reminds me of a comment a former pro I worked with said. "Augusta is so beautiful, I wouldn't even think of spitting my tobacco out on the ground there. I carry up cup with me.")
So, prior to the game this year, I headed to my Piggly Wiggly with the most epic beer selection for many miles around and picked up several beauties. I figured I would divide the drinking up by quarters this year, to help me pace. Or something. With that, here's what's on the tasting docket: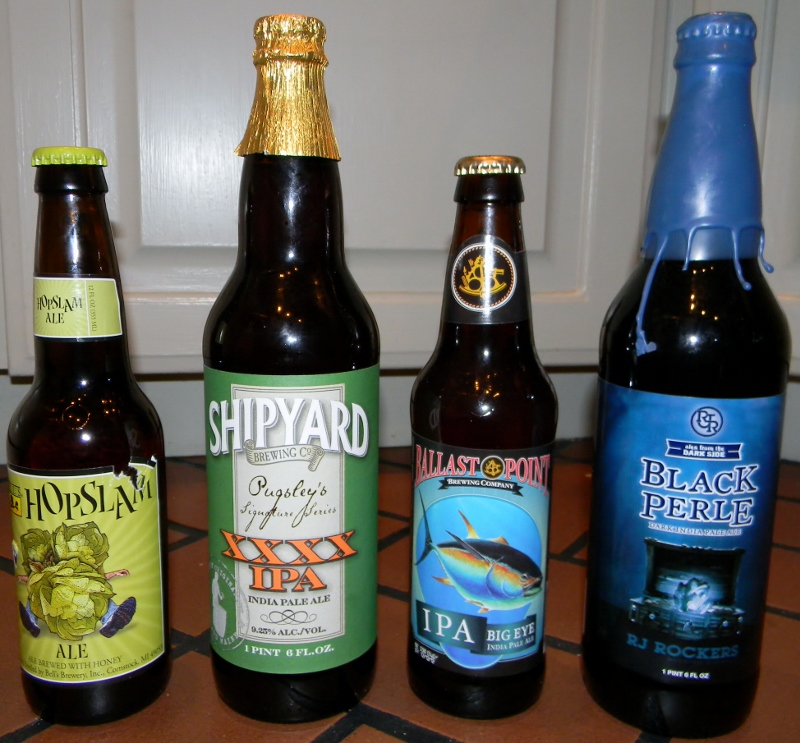 Kickoff – Ravens 0, Niners 0
Bell's Brewery – Hopslam
Hop Variety: "Six different" including Simcoe
10.0% ABV, IBU Unlisted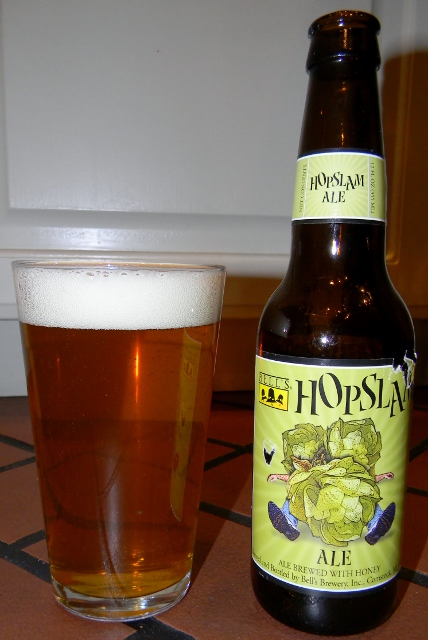 Description: "A biting, bitter, tongue bruiser of an ale. With a name like Hopslam, what did you expect? Starting with six different hop varietals added to the brew kettle & culminating with a massive dry-hop addition of Simcoe hops, Bell's Hopslam Ale possesses the most complex hopping schedule in the Bell's repertoire. Selected specifically because of their aromatic qualities, these Pacific Northwest varieties contribute a pungent blend of grapefruit, stone fruit, and floral notes. A generous malt bill and a solid dollop of honey provide just enough body to keep the balance in check, resulting in a remarkably drinkable rendition of the Double India Pale Ale style."
I had never heard of Bell's Hopslam, and this beer was actually not one that I purchased for tasting, but rather a gift from a friend named Corey. Apparently Hopslam is in CRAZY limited release, like each distribution partner gets but a single case, 4 measly 6-packs. Corey loves this beer and he hunted it down mercilessly; going to every reseller in town and scoring EIGHT 6-packs, and then sharing one bottle of the priceless golden elixir with me. Turns out that Hopslam is one of those rare beers that has achieved the Double Century; a perfect 100 from both Rate Beer and Beer Advocate. What better way to kick-off the Super Beer tasting? Pours a beautiful golden yellow with the read-through-the-glass hyper-clarity characteristic of many of the best IPAs. Produces a beautiful two fingers of creamy, off-white head that slowly reduced down to a nice frosty topping that coated the top of the glass. Leaves thick, rings of lacing all around the sides of my glass, marking each and every sip of progress. Oh, man. The smell is wonderful. Giant and rich like you crammed an entire freshly cut forest up your nose. You can almost feel the sticky, hoppy pine sap. It has a wonderful undernote of spicy sweetness that really promises fresh, ultra-rich, bold hop flavors. First sip, and it lands on the tip of the tongue like a charging running back. It just lights up the tongue and wakes up your whole mouth, and then the beer runs, jumps, and spins its way to the back of the mouth for a taste touchdown. There is a wonderful fresh, piney hop-filled sweetness and then a terrific, lingering bitter finish. After one single sip I can pretty safely say that this is a top 10 beer. This beer has the wonderful, subtle sweetness that I crave in an IPA. The best of them – Stone Ruination 10th, Drakes Hopacalypse, Knee Deep Simtra, Sierra Nevada Hoptimum – have it, and it is that balance that makes them so great. The flavor arc on this is really perfect as well, with wonderful, engaging flavors happening from every step of this beer, from the nose, to the spark on the tongue, to the big, rich sweet hops that swell in the mid, to the nice lingering bitter at the end. As far as flavor notes, I'm picking up hints of pineapple and mango/papaya flavors, and some grapefruit citrus along with the big, sweet pine. Also, speaking of balance, you would have no idea this beer is packing double digit ABV. It is so smooth and lacking in any alcohol flavors. I honestly can't think of one negative thing to say about this beer. It lives up to its name; it's a true Hopslam of delicious flavors, and is worth seeking out by any true hophead.  In the football spirit, I'm gonna say that on any given Sunday, Hopslam could be one of the best IPAs you drink. Ultimately, I'd say it's probably not a top 10 beer. It's a top 5 one. Highly recommended.
Second Quarter - Ravens 7, Niners 3
Shipyard Brewing – XXXX IPA (Pugsley's Signature Series)
Hop Varieties: Cascade, Warrior, Summit, Glacier
9.25% ABV, 70 IBU
$8.49, 22-ounce bomber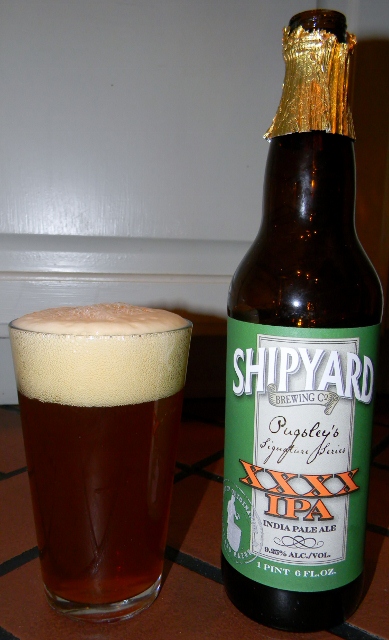 Description: "XXXX IPA is a non-traditional American IPA with a brilliant copper color and the classic citrus nose of Cascade hops. This beer demonstrates a unique balance of malt-inspired, delicate red grapefruit sweetness and lingering hop dryness. The OG and final Alc./Vol provide the structure and body to balance the harmony of distinct flavors. Cascade, Warrior, Summit and Glacier hops are used for bittering and Cascade hops are added for dry hopping after fermentation. This hop blend is well balanced with malted wheat, pale ale, Crystal, and Caramalt malts. To fully enjoy all the flavors, this ale is best drunk at 55°F. This beer pairs well with Cajun dishes, blackened fish, and BBQ. XXXX draws its name from the British brewing convention of using X's to denote style."
What better way to follow-up a Double IPA than with a Double-Double IPA? Pours a darker, ambery-orange color with a clear body and a big, thick, dense, light khaki colored head. The froth is deceptively sneaky as it is mostly non-existent during the pour and then, BAM! Froth volcano. Nose is sweet. Like *really* sweet. Like it smells like you are smelling a jar of orange infused honey, or a bunch of honeysuckles or something. There are a lot of malt notes too. Just from the smell, I'm a little concerned that this beer is going to be four-X of sweet. First sip, and…OK. It's big. And it's really sweet, but not as crazy sweet as I was thinking from the smell. It really lights up the entire length of the tongue. You feel the carbonation and then you can sense the sweetness and thickness of the beer just permeating the length of your tongue, and then on the swallow the honey-molasses sweetness abates into a nice bitter finish. The big flavors are honey and mead and malt and alcohol. The flavors are undeniably 4X, but I'm not sure they are all 4X-good. It is just a bit too much, too big. Like single IPA good; double IPA great; triple IPA potentially awesome; 4X IPA too much. After some time in the glass, the sweetness is abating a little making it a little less intense. The flavor is still honey sweet and malty, but it is more approachable. This makes me hopeful for the second pour being a little more approachable to my palate… (Second pour) Definitely a smoother, less sweet, better tasting beer in glass #2. It's almost like a different beer with the big, sweet, malt, honey flavors dialed back and letting it taste more even and balanced. There is no denying that this is a big, full-flavored beer, and if the flavors you like are honey and malt and sweet, then it will likely be a beer that appeals to you. Even minutes after the final swallow, I can taste nearly all of the flavors; truly a lingering finish. Unfortunately for me – especially coming off of the outstanding, hits-all-the-right-notes Hopslam – the malty, honey sweetness is the XXXX's biggest shortcoming.
Third Quarter – Ravens 21, Niners 6 (Damn! I can't even pop the beer before the Ravens return a record setting, 109 yard kick-off return! Eleven seconds into the quarter and the score is: Ravens 27, Niners 6)
(And then we have a 34 minute blackout...)
RJ Rockers – Black Perle Black IPA
Hop Variety: German Perle
9.5% ABV, IBU Unlisted
$7.49, 22-ounce bomber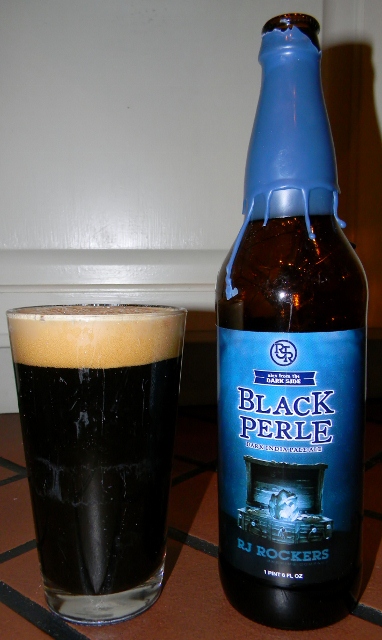 Description: "90 minute Octo-hopped IPA. In the late 17th century the Honourable East India Company lost one of its ships on a return voyage from the Indies. The flagship, The Harvester, was attacked by Malay pirates and sank beneath the swells and into darkness. It is said that The Harvester was carrying a strange and wondrous cargo known to the company as Black Perle. This once lost treasure has now risen from the depths of allowing the world to discover its Mystery."
Lauryn saw this bottle in the store and said I had to buy it. She liked the blue dripping wax, and when I picked it up, I agreed. It looked interesting, so score one for the RJ Rockers marketing team! This beer pours black. Black like the power in the New Orleans Superdome right now. Black the way I'm feeling about this game right now. Seriously...27 to 9?!? And a 34 minute power outage?!? Oy vey! But this beer pours black like its name. Dark where you can't see an inch into the body of it. Dark where you can't see even a scintilla of light through it. Produces a good two fingers of khaki head that slowly reduces down to a nice creamy tan topping. Smell is sweet and smokey and hoppy with burnt coffee undertones. First sip and it is really creamy and smokey, with nice burnt coffee-with-cream notes with just a bit of hops living underneath. This reminds me a bit of the Sam Adam's Dark Depths Baltic IPA, but it is a better version of it. Where that had kind of a sweetness to it, this is more balanced. The porter flavors are better; creamier, smokier, coffee-ier. It is like a really creamy, delicious porter with nice dark chocolate notes, and creamy, espresso bitter, but with some hoppy undertones. I know it is called a Black IPA, but I think it is better described as a hoppy porter. And as such, I'm really digging the flavors. (Second pour) When you get out of the mindset and don't try to think of this as an IPA, the flavors are really rich and intriguing and developed, especially in the second glass. There is smoke and burnt and bitter and coffee and chocolate and cream. It's really a wonderful combination of tastes and has a nice mouthfeel. When considered as a non-IPA – or judged as a Black IPA, whatever that is exactly – the Black Perle sets sail to a land of full flavor. Especially recommended for porter/stout lovers.
Fourth Quarter – Ravens 28, Niners 23
Ballast Point Brewing Co – Big Eye India Pale Ale
Hop Variety: American Columbus, Centennial

7.0% ABV, 75 IBU
$9.99 6-pack
(To be fair, the bottle has "Enjoy by 12/12/12" printed on it, so I'm almost two months late on drinking this...)
Description: "If you have fallen for the IPA style like we have, Big Eye will be a welcome addition to your repertoire.  You'll revel in Big Eye's bitter, hoppy flavor thanks to the American Columbus and Centennial hops that are used to flavor and dry hop our flagship IPA. We thank our hops every day that the English loved their bitters—or else the IPA style may not have been born to help the beer survive the journey from Cape Hope to India back in the 18th century."
Not gonna lie; feeling the effects of those 3 previous beers right now… After the creamy, porter-ey, chocolate coffee and cream non-IPA-ness of the Black Perle, I'm ready to celebrate the Niner's amazing third quarter comeback – thank you, Power Outage! You're the best! – with a return to a more traditional IPA. Big Eye pours a nice, burnished copper, orange-amber color with a nice two fingers of thick, dense head. The head retains is shape and size for a long time, with tons of micro-bubble activity visible in the clear body. Like, a loooong time. I mean four sips in – half the glass gone – and the head is still there, thick and proud. Nose of malty, honey sweetness, and maybe some orange fruit. First sip, and the beer doesn't have the spark on the tongue of the others, but is more refined and laid back. (Or maybe my palate has been destroyed...) Definitely a sign of its lower ABV compared to the others. There is some of that malty/honey sweet flavor -- though WAY less than the XXXX -- and then a nice lingering bitter of grapefruit rind. This is a nice, approachable IPA, not a giant hop bomb, but a good representation of the style with some hoppy sweetness, and then a nice lingering bitter finish that isn't too overwhelming. This is a beer that you could sip multiple bottles of on an afternoon where you're relaxing on a deck reading a book and listening to some music. Near the end of the glass there are some nice, balanced flavors that are really working for me; some sweet orange and the nice bitter finish. Big Eye is a workhorse IPA; a solid performer that isn't a standout, but that likely won't disappoint. Admittedly, at $9.99/6-pack, there are a lot of other IPAs that you could probably go with for less that would be superior, so I would say unless you are a beer hunter looking for a new adventure, Big Eye may not be worth the investment.
Final Score – Ravens 34, Niners 31
Categories: February 2013, Beer/Liquor/Wine, Reviews
/