Shopping Cart
Your Cart is Empty
There was an error with PayPal
Click here to try again
Thank you for your business!
You should be receiving an order confirmation from Paypal shortly.
Exit Shopping Cart
Features, Reviews and a Blog by John Sciacca
| | |
| --- | --- |
| Posted on February 7, 2013 at 2:40 PM | |
Talk of compressed, quantity-over-quality lossy MP3 audio seems to dominate music discussions lately. And there's no question that compressed-audio formats like MP3, AAC, and WMA have changed the way people listen to music, and that they definitely have their time and place. For mobile listening, compressed music files let you carry 10,000 songs around in your pocket—a pretty amazing feat that is especially appreciated when you find yourself on a lengthy flight or drive. Compression has also enabled streaming Internet music services like Pandora, Spotify, Rhapsody, Songza, and many others.
But there are times when the compromised audio of MP3 just isn't right for the task—for instance when you are at home, sitting back in your favorite chair at the end of the day in front of your audio system, looking to relax with a nice single malt while some sweet audio washes over you. For those times when you're actively listening and looking to get the most out of your audio system, let me introduce you to the next generation of music listening, high-resolution—or high-rez—audio.
A typical CD is sampled at 44.1 kHz with 16-bit resolution. By contrast, high-rez audio files contain far more information and are typically recorded in what's called 96/24, referring to a 96-kHz sampling rate with 24-bit resolution. (Some files are now captured at an even higher 192-kHz rate, called 192/24.) High-rez music files are delivered in a format called FLAC (Free Lossless Audio Codec) that uses "lossless" compression to save file size without any loss in quality. As a comparison, a song downloaded from iTunes might be 6 MB whereas a high-rez 96/24 download of that same song would be around 65 MB and the 192/24 version could require 133 MB.
Playing back these files can be a little trickier than your typical CD or MP3 download, and for more on that, read my "Resolution Revolution" column post at Sound + Vision's Web site.
So, why is high-rez music worth all of the trouble? I've found that music has a greater sense of depth, with more air and space around individual instruments, more nuanced vocals, and a better sense of the ambience and environment where the recording was made when heard in higher resolution. There's an openness that's lacking in other recordings. A good system with well-positioned speakers will also help you to visualize the position of the performers—how the band is arranged on stage. High-rez music seems to "breathe" audio into the room in a way CDs and—heaven forbid—MP3s never could. Because of the enhanced resolution and total lack of distortion, music is also less fatiguing to listen to at higher volumes. In fact, I often find myself listening to high-rez music at a louder volume because it sounds so much better.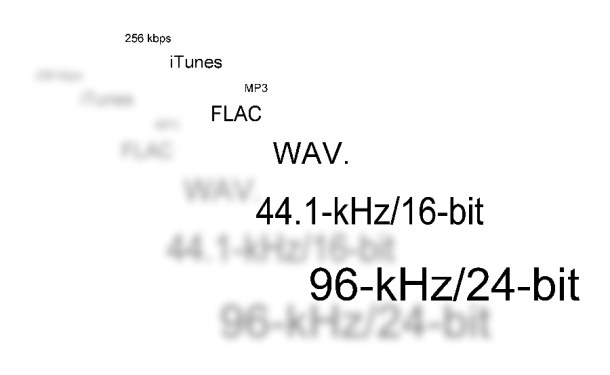 And according to a study by the Journal of Audio Engineering Society, "Virtually all of the [high-resolution] recordings sounded better than most CDs—sometimes much better [because] engineers and producers are being given the freedom to produce recordings that sound as good as they can make them, without having to compress or equalize the signal to suit lesser systems and casual listening conditions. These recordings seem to have been made with great care and manifest affection, by engineers trying to please themselves and their peers."
Click here to read the rest of this at Theo's Roundtable and see some of my favorite high-rez albums and get a link for a free download of 10 high-rez tracks!

Categories: February 2013, Music
/