Shopping Cart
Your Cart is Empty
There was an error with PayPal
Click here to try again
Thank you for your business!
You should be receiving an order confirmation from Paypal shortly.
Exit Shopping Cart
Features, Reviews and a Blog by John Sciacca
| | |
| --- | --- |
| Posted on February 27, 2013 at 4:45 PM | |
It took me a while to embrace the beauty which is the 22-ounce bomber. Frequently a good bit more expensive – the five beers reviewed here would be in the $23+/6-pack range if you calculated by ounce) but there is just something so right about the bomber.
What I've grown to love is that the second glass is almost always better. I don't know if it is the 20 minutes or so that it rests in the fridge while you're downing the first glass, or the fact that your palate has adjusted to the taste of the beer and now knows what better to expect or that you've got a slight buzz on and the second glass comes in to Finish Him! Mortal Kombat style…
What I do know is that some of the very best beers come in the 22-ounce bomber style. One of the breweries that I have found to be incredibly consistent is Avery Brewing out of Boulder, Colorado. Take whatever Coors has told you all of these years about being brewed in the Rocky Mountains, and believe it with Avery.
So, when I stumbled on five Avery bombers in the store that I hadn't tried, well, I tried them.
Avery Brewing - The Reverend Belgian Style Quadruple
Hop Variety: Sterling
ABV: 10.0% IBUs: 24
$7.19 22 ounce bomber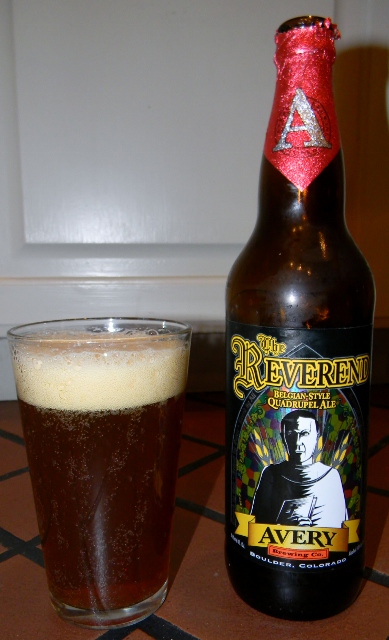 Description: "The Reverend, was created in tribute to the life of Sales Mgr. Tom Boogaard's grandfather, an ordained Episcopal Reverend. Tom was inspired by the life of his grandfather and wanted to create a tribute beer that contained his sterling traits. True to the spirit and character of the departed Reverend, this beer is strong willed, assertive, and pure of heart. Our brewers included as many authentic imported Belgian specialty malts as they could, making this the perfect beer for folks who love malty beers and are ready to take the next step. A divinely complex and beautifully layered beer with hints of dark cherries, currants, and molasses, complimented by an underlying spiciness. Sinfully smooth considering the high alcohol content. The Reverend is the second installment of "The Holy Trinity of Ales" series."
On the bottle: "Created by God. Feared by Satan. Loved by All. Reverend Luther Tucker. Yeah, it is! And on the Eighth Day, God created the Reverend. Strong willed, assertive, and pure of heart – a heart of candy sugar! Let the congregation sing out in glorious praise, 'parva cervesaria, MAGNA CERVESIA!'"
I've had doubles (IPA) and triples (IPA) and tripels, but I've never had a quad. So, clearly quad is going to be the best ever, right? A pretty firm pour down the glass still produced just a finger of khaki colored head that rapidly dissolved to just some frothy bubbles. Color is a reddish, golden brown with a very clear, clean body. Nose is very sweet. Like candy, sugar cane sweet. Strong notes of brown sugar and molasses. Sweet sassy molassey. Under that the gummy, banana sweet notes typical of Belgian ales. First sip and it darts quickly on the tip of the tongue and fills your mouth with sweetness. The beer is almost syrupy sweet. The Belgian yeasts are there, but the sweetness is really pretty potent and overshadowing the rest of the flavors for me. After a few drinks and some time in the glass, that sugary sweet dials back a bit -- or I've gotten used to it, my cavity-filled teeth now crying out to be coated in more sweet, glistening Reverend filled sugarey goodness -- making the beer more approachable. Definitely allows you to appreciate the more subtle notes of the beer and appreciate a lengthy, gummy-banana finish. (Second pour...) What is it about the second glass that makes it almost always better? The palate adapting to the flavors? The beer opening a bit and fully developing its flavors? The dull buzz you have from the first? We may never know. The second glass of The Reverend is still sweet but more full of figgy, jammy, plum-filled goodness. The last sips are filled with wonderfully spicy, Belgian goodness, that make you wish there was a third pour. It's still a bit on the sweet side but perhaps that would abate after  giving this ale some time in the cellar.   
Avery Brewing - Collaboration Not Litigation (Batch #5)
Hop Variety: Unlisted
8.91% ABV, IBU Unlisted
Bottled January 2011
$8.19 22 ounce bomber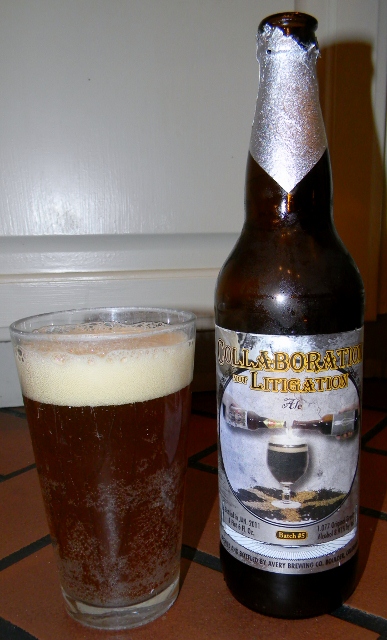 Description: "Salvation. The name of two intricate Belgian-style ales, created by us, Vinnie Cilurzo of Russian River Brewing and Adam Avery of Avery Brewing. After becoming friends a few years ago, we realized we both had a Salvation in our lineups. Was it going to be a problem? Should one of us relinquish the name rights? "Hell, no!" we said. In fact, it was quickly decided that we should blend the brews to catch the best qualities of each and create an even more complex and rich libation. In April 2004, in a top secret meeting at Russian River Brewing (well, actually it was packed in the pub and many were looking over our shoulders wondering what the hell was going on), we came up with the perfect blend of the two Salvations. Natalie, Vinnie's much more significant other, exclaimed, "We should call this Collaboration, not Litigation Ale!" "Perfect," we shouted! We celebrated deep into the night (or is that morning?). Fast forward to November 14, 2006. After talking about it for over two years, we finally decided to pull the trigger and Vinnie made the journey to Avery Brewing to brew his Salvation exactly as he does in his brewery. This was blended with Avery's Salvation December 11, 2006 creating Batch #1 – here is Batch #5. We hope you enjoy it as much as we enjoyed brewing it and blending it."
I'm going to tell you everything you need to know about Vinnie Cilurzo in three words: Pliny the Elder. This is the guy behind that. So when you find a beer that he had a hand in making? You buy it, son! Fairly aggressive pour produced a small finger of light khaki colored foam that broke down into big chunky bubbles.  Beer is a copper color with a clear body and tons of bubbles coating the inside of the glass. Smell is rich of the sweet brown sugar and raisin notes of a Belgian. Lots of banana smells in there typical of the yeast strains. First sip and some nice carbonation on mid tongue followed by a flash of spicy sweet and then a smooth finish with just a hint of bitter. This is a more reserved version of The Reverend which was far too sweet for my taste. This is much smoother and evolved and possibly has spent a bit more time maturing in the bottle. It's not reaching the flavors of a Chimay Reserve, but they are there. I see this was bottled in January 2011, so that proves my point (possibly). (Second pour...) A much more aggressive pour produced two fingers of dense creamy head. Taste is full of figgy, jammy, plum note goodness with just the right touch of sweet. Despite the banana smells, there is very little of that sweet, bubble gum flavors typical of Belgian ales. I could actually stand it to have a bit more presence in the middle; theres just a hole there in the flavor profile that the best beers fill. But ultimately I would call this collaboration a success.
Avery Brewing - The Czar
Hop Varieties: Magnum, Sterling, Hallertau
10-12% ABV, 55 IBU
$8.19 22 ounce bomber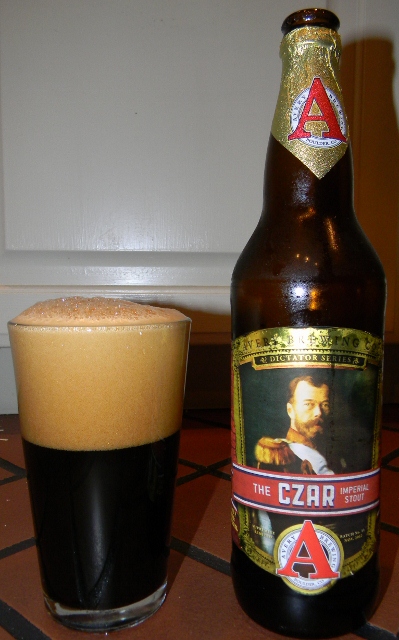 Description: "Behold the stunning crimson hues through the inky blackness. Inhale the noble Hallertau hops, spicy and floral. Savor the flavors redolent of English toffee, rich mocha, sweet molasses, candied currants and a hint of anise. We highly recommend cellaring additional bottles, as the Czar will continue to mature and become denser and more complex with age. The Czar is the first installment in our Dictator Series."
The first Dictator brew that I enjoyed was the Maharaja and it was stunning so I was hopeful that the Czar was going to be equally impressive. I started with a slow pour, but when it didn't appear I was getting any carbonation, I poured it a little more aggressively and was rewarded (or punished) with four fingers of thick, dense, café au lait colored foam. The body had a beautiful cascade on the sides, and the foam coats the glass in a thick, wooly blanket. Color is deep and dark brown, the color of cola syrup. There may be a tinge of red, but it's tough to see, as you are peering into the deepest, darkest reaches of space. Nose is not as big as I was thinking; some notes of dark, roasted coffee beans, maybe some malts. First sip…lands right on mid-tongue, and there is a quick flash of sweetness, followed by big flavors, and then a long, nice, lengthy finish of espresso roast. It really goes on and on, with strong, deep, bitter coffee notes. You really notice and feel the alcohol and sweetness the second the beer hits your tongue, but then there is almost a creaminess as the flavor relaxes and becomes far more enjoyable, almost like a cup of ice coffee with triple cream, triple sugar. I think the flavor would be better with a bit more carbonation, and I'm wondering if perhaps I poured the life out of this one a bit. I'm going to go a bit more gentle on my second pour. But, if you want an Imperial, bigger, stronger, more powerful Porter-er, so far The Czar is giving me everything I expected an Imperial Porter to offer. But would I be upset if there was a hint or whiff of dark chocolate? No. No I would not. (Second pour...) A smooth pour that just slips out of the bottle and into the glass like an Olympic diver entering the pool, producing a much smaller, more compact head. And the flavor seems more intense for it, with the extra carbonation definitely serving the flavor well. The second glass – and a little time open in the bottle – has helped the beer to open up and dialed back the sweetness and alcohol a bit. The big flavors are still there, but they are more balanced. Fortunately, the big, lingering finish is still there. I'll be honest, Porters aren't really my thing. They never offer the complexity of an IPA, and mostly always taste like some version of coffee, coffee with cream, or coffee with cocoa to me. The Avery doesn't really break that mold, but the flavors are bigger and bolder, and as an Imperial Porter, tastes exactly as it should.
Avery Brewing - The Kaiser
Hop Variety: Bravo, Tettnang, Hersbrucker
ABV: 9-10% IBUs: 24
$7.99 22 ounce bomber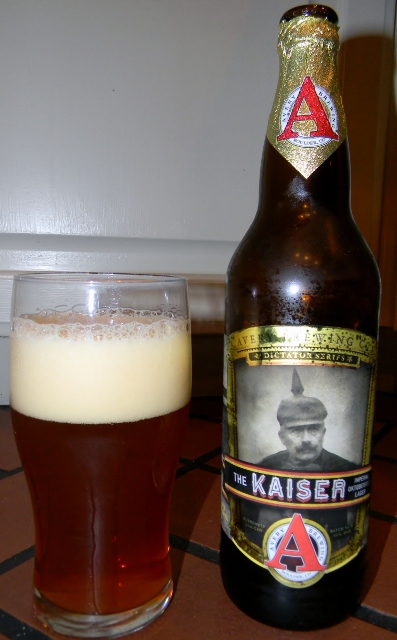 Description: "The Kaiser once said, 'Give me a woman who loves beer and I will conquer the world.' If the Kaiser and his significant other had tipped this bottle, we'd all be 'sprechenden Deutsch!' We took all that is good in a traditional Oktoberfest – gorgeous, deep copper sheen, massive malty backbone and spicy, floral, pungent noble hops – then intensified each into this, an Imperial Oktoberfest. The Kaiser is the third installment in our Dictator Series."
With this, I will have batted the cycle, finished the hat trick, insert-appropriate-analogy the Dictator Series of beers and so far I have not been disappointed. When I think "Oktoberfest" I think Marzen and Boch-style ales, so I'm hoping this will be a delicious representation. An aggressive pour produced a nice three fingers of slightly tannish head that slowly receded to a solid, thick blanket half an inch thick atop the glass. Beer has the beautiful burnished color of a well traveled penny. It has seen the world, been in and out of pockets and cash registers, and now it lies before you with a story to tell. Definite odors of caramel and malt but also a fairly sweet alcohol base beneath. I was expecting more of a rich malty Marzen or Boch aroma so I'm a little thrown.  First sip...lands on the tongue like a dart and then wakes up your whole mouth. You can sense the sweetness in your cheeks before you even swallow and then POW! It's really there on the finish. Big notes of alcohol which aren't my favorite. Fortunately they are fairly short lived and the Carmel and malt take over the finish. As it opens a bit in the glass I'm getting some nice kinds of bready notes, almost a sourdough.  The sweetness is also abating, taking an edge off the taste. The alcohol still isn't completely kaput, but The Kaiser is doing a better job of keeping it in check. Of the Dictators, this would be my least favorite. It delivers some nice complex tastes, but the big alcohol throws off the balance and is a little too much for me.
Avery Brewing – Salvation
Hop Variety: Sterling, Styrian Goldings
ABV: 9.0% IBUs: 33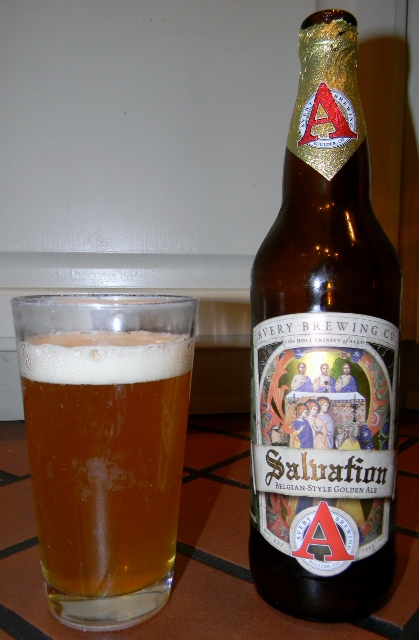 Description: "The success of Hog Heaven and The Reverend clearly demonstrates that beer drinkers are willing to embrace 'BIGGER' beers. In the fall of 2001, we decided that a lighter BIG BEER would complement its darker-colored predecessors. Luscious apricot and peach aromas are delicately interwoven with spicy suggestions of nutmeg and cinnamon in this heavenly soft, champagne-like elixir. Salvation is the final installment of 'The Holy Trinity of Ales' series."
Because I'm not a fan of Barley Wines, I won't be going for the Holy Trinity trifecta. So Salvation will have to be enough to purge the demons from my beer loving soul. Pours a light, yellow gold with two fingers of thick, dense white head. The body is clear with a huge torrent of micro bubbles steadily swirling and rising up from the bottom of the glass. The beer leaves thick lacing rings along the sides of the glass marking each sip. The nose is rich with bubble gum/banana/fresh honey smells typical of Belgian ales. Not as forward and sweet or spicy as some, but still very aromatic. First sip…not quite the carbonation I was expecting, but the flavor is very much like the nose. There is sweetness and spice, but it isn't sharp or spiked with alcohol, and there is a lengthy and pleasing finish of honey-wheat. Salvation's flavors are good and balanced, but I can't help but wish they were a little bolder; but bolder without being sweeter. It's almost like you like an IPA, but you *love* an Imperial IPA. The big difference I notice with the Salvation is that most Belgians finish on a high, sharp, sweet note. The Salvation's finish is almost on a down note, with the sweetness tapering off before the finish, and ending in a more wheat-ey, almost slightly bitter manner. (Second pour) A gentler pour produces more carbonation on the tongue, which is a nice spike of flavor but also seems to have dialed the sweet, Belgian flavors back a bit. In an atypical twist, I think I enjoyed the first glass better. It seemed to be sweeter and more flavorful and more…Belgian-ey. While this is a good beer, I don't think it's a *great* beer, and not a standout in the Belgian style. For me, the things that make a great Belgian great, are the big spicy, fruity, gummy flavors, and Salvation is a little thin in these areas for my palate.
Categories: February 2013, Beer/Liquor/Wine, Reviews
/