Shopping Cart
Your Cart is Empty
There was an error with PayPal
Click here to try again
Thank you for your business!
You should be receiving an order confirmation from Paypal shortly.
Exit Shopping Cart
Features, Reviews and a Blog by John Sciacca
| | |
| --- | --- |
| Posted on April 8, 2013 at 10:15 AM | |
(To be honest, I think a better, more accurate title would be "The Rise of the Multi-use Space," but that's not nearly as eye-grabby . . .)
When my wife and I went shopping for our first home years ago, I looked at each space with an eye toward not how we would live in the house, nor which would offer the best resale value, nor how much natural light would we get in the space. No. All of those things were completely irrelevant to me. Rather I prowled through the floorplan like a marauding general hunting out which room could house my home theater. (Also, how easy would I be able to retrofit wiring in the home. I can't tell you how surprised realtors are when you ask to take a trip up through the attic or down into the crawl space. "But, wouldn't you rather see the kitchen or the master bathroom...?" )
In my mind, the only way I could truly enjoy a home theater would be to have a dedicated, one door in, no windows, pitch-black movie-viewing sanctum sanctorum.
From reading magazines and visiting showrooms, it had been ingrained into my head A Clockwork Orange-style that the only way to truly be able to enjoy a home theater experience was with a front projector in a dedicated room.
Of course, the home we ended up buying didn't have any kind of dedicated room—unless you want to count a tiny guest bedroom that barely houses a Queen-sized bed as a possibility—but rather a large family room that opens into a kitchen, dining room, and odd space that now serves as a quasi-morning-coffee-sitting area for my wife.
Instead of letting the home theater dream die, I forged ahead and made the most of what I had to work with, and I built my theater in our family room. And you know what? I love it.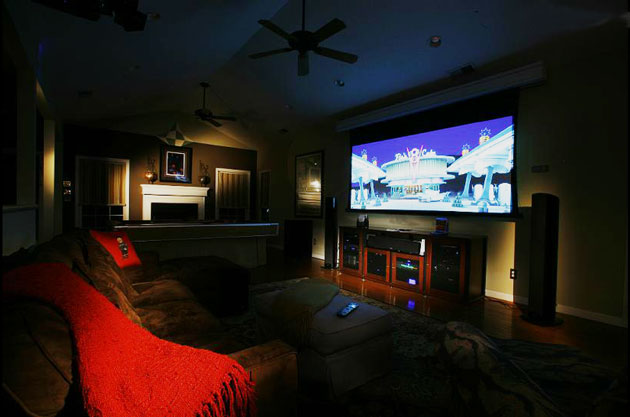 (My family room. Photo by Jim Raycroft)

You know what else? After living with my family-room theater, I don't think I'd want a dedicated room now even if I had the space for it. And here's all the reasons why...

Categories: April 2013, Movies, Rants
/